Songs of Longing & Lustful Tunes

/ Alba


Music from medieval Spain and France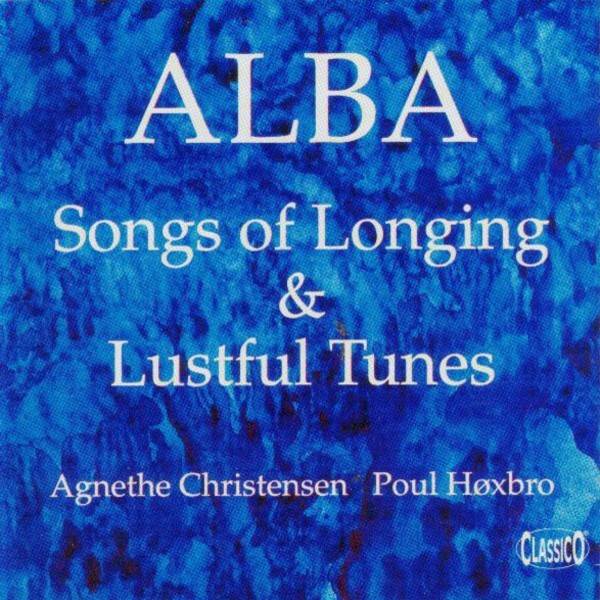 medieval.org
Classico CLASSCD 170
1997

Membran · Scandinavian Classics, CD 220528 — 2003







1. Reis glorios [9:25] Guiraut de BORNEIL

2. La seconde Estampie Royal [3:14]

Martin CODAX. Cantigas de Amigo
3. Ondas do mare de Vigo [3:28] ca I
4. Mandad' ei comigo [1:47] ca II
5. Mia irmana fremosa [2:41] ca III
6. Ai Deus, se sab' ora meu amigo [1:47] ca IV
7. Eno sagrado en Vigo [1:15] ca VI
8. Quantas sabedes amare amigo [3:09] ca V
9. Ai ondas que eu vin veere [1:43] ca VII

10. La quinte Estampie Royal [3:32]
11. La septime Estampie Royal [2:49]
12. La tierche Estampie Royal [4:38]
13. La seste Estampie Royal [1:44]
14. La uitime Estampie Royal [4:04]
15. La quarte Estampie Royal [2:14]

16. Virgen Madre [13:46] CSM 340








ALBA

Agnethe Christensen, alto
Poul Høxbro, pipe & tabor, percussion



recording: Audiophon Recording Studio, 1997





CANTIGAS DE AMIGO
In February 1914 the magazine Arte Español published for the first time in modern history secular troubadour songs from the large Portuguese and Galician area. Pedro Vindel, a book shop owner from Madrid. found seven songs by the troubadour Martin Codax written on a piece of parchment wrapped around another manuscript. The songs, which have been dated from the second half of the 13th century, are all about the everlasting subject of love - although the medieval poets were especially inspired by love when it remained unrequited. It might be the troubadour's passionate adoration of the unobtainable noblewoman or love of the most pure of all women, the Virgin Mary. Or it might, as often is the case in these songs, be longing for a loved one from whom the medieval poet and composer is parted, or longing for a person as yet unknown. It is uncertain exactly where the songs originate from, or how they were performed, but the many references to the port of Vigo naturally point to deep roots in what is now called Galicia in Northwest Spain; an area where the sound of singing to framedrums can still be heard.

ESTAMPIE ROYAL
"My good friend, get out of bed. For I cannot sleep anymore and my mind is in a turmoil. So I beg you to come and play an estampie at my beloved's door." The estampie was most probably the most widespread form of instrumental music in medieval times. Medieval literature contains many references to the estampie being played, sung or danced (estampida, instanpitta, stantipe and so on) and in the impressive French "Manuscript de Roi" we are fortunate enough to find some of the few surviving estampies that together with a handful of written instanpittas from Italy give us a unique picture of some of the everyday music that scholars did not feel worthwhile to write down at the time. An estampie always follows the same form: a piece of music with a refrain, with the verses (A, B, C ...) and the refrain (with two different endings) being combined as follows: A + refrain 1, A+ refrain 2, B + refrain 1, B+ refrain 2, C + refrain 1, C + refrain 2 etc. The estampie was common in large parts of Europe and was played on almost all instruments - perhaps even sung without lyrics - and could be performed in concert or for dancing. After a banquet, to serenade a loved one, in a meadow or garden. But not only as vapid entertainment, for according to the French scholar Johannes de Grocheio its complexity makes the mind of all who play it - and all who listen to it - "linger with it, and it often leads the minds of the powerful away from depraved thoughts."

REIS GLORIOS & VIRGEN MADRE
Medieval Spain and France had many ties, both political and cultural. Marriages created complicated family links between the princely houses and the royal courts, as was the case in many places in Europe. Musicians and poets ensured a lively cultural exchange during the summer months, when they travelled throughout the countries. Many sources confirm this, but there is an especially lyrical proof of this historical fact in the songs 'Reis Glorios' and 'Virgen Madre'. A French ballad about infidelity and a later Spanish song praising the Virgin Mary - very different lyrics, dates and origins, but still sung to almost the same melody.


ALBA

Agnethe Christensen from Sweden has her roots in both classical and folk music. She studied at the Royal Danish Academy of Music and Schola Cantorum in Basel, and has participated in a large number of solo recordings for different radio stations and for CD productions.

Poul Høxbro from Denmark graduated in 1994 from the Carl Nielsen Academy of Music with recorder as his main instrument. He has now specialised in pipe & tabor(s), and with these instruments he is often a guest in a variety of musical styles - from Renaissance to techno.



Compilations: