Cantigas de Amigo

/ Ensemble Alcatraz

with Kitka & Angelorum




13th-Century Galician-Portuguese Songs & Dances of Love, Longing & Devotion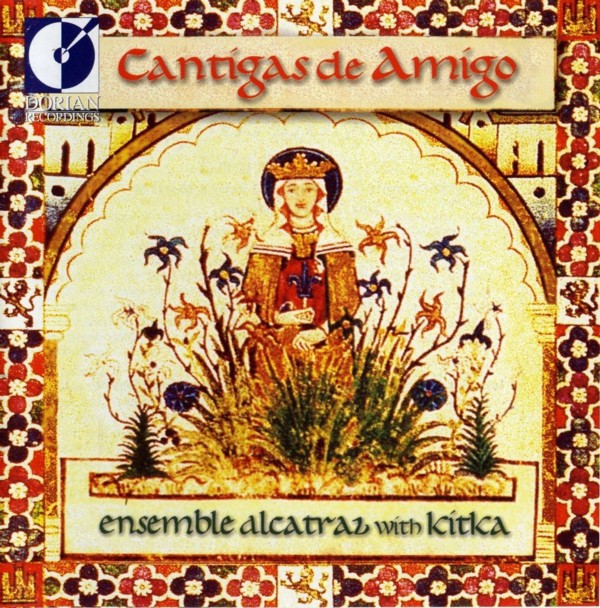 medieval.org
amazon.com
Dorian Recordings DOR-90 285
2000








1. Sen calar [5:19] CSM 380 arr. Fulton

2. Alborada [2:38] traditional Galician

3. Sen meu amigo [4:15] text: Juao Bolseiro / tune: Kammen

4. Alvorada [3:08] inspired by traditional Portuguese melodies, arr. Higginson

5. Enas verdes ervas [6:18] text: Pero Meogo / tune: Kammen

6. Por Deus [2:38] text: Martin de Padrozelos / tune: traditional Catalan

7. Instrumental #11 [8:35] a fantasia on CSM 11 "Macar ome per folia"
arr. Fulton / Higginson / Kammen / Maund

8. Levantous' a velida [1:41] text: King Dinis / tune: Higginson

9. Bailemos nos ja todas [4:16] text: Airas Nunes de Santiago / tune: Higginson


Martin CODAX (fl. c. 1230). Cantigas de Amigo
10. Ondas do mare [5:00] ca I
11. Mandad' ei comigo [1:23] ca II
12. Mia irmana fremosa [2:26] ca III
13. Ai Deus, se sab' ora meu amigo [4:20] ca IV
14. Quantas sabedes amare amigo [2:21] ca V
15. Eno sagrado en Vigo [3:46] ca VI / tune: CSM 384
16. Ai ondas eu vin veere [2:25] ca VII


17. Rosa das rosas [5:03] CSM 10 arr. Fulton



All arrangements by Ensemble Alcatraz except when noted.



ENSEMBLE ALCATRAZ
Cheryl Ann Fulton — harps
Kit Higginson — recorders, psaltery
Shira Kammen — vielle, rebec
Peter Maund — percussion
Susan Rode Morris — soprano

with Kitka
Leslie Bonnett • Shira Cion • Catherine Rose Crowther • Deborah Dietrich
Juliana Graffagna • Janet Kutulas • Ann Moorhead • Lily Storm

and special guest artist Bon Singer

also with members of Angelorum
Betty Nelson • Diana Rowan • Eva Palviainen — harps




ENSEMBLE ALCATRAZ presents innovative performances of medieval and Renaissance music. Based in the San Francisco Bay Area since 1984, the group has performed throughout North America and in early music festivals in Europe. Their two recordings, Visions and Miracles and Danse Royale (Elektra/Nonesuch) have brought them high praise and critical acclaim. The five members of Ensemble Alcatraz are all internationally recognized specialists in early music who combine scholarship with imagination, virtuosity and musicality.

Cheryl Ann Fulton is America's premier performer of historical harps, in particular medieval harp, arpa doppia and Welsh triple harp, as well as an inspiring and popular performer of Celtic and contemporary music on lever harp. Her first solo album, The Airs of Wales, Welsh Airs performed on an original Welsh triple harp, brought her international recognition and acclaim as a "genuine virtuosa of her instrument." Dr. Fulton, one of the leading experts in the field of medieval and Baroque harp research, holds graduate degrees from the Early Music Institute of Indiana University where she studied with and assisted Thomas Binkley. She balances her music career with riding her Arabian horse Fazon and enjoying time with her husband, vintner Robert Boggs and their dogs.

Kit Higginson, recorder and psaltery, is known to audiences in North America and Europe both as a soloist and ensemble player. He holds a Bachelor of Music degree from California State University, Northridge and has studied privately with Eva Legene. In addition to his appearances with Ensemble Alcatraz, he has performed with Philharmonia Baroque Orchestra, the Los Angeles Chamber Orchestra, the Oregon Bach Festival, Anne Azema, the Boston Camerata and the Lauren Pomerantz Ensemble. Mr. Higginson also served as the producer of two CDs for Kitka, Voices on the Eastern Wind and Nectar.

Shira Kammen received her degree in music from UC Berkeley and studied vielle with Margriet Tindemans. A member for many years of Ensemble Alcatraz, Project Ars Nova, and Medieval Strings, she has also worked with Sequentia, Hesperion XX, the Boston Camerata, and the King's Noyse, and is the founder of Class V Music, an ensemble dedicated to performance on river rafting trips. She has performed and taught in the U.S., Canada, Europe, Israel, Morocco and Japan, and on the Colorado and Rogue rivers. Shira happily collaborated with singer/storyteller John Fleagle for fifteen years, and performs now with several new groups: a medieval ensemble, Fortune's Wheel; a new music group, Ephemeros; an eclectic ethnic band, Panacea; and Trouz Bras, a band devoted to the dance music of Celtic Brittany.

Peter Maund studied percussion at the San Francisco Conservatory of Music; tabla at the Ali Akbar College of Music; and music, folklore, and ethnomusicology at the University of California, Berkeley. He has performed and recorded with various early music, contemporary music, and world music ensembles throughout North America, Great Britain, Europe and Israel. In addition to his work with Ensemble Alcatraz he is a member of Davka and Alasdair Fraser's Skyedance, and he often gives lectures, workshops, and classes in the United States, Canada and Scotland.

Susan Rode Morris, a native of the San Francisco Bay Area, has received much acclaim for her expressiveness and naturalness in singing and her communicative presence. She has sung with many ensembles including Philharmonia Baroque, American Bach Soloists, Sequentia, Magnificat, Sex Chordae Consort of Viols and others. She starred in the San Francisco Bay Christmas Revels with Scottish fiddler Alasdair Fraser, which inspired an interest in eighteenth-century Scottish music. Her recordings Among the Lasses (Songs of Robert Bums) and Between the Late & Early (Romantic Songs of Robert Burns) were played on National Public Radio's show, Performance Today, on Burn's birthday. In 1992 she founded her own label, Donsuemor, on which she has released three CDs with harpsichordist Phebe Craig. She also owns a bakery business which supplies the country with fresh madeleines.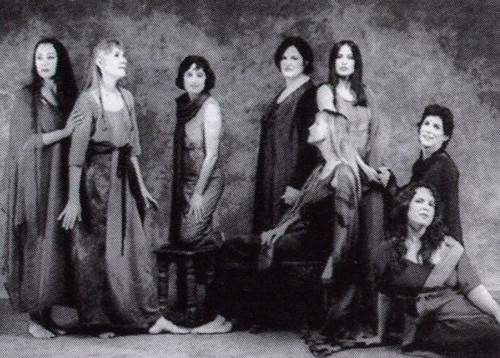 Kitka Women's Vocal Ensemble
Recognized by the National Endowment for the Arts as one of America's premier ensembles and by numerous Eastern European musical authorities as the foremost interpreter of Balkan and Slavic choral repertoire in the United States, Kitka is composed of women from diverse cultural and musical backgrounds who share a passion for the stunning dissonances, asymmetric rhythms, intricate ornamentation, lush harmonies, and resonant strength of Balkan and Slavic women's vocal music. Kitka's repertoire ranges from strident chants sung in the open-throated village style, to complex contemporary choral works inspired by ancient extended vocal techniques. Kitka's voices have been featured on several major motion picture soundtracks including Jacob's Ladder and Braveheart. The group recently received critical raves on both coasts for their role as the Greek Chorus/Trojan Slave Women in the American Conservatory Theater's production of Hecuba, starring Olympia Dukakis. Based in the San Francisco Bay Area since 1979, Kitka has released four recordings on their own Diaphonica record label, most recently Nectar, a disc hailed by rock superstar David Crosby as "a true masterpiece."
A frequently occurring feminine symbolic image in Balkan folk songs, "Kitka" (pronounced KEET-kah) means "bouquet" in Bulgarian and Macedonian. Kitka has enjoyed a fruitful collaborative relationship with the musicians of Ensemble Alcatraz since 1990.

Angelorum Medieval Harp Choir
Angelorum, the world's only medieval harp choir, is directed by Cheryl Ann Fulton. First formed in 1996, Angelorum is based in the San Francisco Bay Area and has performed for the Festival of Harps and the Berkeley Early Music Festival 2000. In February 2000 Angelorum joined Chanticleer for a production of the Resurrection Play of Tours directed by Fred Renz.




Instruments of Ensemble Alcatraz
Medieval harp by Rainer Thurau (Germany)
Medieval harp by David Brooks (USA)
Medieval harp by Patti Pike (USA)
Psaltery by David Brooks (USA)
Psaltery by Lyn Elder (USA)
Vielle by Fabrizio Reginato (Italy)
Vielle by Karl Dennis (USA)
Rebec by John Fleagle (USA)
Soprano Recorder by Peter Kobliczek (Germany)
Soprano Recorder by Friedrich von Huene (USA)
Alto Recorder by Philip Levin (USA)
Bendir (Morocco)
Frame Drums by Abdulhamid Alwan (USA) Tambourine (Egypt)
Zarb (Iran)

Harps of Angelorum
Two Medieval harps by Patti Pike (USA)
Medieval harp by Winfried Goerge (Germany)


A Note On The Recording
This recording, like all Dorian Recordings discs, was produced with no dynamic-range compression using Dorian's custom record electronics, our one-of-a-kind 24-bit analog-to-digital converters and minimal microphony. The dynamic structure of the original performance has been preserved in this recording such that the natural musical dynamics, from pianissimo to fortissimo, are reproduced fully and accurately. This does not mean that the recording was made at a level different from conventional recordings. Rather, since the maximum dynamic level of all CDs is fixed and the dynamic range of this recording is wider than with conventional recordings, its average playback level might appear to be at a different level than the average level of other recordings. Simply adjust the volume control on your audio playback system so that average dynamic levels are reproduced at a comfortable listening level, and this recording will yield the full spectrum of sound with startling clarity and full dynamic resolution and impact.


Cantigas de Amigo
Catalog No. DOR-90285

Recorded at Skywalker Sound in Marin, CA in November 1999.

Session Producer: Angela Mariani
Engineers: Craig D. Dory, Joseph F. Korgie
Post-Session Producer: Kit Higginson
Editors: Debbie Reynolds, Joseph F. Korgie
English Song Text Translations: Julieta Zúñiga
Booklet Preparation & Editing: Katherine A. Dory
Graphic Design: Kimberly Smith Co.
Cover: a panel from the illumination for Rosa das rosas (Cantigas de Santa Maria manuscript) © Patrimonio Nacional (Madrid, Spain)
Executive Producer: Brian M. Levine

Special thanks to Angela Mariani, Julieta Zúñiga, John Harding Fingado, Luis Ponce de León, Leslie Ann Jones, Dann Michael Thompson, Marianne McDonald and Susan Snyder.

℗ © 2000 DORIAN RECORDINGS®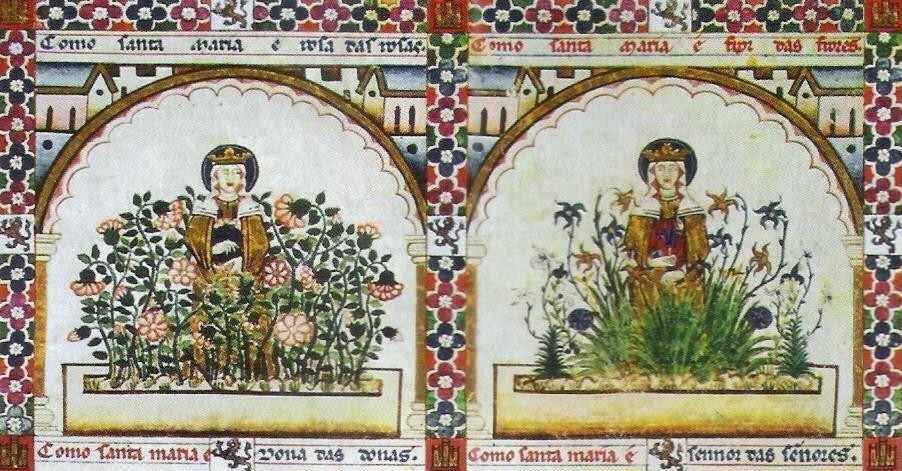 Cantigas de Amigo
Notes by Cheryl Ann Fulton and Kit Higginson


The cantigas de amigo form the greatest collection of women's songs from medieval Europe. These songs of love and longing for the absent beloved were composed, mostly by men, throughout thirteenth-century Spain, particularly in the region of Santiago de Compostela, a favorite pilgrimage site, and in Portugal under the patronage of King Dinis (d.1325), grandson of Alfonso X. Alfonso X, King of Leon and Castile (1252-84) wrote secular songs (cantigas profanas), including cantigas de amigo as well as love songs (cantigas de amor) and songs of mockery and slander (cantigas de escarnio and cantigas de mal dizer), but his songs of devotion, the Cantigas de Santa Maria, comprise the most magnificent collection of medieval sacred songs written in the vernacular. Assembled by the king and his collaborators, many authored by Alfonso himself, these songs number over 400 in all. Most of the song texts tell stories of the miracles of Holy Mary (cantigas de miragres) and about 40, two of which are included in this program, sing her praise (cantigas de loor). This monumental anthology is a unique tribute to the Divine Feminine as embodied by Holy Mary.

A cantiga is simply a song in Galician-Portuguese, the preferred, poetic language of the medieval Iberian peninsula which developed into Modern Galician and Portuguese. Cantigas, both sacred and profane, were preserved in cancioneiros, book of poems or anthologies of songs. Their origins, however, lie in the oral traditions rooted in Galician folk lyric. As well as traditional folk influences the cantigas were influenced by learned Latin, French and Arabic poetic styles. The cantigas de amigo may be thought of as stylized versions of regional traditional women's songs. As with all folk traditions, words, music and dance are all integral to the created forms, both musical and poetic.

All the Cantigas de Santa Maria and the majority of the cantigas de amigo are refrain songs. Textually the cantigas de amigo offer some of the most elegant and sophisticated use of a minimum of words to maximum effect. Parallelism, the poetic technique in which part of a couplet (group of two lines) is repeated and another part is varied from verse to verse, is used extensively and most skillfully. Poems and/or song texts of this genre express the emotions of a young woman in love who speaks to or about her boyfriend or beloved (amigo or amado). She may pour out her heart to God (Deus), her mother (madre), her female companions (irmanas), or to Nature, especially in the forms of the sea (mare) or deer (cervas). The longing associated with the sea is still central to the modem Portuguese repertory of fado. The symbolic confidant of the maiden in the form of a hind or stag can be traced to roots in pagan erotic rites and folklore of the past.

The seven cantigas de amigo by the thirteenth-century Galician troubadour Martin Codax exist in three separate manuscripts. Since the order of the texts is identical in all of the sources, and because a general theme and setting unifies the series of songs (a young woman by the shore of Vigo awaiting the return of her beloved who has journeyed far out to sea) it has been surmised that these songs may form a cycle, and if so is the only one known. Perhaps the most important feature of these songs is that six of the seven are the only cantigas de amigo, among five hundred or so existing texts, to have survived with notated melodies. Music for the remaining song in the Codax collection (Cantiga 6) as well as for the other cantigas de amigo presented, has been composed and/or arranged by members of Ensemble Alcatraz. Melodic formulas from the Cantigas de Santa Maria and traditional Iberian materials have been used as sources of inspiration. The alboradas (dawn songs) are modeled on traditional alboradas found in the repertoire of bagpipers in Galicia and northern Portugal. The instrumental works, as well as preludes, interludes, postludes and all the accompaniments have also been created by the instrumentalists of the ensemble. Invention (trobar) was one of the most highly prized attributes of the medieval poet/musician. Ensemble Alcatraz endeavors to bring this splendid music and poetry alive using this medieval creative process.