Provence mystique

/ Anne Azéma


Sacred Songs of the Middle Ages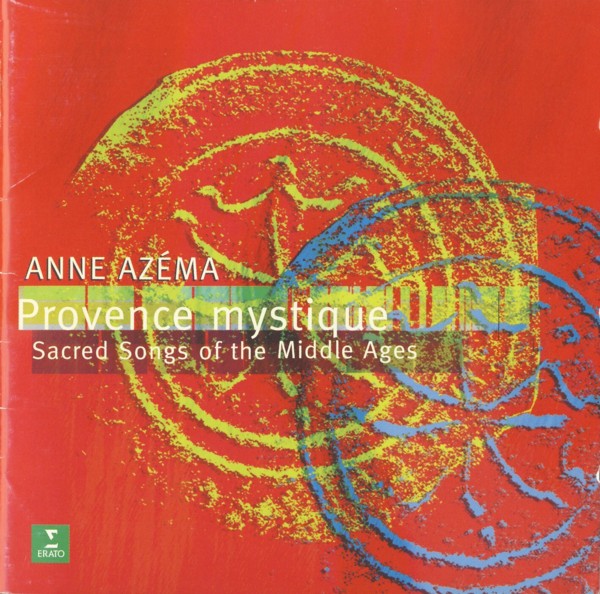 medieval.org
Erato 3984-25503-2 – 1999
Warner / Apex 2564 67759-2 – 2006








I — AUDI HOMO

1. Audi tellus [1:31]
anonymous — Montpellier, Bibliothèque Municipale, ms 6, f 116
Anne Azéma


II — LO FRUGZ DE SABER

2. Clara sonent organa [3:46]
anonymous — text: in Leo Treitler; music (vocal version): BNF, lat 3719, f 34
a) instrumental: medieval fiddles SK, MT
b) vocal: Anne Azéma with LB, AC, CJ, PM

3. Ar levatz sus, francha corteza gens! [5:16]
text: Peire ESPANHOL (12th century); music: after Gaucelm FAIDIT (c.1150-c.1220)
text: in Francisco J. Azicuren; music: after BNF 22 543, f 41d
Anne Azéma, psaltery KH, harp MT

4. Tantost com fon al loc vengutz [1:30]
Extract from the Planctus Beate Marie, anonymous, Provenšal, 13th century
text in W. Mushacke, ed.
Anne Azéma

5. Vexilla Regis [0:41]
text: Venance FORTUNAT (?-609); music: Gregorian chant
Liber Usualis
LB, AC, CJ, PM

6. Dels quatre caps que a la cros [7:34]
text: Peire CARDENAL (c.1180-c.1278); music: Jaufré RUDEL (c.1125-c.1148)
music: after BNF 22 543, f 63 c
Anne Azéma, medieval fiddle MT

7. Verbum Patris humanatur [2:56]
BNF, lat 3719, f 91
Anne Azéma with LB, AC, CJ, PM, recorder KH, fiddles SK, MT


III — ROMA TRICHAIRITZ

8. D'un sirventes far [6:49]
text: Guilhem FIGUEIRA (c.1215-c.1240); music: Peire VIDAL (active 1180-1205)
text: in Martín de Riquer; music: after BNF 22 543, f 65 a
Anne Azéma, medieval fiddle SK

9. Una ciutatz fo [10:42] CSM 45
text: Peire CARDENAL: music based on CSM 45, attrib. to Alfonso el Sabio (1221-1284)
text: in Martín de Riquer; music after CSM 45 in Higinio Anglés
Anne Azéma, recorder KH, fiddles SK MT


IV — CUM MELODIS ORGANO

10. Dona, Maire del salvador [1:00]
Extract from the Planctus Beate Marie, anonymous, Provenšal, 13th century
text in W. Mushacke, ed.
Anne Azéma

11. Flore vernans gratie [1:39]
BNF lat 1139, f 78
Anonymous — Anne Azéma

12. En bon ponto [8:31] CSM 363
attrib. to Alfonso el Sabio
music after CSM 363 in Higinio Anglés
Anne Azéma with LB, AC, CJ, PM, psaltery KH, medieval fiddles SK, MT

13. Gregis pastor Tityrus [4:06]
anonymous, Aquitanian — London, British Museum Library, ADD 36 881, f13'
Anne Azéma with LB, AC, CJ, PM, recorder KH, medieval fiddles SK, MT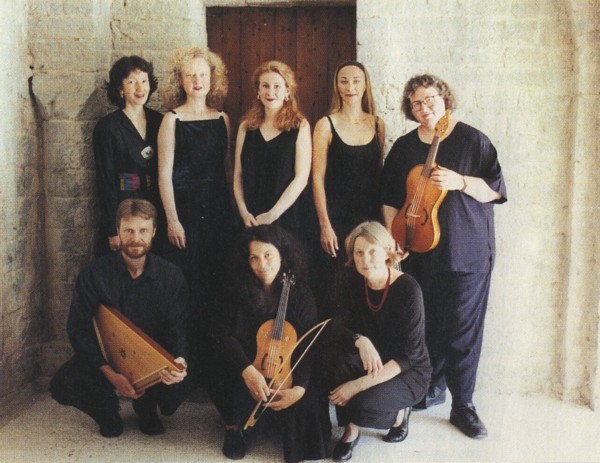 Anne Azéma, voice

with

Catherine Joussellin, Pasquale Mourey
Laurence Brisset, Annelies Coene

Kit Higginson, psaltery, recorder
Shira Kammen, medieval fiddle
Margriet Tindemans, medieval fiddle, harp





SOURCES
· Track 1: Montpellier, Bibliothèque Municipale, ms 6, f 116
· Track 2: text: in Leo Treitler, The Aquitanian Repertory of Sacred Monody in the Eleventh and Twelfth Centuries, diss., Princeton U., 1967; music (vocal version): BNF, lat 3719, f 34
· Track 3: text: in Francisco J. Azicuren, La lírica religiosa en la literatura Provenzal antigua, Pamplona, 1972; music: after Gaucelm Faidit, BNF 22 543, f 41d
· Tracks 4, 10: W. Mushacke, ed., Altprovenzalische Marienklage des 13. Jahrhunderts, Halle 1890, Geneva, 1975
· Track 5: Liber Usualis
· Track 6: music: after Jaufré Rudel, BNF 22 543, f 63 c
· Track 7: BNF, lat 3719, f 91
· Track 8: text: in Martín de Riquer, Los trovadores. Historia literaria y textos, Barcelona, 1975, 1983; music: after Peire Vidal, BNF 22 543, f 65 a
· Track 9: text: in Martín de Riquer, Los trovadores. Historia literaria y textos, Barcelona, 1975, 1983; music: after Cantiga de Santa Maria 45, in H. Anglés, La Música de las Cantigas de Santa María del Rey Alfonso el Sabio, Barcelona, 1943-59
· Track 11: BNF lat 1139, f 78
· Track 12: music after Cantiga de Santa Maria 363, in H. Anglés, La Música de las Cantigas de Santa María del Rey Alfonso el Sabio, Barcelona, 1943-59
· Track 13: London, British Museum Library, ADD 36 881, f 13'



Programme devised by Anne Azéma
Research, transcriptions, performing editions of the sources: Anne Azérna
Creation and elaboration of instrumental parts: Margriet Tindemans, Shiro Kammen, Kit Higginson
Editions of the vocal parts in track 2: Leo Treitier; 7, 8, 9, 13: Joel Cohen

Enregistrement effectué à l'occasion de la XVIIe Saison Musicale à l'Abbaye de Gellone.
This recording was made during the 17th Concert Season at Gellone Abbey.

Operation réalisée avec le concours de la Region Languedoc-Roussillon.
A project supported by France's Region Languedoc-Roussillon.

Digital recording
Producer, editing: Ysabelle Van Wersch-Cot
Sound engineer: Jacques Doll
Recording: 11-18/7/1998, Abbaye de Gellone, Saint-Guilhem-le-Désert, France
Front & back cover: Disk-shaped stele, St Michel de Lanes (Aude), photo Guy Jungblut
Anne Azéma, photo Leif Skaar; ensemble, photo Joel Cohen
Design: Erato
Ⓟ & © Erato Disques, S.A., Paris France, 1999




English liner notes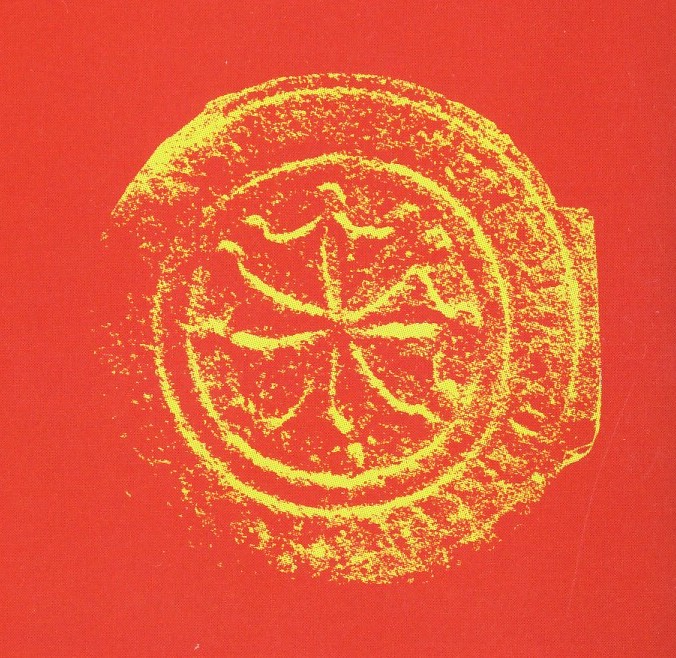 PROVENCE MYSTIQUE
ANNE AZÉMA

"Je connais bien des histoires, de Merlin.., de la mort d'Artus... de Tristan et Iseult, les amants... Seigneurs, je sais aussi bien chanter en l'église sainte... tripler le sanctus et l'agnus en contrepoint, entonner le saeculorum... et connais bien mon métier... de belles chansons, de bons vers, des pastourelles... rotrouenges et danses... et toutes sortes de gens m'en sont reconnaissants... seigneur Dieu... permets-moi d'accomplir des actions qui m'apportent le salut au jour du jugement."

Avec cet extrait de la liste des talents de Pierre de Corbiac (dans son poème Lo tezaurs), nous avons un aperçu des activités que les ménestrels-troubadours pouvaient compter à leur actif. Du rôle de narrateur celui de musicien, poète, amuseur et improvisateur, et ce pour des mondes bien différents, allant des cours d'amours à l'église. Dans cet esprit, notre programme réunit textes et musiques qui auraient pu faire partie des répertoires de certains de ces ménestrels. Aucun de ces morceaux n'appartient à la liturgie de la messe proprement dite. Mais tous sont préoccupés des rapports de l'homme à Dieu et à son destin.

La période qui nous intéresse (de la fin du XIe au XIIIe siècle) est un renouveau dans la vie en général, et
cela non seulement économiquement mais aussi littérairement et musicalement. La région appelée maintenant "le Sud de la France", nommée alors "Proenza" (Provence), est un creuset de créativité qui va changer pour toujours les relations entre hommes et femmes, et entre l'Homme et Dieu.

Les troubadours ont chanté, dans maints registres et en langue dite "vulgaire" (maintenant connue sous le terme moderne d'occitan), leur amour de la Dame, lointaine, inaccessible, aimée et amie, redoutable et redoutée. Mais une partie de leur répertoire se préoccupe également de Celui, lointain, inaccessible, aimé et ami, redoutable et redouté qui se tient, juge implacable et Amour personnifié : le Christ. Pour la première fois dans l'histoire de la littérature non-latine et de la musique occidentale, le savoir-faire des plus grands poètes se met au service de la louange chrétienne et de l'expression de l'angoisse de l'homme face et son destin.

Parmi les changements qui ont eu une répercussion sur le répertoire musical que nous chantons ici, les plus cruciaux sont certainement le renouveau et la création d'ordres religieux, la participation croissante des laïcs à la vie religieuse et la naissance de nombreux courants évangéliques. Ceux-ci ont ramené l'attention sur la personne du Christ, et sur l'importance de la Croix : Dels quatre caps en est un exemple. Sur la Croix, Christ a tout en son pouvoir, et devient, pour qui "daigne le chercher", le fruit du savoir. Tout homme qui près de lui se tiendra est en "bon lieu", de même lorsqu'il se tient dans l'aube, proche du jour. Ar levatz sus, une aube (alba) spirituelle, joue sur les images de la clarté et de la nuit, représentant Dieu comme le jour, et sa mère, "reine, mère de piété", comme l'aube venant éclairer le monde. Traditionnellement, c'est le jaloux et la séparation des amants adultères unis par la nuit que l'aube amène dans d'autres poèmes de troubadours. Ici, c'est "le grand omnipotent qui vient allumer le monde" que l'aube annonce. Elle est pour ceux, "libres et courtois", qui servent de "plein gré" cette Dame qui protège et guide les siens qui ne connaissent pas la nuit.

Mais cette nouvelle aube salvatrice n'est pas sans prix. Avant son avènement, les prophéties qui proclament la chute du monde parlent d'un jour cruel où viendra un juge sans pitié. De cette vision d'horreur, fréquente dans notre région (Audi homo vient probablement d'Aniane, en Languedoc), naissent l'espoir et la foi en une incarnation moins terrifiante : celle accomplie en la Vierge, consolatrice et mère (Verbum Patris, Flore vernans gratie), et celle, tout inspirée de la poésie latine, du berger Tityre, âne de Dieu, portant le rachat en bât. Ces processionnaux et musiques paraliturgiques (c'est-à-dire ayant trait à des activités musicales hors de la messe proprement dite) sont le fait de clercs aquitains.

Le renouveau évangélique s'est manifesté par plusieurs courants, et en des extrêmes que Rome déclarera "hérétiques". Nés d'un climat de malaise réel vis-à-vis d'une caste sacerdotale institutionnelle, deux de nos morceaux font foi de ce trouble : le discours de Guilhem Figueira, qui ne mâche pas ses mots sur la trahison de Rome, ainsi que la parabole moraliste de Peire Cardenal sur l'état du monde et de l'homme éloigné de l'amitié de Dieu, certainement l'un des textes les plus frappants de tout ce répertoire. Bien qu'il soit au-delà de notre capacité de savoir si ces troubadours étaient véritablement impliqués dans le mouvement cathare (considéré comme sacrilège et contre lequel Rome appelle croisade dès 1208), certains commentateurs ont vu en ces textes impressionnants l'expression d'une foi autre, scindée de Rome et de ses outrages. Il est certain que cette vision du monde repose sur des faits historiques, comme par exemple le massacre de Béziers, conduit par Rome avec l'aide de l'ordre de Cîteaux et de son abbé Arnaud Amauri, le 22 juillet 1209 : "Etz vos e Cistel/qu'a Bezers fesetz faire/Mout estranh mazel" ("et vous [Rome] et Cîteaux, qui fîtes faire une boucherie si cruelle à Béziers").

Ces tensions ont eu des échos jusque dans un répertoire voisin, ibérique et en galicien, les Cantigas de Santa Maria, collection de chants à la Vierge compilés pour le roi Alfonse X dit El Salbio, 1221- 1284. Un pauvre troubadour, chantant les méfaits du comte Simon (de Montfort), chef militaire des croisades ordonnées par Rome contre les parfaits ou cathares, se voit mis dans un cul-de-basse-fosse. Mais la Vierge, sachant reconnaître les siens et récompensant ceux qui la chantent, redonne liberté au troubadour de Gascogne.

En essayant de suivre les traces de Pierre de Corbiac, et en bons jongleurs, notre musique instrumentale est de notre fait, basée sur des sources vocales préexistantes, en utilisant des méthodes d'enseignement médiévales (apprentissage par cœur, improvisation et connaissance de la rhétorique). Troubadours, ménestrels et clercs d'Occitanie médiévale chantent et jouent d'une spiritualité vivace, décrivant les turpitudes du pouvoir de ce monde, ses angoisses face à la mort et au Jugement Dernier, mais aussi annonçant l'aube nouvelle, "jour clair et reluisant".




PROVENCE MYSTIQUE
ANNE AZÉMA

"I know a great many stories: the story of Merlin, of the death of King Arthur, of Tristan and Isolde, stories about lovers and great lords. I also know how to sing well in the service of the Holy Church: how to 'triple' the Sanctus and the Agnus in counterpoint, how to intone the saeculorum And I know my profession well – how to sing chansons, make good poetry, write pastourelles, rotrouenges and dances. And all kinds of people are grateful to me for this. The Lord God allows me to accomplish many things that will earn me salvation at the Day of Judgement."

This inventory of the talents of Peire de Corbiac (Lo tezaurs -13th c. ) gives us a glimpse of the kinds of activity which the minstrel-troubadours of the Middle Ages would have been expected to perform. These activities ranged from that of story-teller and poet to musician, improviser and entertainer; and their sphere of activity encompassed different milieux, ranging from the world of the court and courtly love to the liturgical and spiritual world of the Church. Our program brings together texts and music which might have formed part of the repertoire of some of these minstrel-troubadours. None of the pieces belongs to the liturgy of the Mass itself, but all of them deal with the relations between God and man, and the theme of human destiny.

The region now referred to as the south of France was in the Middle Ages known as Proenza (that is, Provence), and was truly a crucible of creative activity that was to change for ever the relationship between men and women, and between Man and the Creator. There, the musician-poets known as Troubadours sang songs of many different kinds composed in different poetic idioms and stylistic registers. They were written and performed in the vernacular (termed a vulgar tongue to distinguish it from clerical and learned Latin), now known by the modern names of Occitan, or Provençal. Their songs expressed their love for an earthly Lady, distant, inaccessible, deeply loved and a loyal friend, revered and feared. But a part of their repertoire was also devoted, in the same language, with often the same images and in the same forms, to their spiritual life . For the first time in the history of Western music and of non-Latin literature, the skill of the greatest poets was placed at the service of Christian praise and anguish in the contemplation of human destiny.

Tonight we will present differents aspects of this contemplation. Some of our songs reflect upon the fear of the end of of the world and the final judgement - oh so akin to our recently marketed First Night anxiety (Audi Tellus). Some reflect the sunny hope offered by the Virgin Mary, intermediary between God and Man (Ar Levatz sus). Others sing of the strength of the cross and its fundamental meaning that is, the redemption of the fall of Adam, who tasted the forbidden fruit. The cross then becomes in its turn the "Fruit of true knowledge" (Dels quatre caps que a la crotz). We will also celebrate the incarnation of the Word made flesh (Flore vernans gratie, Verbum patris) and the coming of Christ, as the shepherd Tityrus, the so-called "ass of God", carrying redemption in his saddlebag (Gregis pastor). Processional and paraliturgical music of this kind (that is, for musical activities performed outside of the Mass itself) was widespread among the Aquitanian monasteries and abbeys.

Most striking perhaps, is the very strong dissatisfaction expressed by some of these troubadours. Born of a climate of real tension in regard to the institutional priestly caste, two of the pieces on our second half testify to this critical spirit. The discourse of Guilhem Figueira, does not mince words on the "betrayal" of Rome (D'un sirventes far). And the moralizing parable of Peire Cardenal on the state of the world and the condition of Man estranged from the love of God is one of the most striking texts in this entire repertory (Una ciutatz fo). Despite the efforts of some commentators, it is quite hard to establish whether these troubadours were in fact implicated in the Cathar movement (considered sacrilegious and heretical by Rome and was made the object of a Crusade in 1208). It is however certain that their vision of the world and the outrages of Rome rest on historical facts, and in particular the massacre of the entire town of Béziers, which was instigated by Rome with the help of the Cistercian order under its abbot Arnaud Amauri on 22 July 1209.

These tensions found echos even in a neighbouring repertory from the Iberian peninsula, written in Galician, the Cantigas de Santa Maria, a collection of songs in honour of the Virgin compiled for King Alfonso X the Wise (1221-1284). Here (En bon ponto) we find a poor troubadour thrown into a dungeon for singing of the wrongdoings of Count Simon de Montfort. Count Simon was no legend but an authentic historical figure, the military commander of the same crusades sent by Rome against the Cathars. To this day his name is anathema in many circles in Southern France. In our story, the Virgin, recognizing one of her own people, and rewarding those who sing her praise, restores the unjustly imprisoned Gascon troubadour to liberty.

In attempting to follow the traces of Pierre de Corbiac, we have devised our own instrumental performance material, basing it on pre-existant vocal sources, and drawing on medieval learning methods (embracing such aspects as performance from memory, improvisation, knowledge of rhetoric). The troubadours, minstrels, clerics and nuns of the Occitan-speaking regions sang and played with a lively spirituality, describing the corruption of worldly power, their anguish in the face of death and the Last Judgement, but also celebrating the new dawn, lo jor clars et luzens: a bright and shining day.

tr. Philip Weller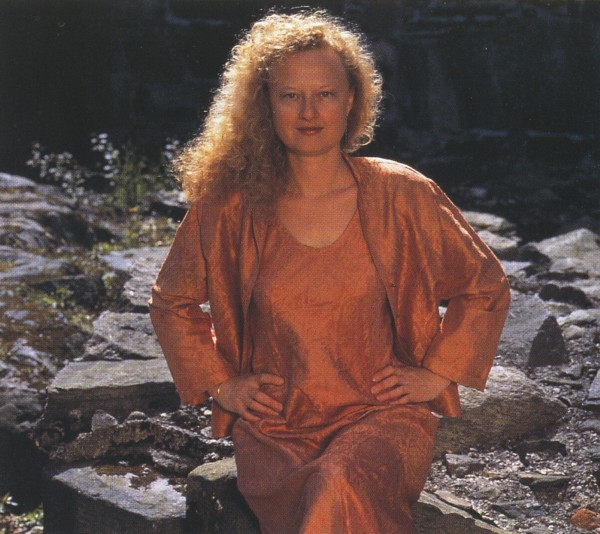 The French soprano Anne Azéma, renowned for her performances of early music, has been acclaimed by critics on four continents for her original, passionate and vivid approach to the songs and texts of the Middle Ages. She has also been widely praised in many other repertoires, from Renaissance lute songs to Baroque sacred music to twentieth-century music theatre.

Ms. Azéma's current discography numbers over twenty recordings. A featured soloist with The Boston Camerata, she has taken prominent roles in many of that ensemble's tours and Erato productions (Grand Prix du Disque). She has been a soloist with numerous other ensembles, large and small, early and contemporary. Ms. Azéma is a founding member of the Camerata Mediterranea, touring with them in France, Italy, Spain, Morocco, the Netherlands, and the United States, and appearing on both of that ensemble's Erato CDs.

She is frequently invited as a recitalist and often partnered in duos by lutenist Joel Cohen, touring with Mr. Cohen in North America, Europe, Africa, and Japan. Her teaching activities include master classes, notation seminars and coaching in France and the United States. Anne Azéma's recent major festival appearances as soloist and recitalist include Aix-en-Provence, Lourdes, Versailles, Spoleto (USA), Singapore, Jerusalem, Seville, Dresden, Boston, Bergen, Tanglewood and Tokyo.

The Unicorn, Anne Azéma's first CD on Erato, won her a Critic's Choice in the English review Gramophone, and a nomination for the French Grand Prix des Discophiles. Her second CD, Le Jeu d'Amour, released in the spring of 97, became a bestseller in the United States and won the coveted 10 rating from Répertoire magazine (Paris).
La soprano française Anne Azéma est renommée pour ses interprétations de musique ancienne. Les critiques de quatre continents ont acclamé sa vision originale, passionnée et vivante des chants et des textes du Moyen Age. Et elle est unanimement louée dans bien d'autres répertoires, des airs au luth de la Renaissance au théâtre musical du XXe siècle, en passant par la musique sacrée du baroque.

La discographie d'Anne Azéma compte aujourd'hui plus de vingt enregistrements. Soliste de la Boston Camerata, elle a assumé un rôle de premier plan dans bon nombre des tournées de cet ensemble et de ses enregistrements chez Erato (Grand Prix du disque). Elle a chanté en soliste avec de nombreux autres ensembles, grands et petits, de musique ancienne et contemporaine. Anne Azérna est également membre fondatrice de la Camerata Mediterranea, avec qui elle fait des tournées en France, en Italie, en Espagne, au Maroc, aux Pays-Bas et aux États-Unis, et a participé aux deux disques enregistrés par l'ensemble pour Erato.

Elle est fréquemment invitée à donner des récitals, souvent accompagnée par le luthiste Joel Cohen, avec qui elle s'est produite en Amérique du Nord, en Europe, en Afrique et au Japon. Ses activités d'enseignante comprennent des master classes, des séminaires sur la notation et des cours de chant en France et aux États-Unis. Elle a récemment chanté, en soliste et en récital, dans de nombreux grands festivals, dont Aix-en-Provence, Lourdes, Versailles, Spoleto (États-Unis), Singapour, Jérusalem, Séville, Dresde, Boston, Bergen, Tanglewood et Tokyo.

The Unicorn, le premier disque d'Anne Azéma chez Erato, lui a valu un "Choix des critiques" dans la revue anglaise Gramophone, et une nomination pour le Grand Prix des discophiles en France. Son deuxième CD, Le Jeu d'amour, publié au printemps de 1997, est devenu un best-seller aux États-Unis et s'est vu décerner la note très convoitée de 10 dans la revue Répertoire (Paris).