A la Via! / Strada · Anonymus
Musiques de rue du XIIIe au XVIe siècle
Street music from the 13th to the 16th century
---
[25.6.2016 19:58 GMT+2]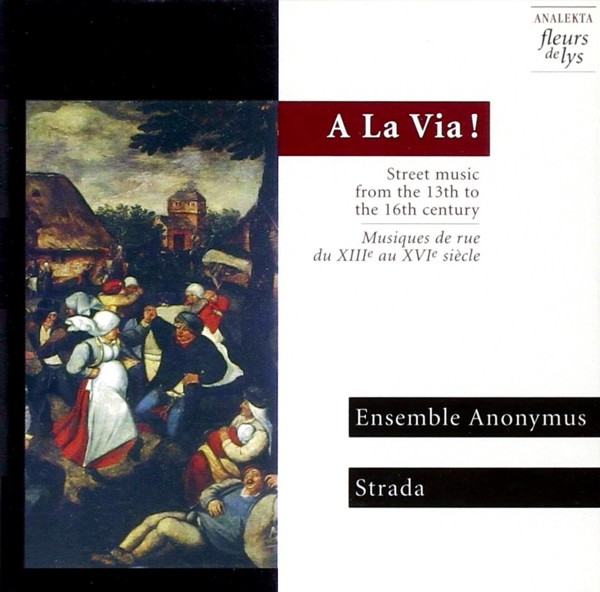 Esto es una cosa un poco rara (la edición, no la música).

Hay dos grupos distintos (Strada, quizá por eso lo de "A la via") y Anonymus.
La música, en principio, debería ser la tocada en el espectáculo "Médiévales de Québec" de 1993 (por Strada, supongo). Pero según medieval.org las pistas están grabadas en 1992 y 1995 (las de Strada). Quizá alguien tuvo una "idea" y para "perpetrarla" aprovecharon viejas grabaciones (1992) y grabaron alguna otra cosa (1995). Pero poca música (aprovechable) habría en el espectáculo cuando además recurrieron a las grabaciones de otro grupo (Anonymus) de la década anterior (El director de Strada es miembro de Anonymus). Entonces... ¿esto es una compilación o qué es?

Yendo a la música, el disco es casi totalmente instrumental. Strada canta en dos pistas (un descanso entre tanto instrumento) y además dicen que siguen las versiones del grupo Mont-Joia (también canturrean un poco en su última pista, la 10). Otro descanso notable son las canciones tunecinas, también instrumentales. El predominio de los instrumentos de viento es abrumador. Entre eso y que muchos bailes del Renacimiento no me atraen mucho (son para bailar más que para escuchar, especialmente los "bransles", que debe haber uno de cada región, ciudad y pueblo de Francia, hasta de la aldea de Astérix) la parte de Strada me interesa menos que la de Anonymus, que además tiene la cantiga causa de que esté escribiendo esto (La cantiga es media pista, la otra media ya saldrá cuando lleguemos a la editora "Siscom").

De Strada no recordaba casi nada. De Anonymus mucho más (sobre todo el Robin y Marion, las Joyeaux y el Vermell). Y como decía me interesa mucho más su parte, que además de ser medieval tiene un conjunto instrumental mucho más equilibrado, con clara presencia de cuerdas pulsadas. Me han recordado mucho en estas grabaciones el sonido y los arreglos de los Atrivm Musicae de la época de Mvsica Ivcunda.

Muy interesante la única pista cantada (Es fur ein pawr). Como siempre que me atrae una canción o melodía he buscado otras versiones en el baúl y, oyéndolas, me he dado cuenta de que suena en la banda sonora de alguna película. Ahora me toca recordar en cual o cuáles... Creo que Campanadas a medianoche, de Orson Welles...

Las pistas instrumentales tienen arreglos muy afortunados (las medievales y el Propiñán; en Ungaresca no me he fijado mucho, y en «Jouyssance vous donneray» al final, solo al final, resultan algo ruidosos).

Hay dos comentarios antitéticos en amazon.com:

Like street buskers of old, these two groups--Ensemble Anonymus (sic) and Strada--breath vitality and glee into ancient "good-time music" that deserves to be partied to again. "...There's plenty of dance music here for your next joust or pig roast," the packaging suggests. Indeed, the hooting, hollering, foot stomping, drum beating, pipe trilling, string strumming and bagpipe droning of these French Canadian artists enliven dances that are old favorites at Renaissance Faires and S.C.A. feasts, and others that should be. Appropriately (or inappropriately!) enough, I discovered this CD at the tranquil Cloisters museum in New York City, along with two discs of slightly less boisterous (but equally fun) music, "Istanpitta!: A Medieval Dance Band" and "Istanpitta II: Medieval Dances", by New York's Ensemble for Early Music Ensemble. The three together made for an excellent purchase, very complimentary and well worth the cost of the trip! Other good, rousing collections of medieval and Renaissance revel music include: "The Little Barley-Corne: Winter Revels from the Renaissance" by the Toronto Consort and the New London Consort's compilation album called "Sinners and Saints: The Ultimate Medieval and Renaissance Music Collection".

I took a chance on this. You never know: sometimes things like this can be a real treasure (e.g.: The Travelling Jewish Wedding). But not this one.


Nunca llueve a gusto de todos. Yo me quedo con las pistas 6, 7 y 8 de Strada (la última por los arreglos de Skowron) y con prácticamente todo los de Anonymus.


La instrumentación en medieval.org parece un poco abreviada con respecto a la de los dos LPs de Anonymus, tal vez figure así en el CD. No obstante, en una vieja versión de la página que conservo se lee:

Performers:
[1]-[10] Strada [Pierre Langevin (bagpipes, recorders, voice), Pierre Tanguay (drum, darbouka, tambourine, small bells, voice). Élise Guay (recorders, shawms, Poitou oboe), Marc Villeneuve (irish bouzouki, tambura), André Simoneau (hurdy-gurdy)] - Pierre Langevin, dir.
[11]-[12], [15]-[18] Ensemble Anonymus [Claude Bernatchez (darabouka, percussions, psaltery, dulcimer, mandoline, medieval fiddle, vocals), Pierre Langevin (recorders, crumhorns, shawm, psaltery, vocals), Claire Gignac (recorders, crumhorn, psaltery, vocals), Sylvain Bergeron (lute, orpharion, vihuela, cittern, vocals), Silvy Grenier (hurdy-gurdy, crumhorn, recorders, vocals, drums, tambour de Bearn] - Claude Bernatchez, dir.
[13]-[14], [19] Ensemble Anonymus [Sylvain Bergeron (lutes, mandora, orpharion, hand bells, vocals), Claude Bernatchez (tabor, darabouka, tambourine, medieval fiddle, lute, dulcimer, psaltery, vocals), Marie-Louise Donald (recorders, vocals), crumhorn, psalterion, voice), Silvy Grenier (hurdy-gurdy, crumhorns, shawms), Pierre Langevin (recorders, crumhorns, shawm)] & Viviane Leblanc (vocals), Jean Létourneau (recorders, crumhorn, vocals) - Claude Bernatchez, dir.

(En esta secuencia de caracteres se han "comido" un intérprete: Marie-Louise Donald (recorders, vocals), crumhorn, psalterion, voice)



(1485, 771, 61, 1466877483, 3, 1488, 'Strada · Anonymus - A la Via! Musiques de rue du XIIIe au XVIe siècle', 'anaku' - 1466887361
[25.6.2016 19:58 GMT+2]
---