Des Croisades à Don Quichotte / Arabesque, ensemble vocal et instrumental

---
Musiques du pourtour méditerranéen (XIIe-XVIe s.) · Music from the Mediterranean Basin (12th-16th c.)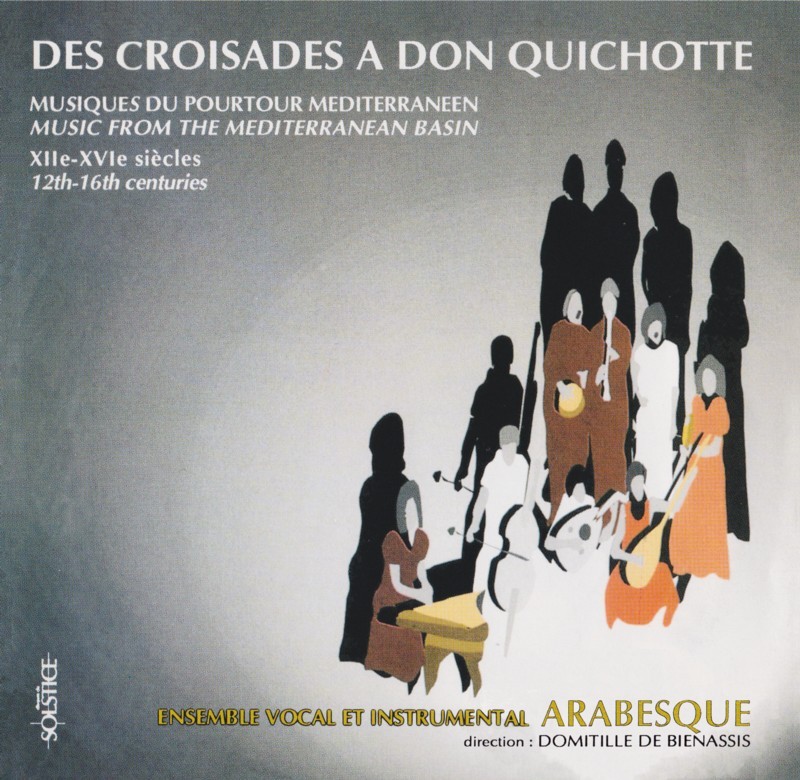 medieval.org | worldcat.org
Solstice SOCD 125
1995
[69:29]











1. Cant de la Sibilla [1:29] anonyme/traditionnel — 5 / vocalise

2. El Rey de Francia [4:47] sépharade, traditionnel — tutti

3. A virgen mui groriosa [3:01] CSM 42 — 4, 1, 7

4. Estampita Bellicha [4:32] Italie, XIVe siècle — 2, 5, 1, 4, 7 / vocalise

5. Ai ! Lemozis [3:12] Bertrand de Born — 7, 1

6. L'homme armé [3:46] Robert Morton — tutti sauf 6

7. Chanterai por mon coraige [5:01] Guiot de Dijon — Chanson de femme relative à la croisade de 1189 — 5, 1

8. Cuncti simus [1:32] LV 6 — tutti

9. Mariam matrem virginem [5:05] LV 8 — 8, 7, 5

10. Estampita Isabella [2:59] Italie, XIVe siècle — 1

11. Lamento di Tristano suivi d'une ROTTA [3:12] Italie, XIVe siècle — tutti / vocalise

12. Reis glorios [4:18] Guiraut de Borneilh — 7, 5, 2, 1

13. Tijs soezas [1:46] Chypre — tutti

14. Paseábase el rey moro [1:44] romance, Espagne, XVe s. — 2, 5

15. Todo quanto yo serví [3:28] Lope de Baena — tutti sauf 3, 6

16. Los hombres con gran plazer [1:52] anonyme, C. Colombina — tutti sauf 6

17. Tutte le vecchie son maleciose [2:36] Giovan Tomas di Maio — tutti sauf 6

18. Si me llaman, a mí llaman [1:37] Alonso Mudarra — 4, 2

19. Que es ti, desconsolado [3:00] Juan del Encina — tutti sauf 6

20. Dama mi gran querer [6:11] Móxica — tutti sauf 6

21. Muchos van d'amor heridos [2:46] anonyme, C. M. Palacio — tutti sauf 6

















Ensemble vocal et instrumental
ARABESQUE
direction : DOMITILLE DE BIENASSIS


DOMITILLE DE BIENASSIS (1) — viole de gambe, saz, flûtes, cromorne
ANNIE DEDET (2) — luth, vihuela, guitare
MURIEL DELLIS (3) — cloches, xilo, clavecin
RÉGINE DUCROS (4) — mezzo léger, percussions
VÉRONIQUE MEYER-BISCH (5) — mezzo
FRANÇOIS NOUGARET (6) — baryton
ANDR RAMPLOU (7) — ténor, percussions, dulcimer
FRANÇOISE SOLAZZI (8) — soprano, flûte à bec



L'Ensemble de musique ancienne ARABESQUE est né en plein cœur du pays cathare, entre l'Orb et la Peyne, dans la vallée de l'Hérault.
Simple atelier de découverte au départ, sous la direction de Domitille de Bienassis, spécialiste en musique ancienne et en esthétique, le groupe commence à se produire dès 1988. La très belle ville de Pézenas est alors devenue son fief.
Musiciens sans micros, la pierre est leur résonance... Arcs, voûtes, courbes et recourbes des chapelles et cathédrales dont on retrouve les rosaces sur les tables de luth, tandis qu,e des gargouilles s'accrochent au haut des manches des vielles ou des violes...
L'Orient se mêle à l'Occident dans la finesse et la beauté, oubliant les horreurs de la guerre. La musique raconte nos racines si riches d'influences diverses.
Les musiciens d'ARABESQUE ont choisi de faire revivre le monde sonore de leur région, lieu de passage entre l'Espagne, le royaume Franc, l'Italie, la cour papale et tout ce qui peut venir de la Méditerranée. Et c'est comme si l'on frottait enfin la lampe d'Aladin... Un génie merveilleux surgit, celui de ces compositeurs inconnus, auteurs de trésors de beauté et d'harmonie musicale. Le thème de ces chansons ? Ce sont toujours les mêmes : l'amour, Dieu, l'épée, mais animés par l'esprit chevaleresque. Car le chevalier est bien le héraut de cette histoire-là, des siècles non raisonnables précédant Descartes et qui débutent à Zoroastre pour finir sur le lit de mort de Don Quichotte de la Mancha. Atteindre la victoire du Bien sur le Mal, et rester pur en paroles, pensées et actions, tel est ce qui anime ces cavaliers de la lumière qui n'ont pas pu empêcher l'ombre... Si la chevalerie fut guerrière, elle fut aussi - et par le biais de l'Orient - le culte de la courtoisie et cette chevalerie d'amour qui inspira tant nos troubadours...
Mais ces siècles furent aussi par moments et par endroits des modèles d'intelligence tolérante où la fusion féconde des cultures chrétienne, arabe et juive rejaillit dans des œuvres magnifiques et populaires telles que le Recueil des cantiques d'Alphonse X le Sage.


The ancient music ensemble ARABESQUE was born in the very heart of the Cathar country between the Orb and the Peyne rivers in the Hérault Valley.
Under the direction of Domitille de Bienassis, a specialist in ancient music and aesthetics, the group started off as just discovery workshop but began to perform publicly in 1988. The lovely town of Pézenas has since become its headquarters.
These musicians have no need for microphones, preferring to let stone provide the resonance... Arches, vaults and curves of chapels and cathedrals whose roses are reproduced on lutes, whereas gargoyles cling to the ends of hurdy-gurdies and viols...
East meets West in delicacy and beauty, forgetting the horrors of war. Music is the voice of our past, enriched by so many varied influences.
The members of ARABESQUE have sought to bring back to life the sound world of their region, a cross- roads between Spain, the Frankish kingdom, Italy, the Papal court and whatever else might have come out of the Mediterranean. It is as if we rubbed Aladdin's lamp : a marvellous genie bursts forth, he of these unknown composers who have left us their treasures of beauty and musical harmony. The subjects of these songs ? They are always the same : love, God, the sword, but animated by the spirit of Chivalry. Because the knight is indeed the herald of these "unreasonable" centuries which preceded Descartes and which began with Zoroaster and ended with the death of Don Quixote de la Mancha. To achieve the victory of Good over Evil and remain pure in speech, thought and acts - that was what motivated these knights of light who were nonetheless unable to prevent the shadows... Although chivalry was bellicose, it was also, thanks to the East, the cult of courtesy and chivalry in love which so inspired our troubadours..
But, upon occasion and in certain areas, these centuries also could pride themselves on models of tolerant intelligence in which Christian, Arab and Jewish cultures combined to produce magnificent and popular works such as the collection of hymns of Alfonso X el Sabio.



Enregistrements réalisés du 25 au 28 mai 1995 en l'église St-Martin de Conas (Hérault)
Prise de son et montage : FRANÇOIS CARBOU
Mastering : JEAN-PIERRE BOUQUET / Fabrication : DURECO
Recto : CALLISCOPE, Montpellier



AVEC LE SOUTIEN DE LA VILLE DE PÉZENAS

DISQUES FY ET DU SOLSTICE. DISTRIBUTION WMD CLASSIQUE

L'Ensemble ARABESQUE / (photo J. Othily)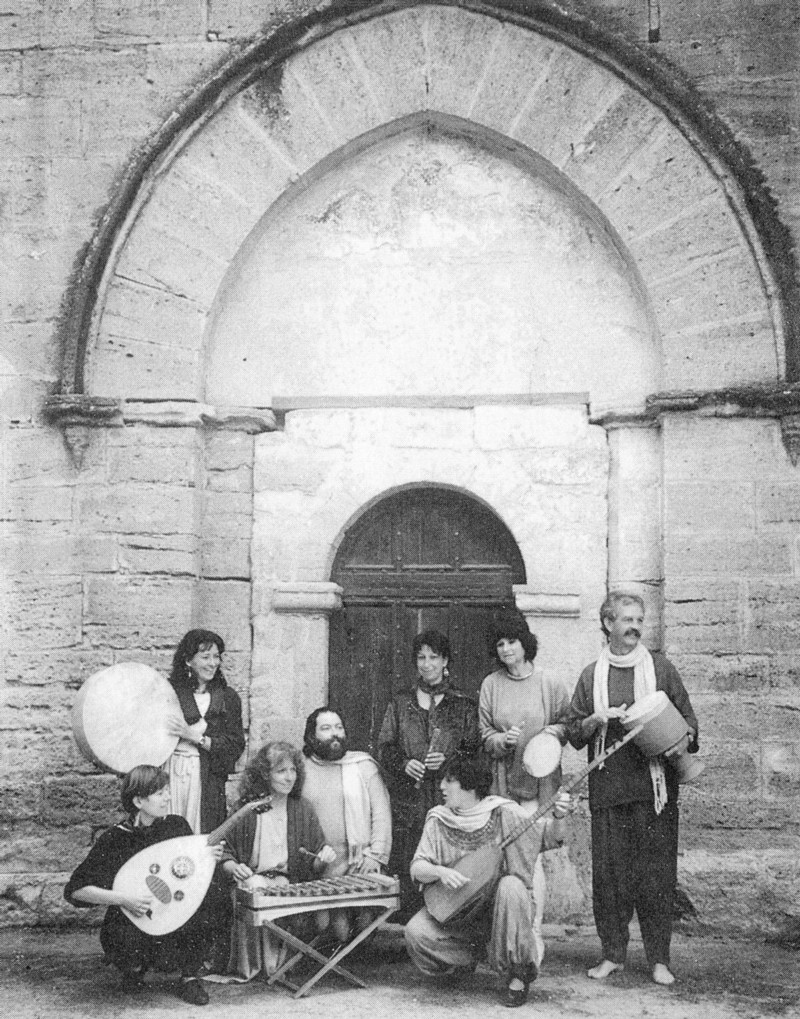 1. CANT DE LA SIBILLA
(Chant de la Sibylle / Song of the Sibyl)
Prêtresses mi-divines mi-sorcières du monde oriental, les sibylles dans la Grêce antique prophéti- saient sous l'inspiration d'Apollon. On retrouve leurs traces jusqu'à 6.000 ans av. J.C. Ce personnage, reflet plus proche de la terrible Lilith, mère divine et formidable, que de la douce Vierge Marie, fut cependant gardée par les premiers chrétiens pour annoncer l'avènement du Messie au cours de la nuit de Noël. Cette tradition se poursuivit durant tout le Moyen Age et jusqu'au XVIe siècle en France, Italie, Castille, Catalogne. On l'entend même encore aujourd'hui en Sardaigne et aux îles Baléares.
La version que nous proposons ici est volontairement sans paroles et fut retrouvée en Catalogne. Le chant de la Sibylle relie notre Moyen-Age à ses racines orientales les plus lointaines.
These priestesses of the Oriental world, mention of whom goes back as far as 6000 B.C., were half-goddess, half-witch. In ancient Greece, they prophetised at Apollo's instigation. More closely related to the terrible Lilith, divine and formidable mother, than to the blessed Virgin Mary, the Sibyl was nonetheless retained by the early Christians for announcing the coming of the Messiah on Christmas Eve. This tradition continued throughout the Middle Ages, up to the 16th century in France, Italy, Castille and Catalonia... Today, it can be heard in Sardinia and the Balearic Isles.
The Song of the Sibyl links our Middle Ages with its much older Oriental roots. The version which we have chosen here is, by choice, without lyrics and was found in Catalonia.

2. EL REY DE FRANCIA
(Le Roi de France / The King of France)
Beaucoup plus tardive, cette chanson laisse apparaître là encore la tradition de la mère sachant lire les signes et traduire les songes. Cette ballade est un chant traditionnel grec répandu dans diverses communautés orientales et judéo-hispaniques. La version qui nous est parvenue est d'origine turque. Nul doute qu'elle fasse référence à la période franque en Orient.
Composed much later, this song also reveals the tradition of the mother knowing how to read signs and interpret dreams. This ballad is a traditional Greek melody which has spread throughout various Oriental and Judaeo-Hispanic communities. The version which has come down to us is Turkish. It doubtless refers to the Frankish period in the East.

3. A VIRGEN MUI GLORIOSA
(A la Vierge très glorieuse / To the Virgin most glorious)
Un des Cantigas de miragre de Santa Maria réunis par Alphonse X le Sage au XIIIe siècle. Alphonse X est à l'origine de ce recueil de plus de 400 cantiques tous consacrés aux miracles de la Vierge. La beauté de ces cantiques emprunte à toutes les influences. Certains troubadours fuyant l'inquisition albigeoise se réfugièrent auprès de cet homme de tolérance et d'intelligence que fut Alphonse X et participèrent à cette œuvre immense où se mêlent les influences islamique, juive et chrétienne.
La Sainte Vierge constitua une source d'inspiration inépuisable tout au long du Moyen Age et particulièrement en Espagne. Ici, la Vierge sauve ceux qu'elle protège, par des miracles extraordinaires.
From the Cantigas de miragre de Santa Maria, collected by Alfonso X el Sabio (Alphonse the Wise) in the 13th century. Alfonso X was responsible for this collection of more than 400 hymns, all devoted to the Virgin's miracles. Their beauty is marked by many influences. Some troubadours, fleeing the Albigeois inquisition, sought refuge at the court of this tolerant and intelligent ruler, and participated in this vast undertaking wherein Islamic, Jewish and Christian influences meet.
The Holy Virgin was a most important source of inspiration throughout the Middle Ages and particularly in Spain. Here, the Virgin saves those under her protection by means of extraordinary miracles.

4. ESTAMPITA BELLICHA
Transmise par l'Italie du XIVe siècle.
Passed down through Italy from the 14th century.

5. AI ! LEMOZIS
Chanson de langue d'Oc du troubadour Bertrand de Born, mort vers 1205 en l'abbaye de Dalon. Le texte fait référence au mariage d'Archambaud VI de Comborn et de Guicharde de Beaujeu.
A song in langue d'Oc (southern French) by the troubadour Bertrand de Born, who died c. 1205 at the Abbey of Dalon. The text refers to the marriage of Archambault VI of Comborn and Guicharde of Beaujeu.

6. IL SERA POUR VOUS COMBATTU, L'HOMME ARMÉ
(He will have fought for you, the armed man)
C'est au sein de cette pièce que le fameux thème de L'homme armé apparaît pour la première fois dans l'histoire de la musique. La version à trois voix demeure anonyme mais, plus tardif, le manuscrit de celle à quatre voix en désigne pour auteur un certain Borton qui, selon toute vraisemblance, ne ferait qu'un avec Robert Morton, ce compositeur anglais qui exerça son art à la cour de Bourgogne de 1457 à 1475.
In this piece the famous L'homme armé tune makes its first bow in musical history. The 3-part version is anonymous, but a later MS ascribes the 4-part version to 'Horton', apparently a misprint for 'Morton', the English composer who worked at the court of Burgundy from 1457 to 1475.

7. CHANSON DE FEMME relative à la croisade de 1189

(Woman's song concerning the crusade of 1189)
Le 27 novembre 1095, à Clermont-Ferrand, le pape français Urbain II lance l'appel à la première croisade vers Jérusalem - qui sera prise par Godefroy de Bouillon le 15 juillet 1099. La seconde croisade sera un grave échec : en 1187, Jérusalem est reprise par le sultan Saladin. Une troisième croisade partira, celle de 1189, où Richard Cœur-de-Lyon et Philippe-Auguste prendront Saint-Jean-d'Acre et obtiendront l'autorisation des pèlerinages à Jérusalem ainsi que l'île de Chypre.
Attribuée à Guiot de Dijon, cette chanson d'une femme restée à attendre en terre franque illustre l'état d'esprit de l'époque.
On 27 November, 1095, at Clermont-Ferrand, the French Pope Urban II launched an appeal which would result in the first crusade to Jerusalem. The holy city was taken by Godefroy de Bouillon on 15 July, 1099. The second crusade was a serious defeat, and in 1187, Jerusalem was recaptured by the Sultan Saladin. The third crusade began in 1189, during which Richard the Lionheart and the French King Philippe-Auguste seized the fortress of Saint John at Akko and obtained authorisation for pilgrimages to Jerusalem, along with the island of Cyprus.
Telling of a woman waiting at home in France, this song (by Guiot de Dijon) illustrates the state of mind at the time.

8. CUNCTI SIMUS CONCANENTES : AVE MARIA
9. MARIAM MATREM VIRGINEM
Tout ensemble sacrés et profanes, ces deux virelais tirés du Llibre vermell de Montserrat (copié au XlVe siècle) n'étaient pas destinés à être chantés dans l'église même, mais à l'extérieur. En fait, il semble que pour maintenir les pèlerins dans une ambiance recueillie et respectueuse, tout un répertoire était prévu qui puisse malgré tout les détendre. L'image de la femme était exaltée et sublimée à travers le symbole de la Sainte Vierge.
Both sacred and profane, these two virelais from the Llibre vermell de Montserrat (copied in the 14th century) were not destined to be sung within a church but outside it. In fact, it seems that, in order to keep pilgrims in a meditative and respectful frame of mind, a whole repertoire was created which was intended to distract them from daily travails and relax them. The image of Woman was exalted and sublimated through the symbol of the Holy Virgin.

10. ESTAMPITA ISABELLA
11. LAMENTO DI TRISTANO + ROTTA
Proviennent de l'Italie du XIVe siècle.
Passed down through Italy from the 14th century.

12. REIS GLORIOS
( Roi glorieux / King glorious )
Chanson de veilleur aie à Guiraut de Borneilh, troubadour limousin mort vers 1215, cette pièce est typique de la chevalerie d'amour qui primera avec tant de grâce sur la chevalerie guerrière des premières croisades. On le sait, l'influence de la civilisation orientale a dégrossi nos rudes chevaliers ; elle inspirera avec bonheur l'amour courtois.
A watchman's song by Guiraut de Borneilh, a Limousine troubadour who died c. 1215, this song is typical of the chivalrous love which prevailed so gracefully over the warring chivalry of the first crusades. It is well known that the influence of Eastern civilisation took the rough edges off our crude knights and inspired courtly love.

13. TIJS SOEZAS
En 1192, lorsque Chypre fut donnée à Guy de Lusignan, l'île était déjà un point stratégique et commercial de premier plan entre l'Orient et l'Occident. Durant les croisades, elle devint aussi une aire de repos et de ravitaillement salutaire, au point que nombre de croisés choisirent en fin de compte de s'y établir. La cour française de Chypre se maintint jusqu'en 1489 ; sa renommée artistique était immense, et tout artiste se devait d'y passer quelque temps. En 1359, Pierre de Lusignan - grand ami de Guillaume de Machaut - organisera une tournée en Europe qui durera trois années, permettant de précieux échanges musicaux. Chypre et Rhodes furent les derniers fiefs chrétiens en Terre Sainte et, aussi, la base des chevaliers du Temple et de Saint-Jean (plus tard, l'Ordre de Malte) chez qui le service des armes allait de pair avec les soins aux malades.
Tijs Soezas est un chant d'épousailles de style typiquement chypriote. On y supplie le futur époux, un pêcheur parti en mer, de rentrer rapidement car la cérémonie de mariage risque d'être encore reculée.
In 1192, when Cyprus was given to Gui de Lusignan, the island already enjoyed a considerable strategic and commercial importance between the East and the West. During the crusades, it also became a rest and resupplying station, and many crusaders eventually elected to remain there. In 1359, Pierre de Lusignan, a close friend of Guillaume de Machaut, organised a tour of Europe which lasted three years and permitted precious musical exchanges. The French court maintained a presence in Cyprus until 1489 (when the island was sold to the Venetians). Its artistic renown was widespread, and all musicians deemed it necessary to pass some time there. Cyprus and Rhodes were the last Christian strongholds in the Holy Land, and also the headquarters for the Knights Templar and the Knights of Saint John (later called the Order of Malta). Military duty went hand-in-hand with caring for the ill.
Tijs Soezas is a nuptials song in typical Cypriot style. In it, one begs the future husband, a fisherman who has put out to sea, to return quickly - otherwise, the marriage ceremony risks being put off yet once more...

14. PASEÁBASE EL REY MORO
Le marquis de Cadix ayant conquis la ville d'Alhama, le roi de Grenade tentera par tous les moyens de la reprendre. Très partisane, cette romance du XVe siècle (qui connut plusieurs versions) finit par être interdite tant elle soulevait les passions entre Espagnols et Maures.
The Marquess of Cadix conquers the city of Alhama. The King of Grenada, using every possible means, tries to reconquer the city. Highly partisan, this 15th-century romance (which has known numerous versions) was forbidden due to the inflammatory effect it had on Spaniards and Moors.

15. TODO QUANTO YO SERVÍ
Lope de Baena (XVe s. / 15th c.)

16. LOS HOMBRES CON GRAN PLAZER
Anonyme / Anonymous

17. TUTTE LE VECCHIE SON MALECIOSE
(Toutes les vieilles femmes sont malveillantes / All old women are malicious)
Di Maio, Italie (XVe s. / 15th c.)

18. SI ME LLAMAN, A MÍ LLAMAN
Alonso Mudarra

19. QUE ES DE TI, DESCONSOLADO
Juan del Encina

20. DAMA MI GRAN QUERER
( Madame, mon grand amour / Lady, my great love)
Móxica (XVe s.) / (15th c.)

21. MUCHOS VAN D'AMOR HERIDOS
Anonyme (XVe s.) / Anonymous (15th c.)