Iberian Miracles

/ Aurora Ancient Music


The Virgin Mary in the Daily Life of 13th Century Spain






medieval.org
Sap Records, Aurora 003
2005




1. Ave maris stella [2:22]
Codex Sangallensis, 9th century

2. Santa Maria, strela do dia [2:10] CSM 100

3. Des oge mais [1:47] CSM 1

4. Santa Maria loei [4:51] CSM 200

5. Muit' amar devemos [1:39] CSM 36

6. Gran sandece faz [4:30] CSM 19

7. Deo confitemini [1:33]
Anonymous

8. Vella e ninya [4:49] CSM 180

9. Poi-las figuras [3:01] CSM 136

Oswald WOLKENSTEIN
10. Ave Mater O Maria [2:45]

11. Como poden per sas culpas [2:02] CSM 166

12. Por nos de dulta tirar [3:38] CSM 18

13. Gran piadad' e mercee [5:32] CSM 105

14. A Madre do que livrou [2:20] CSM 4

15. Quen mui ben quiser [4:29] CSM 64

16. Estampie [2:13]
Anonymous, French, 13th century

17. Como somos per conssello [1:00] CSM 119




Aurora Ancient Music
Left to right: Liz Thompson, Director;
Susan Reit; Mary Ann Samuels; Amity Baker; Susan Comen.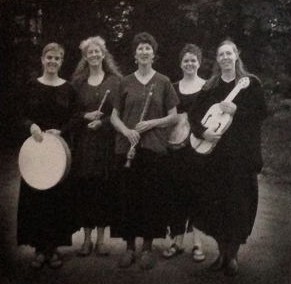 IBERIAN MIRACLES
Cantigas de Santa Maria, Plainchant, and Medieval Polyphony


The Virgin Mary is a powerful figure in medieval life and lore. She is, in many ways, the Goddess in Christian clothing - a reflect, and memory of the female deities and earth-centered religions that dominated the ancient world. That she is honored so abundantly in the song and poetry of the Middle Ages is a testament to her important place in the hearts of men and women.

The Cantigas de Santa Maria is an amazing collection of songs to the Virgin Mary, depicting her as a worker of miracles in every aspect of life. She is in the street, in the pasture, in the church, in the monastery, in the home. She offers wisdom, guidance. and justice. The
stories tell much about life in 13th century Spain. The Cantigas were assembled by King Alfonso El Sabio (the wise) vr. reigned n Spain, in the regions of Castile and Leon. from 1252 to 1284. King Alfonso regarded himself as Mary's Troubadour, borrowing from the tradition of the secular Troubadours who carried songs of courtly love throughout the countryside.

The music and melodies of t. Cantigas are as intriguing as the poetry. Although the music is strongly European, it seems to carry at least some influences of the Middle East and of Africa in its tonalities and rhythms. This is not surprising considering the history of the Iberian peninsula. Prior to Alfonso's time, the area had been dominated by Muslims for centuries. It also had a large and vital Jewish population - only recently had Christianity taken hold as the dominant religion there. The presence of a diversity of cultural groups fed a rich and interesting musical world, making the Cantigas especially engaging.

Iberian Miracles is a collection of a few of our favorite Cantigas, along with some related pieces from the medieval world.


ABOUT THE SONGS

The Cantigas de Santa Maria are joined here by several earlier or contemporaneous medieval works. Beginning with the ancient plainchant, Ave Maris Stella, the Virgin Mary is invoked, and the miracle stories of the Cantigas follow. Some are sung; some others are performed on instruments. We do not know exactly how these songs would have been accompanied, but the image at bottom - an illumination from the original Cantigas manuscript - suggests that harps, hurdy-gurdies and medieval fiddles might have been used. The instrumentation and arrangements are Aurora's. They are based partly on historical information and partly on our own 21st century Vermont artistic sensibilities.




Liz Thompson : Photography
Don Jamison : Assistant Engineer
Annette Grant Cash : Artwork
David Gunn : Assistant Engineer
Rob Ostrander : Mastering, Mixing
John E. Keller : Artwork
Andrew Kline : Photography
Peter Engisch : Mixing, Recording



Iberian Miracles is a dramatic program of the songs of 13th century Spain under King Alfonso the Wise. He gathered and wrote hundreds of songs of love and praise in the troubadour tradition. Aurora Ancient Music is Liz Thompson (former director of the medieval ensemble Anima), Susan Comen, Amity Baker, and Judith McManis, joined by instrumentalists Mary Ann Samuels playing hammered dulcimer and recorders and Susan Reit playing harp and recorders. — http://www.allarts.org/art-bits/2003/03-06-12.htm