Neidhart von REUENTAL
Ensemble für frühe Musik, Augsburg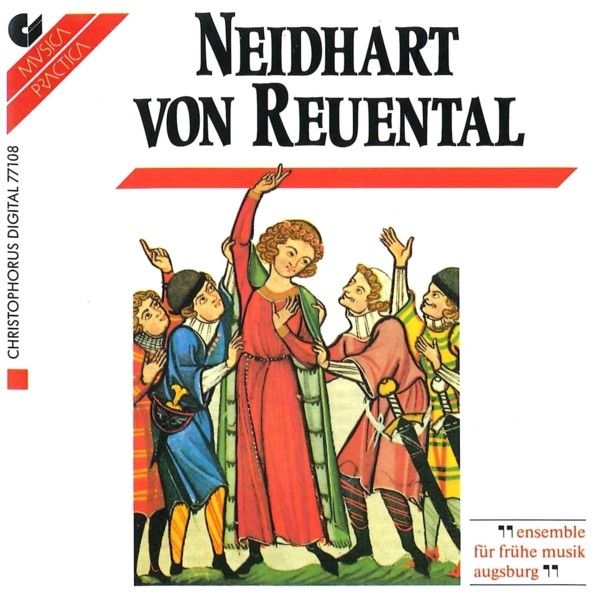 medieval.org
Christophorus CD 77108
1990
reedición 2010: Christophorus CHR 77327







01 - Sing ein guldein hun [2:44]
Sänger 1, Blockflöte, Fidel, Chitarra sarazenica, Schlagwerk

02 - Mir ist von herczen laide [5:16]
Sänger 1/2, Fidel, Harfe

03 - Ich gesach die heide nye so gestalt [3:34]
Sängerin, Blockflöte, Lira, Mittelalter-Laute

04 - Mayenzeit one neidt [5:11]
Sänger 1, Blockflöte, Schalmei, Fidel, Mittelalter-Laute, Schlagwerk

05 - Mann hort nicht mehr süssen schal [3:22]
Sängerin, Sänger 1

06 - Do der liebe summer [5:51]
Sänger 2, Blockflöte, Fidel, Chitarra sarazenica

07 - Maye dein wunnewerde zeit [4:47]
Sänger 1/2, Schalmei, Pommer, Mittelalter-Laute, Schlagwerk

08 - Do man den gumpel gampel sank [5:05]
Sänger 2, Blockflöte, Chitarra sarazenica, Dulcimer

09 - Meie dein lither schein [3:14]
Sänger 1

10 - Wie schöne wir den anger ligen sahen [4:03]
Sängerin, Sänger 1/2, Schalmei, Lira, Mittelalter-Laute, Schlagwerk

11 - Vreut euch wol gemuten kind [4:08]
Sänger 1, Blockflöte, Schalmei, Harfe, Schlagwerk

12 - Sumer deiner suzzen wunne [6:14]
Sänger 2, Blockflöte, Fidel, Harfe

13 - Winter deine mail [7:08]
Sänger 1, Blockflöte, Drehleier, Mittelalter-Laute

14 - Sie clagen das der winder [4:27]
Sängerin, Fidel, Mittelalter-Laute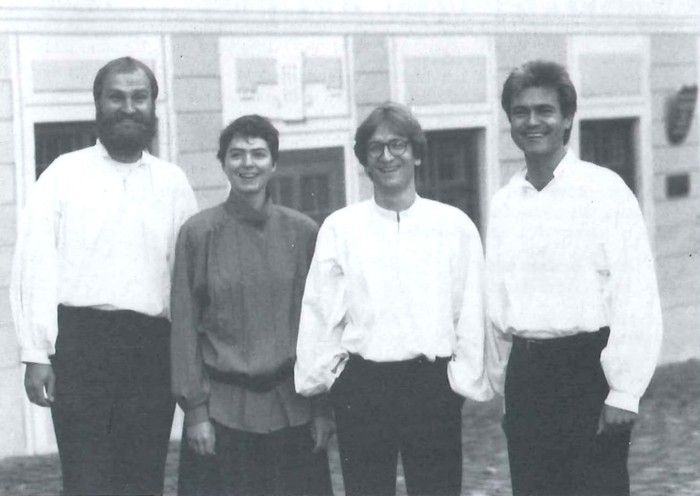 Ensemble für frühe Musik, Augsburg
Sabine Lutzenberger, Sängerin, Blockflöten, Schalmei, Harfe
Hans Ganser, Sänger 2, Blockflöten, Schlagwerk
Rainer Herpichböhm, Sänger 1, Mittelalter-Laute, Chitarra sarazenica, Harfe
Heinz Schwamm, Fidel, Lira, Drehleier, Dulcimer, Schalmei, Pommer



Recording: Augsburg, Barbara-Saal, 7/90
Recording Producer: Reinhard Kiendl
Recording Engineer: Dietmar Vogg
CD-Mastering: Andreas Bittel
Ensemble Photo: Albert Rott Cover
Design: Manfred Glaser/Herbert Becker
Cover Picture: Herr Neidhart, Codex Manesse Tafel Nr. 92 (273r), Insel Verlag Frankfurt 1988
Transcription and Musical Arrangements: "ensemble für frühe musik augsburg"
1990 / 1991 MusiContact GmbH, Heidelberg, Germany



Christophorus CHR 77327:


Neidhart von Reuental

Very little is known about Neidhart's life. Born in Bavaria at the end of the 12th century, he travelled throughout the country as a wandering minstrel, perhaps took part in a crusade and died around 1240 in Mödling, a town near Vienna.

There is, however, one thing that can indeed be said about him: Neidhart and his songs were extremely popular and well-liked. Twenty-two manuscripts have been handed down to us with over 200 lyrics and 55 melodies that were sung by him or by others who imitated Neidhart's style. This oeuvre has simply been divided by researchers into summer and winter songs, songs for dancing outside in the meadows and songs for indoor dances. And indeed most of his songs do actually begin with the socalled "Naturein-gang" - a stylized description of the natural scene, as in 'Wie schön, daß der Mai mit Sonne, Blumen, Gras, Vögeln wiedergekommen ist!" or "Wie schlimm, daß der Winter mit Reif, Schnee, Frost eingekehrt ist!". After a few lines or verses of such a convention, the songs, however, become very individual in sound - songs that are virtuoso and expressive, funny, boastul, erotic, obscene, brutal, complaining, nagging, imploring - most of them with very catchy melodies which, after numerous repetitions of numerous verses, creep into the ear and become haunting tunes. And so it is that a closer look reveals a very diversified picture of these summer and winter songs, numerous variations and facets of the same theme, which is, namely, to strike up a tune for dancing and to entertain and amuse the listener.


Heinz Schwamm



The Transmission of Neidhart's Songs

The transmission of Neidthart's songs differs fundamentally from that of other Minnesingers:

1. Whereas the work of important Minnesingers has been preserved in collected form in manuscripts such as the well-known "Manesse Manuscript", Neidhart's songs were, from the start, also noted down in special collections, but in manuscripts dedicated exclusively to the author; the first of these was the so-called Riedegger Manuscript R (around 1280).

2. At a time when the transmission of other German Minnesang virtually disappears (15th century), important Neidhart collections continue to appear, the foremost of which is the most comprehensive collection of any Middle High German author whatsoever, the manuscript c - a kind of complete edition of Neithart songs, written in the second half of the 15th century.

3. No other Middle High German lyrist has had so many melodies handed down as Neidhart has. However, with the exception of the parchment fragment O from the 14th century, the transmission of melodies does not begin until the 15th century when paper came into use for manuscripts.

With the transmisson of such a great number of manuscripts from the 13th to the 15th centuries (several strophes even experienced the age of book printing and were published in the Schwankbuch "Neidhart Fuchs" in the 16th century), it is not surprising that in the songs handed down in multiples one can find considerable differences in the number and order of the verses (verse variants) and in the lyrics themselves (text variants). There are, to a certain extent, even melodies to songs written down twice and, as in the case of the texts, there are also discrepancies here in these versions - variants that could, by the way, possibly stem from the author himself. Consequently, it is possible that Neidhart, in various places and on different occasions, performed songs that had been altered. The content, style and form of Neidhart's songs are also not uniform - a matter which can, in the case of such a creative author, be easily understood when his ingenuity and forty years of productive work are taken into consideration.

The diversity of the songs together with the idea prevalent in the 19th century that handed-down material was "corrupt" prompted philologists to examine it "critically". They used formal, one-sided schematisms and the aesthetic-moral criteria of the 19th century to analyse the texts, believing that it was possible to separate them into the categories of "authentic" and "unauthentic". The texts thought to be unauthentic were then designated "pseudo-Neidhart". And it is with this approach that the philologists of the last century were able to exert an influence on research that has continued up into our day and age.

It was not until recently that one has departed from the question of authenticity as a central theme of Neidhart research, for the distinction between authentic and unauthentic songs and - within a song itself - into authentic and unauthentic verses is, principly speaking, not possible. As a result, there has been a change in approach to considering the oeuvre, which has been handed down as Neidhart's, in its entirely (confer especially the work done so far by the "Salzburger-Neidhart-Projekt" - a new complete edition published by I. Bennewitz-Behr, U. Müller and F. Spechtler of all the lyrics and melodies which have been handed down as Neidhart's; for the latest developments in research confer G. Schweikle, Neidhart, Stuttgart 1990).

Consequently, in our recording you will not hear the "authentic" melodies "critically cleaned" by the philologists of the 19th century, but instead the songs with their melodies as they were written down in the original sources. The above-mentioned wording and text variants forced us, on the one hand, to make a choice and, at the same time, gave us the opportunity to find "our" Neidhart with the present-day listener in mind.

Lyrics and melodies were taken from the following manuscripts:
Hs. c: Staatsbibl. Preußischer Kulturbesitz, Berlin, Ms. germ. fol. 779
Hs. s: Sterzinger Miszellaneen-Handschrift, Stadtarchiv Sterzing, Südtirol
Hs. w: Osterreichische Nationalbibl., Wien, series nova 3344 (Liederbuch des Liebhard Eghenvelder)

The translations are from: D. Kühn, Neidhart aus dem Reuental, Frankfurt am Main 1988. Hg. S. Beyschlag / H. Brunner, Herr Neidhart diesen Reihen sang, Göppingen 1989.