The Music of the Kings / Musica Antiqua consort

---
XI — XVI c.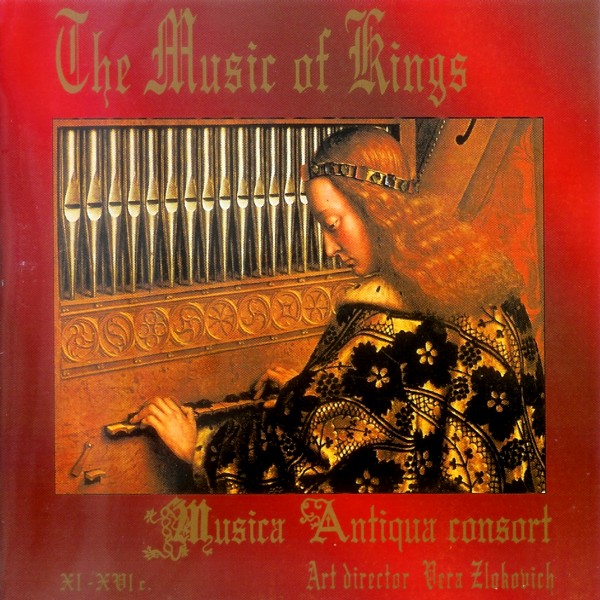 medieval.org
worldcat.org
2000 2007: Meridian CDE 84542











1. Anonymous (c. 1300)
LAMENTO DI TRISTANO ET ROTA · THE TRISTAN'S LAMENT AND ROTA [5:58]
The dance of the court aristocracy is found among the manuscripts from c.1200 and c.1300. A bit melancholic melody, oriental in its expression, connects the legend of Tristan and Rota. The Rota is a variation of the lament.

2. ALFONSO X el SABIO (c. 1200)
MARAVILLOSOS ET PIADOSOS · HOW THE MIRACLE WAS MADE · cantiga [4:46] CSM 139
The song is [about] glorifying the miracles of the Virgin. This kind of music with religious thematic but not a part of church services was very common up to c.1600 and c.1700. The Lord was a part of everyday secular life.

3. RICHARD I CŒUR de LION (c. 1100)
JA NUN HONS PRIS NE DIRA SA RAISON · THE ONE IN LOVE DOES NOT TELL
THE REASON [3:36]
The trouvere ballade wrote in Austrian imprisonment. Probably has something in common with the picturesque tale of Richard's rescue from prison by Blonde! de Nesle which is sadly apocryphal.

4. Anonymous (c. 1200)
AGNIAU DOUS · THE SWEET LAMB [3:16]
This troubadour song is [a] result of religious feelings of a gifted believer. It is about our Lord's walk to Golgotha, his mother's lament, and her begging for his blessing.

5. ALFONSO X el SABIO (c. 1200)
ROSA DAS ROSAS · A ROSE ABOVE ALL ROSES · cantiga [4:42] CSM 10
The song [is] dedicated to Virgin Mary, with carefully chosen vocabulary and pure simple melody.

6. Anonymous (c. 1300)
SALTARELLO [4:05]
A lively dance for one person or a couple cherished on the Italian court.

7. ALFONSO X el SABIO (c. 1200)
COMO PODEN · IF I FALL ILL · cantiga [2:41] CSM 166
One more of his songs glorifying the Virgin and the power of [to] her prayers.

8. Anonymous (c. 1200)
ESTAMPIE [3:48]
An important medieval instrumental dance-form[;] consisted of a number of sections, each repeated, though perhaps with different endings.

9. Anonymous (c. 1400)
CANZONETA TEDESCHA · THE GERMAN CANCONET [6:28]
A short, gay song with an archaic rich theme.

10. ALFONSO X el SABIO (c. 1200)
QUEM A OMAGEM DA VIRGEN · WHO WORSHIPES THE VIRGIN · cantiga [2:25] CSM 353
All Alfonso X's songs and this one as well are showing the glow of Spanish monody and troubadour activity.

11. Anonymous (c. 1200)
AU RENOUVIAU · TOWARD SPRING [4:04]
Nature was [a] favoured theme of troubadours and trouveres, usually mentioned in the title. This kind of introduction became the convention. It gave the pastoral atmosphere[,] very convenient when describing a hunt, like here.

12. HENRY VIII (c. 1500)
PAST TIME WITH GOOD COMPANY [2:24]
The king's own "balade" assumes a young and happily married king whose chief preoccupations are hunting, singing and dancing. It is the reason for believing that this and similar songs were mostly composed in the early years of Henry VIII's reign. The first version of the song is anonymous, in lute tablature possibly transcribed from a vocal setting.

13. Antoine de FEVIN (c. 1400)
FORS SOLEMANT · FOUR LOTUSES [1:54]
The song of Luis XII's professional musician is [a] so called "international hit". "Fors solemant" is found in innumerable manuscripts and printed anthologies of the period. One of the foreign songs in Henry VIII's Book. It is distinct from the general style of the English court-music and the chivalric songs in barbarous Anglo-French.

14. HENRY VIII (c. 1500)
WHOSO THAT WILL ALL FEATS · WHOSE WILL BE THOSE SIGHS [1:56]
The form of the song is puzzling. The text do not in any case easily fit the music. Only one line of words is underlaid, and that to the bass. Perhaps it is an instrumental piece based on a song with which the words also are in some way connected.

15. HENRY VIII (c. 1500)
O MY HEART [1:12]
The author of this composition is the King himself.

16. HENRY VIII (c. 1500)
CONSORT VIII [1:35]
The [A] chamber instrumental piece for the family of recorders resembling the organ's register.

17. William CORNYSH (c. 1400)
A ROBYN GENTYL ROBYN · AH ROBIN GENTLE ROBIN [2:02]
This song has sometimes been used to support a latter date for Henry VIII's Book, because the second and longer version of the poem is found in Sir Thomas Wayatt's (b.1503-d.1542) autograph manuscript. An explanation which fits in better is that Wayatt at a later date took and expanded a song already popular at court. Four singers are ideally required to preserve the dialogue effect in Voice III.

18. HENRY VIII (c. 1500)
TAUNDER NAKEN [2:11]
This instrumental piece is Henry's most considerable secular composition. The melody on which it is based was one of the best known of the period.

19. HENRY VIII (c. 1500)
HELAS MADAME [4:28]
The chanson was listed as a basse-dance by Antonius de Arena. Henry VIII may simply have added Voice III to an original setting.

20. Francisque CAROUBEL (c. 1500)
GAVOTTE · THE HENRY III'S GAVOTTE [3:13]
A kind of branle, popular in the end of c. 1500 [sic] at the French court, later widely spread. This one is a composition of Henry III's own musician.

21. Anonymous (c.1400)
LE DANCE DES SAGES · THE COURT DANCE OF [THE] WISE MEN [3:41]
It is found in an anonymous manuscript in Munich. A dance specially composed for the "wise heads" gathered around thrones.











Musica Antiqua Consort, Serbia
Vera Zlokovich

Vera Zlokovich – mezzo-soprano
Predrag Djokovich – countertenor
Branislav Rakich – tenor
Alexandar Petrovich – bass-baritone

Vojka Djordjevich, Rajna Vuletich – sopranos
Bojan Blidarevich – countertenor
Radmilo Petrovich – tenor

Nikola Radan — crumhorn, recorders, cornett, cornamuses, rauschpfeif
Vladimir Chinch — vielle, soprano gamba, cornamuses, tenor recorder
Sasha Borovich — vielle, Serbian lyre
Ljubisha Jovanovich — bass and tenor recorders, cornamuses
Petar Kodzas — lute, Serbian lyre
Slobodan Vujisich — lute, crumhom
Boris Bunjac — darabouka, nakers, medieval tambour, tamburine, bells
Darko Karajich — medieval lute, lute, Serbian lyre, Moorish lute
Ljubomir Dimitrijevich — recorders, gemshorn, cornett, crumhom, kortholt, cornamuse, cowhorn
Zeljko Nestorov — tenor and bass sackbut

Dragan Karolich — recorders, cornamuses, shawm
Marko Steegelmann — shawm, recorders, cornamuses
Nenad Jelich — timpane, darabouka, tamburine


Recorded by Danica Velashevich and Zoran Marinkovich
Produced by Milorad Kuzmanovich
Postproduction by Boris Bunjac

Selection of chants: Vera Zlokovich

℗ & © Meridian Records 2007





THE MUSIC OF KINGS

The medieval courts, besides churches, were the main gathering centres of professional musicians. No wonder then that even some of the "crowned heads" tried themselves in this creative field. Very often though they rather stayed anonymous so the authorship cannot be always claimed with certainty.

This program consists of compositions of tree medieval European kings: Richard l the Lionheart, Alfonso X the Wise, Henry VIII and other performed at courts or thematically attached to court-life (dances, troubadours and trouvères songs and those dedicated to the rulers...)

The songs of troubadours and trouvères though on common language, were also court music. Troubadours were aristocratic poet-musicians from the Provençal-speaking area of southern France. From c.1100 they devoted themselves to the cultivation of chivalrous love through poetry and music. Some 2600 poems survive together with 282 melodies in their chansonniers. They had a great influence in central France and Spain, due to their connection with Alfonso el Sabio the king of Spain and troubadour as well.

Trouvères, like the Provençal troubadours, were aristocratic poets, composers and performers, active in northern France from the mid-c.1200. Trouvère songs resemble those of troubadours in being monophonic but place more emphasis on formal structure [sic]. About 2100 of their texts and 1400 melodies are preserved.
This music was based on church models but, under the influence of common music, more free in its expression. That is why the religious themes are [...?] very often, among those speaking of love, nature, even some social or political happenings [sic].

Richard I (b.1157.; d.1199), King of England, Duke of Aquitaine was known as "Coeur de Lion". His [great-]grandfather William IX, Duke of Aquitaine was the first of [the] noble troubadours; his were the earliest troubadour songs to survive. His mother (William's [grand-]daughter), Eleanor Queen of England, was the leading patron of troubadours. Raised among artists, Richard himself became a poet and composer - a trouvère. Two of his poems survived but only one with music, wrote [written]during his imprisonment in Austria, a lament about his destiny but also an indication of his political activity.

The monarch of Spain [sic] Alfonso X el Sabio (b.1221.; d.1284.) was one of the most educated rulers of his time ( "el Sabio" means "the Wise" or "the Learned"). He was a great patron of arts, sciences, culture in general and reformer of social life, education, law, which all brought Spain an honourable place among other European countries. He was tolerant of all religions and made his court a centre of Christian, Islamic, Jewish scientists and artists.

He was proclaiming the usage of mother-tongue in science and art and so was translating numerous books - above others the Bible, Koran [?], Talmud. Under his auspice were also cherished the Castilian literature, historiography, astronomy. Many troubadours found favor at his court and Alfonso el Sabio initiated studies of music at the Salamanca University, specially treasuring Spanish monody. The most significant act of his creative energy was compiling the manuscript[s] known as "Cantigas de Santa Maria", the song-book containing about 500 songs [sic]. Alfonso himself probably composed some of these melodies. The MS is precious for the history of music and court poetry.

Henry VIII (b.1491; d.1547.) King of England, as younger son of Henry VII was trained and learned to be a priest, so he acquired a fine musical education. According to his contemporaries he was interested in various fields of art. Henry made his court a centre of musical culture, increasing the number of professional musicians and encouraging foreign artists to join them. Music became a very important part of court-life, included in all formal ceremonies (meetings of counsellors, processions, celebrations, knights' tournaments ...). He introduced the Franco-Flemish style of church music, composed both sacred and secular pieces, built up an enormous collection of musical instruments and played several of them (organs, lute, virginal, a few wind instruments) and was a very good singer. Moreover in the first 10 or so years of his (new) reign he gathered the "Henry VIII's Book". It contains 109 songs and instrumental pieces, well-written with extremely lucid notation. The title indicates that lots of them are the King's own compositions; 33 in all bear the superscription: "the kynge henry viii". This manuscript is of great value for the history of music and social history of the early Tudor court.

Dances were special part of court-life. Here we have six of them of different origin: The Tristan's Lament and Rota, Saltarello, Estampie, The German Canzonet, The Henry III's Gavotte, and The Court-dance of Wise Men.


Ana Matovich, musicologist
Institute of Musicology, SANU
(The Serbian Academy of Sciences and Arts)