Chanterai d'aquestz Trobadors / Belladonna
Singen wir von diesen Trobadors · Let us sing of these Troubadours




http://www.talanton.de/
Talanton TAL 90006
2011
recorded live at montalbâne 25.6.2006









Peire d'Alvergne · 1150-1180
01 - Chanterai d'aquestz trobadors [3:03]


Liebesfreud und Liebesleid / The Bliss and the Sorrows of Love

Giraut de Borneilh · 1165-ca. 1200
02 - No posc sofrir qu'a la dolor [4:38]
03 - Si'us quer conselh bel'ami Alamanda [6:14]

Marcabru ... 1129-1150 ...
04 - L'autrier jost'una sebissa [3:38]

Comtessa de Dia · late 12th century
05 - Estat ai en greu cossirier [3:54]

Aimeric de Peguillan · ... 1195-1230 ...
06 - En amor trob'alques [5:10]


Die Trobadors und die Katharer / Troubadours and Cathars

Peile Cardenal · *ca. 1185
07 - Razos es qu'ieu m'esbaudei [4:04]

an. · 13th century
08 - Canso doloiros (instr.) [3:37]

Sordello · 13th century
09 - Planher vuelh en Blacatz [4:15]


Exil / Exile

an. · 13th century
10 - Douce dame virge Marie [3:15]
11 - Bella donna cara [3:27]

Gautier de Coincy · 1177-1236
12 - Entendez tuit ensemble [4:35]

an. · 13th century
13 - Lai de la virge (instr.) [3:24]


Zugabe / Encore

Cantigas de Santa Maria · 13th century
14 - CSM 363. Un trobador en Gasconna [5:08]




BELLADONNA

Miriam Andersén (Sweden) Gesang, Harfe, Löffel / voice, harp, spoons
Rebecca Bain (Canada) Gesang, Fidel, Glocke / voice, fiddle, bell
Susanne Ansorg (Germany) Fidel / vielle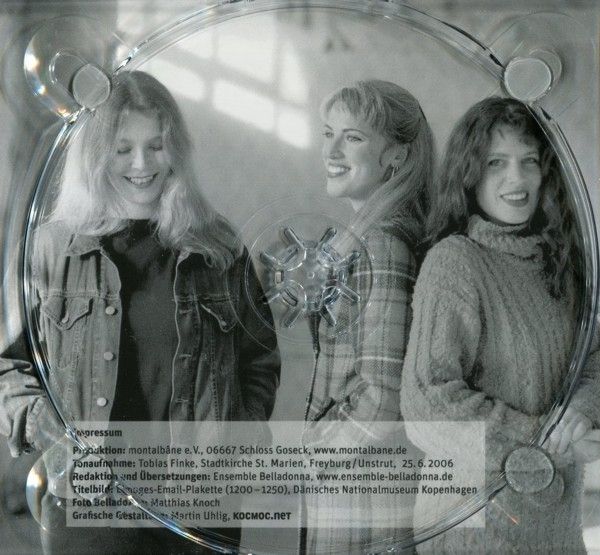 Belladonna hat sich auf die Musik des 12. bis 15. Jahrhunderts spezialisiert. Die drei Musikerinnen trafen Mitte der 90er Jahre während ihrer Studienzeit an der renommierten Schola Cantorum Basiliensis (Schweiz) aufeinander. Seitdem tourte und unterrichtete Belladonna in ganz Europa. Die erste CD des Ensembles, Melodious Melancholye, erschien bei Raumklang. Alle drei konzertieren mit so bekannten Ensembles wie Sarband, Sequentia, The Harp Consort und Theater of Voices.

Okzitanien, der sonnige Süden Frankreichs: Land der Trobadors. Hier blühte im 12. und 13. Jahrhundert eine Liedkunst, über deren Ursprung die Wissenschaftler noch heute streiten: entsprang sie der feinziselierten arabischen Poesie, die die Mauren mit nach Spanien gebracht hatten? Oder der formalen Strenge des Gregorianischen Chorales? Es sind hochstilisierte Dichtungen mit kunstvoll verschlungenen Melodien, die wir später in ganz Europa wiederfinden. Im 13. Jahrhundert endete diese Hochkultur abrupt mit den sogenannten Albigenser-Kreuzzügen. Die Kriegsereignisse zwangen die Trobadors, außer Landes zu gehen, wo sie gleichwohl fortfuhren, ihre Lieder zu schreiben: über Liebe, Politik und Religion – oft tragisch, aber auch humorvoll und satirisch. Die vorliegende Aufnahme mit dem Ensemble Belladonna reflektiert all die verschiedenen Facetten der Trobadorkunst.




Belladonna specializes in the music of the 12th to the 15th centuries. The three musicians met in Switzerland during their studies at the Schola Cantorum Basiliensis in the mid-1990's. since then, Belladonna has toured and taught throughout Europe. Their first recording, Melodious Melancholye, is available on the Raumklang label. Each of its members also performs with a variety of renowned ensembles such as Sarband, Sequentia, The Harp Consort and Theater of Voices.

The troubadours were the 12th & 13th century Occitanian singer-songwriters whose poetry inspired Europe. They were also part of a unique culture that was suppressed after the wars of the Albigensian Crusade. The troubadours thereafter dispersed, but continue to write and poetically inspire — even their victors (the French). Although they are most famously about love, Troubadour lyrics therefore also explore political and religious themes; often tragic, they also sometimes use humour and satire. This recording reflects all of these various troubadour styles and themes.