A Mediterranean Christmas

/ Boston Camerata ·

Sharq Arabic Music Ensemble




Songs of celebration from Spain, Provence, Italy & the Middle East, 1200-1900






medieval.org
bostoncamerata.org
amazon.com
arkivmusic.com
Warner "Classics" 2564-62560-2, 2005
Cybercentaur, 2013









I. The Sign of Judgement

1. [3:58]
Taksim Farahfaza — Kareem Roustom
Respondemos — Sephardic, Balkans | Equidad Barès

2. Madre de Deus [3:25] CSM 422
ALFONSO el SABIO, King of Castille, 1221-1284 | Hayet Ayad, ensemble



II. The Dawn Approaching

3. Gregis pastor [3:08]
Southern France, 12th century | Anne Azéma, Anne Harley, ensemble

4. Gloria' n cielo [2:38]
Tuscany, 13th century | Anne Harley, ensemble

5. [3:46]
Senher Dieus — Folquet de MARSEILLE (text) | Equidad Barès
Lux refulget — Limoges, 12th century | Anne Azéma, Anne Harley



III. Star of the Day

6. Santa Maria, strela do dia [3:49] CSM 100
ALFONSO el SABIO, King of Castille, 1221-1284 | ensemble

7. Polorum regina [2:23] LV 7
Montserrat, 14th century | Hayet Ayad, ensemble

8. Como somos per conssello [5:57] CSM 119
ALFONSO el SABIO, King of Castille, 1221-1284 | ensemble



IV. The Birth of Jesus

9. [4:15]
Ave maris stella — Gregorian
O Maria, Deu maire — Occitan, 12th century
Anne Azéma, Anne Harley, instruments

10. Mei amic e mei fiel [2:45]
Occitan, 12th century | Anne Azéma, Anne Harley

11. [5:36]
Todo logar mui ben — ALFONSO el SABIO, King of Castille, 1221-1284 CSM 28
Taouchia — from Nouba Gribt Lahcine · Arabo-Andalusian, Morocco
instruments

12. Noi siamo i magi [2:07]
Istria, 19th century | ensemble

13. Quando el rey Nimrod [4:37]
Sephardic, Balkans | Boujemaa Razgui, ensemble

14. Heu! heu! [1:57]
France, 13th century | Anne Harley, instruments

15. Pastres, placatz vostre troupèu [3:48]
Avignon, 17th century | Anne Azéma, Joel Cohen, instruments

16. En Belén tocan a fuego [4:30]
Andalusia | Equidad Barès, Anne Harley, Hayet Ayad, instruments



V. Mother and Child

17. Duérmete, niño, duerme [1:48]
Andalusia | Equidad Barès

18. Nani na ya srira [1:19]
Egypt | Hayet Ayad

19. [9:33]
Borea — (prelude) from Nouba Ram al Maya · Arabo-Andalusian, Morocco
Tant' aos peccadores — ALFONSO el SABIO, King of Castille, 1221-1284 CSM 315
ensemble










THE BOSTON CAMERATA
Joel Cohen, director
assisted by
THE SHARQ ARABIC MUSIC ENSEMBLE
Karim Nagi, director

Hayet Ayad, Anne Azéma, Equidad Barès, Anne Harley — voice
Hazel Brooks — vielle
Joel Cohen — lauta, guitar, voice
Steven Lundahl — recorders, slide trumpet, shofar, voice
Karim Nagi — percussion (riqq, tar, darabuka, duff), chifonie, voice
Boujemaa Razgui percussion (tar, darabuka), nay, raita, voice
Kareem Roustom — oud, guitar, voice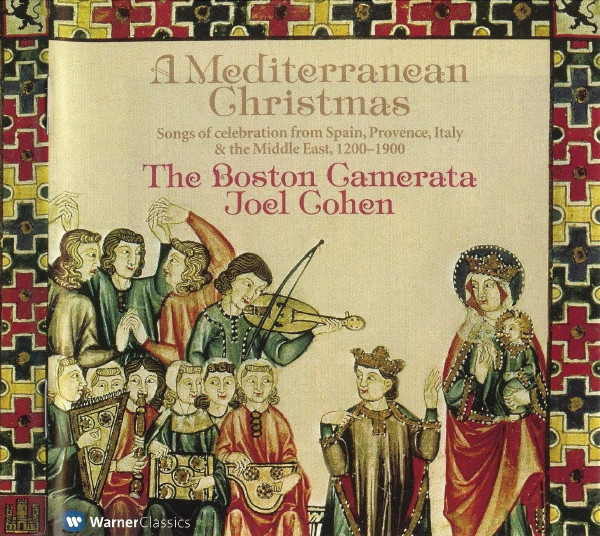 A Mediterranean Christmas

It began, after all, in the Mediterranean basin, in a corner of the world inhabited by highly strung, passionate, God-intoxicated Semites. And their burning desire for transcendence, for union with the source of Being, took form in at least three world religions, not to mention innumerable heretical sects and schismatic communities. Yet for those of us whose lives are rooted in Northern Europe and North America, Christmas has other associations — not with the Middle-Eastern desert, but with snowy winters, pine forests, and the comfortable, inviting form of Anglo-Saxon or Germanic traditions.

Our intention in this musical program is, however, to savor Christmas in places further south, beginning first with the Latinized areas of southern Europe. For if Spain, Italy, and southern France belong to our western, Euro-American heritage, they are also places that have maintained a certain continuity of being with the cultures of the Near-East. As we explore these links, we have chosen not to limit our choice of music to one century or generation, and to move beyond the so-called "early music" repertoire. And so some of these works are drawn from medieval manuscripts, while others come from more recent, though still archaic, folklore and oral tradition.

The spoken and sung languages of those southern places were, in the Middle Ages, mainly various dialects of Latin — including the early versions of Spanish, Judaeo-Spanish, Portuguese, Italian, and Occitan/Provençal that you will hear at various moments on this recording — as well as the Semitic languages Hebrew and Arabic, both very much alive in medieval Iberia. Similarly, the music of these places, transmitted both in manuscript sources and (in the case of the Arabo-Andalusian melodies, and the more recent folksongs near the program's end) from oral tradition, offers a rich mix of melodic styles.

Within this diversity there is also a great deal of common ground, allowing our performers of varying backgrounds to share and interact with each others' traditions, just as, in history, the various peoples of the Mediterranean basin influenced each others' modes of expression. For instance, the technique of florid melismatic song, still present all over the Near East, left its mark in the Christian music of southern Europe. The solo singer who performed the upper part of Lux refulget at some medieval abbey in the Limousin region was a master of this style.

Not all our Mediterranean-area music is free and florid in its gestures. In fact, the bulk of the works we have chosen here are quite straightforward melodically, in keeping with the "popular" flavor of the Christmas holiday. A number of these pieces simply tell a story to an attractive tune. Narration and storytelling are central to these cultures. Mediterranean peoples typically love theatrical gesture (after all, opera was born in Italy) and dramatic dialogue has always been important. Compare the 12th-century Mei amic and the 17th-century Pastres, placatz — both from the Occitan/Provençal south, both creating mini-dramas within one song — to sense the continuity. The wonderful, 13th-century cantigas of King Alfonse the Wise bring this narrative tradition — a simple melody, a good story, a choral refrain — to a summit of excellence.

A recording such as this cannot hope to replicate every historical nuance of these various musical practices. But, by incorporating into our team a number of musicians whose here-and-now skills reach back into the roots of Mediterranean civilization and musical culture, we attempt to do justice to at least some core aspects of the underlying material. All of us in this cast share a love for the Mediterranean world and its music, and a desire to make the Christmas vision of peace and reconciliation strong in our hearts. This music of hope and renewal, coming, it would seem, from distant places, is after all quite near. And, like all important art, it is an expression of our common humanity, a gift for all of us to share.

© 2005 Joel Cohen







THE BOSTON CAMERATA is America's preeminent early-music ensemble. Founded in 1954, The Boston Camerata was associated until 1974 with the Boston Museum of Fine Arts. Since 1968, Joel Cohen has directed the ensemble's teaching, research, recording and concerts, overseeing major national and international growth in the group's activities. In recent seasons, Camerata has been heard in the United States, Canada, England, Spain, France, Germany, Italy, Portugal, the Netherlands, Singapore, Israel, Mexico, Sweden, Norway, Finland, and Japan.

Media appearances by The Boston Camerata have included a nationally syndicated radio series in the US and numerous broadcasts on French, English, Canadian, Dutch, Spanish, Swiss, Norwegian, and Swedish radio.

The Boston Camerata's numerous recordings on the Erato, Harmonia Mundi, Nonesuch, Telefunken, and Warner Classics labels have received worldwide distribution. In 1989, Joel Cohen and Camerata were awarded the coveted Grand Prix du Disque for their recording, based on original sources, of the medieval Tristan and Iseult legend. "Simple Gifts", a recording of Shaker spirituals and chants, was the bestseller on the national Billboard magazine classical chart when it was released.

Highlights of Camerata's fiftieth anniversary season 2004/05 included high-profile concerts in Paris (Théâtre de la Ville) and Boston (Boston Early Music Festival).


The Boston Camerata is honored by the collaboration on this recording of the SHARQ ARABIC MUSIC ENSEMBLE. Sharq is dedicated to preserving and presenting traditional and classical Arabic vocal and instrumental music. It chooses vocal and instrumental pieces that illustrate the rich and buoyant possibilities of the genre, without fixating on the popular or commercial versions.

Sharq consists of young professional musicians from several cities in the Arab world and Turkey, performing on original and authentic acoustic instruments. Their musical repertoire ranges from suites and songs from the Andalusian period up to modern Egyptian classical music of the mid 1900s. The musicians' geographic diversity demonstrates the variety of styles and heritages of the Near East. Their education and cosmopolitan attitudes serve as a representation of the modern and artistic Arab individual, helping to dissolve the fictitious dichotomy between the Arab and Western worlds.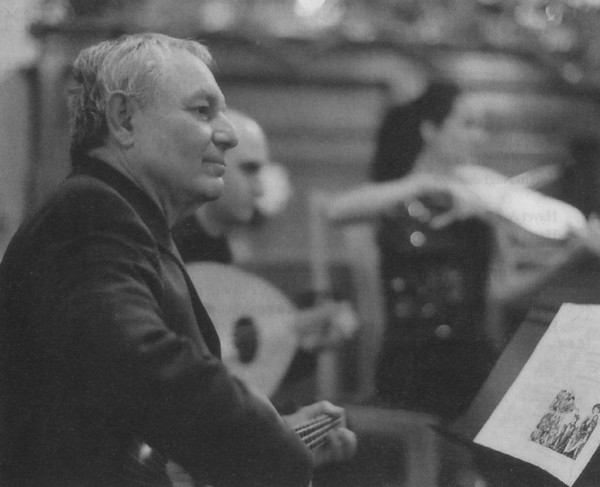 JOEL COHEN is a leading authority in the field of medieval and Renaissance musical performance. He has received widespread acclaim as a performer, conductor, and writer/ commentator in his chosen field, and his unique style of program-building has made The Boston Camerata famous on five continents.

Cohen studied composition at Harvard University. Awarded a Danforth Fellowship, he spent the next two years in Paris as a student of Nadia Boulanger. He has taught and lectured at many universities on the east coast of the US, including Harvard, Yale, Brandeis, and Amherst. Abroad, he has given seminars and workshops at the Schola Cantorum in Basel, at the Royal Opera of Brussels, in Spain, Singapore, and Japan. With soprano Anne Azéma, he co-directs an annual workshop in medieval song in Coaraze, France. His professional honors include membership in Phi Beta Kappa, the Erwin Bodky award in early music, the Signet Society medal from Harvard, the Georges Longy Award, and the Howard Mayer Brown Award for lifetime achievement in early music, the Grand Prix du Disque, and the Edison Prize. He is an Officier of the Ordre des Arts et des Lettres of the French Republic. He was appointed Artist in Residence in the Netherlands during 2000, the first American musician to be so honored.

Cohen's chosen repertoires span many centuries and countries. He has, however, taken a special interest in French music of the Middle Ages, Renaissance, and early Baroque. Thanks to a series of CD recordings, concerts, and publications, his pioneering work in the roots of early American music has also won extensive praise.

In 1990, Cohen founded a new ensemble, the Camerata Mediterranea, devoted to the performance of early-music repertoires from the Mediterranean basin. His cross-cultural collaborations with Middle Eastern musicians have taken an increasingly central role in his activities and musical thought since the mid-1990s.

Joel Cohen is well-known in Europe and America as a radio commentator on early music. His first book, Reprise, was published in 1985. An anthology of Shaker songs featuring many of his transcriptions appeared in 2003. His arrangements of early American tunes provided the inspiration for much of the score to the film Geronimo (1994). His close collaboration with Finnish choreographer Tero Saarinen resulted in the important dance production Borrowed Light, based on original Shaker music, and first seen in Le Havre, France in October 2004.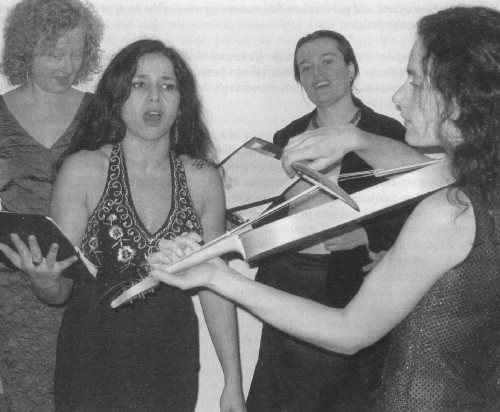 Special thanks to the Marco Institute of the University of Tennessee and Robert Bast, director, for project support.

Our further thanks to the following individual donors to The Boston Camerata for their help in making this recording possible: Ruth & Kelly Bogan, Charlotte Brown, Erik & Terri Payne Butler, Susan Carter, Leo & Adele Cohen, Leonard Connolly, Fay Dabney, Charles & JoAnne Dickinson, Robert & Dianthe Eisendrath, Ariadne Forbes, Fred Franklin, Cynthia Gilles, Joseph Hill, Paul & Jean Humez, Joanne Klys, Paul & Jane Kyte, Benjamin & Linda Labaree, Dalton & Noreen Labaree, Robert LaFortune, Annick Lapôtre, Amelia LeClair, David Levine & Christine Kirk, Lorraine Lyman,
William O. Lytle, Keith Ohmart & Helen Chen, Eda & Leo Rabinovitz, Dean Stuart Riggsby (University of Tennessee), Jennie Rawski, Susan and Geoffrey Rowley, Patrick Tynan, David Wahr, Ruth Westheimer, Kouichi Yoshino.


Recording engineer: David Griesinger
Producer: Joel Cohen
Digital editing: Trobador
Recording location: Church of the Covenant, Boston, 29 June-3 July 2005
Musical arrangements: Joel Cohen (SACEM)
"Taksim Farahfaza" by Kareem Roustom (Layali Music Publishing, B.M.I.)
Production coordinator: Kati Mitchell
Travel coordinator: Annick Lapôtre · Fundraising coordinator: David Levine
Treasurer: Jane Kyte · Legal services: Thomas Carey · Hospitality: Lisa Clarke, Sheri Flagler
Introductory note © 2005 Joel Cohen. Translations © 2005 Warner Classics, Warner Music UK Ltd
Cover: King Alfonso X with musicians and dancers, illumination from the Cantigas de Santa Maria, no. 170v,
Biblioteca del Escorial, Madrid, Photo: Archivo Oronoz
Editorial: WLP Ltd Design: Matt Mayes for WLP Ltd

All rights of the producer and of the owner of the work reproduced reserved. Unauthorised copying, hiring, lending,
public performance and broadcasting of this record prohibited. Made in the EU.

℗ 2005 Boston Camerata Inc.
© 2005 Warner Classics, Warner Music UK Ltd.