Cançonièr

/ Cançonièr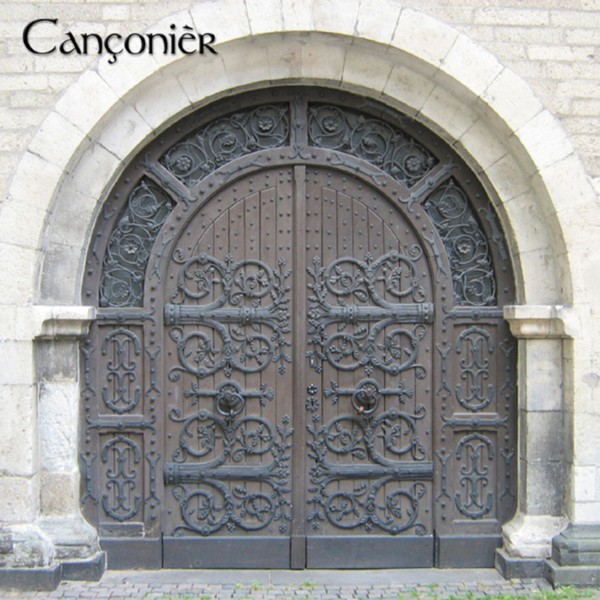 canconier.com | magnatune.com
cdbaby.com | medieval.org
Cançonièr CNCD 01
2008






1. Chominciamento di gioia [6:13] 14th century, Italy

2. In seculum viellatoris — In seculum breve — In seculum breve d'Amiens [3:42]
Codex Bamberg, 13th century, France

3. La Tierche Estampie Royale [3:51]
4. La Seste Estampie Royale [4:12]
13th century, France

5. Amors me fet conmencier [4:44] THIBAUT IV, 13th centrury, Navarre


6. Cantigas de Santa Maria [5:20] ALFONSO X el Sabio
Rosa das rosas CSM 10
Por nos de dulta tirar CSM 18


Codex Las Huelgas, 13th century, Spain
7. Homo miserabilis ~ Brumas est mort [2:35] Hu 142
8. Virgo virginum [1:34] Hu 112
9. Non orphanum ~ Et gaudebit [1:41] Hu 90


10. Estampie 'Los set gotxs' [2:05] Llibre Vermell, 14th century, Spain LV 5
arr. Tim Rayborn

11. Ayyuha-s-saqi [5:13] traditional Moorish

12. Salvator noster [1:34] 14th c., Hungary, Ms. A. 107, H-Bu, 15-17th century

13. Bucara-te, soacra mare [3:19] traditional Romanian

14. Drmeš [1:35] traditional Balkan — Croatian

15. Lucente Stella [4:14] ballata
16 - Trotto — Saltarello [4:05]
14th century, Italy






Cançonièr

Annette Bauer — recorders
Tim Rayborn — percussion, harp, lute, psaltery, symphonie






Cançonièr is a San Francisco Bay Area early music group devoted to medieval repertoire from the 12th to the 15th centuries, occasionally including traditional music from related regions (Scandinavia, the Balkans, and the Middle East).

Cançonièr's debut CD features Tim and Annette performing a wide variety of medieval instrumental music on a multitude of instruments, including: recorders, percussion, harp, lute, psaltery, and symphonie (medieval hurdy gurdy).

Annette Bauer (recorders, voice), a native of Germany, studied at the Schola Cantorum in Basel, Switzerland, and performs with the Baroque ensemble Les grâces, the Farallon Recorder Consort, and Istampitta, as well as having taught at the SFEMS and Amherst summer workshops.

Tim Rayborn (percussion, psaltery, harp, voice, symphonie, etc.), lived in the UK for seven years, taking his Ph.D. in medieval studies at the University of Leeds. He has performed with Tintagel, Ensemble Florata, Sinfonye, Ensemble Alcatraz, Anne Azema, Kitka, and many others.

Canconier lives in California, USA.