Wings of Wisdom / Canty
Sacred Chants of Hildegard von Bingen & Medieval Scotland


medieval.org
amazon.com

Dorian DOR-93232
2005
grabación:
St. Mary's Parrish Church, Haddington, East Lothian, Scotland
mayo de 2000

edición alternativa, de mayor duración:
Rota TTCD 002







Hildegard von Bingen, 1098-1179
01 - O virtus sapientiae [1:46]
02 - O viriditas digiti Dei [5:07]
03 - O presul vere civitatis [6:42]
04 - O ecclesia (instrumental) [2:38]
05 - Caritas abundat [1:39]
06 - O dulcissime amator (Symphonia virginum) [7:38]
07 - O aeterne Deus [1:53]
08 - O coruscans lux [2:49]
09 - O viridissima virga (instrumental) [2:06]
10 - Cum erubuerint & O quam magnum miraculum est [4:58]
11 - O clarissima mater [8:06]



from the Inchcolm Antiphoner
12 - O Columba insignis signifer [2:41]
13 - Os mutorum [1:40]
14 - Ave sanctorum Columba piissime [3:59]
15 - Carne solutus pater Columba [3:35]




Canty
Rebecca Tavener

Libby Crabtree, mezzo-soprano
Ruth Dean, soprano
Anne Lewis, mezzo-soprano
Rebecca Taverner, soprano and bells
William Taylor, harps and symphony (medieval hurdy-gurdy)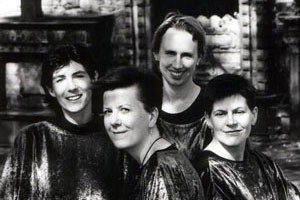 Scotland and the Rhineland share a spiritual heritage from the wandering Irish holy men who took Christianity to some of the darkest corners of Europe. In Scotland's case the missionary concerned was the celebrated St Columba, a saint much honoured in his own lifetime and ever since. The man who evangelised the pagan tribes of the Rhineland, however, remains much more of a mystery. That peripatetic priest was St Disibod, an Irish bishop whose life and works have been recorded for posterity solely by the pen of the remarkable Abbess Hildegard of Bingen who entered the religious life, enclosed at the age of seven with the anchoress Jutta in the walls of the Benedictine monastery of Disibodenburg, dedicated to that same, now obscure, Irish saint.

This disc explores the poetic and musical legacy of both saints as it is preserved in the writings of Hildegard of Bingen (1098-1179) and in the Inchcolm Antiphoner, a manuscript dated c1300 from the Augustinian Priory of Inchcolm, a tiny island in the Firth of Forth. Although the latter manuscript is later in date than Hildegard's work, it may well contain poetic and musical material whose roots go back to Columba's own time.

Hildegard of Bingen lived in an age when women were considered of lesser worth then men. Not only were they viewed as the portal of original sin, but they were also deemed to be weaker intellectually than men and barely worth educating. Only figures of dynastic significance such as Eleanor of Aquitaine or Queen Margaret of Scotland, or female religious of undoubted holiness and inspiration such as Julian of Norwich or St Catherine of Siena, could rise far above these restrictions. Hildegard's achievements and her great fame in her own lifetime mark her out, therefore, as a phenomenon. Respected by popes and saints, and a correspondent with kings, queens and emperors, Hildegard might, perhaps, have used her visionary mysticism and charismatic power as a teacher to try to rock the boat of Medieval misogyny had she not continually insisted on her own weakness and worthlessness - stating that God's use of her as His vessel demonstrated only His power and not her own drive for personal significance.

Given this background, it is hardly surprising that so much of Hildegard's work should be concerned with the vital part played by the Virgin Mary in helping to atone for the original sin of Eve. It is almost as though, through her devotion to the Blessed Virgin and to the virgin martyr St Ursula, she was trying to rehabilitate the whole of womankind. We can only assume that the continual double-think required of her must have exacerbated the chronic illness, almost certainly a rare form of migraine, from which she suffered. Ironically, it is to the disturbances of vision caused by this condition that we probably owe many of her amazing 'revelations'.

Her poetry and music are imbued with something I can only term the 'quality of ecstasy'. The more than seventy works in her Symphonia armoniae celestium revelationum (Symphonies of the harmony of heavenly revelations) show an outstanding originality of literary and musical thought. Her music falls into three broad categories: Responsories and Antiphons suitable for inclusion in the daily round of Offices; Hymns and Sequences celebrating particular saints, the Virgin Mary and other Biblical figures; and the Ordo Virtutum. This last is not a play (ludus) but a ritual (ordo) - an important distinction clearly intended by Hildegard to set it apart from secular entertainments. The chants either have a moderately narrow range (which is nevertheless wide in comparison with standardised Gregorian chant) or flow in great arcs and upward-leaping sweeps of melody requiring considerable virtuosity to perform. Perhaps we can surmise that the former works, which include the Symphonia Virginum, were so written in order to be performable by as many members of the community as possible, whereas the more exotic musical material of, for example, O presul vere civitatis, might only have been sung by the exceptional voices in the community.

For Hildegard, music was the most effective way in which humans could enjoy a feeling, of communion with heaven. When her nuns sang the daily round of Offices they were joining with the choirs of angels. Hildegard's continual use of the word 'harmony' refers not to the sound of more than one note played or sung at the same time. but to the social and spiritual accord that the nuns experienced, not only with each other whilst singing but also with that heavenly chorus. She believed that the Devil is without music and therefore confined his role to speech alone in the Ordo.

Although there is little hard evidence for or against the use of instruments at Rupertsberg, Hildegard's own convent, founded in 1150, most scholars agree that the organ and symphony, a medieval type of hurdy-gurdy sometimes called an organistrum, might have been in use on a daily basis. Hildegard's written opinions on various instruments may reveal which she considered useful for worship. She describes the harp as being the instrument of heavenly blessedness and strings (such as those in the symphony) correspond to the earthly condition of the soul as it strives to attain spiritual enlightenment. Our use of harp and symphony partially reflects these concepts.

Thanks to the ravages of the Reformation, we know even less about the way chant may have sounded in Scottish religious foundations. The music which has survived, amongst which the Inchcolm Antiphoner is a treasured example, taunts us with a vision of how rich the entire repertoire must have been. In our performances we aim to look backwards, not only past the Reformation but also, in part, past the Romanisation of the Scottish Church, to aspects of performance practice which may reflect her Celtic roots. Tantalising references to the ownership and use of harps in Scottish religious houses, and some iconographic evidence, lend weight to our conviction that instrumental involvement must have been very significant. Did women ever sing this material? Just as Hildegard gave her music and poetry away to to other foundations, who is to say that the monks of Inchcolm might not have responded to similar requests for copies which have since been lost or destroyed? Might not some of this material have been sung in a convent wishing to honour St Colomba? We shall probably never know.



Rebecca Tavener © 2000
(from the cappella nova web, now not available, for Rota TTCD 002)



Rota TTCD 002




Hildegard von Bingen

01 - O virtus sapientiae [1:46]
02 - O viriditas digiti Dei [5:07]
03 - O presul vere civitatis [6:42]
04 - St Disibod takes Christianity to the Rhineland [2.09]
05 - O ecclesia (instrumental) [2:38]
06 - Caritas abundat [1:39]
07 - Hildegard is called by God [1.42]
08 - O dulcissime amator (Symphonia virginum) [7:38]
098 - Migraine; Concerning Immoderate Laughter; the Unicorn [2.29]
10 - O aeterne Deus [1:53]
11 - O coruscans lux [2:49]
12 - The Reward of the Righteous [1.33]
13 - O viridissima virga (instrumental) [2:06]
14 - Cum erubuerint & O quam magnum miraculum est [4:58]
15 - Hildegard writes to Gulbert of Gembloux (c1175) [2.35]
16 - O clarissima mater [8:06]


from the Inchcolm antiphoner

17 - Columba insignis signifer [2:41]
18 - Prayer to St Columba [0.33]
19 - Os mutorum [1:40]
20 - Columba and the Flounder [0.38]
21 - Ave sanctorum Columba piissime [3:59]
22 -Last verses In praise of Colum Cille [1.09]
23 - Carne solutus pater Columba [3:35]