Robert FAYRFAX / The Cardinall's Musick
Missa O quam glorifica · Ave Dei patris filia


medieval.org
AS&V Gaudeamus 142
1995








Robert FAYRFAX
1464—1521



1. Kyrie. Orbis factor [1:46]


Missa O quam glorifica
2. Gloria [11:19]
3. Credo [12:25]
4. Sanctus · Benedictus [13:23]
5. Agnus Dei [10:23]


6. Hymnus. O quam glorifica [2:41]

7. Ave Dei patris filia [12:03]

8. Sumwhat musyng [3:47]

9. That was my joy [2:55]
anonymous

10. To complayne me, alas [3:45]





THE CARDINALL'S MUSICK
Andrew Carwood

Sopranos: Carys Lane, Rebecca Outram, Olive Simpson
Altos: Mark Chambers, Patrick Craig, Charles Humphries
Tenors: Robert Johnston, Julian Stocker, Matthew Vine
Baritones: Simon Davies, Robert Evans, Charles Pott
Basses: Jonathon Arnold, Robert Macdonald, Michael McCarthy

Sumwhat musying & To complayne me, alas:
Robin Blaze, Andrew Carwood, Robert Macdonald

That was my joy:
Andrew Carwood, Matthew Vine, Robert Macdonald



Producer: David Skinner
Recording Engineer: Martin Haskell
Recorded in: Fitzalan Chapel, Arundel Castle, Arundel, 23-24 November 1994
Front cover painting: The Coronation of the Virgin, by Enguerrand Quarton (1410 - 66),
Villeneuve-Les-Avignon (Hospice), Anjou, courtesy of Giraudon / Bridgeman Art Library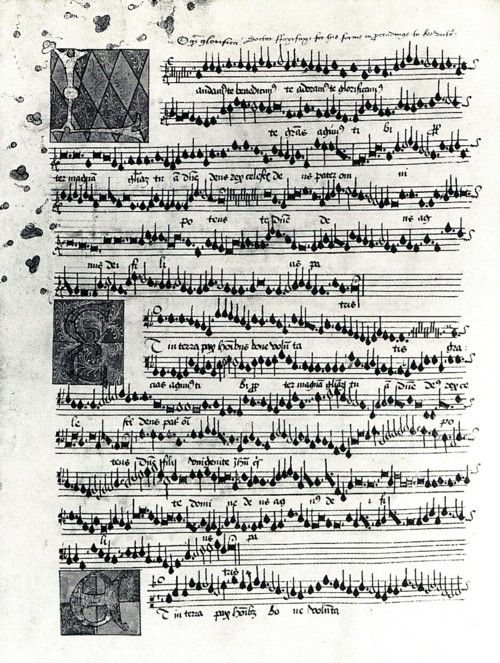 THE WORKS OF ROBERT FAYRFAX
VOLUME I

Writing more than 65 years ago Sir Richard Terry, a pioneering force in the performance of Tudor church music, bemoaned that "our national habit of self-depreciation has never been more curiously exhibited than in our treatment of early British composers". One needs only to thumb through a recent catalogue of recordings to see the extent of the commitment modern performers have shown to England's rich musical heritage. The same catalogue, however, also reveals that one of the most inspiring periods in the development of English polyphony has yet to be fully explored on record: namely the first few decades of the sixteenth century when church music arrived at its most developed and refined state. Other than a few key figures such as Taverner and Sheppard, and certain composers represented in the Eton Choirbook, a considerable measure of this magnificent music remains unheard. More technical mastery of this age may now be sampled in the recent series of music by Nicholas Ludford (ASV CD GAU 131, 132, 133, 140), and further riches are still to be found in other relatively unknown composers such as William Pasche, Thomas Ashwell, Edmund Stourton and John Merbecke, whose works we will be investigating in due course. The great Dr Robert Fayrfax stands at the head of all these men; he was widely recognised as the most distinguished musician of his time, his music continued to be copied into manuscripts more than a century after his death and his ingenious compositional innovations served as a model to the many famous names which followed him. This is the first issue of a projected five-volume survey of Fayrfax's masses, votive antiphons and secular songs, and hopes to generate a renewed interest in one of England's most celebrated composers.

Robert Fayrfax was born in Deeping Gate, Lincolnshire, on 23 April 1464; nothing is yet known of his childhood or early musical training. He became a Gentleman of the Chapel Royal by 6 December 1497 when he was granted a chaplaincy of the Free Chapel at Snodhill Castle, a post which was relinquished a year later to Robert Cowper, a fellow Gentleman. Fayrfax gained a Mus.B. from Cambridge in 1501, and a Mus.D. in 1504; he later acquired a D.Mus. from Oxford (by incorporation) in 1511. As a singer he is first recorded in 1500 among the lay clerks at the funeral of Prince Edmund, the third son of Henry VII; he was also present at the funeral of Queen Elizabeth, wife of Henry VII, on 23 February 1503. Later lists place him at the head of the singing men at the funeral of Henry VII (11 May 1509), the coronation of Henry VIII (24 June 1509), the funeral of Prince Henry (27 February 1511), and the great Anglo-French summit at the Field of the Cloth of Gold in the summer of 1520. Henry VIII, who was somewhat of a skilled musician himself, evidently admired Fayrfax's musical talents and granted the composer numerous royal benefices during the last few decades of his life. From 1509 he was awarded an annuity of £9 2s 6d on top of his salary as a Gentleman of the Chapel Royal and on 10 September 1514 he was appointed one of the poor knights of Windsor Castle, receiving 12d a day for life. The king's New Year's Day rewards between 1516 and 1520 also record that Fayrfax was paid enormous sums of money for music manuscripts, some amounting to £20.

From 1502 he may have been on the musical staff at St Alban's Abbey, though it is not known in what capacity. It has been suggested that Fayrfax was never likely to have been employed at St Alban's and probably held some sort of honorary post there; however, as he composed a mass and antiphon dedicated to St Alban and requested burial in the Abbey, a more substantial connection would seem once to have existed. Very little is known of Fayrfax's private life; a seventeenth-century rubbing of the monument brass which once marked his tomb in St Alban's Abbey reveals that he died on 24 October 1521 at the age of 57. He was survived by his wife, Agnes, and an unknown number of children.

Fayrfax may have been a composer of some national repute by his mid-thirties when a few of his compositions were copied into the Eton Choirbook (c.1500); the Caius and Lambeth Choirbooks (assembled in the mid to late 1520s) contain the earliest surviving collections of his masses. Missa O quam glorifica is perhaps Fayrfax's most complex if not most impressive work. According to an inscription in the Lambeth Choirbook it was composed 'for his forme in proceading to bee Doctor'; no doubt this was his exercise for Cambridge University in 1504, the earliest English example known to us. The standard requirement for an early Tudor doctorate was the submission of a mass and antiphon, which were to be performed on the day of taking the degree (no antiphon of this type is known to have survived among Fayrfax's output). A modern edition of Missa O quam glorifica was prepared by E. B. Warren in 1959 (Corpus Mensurabilis Musicae, 17/1), although unfortunately it is afflicted with numerous printing errors, awkward alignment, and inaccurate interpretation of triplet rhythms, at several points.

The notation in the Caius and Lambeth Choirbooks is very clear and logical, and presents few editorial problems. However, it is possible that if the manuscript which Fayrfax submitted for his degree had survived, the original notation might have been a challenge even for the most proficient of late-Medieval lay clerks. A theory has been put forward by Roger Bray that the versions of Fayrfax's Missa O quam glorifica which have come down to us are what may be sixteenth-century performing editions simplifying the 'academic' notation of the original, where multiple 'colors' and other devices were employed to distinguish note values and tempo relationships; Bray has also recognised significant numerical symbolisms which are cleverly hidden throughout this work. Despite its extreme academic content, the music's real genius lies in its exceptional beauty. The modern ear may, however, feel rhythmically unstable during certain passages of this mass. This effect is partly created by the use of conflicting mensuration signs (a sort of sixteenth-century time signature) between the Treble and Baritone parts (in C) and the Alto, Tenor and Bass (in O), which results in the former voices being notated in duple metre and the latter in triple metre (Bray reckons that all voices were originally conceived in O — a metre similar to the modern 9/8 — for the first half of each movement); this, with the occasional use of triplets (which are usually placed off the beat), creates wonderfully bold cross-rhythms. Notable examples may be heard in the 'sub Pontio Pilato' trio in the Credo, 'Pieni sunt celi' in the Sanctus, and the last invocation of the Agnus Dei. Although one could easily be satisfied with Fayrfax's genius emanating from one's loudspeakers alone, a fuller appreciation might be gained with an accompanying score of the music.

Ave Dei patris filia is less an academic exercise than a marvellous essay in textual setting; the highly mature part-writing seems to indicate that it was composed towards the end of Fayrfax's career. This work survives in no less than 15 manuscript sources dating from the early sixteenth century to the middle of the eighteenth century and is Fayrfax's most widely-disseminated composition. The Marian prayer Ave Dei patris filia was very popular in early Tudor England and printed in at least two contemporary editions of Salisbury primers. The text was set by a number of English composers including John Taverner, John Merbecke, Robert Johnson and Thomas Tallis. (It is evident that the young Tallis closely modelled his early work Ave Dei on that of Fayrfax. The distribution of voices in both works is virtually identical, as are the opening head-motifs and other points of imitation.) Fayrfax employs various compositional devices such as antiphony and homophony to accentuate certain portions of the text. Only at the passage 'semper virgo Maria', near the end of the work, does the use of imitation seem to become an important feature for all voice parts. The antiphonal 'Amen' which follows is very reminiscent of a similar ending in Nicholas Ludford's later setting of Domine Ihesu Christe.


© 1995 David Skinner

A NOTE ON THE SECULAR SONGS

In order to make this set of recordings complete, the secular songs of Robert Fayrfax will be included together with some other examples from his contemporaries. The Fayrfax songs are all present in a single manuscript commonly referred to as the 'Fayrfax Manuscript' (British Library, Add. MS 5465). Here there is not the variety found in the so-called 'Henry VIII Manuscript' (British Library, Add. MS 31922), with its continental songs and instrumental items, nor the differing forms found in the other important song document of the period, the 'Ritson Manuscript' (British Library, Add. MS 5665). What it does contain, however, is a large collection of courtly songs concerning the fortunes of love (mostly serious, but a few in a lighter vein), some rather more political and topical lyrics, and a fine set of songs with religious texts. From the list of composers and the reference to Fayrfax without his doctoral title (which he received in 1504), it seems probable that the manuscript dates from c.1500.

The three songs recorded here (two by Fayrfax and one anonymous) are typical in their use of lyrics and in their setting. Sumwhat musyng was perhaps one of the most popular songs of the early Tudor court, surviving in no less than five sources; the words are thought to have been written by Anthony Woodville, Lord Rivers, during his imprisonment at Pontefract (he was subsequently beheaded in 1483). To complayne me and That was my joy are both in the conventional English rhyming style of the period (ababbcc); all three songs are set within two distinct sections (ignoring the sense of the text), make use of long ornamental melismata and are all concerned with love. Not for these poor souls was the twittering of birds in springtime and the depiction of the beloved as some great deity, but only 'unstedfastness', 'unkyndness withoutenlesse' and 'displesaunce' (although it is tempting to speculate that the imitation and bold vocal ornaments of That was my joy poke fun at three lovers all in pursuit of the same woman and all vying for attention!).

We cannot be sure on what occasion these songs might have been performed or by whom. They are complex pieces with large vocal ranges and need extremely competent singers. More importantly the subtle harmony and sensitive setting of the text is very beautiful, and the feeling of melancholy thereby created surely is designed to soothe even the most love-weary breast.


© 1995 Andrew Carwood


SOURCES

Missa O quam glorifica: Cambridge University Library, Gonville and Cajas MS 667, p. 96 (late 1520s), and Lambeth Palace Library, MS 1, f. 8v (late 1520s); also in Cambridge University Library, Peterhouse MSS 471-4, ff. 40v, 38, 44v, 37 (lacks tenor; c.1540s), and Oxford, All Souls College, Codrington Library, MS SR 59.b.13 (choirbook fragment; early 16th cent).

Ave Dei patris filia: Warren's edition (Corpus Mensurabilis Musicae, 17/2) is based on the reading given in the Carver Choirbook (Edinburgh, National Library, Advocates Lib. MS 5.1.15) which, when compared with the other readings, has proved to be defective, especially from 'semper virgo Maria. Amen'. The present edition is based on Peterhouse MSS 471-4, ff. 31v, 29v, 36, 30 (lacks tenor), and Oxford, Bodleian Library, MSS Mus. e.1-5, ff. 17v, 16v, 15, 14v, 15v (John Sadler's partbooks; c.1585).

Secular songs: London, British Library, Add. MS 5465 (The Fayrfax Manuscript): an alternative version of Sumwhat musyng is recorded here from British Library Add, MS 31922 (Henry VIII's manuscript).

Plainsong: Graduale secundum morem et consuetudinem preclare ecclesie Sarum, etc. (Paris, 1527), and Hymnorum cum vatio opusculum usui insignis ecclesie Sarum subserviens, etc. (London, 1541); both sources in Christ Church Library, Oxford.

Music edited by David Skinner and published by The Cardinall's Musick Edition




About the recording:
THE LAMBETH CHOIRBOOK AND THE FITZALAN CHAPEL, ARUNDEL CASTLE

The chief sources of the early Tudor mass, and in particular the masses of Robert Fayrfax and Nicholas Ludford, are the Caius and Lambeth Choirbooks. Both books are of a similarly large size, uniform in layout, share similar repertoire, and were largely executed by the same scribe. We know from an inscription in the Caius book that an Edward Higgons was responsible for the commission of this manuscript, and the physical evidence of the Lambeth book strongly suggests that its production points to the same man. Higgons was a prominent royal lawyer who held a canonry at St Stephen's, Westminster, where Ludford was verger and organist from the 1520s. As all of the composers represented in the Caius book have strong London or Westminster connections it is generally agreed that it was intended for St Stephen's; the institution to which the Lambeth book might have belonged, however, could only be left to speculation until now.

In 1982 an American academic, William Summers, discovered the bass part of an unknown Ludford votive antiphon in the archives of Arundel Castle, West Sussex. The provenance of this manuscript was placed firmly at Arundel by Roger Bowers and argued to have either belonged to the household of the 10th or 11th Earl of Arundel or, more likely, to the family's collegiate chapel which still survives (now known as the Fitzalan Chapel). Perusal of the college accounts by Bowers has shown that this musically ambitious chapel once boasted the employment of Walter Lambe and Nicholas Huchyn, whose works are preserved in the Eton Choirbook. Although it had been known for some time that Edward Higgons was Master of Arundel College from 1520, it was commented that the post was 'almost certainly nonresident[ial] (1). It remained unnoticed, however, that the newly discovered Ludford manuscript was actually executed by the same scribe as that of the Caius and Lambeth Choirbooks, establishing an undeniable connection between these sources. This in turn led to further investigation into contemporary Sussex records which has revealed that Edward Higgons's brothers settled in Arundel soon after he took over the mastership; one held the manor house at Bury (five miles north of Arundel) and the other was a singingman of Arundel College. Other documents concerning Edward Higgons's involvement with the college have also come to light. It is now fairly conclusive from the surviving evidence that Higgons commissioned the assembly of the Caius book for St Stephen's and the Lambeth book for his college at Arundel, the scribe of both remains a mystery.

This is the first recording ever ventured in the Fitzalan Chapel, and is also the first reunion of music from a late-Medieval English choirbook to its chapel in modern times. The Cardinall's Musick are most grateful to the Earl of Arundel and the Trustees of Arundel Castle for granting permission to record in the beautiful and peaceful atmosphere of the Fitzalan Chapel. Thanks are also due to Dr John Robinson and Mrs Sara Rodger for their kind assistance throughout the project. For further information see David Skinner, 'From Westmynster to Arundell: new light on Edward Higgons and the Lambeth Choirbook', forthcoming in Early Music (Oxford University Press).