Nicholas LUDFORD / The Cardinall's Musick
Missa Christi Virgo dilectisimma · Domine Ihesu Christe


AS&V Gaudeamus 133
1994






MISSA CHRISTI VIRGO DILECTISSIMA
with Plainsong Propers for the Feast of the Annuntiation


01 - Introitus. Rorate celi [4:10]

02 - Kyrie. Lux et origo [1:56]

03 - MISSA CHRISTI VIRGO DILECTISSIMA. Gloria [8:13]

04 - Gradualis. Tollite portas [3:08]

05 - Alleluya. Ave Maria [2:13]

06 - Sequencia. Ave mundi spes Maria [3:53]

07 - MISSA CHRISTI VIRGO DILECTISSIMA. Credo [8:51]

08 - Offertorium. Ave Maria [1:56]

09 - MISSA CHRISTI VIRGO DILECTISSIMA. Sanctus · Benedictus [9:49]

10 - MISSA CHRISTI VIRGO DILECTISSIMA. Agnus Dei [6:57]

12 - Communio. Ecce virgo concipiet [1:20]

11 - DOMINE IHESU CHRISTE [10:04]

13 - Responsorium. Christi virgo dilectissima [4:28]



THE CARDINALL'S MUSICK
Andrew Carwood

Mass
Sopranos: Carys Lane, Rebecca Outram
Altos: David Gould, Michael Lees, Stephen Taylor
Tenors: Philip Cave, Andrew Gant, Tom Phillips, Matthew Vine
Baritones: Robert Evans, Edward Wickham
Basses: Bruce Hamilton, Robert Macdonald, Michael McCarthy

Domine Ihesu Christe
Sopranos: Fiona Clarke, Ruth Dean, Carys Lane
Altos: David Gould, Michael Lees, Stephen Taylor
Tenors: Andrew Gant, Steven Harrold, Tom Phillips, Matthew Vine
Basses: Bruce Hamilton, Robert Macdonald

Plainsong
Tenors: Andrew Gant, Steven Harrold, Tom Phillips, Nicholas Smith
Baritones: Stephen Alder, Andrew Rupp, Edward Wickham
Basses: Jonathon Arnold, Bruce Hamilton, Robert Macdonald, Michael McCarthy, Adrian Peacock



Producer: David Skinner
Recording Engineer: Martin Haskell
Recorded in All Saint's Church, Petersham

Inside front: St Stephen's Chapel, Westminster, (left) from Wyngarde's Panoramic Views of London ( c.1550),
courtesy of the Ashmolean Museum
Front cover painting: "The Annunciation", by Botticelli, courtesy of the Bridgeman Art Library, London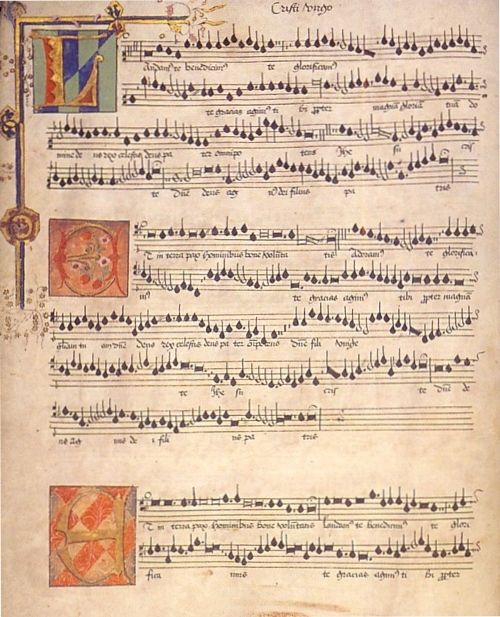 THE WORKS OF NICHOLAS LUDFORD
Volume III


"In college or monastery it is still the same: music, nothing but music ... money must be raised to buy organs and train boys to squeal. They have so much of it in England that the monks attend to nothing else; a set of creatures who ought to be lamenting their sins fancy they can please God by gurgling in their throats."


These thoughts, expressed by the great Dutch humanist Desiderius Erasmus, aptly illustrate the growing controversies to which church music had become subjected by the turn of the sixteenth century. It is not a flattering account; nevertheless, it arises from music's ever-increasing penetration into the liturgy of the late-medieval church. The Salisbury — or the bastardised Latin abbreviation 'Sarum' — Rite in England had matured into a highly complex ritual with constantly changing rules and regulations; lengthy services were further augmented with special devotions to particular saints, the selection of which varied from one parish to another. For the religious foundations able to maintain a choir, especially where singing men and boys were trained in polyphony or 'pricksong', music played a dominant part in the devotional exercise. Erasmus, however, was no doubt harkening back to the monastic ideal of silence he had grown accustomed to as a student in the Augustinian monastery at Steyn. But for the laity, notably those who were not well versed in scripture, the theatre and music of the liturgy greatly illuminated their religious experience. These wonderful mysteries of the Church virtually consumed the lives of the clergy and laity alike, where true redemption was dependent on the adherence to superstitious ceremonials and the obedient recitation of private devotions.

Erasmus's criticisms of church music in England could well have been directed towards services celebrated in Henry VIII's own collegiate chapel at St Stephen's, Westminster, where Nicholas Ludford was employed. St Stephen's was indeed an elaborate foundation, and early sixteenth-century Westminster must have been a most inspiring place to visit. Despite Erasmus's aversion to church music, he must have been impressed by the thriving cultural life at the King's royal palace and the grand ceremonies of his royal chapels. Henry was obsessed with learning and, unlike his father, enlightened his court with wide-ranging cultural events and scholarly debate. He surrounded himself with the finest minds of his time, versed in all facets of art, literature, theology and music. Henry himself was very musical (a gift which was shared with his first wife, Catherine of Aragon, and the Princess Mary) and a somewhat accomplished composer, with no less than 34 extant compositions to his credit. His leading court musicians were Robert Fayrfax and William Cornysh, both of whom held positions in the Chapel Royal. Nicholas Ludford's status was far less notable, at least as far as contemporary references suggest, but in holding so prominent a position in the royal palace he must have been highly favoured by Henry.

Although there is certainly no lack of sources for Ludford's music, very little is known of his personal life. The surname of Ludford rarely occurs in early Tudor royal household accounts. Entries mainly pertain to the composer himself while other contemporary documents tell us of his actions of piety in later life (around 1551 Ludford is known to have paid one shilling for 'the foote of the tabernacle that stode in the Trinitye Chapelle' at St Margaret's, Westminster). The fullest account of Ludford's biography is still that by Hugh Baillie in 1958 (Musical Quarterly, Vol.44, p.196). However, unpublished references to other Ludfords have been recently uncovered but await thorough examination. The most significant of these is an entry dated September 1523, where a certain Christina Ludford was paid 15 1/2d. as a seamstress in the household of the seven year-old Princess Mary for the 'hemming of 44 ells of linen cloth, made into napkins and towels, and 12 napkins of diaper" (1). The fact that two Ludfords were under royal employment at the same time strongly suggests that they might have been in some way related, perhaps as husband and wife or brother and sister. It is also interesting to note that an Elizabeth Ludford, widow, was awarded 'lands and a watermill in Byrmyngham, parcel of Byrmyngham manor (2) in June 1542, perhaps another relation of the composer, although certainly not his wife as it is known that Nicholas lived well into the 1550s.

The present series of Ludford's collected works continues with his masses for five voices. Missa Christi virgo dilectissima is based on the ninth matins respond for the feast of the Annunciation. The feast is of a lesser rank (minor double), and correspondingly the music is much lighter in character than his two surviving six-part masses, both set for the highest ranking liturgical feasts (recorded on CDGAU 131 and 132). Still evident in this smaller-scaled work, however, are the sensuous melodies and rich harmonic textures, decorated with the occasional sprinkle of unauthorised dissonance, so inherent in Ludford's musical autograph. The respond, Christi virgo dilectissima [track 13], is stated once in each movement (the Sanctus and Benedictus are unified with the former being set to the first half of the respond and the latter appropriating the tune from 'Subveni domina'). The short head-motif is interestingly similar, albeit harmonically, to that used in Fayrfax's Mass O bone Ihesu. The languid and haunting chord progressions are in stark contrast to the bold and intricately arranged statements normally associated with Ludford's head-motifs.

Domine Ihesu Christe is an unusual work which survives in a single source dating from the end of Henry's reign. Technically the work is not devotional, but rather an anguished petition to Christ for intercession at life's end. The composition is constructed on a grand scale, divided into four main sections each notated within different mensurational devices. Most impressive is Ludford's conversant application of musical drama in setting this extraordinary text, such as when the imploring cries to Christ ('Te invocamus, te adoramus') are greeted with a climactic surge at 'tibi gratias'. The literary origin of Ludford's text is unknown, although portions of it closely resemble a prayer frequently found in Books of Hours of several Uses as early as the fifteenth century. According to the rubric, the prayer is prescribed to be recited 'in the agonie and laste ende of man and woman labourynge agaynst the dethe.'

(1) Letters and Papers, Foreign and Domestic, of the Reign of Henry VIII, ed. Brewer, Gairdner and Brodie (London, 1862-1910), Vol. 3, p.1405.
(2) Ibid., Vol.17, p.695.

© 1993 David Skinner
SOURCES

Polyphony:
Missa Christi virgo dilectissima
Cambridge University Library: Gonville and Caius MS 667, p.18; also in Peterhouse MSS 471-74, ff 57v, 54v, 65, 52 (lacks Tenor 2).
Domine lhesu Christe
Peterhouse MSS 471-74, if 85v, 78, 94v, 77 (Tenor 2 editorially supplied).

Plainsong:
Oxford, Christ Church Library,
Graduate secundum morem et consuetudinem preclare ecclesie Sarum politissimis formulis (ut res ipsa indicat) in alma Parisiorum Academia impressum (Paris, 1527). Antiphonale ad usum Sarisburiensis (Paris, 1519).

Music edited by David Skinner, and published by The Cardinall's Musick Edition, P.O. Box 243, Oxford, ENGLAND



THE FEAST OF THE ANNUNCIATION OF OUR LADY

Instituted in eighth-century Byzantium, the Annunciation is the earliest recorded feast of the Virgin; since when its popularity has grown to make it one of the most frequently represented scenes in art. Mary is often shown with her face discreetly turned away from Gabriel, usually with her hands across her bosom, sometimes with a distaff (an Eastern tradition) weaving the veil of the Temple which will be rent in twain at the Crucifixion.

St Luke's description (1.26-38) contains more information about Mary than any other biblical passage. At first she is 'greatly troubled at the saying'; she asks for explanation ('How shall this be since I have no husband'); and she accepts ('Behold, I am the handmaid of the Lord; let it be to me according to your word'). Mary's qualities shine through her humility, prudence, and obedience.

The date of the Annunciation (nine months before the celebration of the birth of Christ) has more significance than simply representing the period of human pregnancy. The 25th of March in the Julian calendar was the vernal equinox, that is, when day and night are of equal length. For the medieval mind, eager to find significance and explanations for divine power in nature, this day became a celebration of creation. For when God (who is perfect) created the world and first divided day from night, surely they became two equal halves. This was the day when Adam, the first man, was formed and therefore appropriately the day of the conception of the one who will atone for Adam's sin. Conceived on the spring solstice, the second Adam will be born on the winter solstice (December 25), as a new light shining in the darkness: Ave virginum lucerna per quam fulsit lux superna, his quos umbra tenuit (Hail Mary, light of all virgins, by whom the splendour from on high has shone on those Death's shadow held in darkness).

As Christ is the new Adam so Mary is the new Eve. Mary's obedience to the will of God will atone for Eve's disobedience in eating and persuading Adam to eat the fruit of the Tree of Knowledge: Eve harkened to the serpent, Mary to the Angel: Nova! Nova! Ave fit ex Eva (News! News! 'Ave' is made from 'Eva').

In the modern calendar, the Annunciation is a feast of Our Lord: the Salisbury propers, however, emphasise Mary (only the Introit and the Communion deal with Christ). The feast always falls in Lent or Holy Week, which, according to liturgical practice, means that the Gloria is not sung and the Gradual and Alleluia are replaced by a Tract. For the purposes of this recording, it has been decided to invoke a rule of transference. When the Annunciation falls during Holy Week, it is transferred to the week after Easter so that it might not interfere with the liturgical development of the Passion. In such a case the Gloria, Gradual, and Alleluia are reinstated and Alleluias are added top the other propers.


© 1993 Andrew Carwood