William BYRD. Hodie Simon Petrus
Byrd Edition vol.11 / The Cardinall's Musick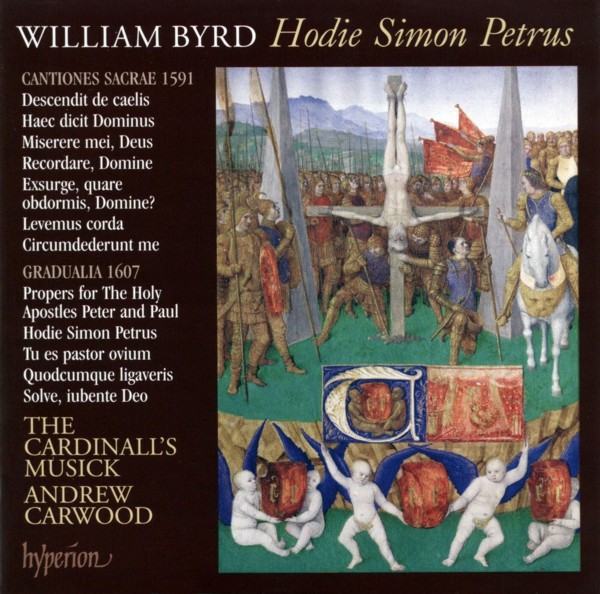 hyperion
hyperion CDA67653
febrero de 2009

grabado en noviembre de 2007
Fitzalan Chapel, Arundel Castle, UK




William Byrd (1539/40-1623)
The Cardinall's Musick Byrd Edition Vol.11
Hodie Simon Petrus
Cantiones Sacrae 1591
Gradualia 1607



01 - Descendit de caelis [5:34]
02 - Tu es pastor ovium [2:03]
03 - Miserere mei, Deus [3:05]
04 - Circumdederunt me [4:50]
05 - Quodcumque ligaveris [4:16]
06 - Recordare, Domine [6:05]
07 - Exsurge, quare obdormis, Domine? [4:18]
08 - Laetania [8:57]
09 - Nunc ccio vere [5:23]
10 - Constitues eos principes [3:08]
11 - Tu es Petrus [2:13]
12 - Levemus corda [4:45]
13 - Hodie Simon Petrus [3:53]
14 - Solve, iubente Deo [2:40]
15 - Haec dicit Dominus [6:44]




#1: SAATTB
#2, 5: AATTBB
#3: SATBarB
#4, 15: ATTBarB
#6, 7, 12: AATTBB
#8: BarˇATTB
#9, 10, 11, 13, 14: AATTBarB




THE CARDINALL'S MUSICK
Andrew Carod

soprano: Carys Lane, Rebecca Outram
alto: Patrick Craig, David Gould, Caroline Trevor
tenor: Steven Harrold, Julian Stocker
baritone: Robert Evans
bass: Edward Grint, Robert Macdonald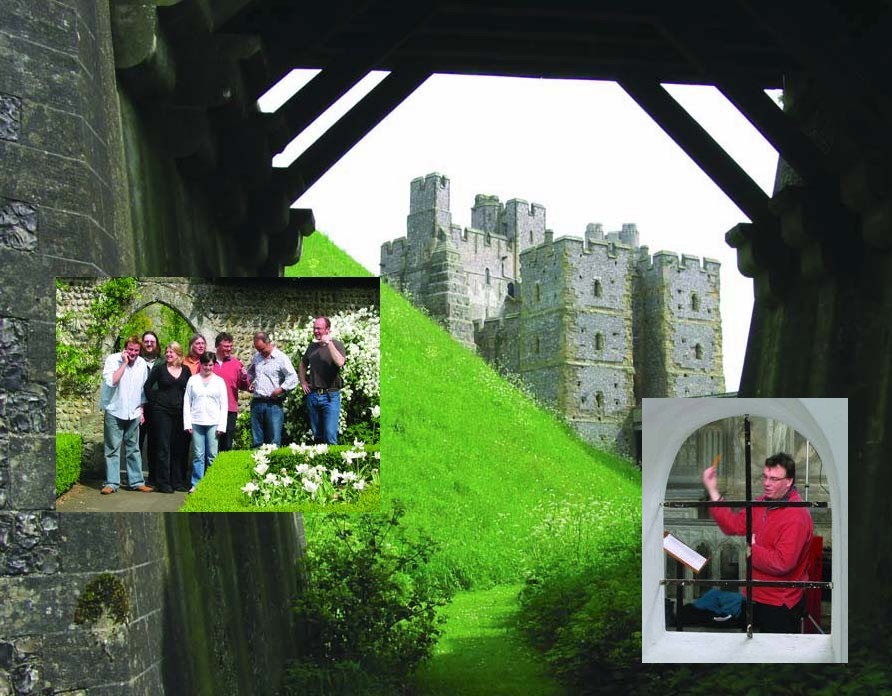 FUNDAMENTAL CHANGE in the Church is rarely easy to achieve with unanimity and without pain and division. The people of early sixteenth-century England had only ever known one belief system, a complicated set of rules preserved and developed by a Church with its spiritual head in Rome. It governed their daily lives and although the conjoining of Church and State led sometimes to storms and tempests and division, it was ultimately secure. The Reformation destroyed certainty and left people only with questions. The English owed allegiance to their monarch and to their country but the spiritual focus of their lives, that which dealt with their immortal soul, was the Roman Church. Who had the right to tell the people what do? The King of England or the Bishop of Rome?

Musicians were not exempt from these weighty matters and in the early days they were all forced to react. John Merbecke, the Windsor-based composer, decided that his extended Latin votive antiphons were now useless, threw them to one side and embraced reform. Nicholas Ludford, the prolific composer and churchwarden of St Margaret's, Westminster, also seems to have stopped composing his Latin works, but not because of any desire for change, rather because of a deep dissatisfaction with the way in which religious policy was unfolding.

Time is a great healer however and, as the century progressed, people forgot the old ways. Those who had grown up under Elizabeth's intelligent and sensible settlement took the reformed Church as a given. Composers such as Thomas Weelkes, Orlando Gibbons and Thomas Tomkins found themselves part of a uniquely English institution which allowed them the freedom to produce exceptional music. Yet, for those who still held their allegiance to Rome these days were hard, full of persecution and deprivation. William Byrd had grown up not with the reforms of Elizabeth but with the Catholic restoration of Mary. Born in 1539 or 1540, he was probably a chorister in London and was a teenager during the politically and artistically stimulating early years after Mary's accession. It must have been at this time that a desire for England to remain Catholic became embedded in his heart.

As a devout Catholic and a brilliant musician it is perhaps a little strange that Byrd should never have travelled abroad. All eyes looked to Italy for art, manners and etiquette and many left England either to experience the various styles and fashions of the Continent or to flee the Catholic persecution. Much of Byrd's life however was spent in London (apart from a brief spell as the young organist of Lincoln Cathedral) until he moved to a quieter life in the countryside of Essex in the 1590s. He was truly an English composer and perhaps it is possible to see in this move, this nesting in the countryside, an even more definite statement of his beliefs. His writing is unmistakably English and it is likely that his view of Catholicism was also deeply English: these two elements are clearly brought together in his music.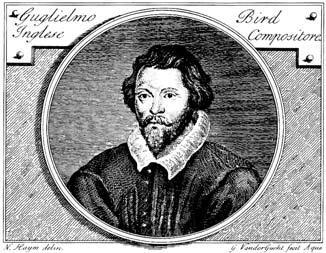 With the exception of the Litany, the pieces contained on this disc, the eleventh devoted to the Latin Church music of Byrd, are from two sources: the Cantiones Sacrae of 1591 (published at the end of his time in London) and the second book of motets entitled Gradualia from 1607 (which contains music probably written for the Catholic community based around Ingatestone Hall in Essex). The seven motets from 1591 show Byrd to be preoccupied with thoughts of desolation, loss, deprivation and separation—thoughts which were obsessions for the recusant Catholic community. Yet it is rare for Byrd not to offer salvation in his music, indeed this is his constant refrain. Each piece provides at least a glimmer of hope and often contains an outright statement of positive thought.

If ever a piece was designed to speak directly to the Catholic community, it is the five-voice Haec dicit Dominus. The text speaks of the Old Testament character Rachel, whose sons have been murdered—a telling choice of subject for those who were witnessing the execution of their supporters and priests. Rachel is bereft and destitute and she refuses all comfort. But the answer from the Lord is positive and forward looking—'et est spes'—'and there is hope'. The Latin words are incredibly direct and simple, and so powerful and unexpected is this statement that the music almost stops. These are exactly the words that the people needed to hear and Byrd makes sure they are as clear as if an angel of the Lord had appeared and spoken.

Descendit de caelis has a ravishing texture. Byrd proudly displays his English heritage by setting a pre-Reformation Sarum rite text involving a cantus firmus (a favourite device of John Sheppard and his contemporaries) complete with dissonances and false relations. Yet as so often with Byrd there is a nod in the direction of modern ideas, at the words 'lux et decus' ('the light and glory') he uses a hopeful, upward-rising phrase which he was to develop further in the set of Propers for the Feast of Candlemas (recorded on Volume 8 of this series), which celebrates Christ as the light of the world.

Thanks to the efforts of editors in the twentieth century some of Byrd's works have become well established gems of the repertory. One such is the five-part Miserere mei, Deus. A clear homophonic opening asking for mercy moves quickly into beautiful imitation. The text contains several words which seem to elicit particularly powerful melodies from Byrd, especially 'iniquitatem' ('wrongdoing') and 'misericordiam' ('mercy'); indeed the melody of this latter word was one that he was to take forward and use in the monumental Infelix ego.

Circumdederunt me shows Byrd in a more mournful light but also in a more contemporary one. He employs a number of telling harmonic shifts which he must have learned from his Continental colleagues and developed in his younger years. The piece moves upwards in tessitura and intensity at the repeated words 'O Domine, libera animam meam' ('O Lord, free my soul') before subsiding as if exhausted. Similar in feel is Recordare, Domine, a piece asking for God to recall his promises to mankind and not to destroy the earth. Fear and awe dominate in the first half of this piece but some warmth enters later at the mention of the 'holy city' before Byrd returns to his opening plea for mercy for the world. There is a more positive approach in Levemus corda with its faster harmonic pulse and flexible melodic lines, but the subject matter is still the same. Exsurge, quare obdormis, Domine?, by contrast, is one of the most energized pieces in the 1591 Cantiones Sacrae. Byrd uses a taut, sinewy melody as he demands that God should arise, not once but three times.

In the Gradualia volumes of 1605 and 1607, Byrd produced music for many of the Feasts of the Church's calendar. One of the most complex sets is the six-voiced group of motets in honour of St Peter and St Paul (presented here together with a Litany in honour of the saints). It may seem strange that the two most significant saints of the Church should have to share one Feast Day but in this sharing there is a powerful statement. The combination underlines the power of the Church itself, built on the rock of Peter and on the teachings of Paul. Byrd responds with music that it is cerebral, complex, witty and powerfully rhythmic. Indeed the set contains one of the most remarkable pieces of writing that Byrd ever produced. At the words 'dicit Dominus Simoni Petro' ('says the Lord to Simon Peter') in Quodcumque ligaveris Byrd indulges in a fascinating explosion of fast notes which require considerable vocal dexterity in terms of technique and tessitura. It is perhaps his way of highlighting that Peter's authority (and thus the authority of all Bishops of Rome) came directly from Christ himself.

Unusually Byrd has varied the scoring in this set of pieces. Two of them (Tu es pastor ovium and Quodcumque ligaveris) are scored for a divided low bass part whereas the others are for the more usual AATTBarB combination. This strongly suggests that they were written at different times rather than all composed for one occasion (perhaps Byrd was even writing for the singers whom he knew would be present). The angst of the 1591 pieces is banished in these settings where Byrd gives his imagination free rein. Perhaps he felt more comfortable in Essex away from London; perhaps he was feeling the wind of change blowing through the country as Elizabeth gave way to James VI of Scotland who had promised (but was never to deliver) greater toleration for Catholics. We will probably never know, but the remarkable fact is that Byrd even in his later years could produce the most modern-sounding and the most energetic music that he had ever written.

He provides only three pieces (Nunc scio vere, Constitues eos principes, and Tu es Petrus) for Mass itself. There is no Communion setting which is certainly unusual and he relies on the fact that the Alleluia verse Tu es Petrus has the same text as the Offertory and that the same music could be used twice (a common occurrence throughout the two books of Gradualia). The set is completed by the short Solve, iubente Deo and the beautiful Hodie Simon Petrus which, appropriately enough in a collection of texts which otherwise refer only to St Peter, reserves its most telling music for the mention of the death of St Paul.

On this disc it seemed appropriate to include a Laetania (Litany) in honour of all the saints. This is beautiful yet entirely functional music, a world away from the high art form of the other Gradualia pieces. Yet at the words of the Agnus Dei (Lamb of God) Byrd cannot resist writing music with a more impassioned nature. Not surprising from a man for whom texts, their context and subtext, were clearly everything.


ANDREW CARWOOD © 2009