Thomas WEELKES. Ninth Service, Evening Service for five voices and Anthems
The Christ Church Cathedral Choir, Oxford · Stephen Darlington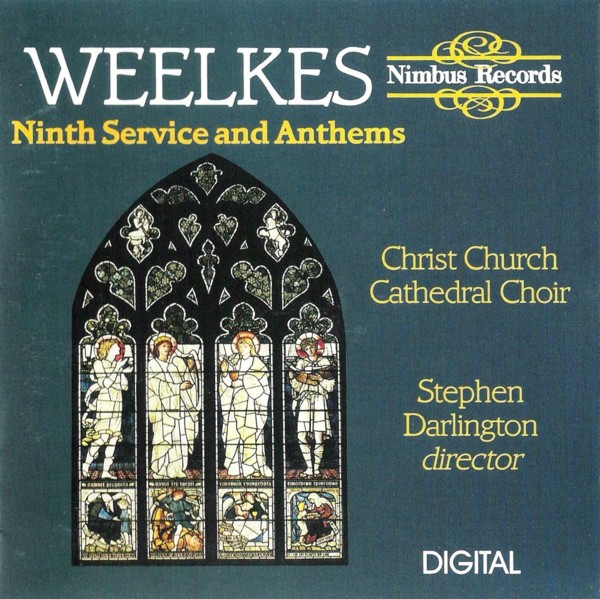 Nimbus NI 5125
1988







01 - Alleluia, I heard a voice [2:56]
02 - Give ear, O Lord [5:31]

Evening Service for five voices
03 - Magnificat [6:20]
04 - Nunc Dimittis [3:10]

05 - Hosanna to the Son of David [1:51]
06 - When David Heard [4:56]
07 - O Lord, Grant the King a Long Life [2:01]
08 - Give the King Thy Judgements [5:31]
09 - Gloria in Excelsis Deo [3:01]

Ninth Service
10 - Magnificat [8:37]
11 - Nunc Dimittis [6:48]






Christ Church Cathedral Choir
Stephen Darlington

Choristers
James Ridgway
George Godsal
Martin Illingworth
Benjamin Hughes
William Smith
Kieron Maiklem
Michael Forbes
Thomas Morris
James Weeks
Gulliver Ralston
James Gorick
Michael Speight
Peter Weir
Angus McCarey
Ranjeet Guptara

Lay and Academical Clerks
Altos:
Stephen Carter I II
Richard Roberts I
Andrew Olleson
Stephen Taylor
Nicholas Barker
Tenors:
Edwin Simpson
Matthew Vine
Ciaran O'Keefe
Andrew Carwood
Basses:
David Le Monnier
Paul Martin
Tim Bennett
Edward Wickham

Organist: Laurence Cummings

I Soloist in "Give ear O' Lord"
II Soloist in "Give the King Thy Judgements"


Recorded at Dorchester Abbey, OxfOrdshire,
13th and 14th March, 1988
by Nimbus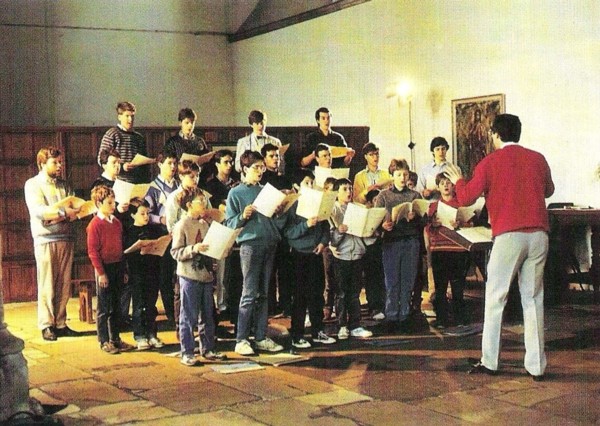 THOMAS WEELKES


The period during which Thomas Weelkes (c. 1576—1623) composed most if not all of his church music — roughly the first two decades of the seventeenth century — was also a period of decline and fall in his professional career and private life. Biographical details elude us, and it may never be known why the young successful madrigal composer of the 1590s ended his days in disgrace among the cathedral authorities of Chichester, dismissed from his post as organist on grounds of his being a habitual common drunkard and a notorious swearer and blasphemer. Weelkes evidently aspired to higher things: several of his anthems and services were written not with Chichester in mind but for the more sumptuous services and ceremonies of the Chapel Royal, and it is clear that Weelkes did have some informal contact with that institution. But he never consolidated the London connection to the extent that he could leave provincial Chichester. Perhaps the debauched habits of which he was later accused were more the cause of stagnation in his career than the effect of it.

Set beside William Byrd and Orlando Gibbons, the two outstanding figures in church music during the reign of James I, Weelkes must have appeared a curiosity. His music was weakest in the respects those two composers rated most highly: Weelkes had never been particularly interested in sensitive word-setting, and he probably lacked the ability — or perhaps the patience — to compose counterpoint of any great sophistication or skill. His talents lay rather in the making of thrilling textures, ravishing sonorities, exhilarating rhythms and, when the moment seemed right, marvellously spicy harmonies. Those are the hallmarks of the extraordinary sequence of madrigals Weelkes wrote when still barely out of his teens. What the aged Byrd and serious-minded Gibbons can have thought of the anthems and service music Weelkes subsequently composed, often in a style instantly recognizable from the madrigals, it is not difficult to imagine. Success for Weelkes came posthumously: later generations of church musicians have warmed to this impulsive, colourful music, and today his works have a secure place in the cathedral repertory.

The selection of music recorded here falls roughly into two sequences, one representing works of a general nature composed for no specific or known destination, the other, pieces that Weelkes probably or possibly wrote with courtly circles in mind. Although they span some twenty years of work, only one piece can be dated with any accuracy. But chronology is in a sense unimportant; the fact that stylistically these anthems and services project such a strong sense of a single, unique personality testifies to Weelkes's confidence in and satisfaction with his musical language, and they show little evidence of a mind searching for new modes of expression and alternative musical structures. Modem as Weelkes's madrigalisms may be by the standards of English church music of the day, at heart his music is embedded in tradition and nourished by a strong sense of heritage.

Like so many Jacobean anthems, Weelkes's Alleluia, I heard a voice was prized equally highly by domestic musicians and church choirs. It may even originally have been intended for solo voices and a consort of viols rather than for liturgical use. One manuscript source specifies it "For All Saints' Day", but any joyful occasion would be well served by this confident, forthright and strongly rhythmical work, with its pealing chains of Alleluias. Give ear, O Lord another all-purpose anthem, differs both in the nature of its text — a penitential, and at the time well-known poem by William Hunnis — and in the scoring for verses (soloists accompanied by organ) alternating with passages for full choir. Text and texture here fuse together: each stanza closes with the refrain "Mercy good Lord" set for full choir to related but always slightly varied music.

In common with so many of Weelkes's other settings of the morning and evening canticles, the Evening Service for Five Voices survives in a fragmentary state. In fact, performance of this particular work has been made possible today only after major surgery. The vocal lines themselves are completely lost; all that remains of the setting is an organ part that conflates the choir's music into what two hands can play at the keyboard. Various editors have attempted to unravel the tangle; the version performed here is by David Wulstan. Reasonably substantial by the standards of the day, the service is set for full choir without solo verses, but it includes some enterprising subdivisions, in particular the passage for high four-part choir in the Nunc dimittis — inspired no doubt by the words "to be a light to lighten the gentiles".

The four anthems that follow all seem in one way or another to be 'royal' works. Hosanna to the Son of David like Gibbon's setting of the same text, may have been composed as a welcome song for James I or one of his sons; certainly the exuberant style suggests ceremonial rather than everyday use. When David heard together with a host of textually-related pieces by Weelkes's contemporaries, was almost certainly prompted by the premature death of Henry Prince of Wales, in 1612. It sounds like a solemn madrigal, and indeed it might have been written with domestic performance in mind. The magnificent seven-voice anthem O Lord, grant the King a long life takes as its text two verses from Psalm 61 which, in Weelkes's setting assume the quality of a paean of praise for James I and a prayer for his preservation. This is another full anthem; by contrast, Give the King thy judgements which draws similarly patriotic words from Psalm 72, is scored for verses, although on a scale larger than usual for the day.

Gloria in excelsis Deo stands somewhat on its own. Technically the work is a carol — which is to say, by Tudor definition, that it consisted of a central verse (others may be lost) flanked on either side by a refrain, and has a strong seasonal element, in this case Christmas. Church choirs soon absorbed the piece into their repertoires, but it is likely that this work too was first sung by solo voices in the hall or chamber of a Jacobean house.

The final work is by far the largest on record, and the most extended composition known by Weelkes. It belongs to the category of the 'great' service, conceived on the grandest scale and written for a special occasion or destination. Again the Chapel Royal comes to mind, and the fact that at several places in the service Weelkes quotes blocks of music from the anthem O Lord, grant the King a long life strengthens that possibility. Nominally scored for a seven-part choir, Weelkes in practice freely subdivides and regroups his forces from verse to verse in a conscious effort to recall the sonorities and textual variety of English music a hundred years earlier. Some of the scorings remain conjectural, however: like the Evening Service for Five Voices, the Ninth Service survives in a defective state, and David Wulstan has provided music for the voice-parts that are missing from the manuscripts.


© John Milsom 1988