Johannes OCKEGHEM. Missa Ecce ancilla Domini / The Clerks' Group
Johannes OCKEGHEM. Ave Maria &middot Intemerata Dei mater
Jacob OBRECHT. Salve Regina · JOSQUIN. Nymphes des bois


medieval.org
classicstoday.com

Proud Sound PROU CD 133
1993

AS&V "Gaudeamus" CD GAU 223
2001





Johannes OCKEGHEM
(c.1420-1497)

01. Intemerata Dei Mater [7:03]
soprano RO, alto RB, tenor JG , 2 basses EW DW

02. Ave Maria [2:51]
2 altos, 2 tenors, 2 basses DW ST

Missa Ecce ancilla Domini
2 altos, 2 tenors, 3 basses
03. Kyrie [5:02]
04. Gloria [8:07]
05. Credo [10:46]
06. Sanctus [4:18]
07. Benedictus [3:27]
08. Agnus Dei [5:12]


Jacob OBRECHT
(1457/8-1505)

09. Salve Regina for six voices [11:59]
3 sopranos, 2 tenors, bass ST

JOSQUIN
(c.1445/60-1521)

10. Déploration sur la mort de Johannes Ockeghem [4:54]
Nymphes des bois
3 sopranos, 2 altos, 2 tenors, 3 basses



THE CLERKS' GROUP
Edward Wickham

Carys Lane, Rebecca Outram, Libby Crabtree - soprano
Fergus Mclusky, Robin Blaze - alto
Phaip Cave, James Gilchrist - tenor
Edward Wickham, Dominic Wallis, Simon Turnill - bass





Produced by Jonathan Freeman-Attwood
Engineered by Paul Proudman and ProudSound
Recorded at St Andrew's, West Wratting, on 2nd and 3rd of February, 1993.



"This recording combines one of Ockeghem's less well-known, middle period masses with two of his motets as well as Obrecht's outstanding six-part Salve Regina and the famously beautiful lament by Josquin on the death of Ockeghem".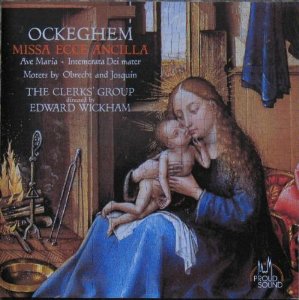 ---
[from The Ockeghem Collection:]

Ockeghem may have provided for his own commemoration with the five-voice motet Intemerata Dei mater. Unusually for a composer of his generation, he appears not to have based it on pre-existing music; having said which, the beginning of the first and second sections allude to two of his songs (respectively, Presque trainsi and Fors seulement, the texts of which both declare a readiness for death), and through these, two of his Masses based upon them (Mi-mi and Fors seulement). With its kaleidoscopic treatment of vocal combinations, its often bold and pungent treatment of dissonance, its dark scoring and unerring formal sophistication, Intemerata is a magnificent instance of Ockeghem's art.


© Fabrice Fitch


Whether you take an early Mass like Caput (1450s), a middle-period one like Ecce ancilla Domini (c.1470), or a late motet like Intemerata Dei mater (1480s), there is always, behind the changing contrapuntal surface, a particular sound quality that can only be described as Ockeghemian. Yet in the Missa Ecce ancilla Domini the sounds and the rhythmic impetus change and interact in such impressionistic ways as to defy any musical expectation or prediction on the part of the listener. The Mass is less varied in its handling of different procedures than some later works, but this may be due partly to the changing of the stylistic seasons. The Intemerata Dei shows that even the greater stylistic variety typical of the 1480s and 1490s could be absorbed into the composer's sound world.


© Rob. C. Wegman