Terres Turquoises

| Turquoise Lands
Ensemble Constantinople · Françoise Atlan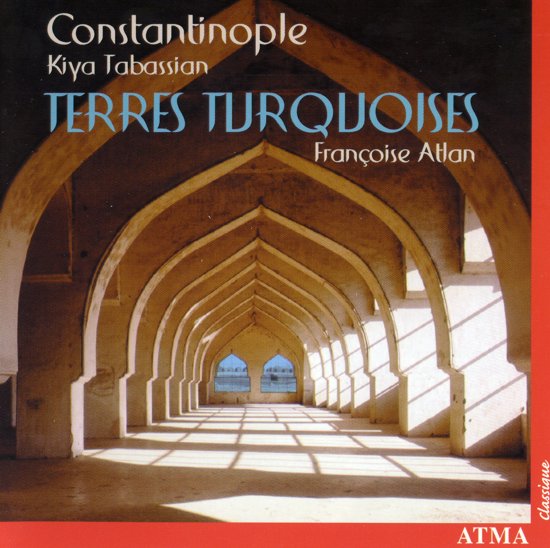 medieval.org
constantinople.ca
Atma "Classique" ACD 2 2314
Ⓟ + © 2004




1. Pishrow Mahur, Duyek [5:14]
Gazy Giray Han, 1554-1607 (Ottoman composer)

2. La princessa y el caballero [7:09] Salonika

3. Pishrow Mahur, Dowre Kabir [2:08] Gazy Giray Han

4. Esta noche Salonique Salonika [4:21] Salonika

5. Farah [4:48] Persian radif

6. Ven querida [2:27] Istanbul

7. Caballero [3:47] Istanbul

8. Hero y Leandro [2:50] Salonika

9. A la una [5:19] Spain

11. La mala suegra [5:18] Smyrna

11. Zendali [2:53] Malouf Constantinois

12. El alma dolorida [4:23] Salonika

13. La llamada a la morena [2:35] Izmir

14. La mal casada [3:04] Alexandria

15. Visage de Sylphe [5:47]
Kiya Tabassian, poem by Hâfez (14th-century Persian poet)

16. Dunala [1:50] Spain






CONSTANTINOPLE
Kiya Tabassian

Kiya Tabassian — setar, artistic direction
Guy Ross — 'ud, harp
Matthew Jennejohn — mute cornett, cornetto, recorders
Isabelle Marchand — fiddle
Ziya Tabassian — tombak, daf, dayereh, def, riq

Françoise Atlan — voice

Research and preparation: Kiya Tabassian, Guy Ross











We acknowledge the financial support of the Govemment of Canada through the Canada Music Fund for this project.

Recorded and produced by Johanne Goyette
Église Saint-Augustin de Mirabel (Québec), May 10, 12, 13, 2003
Digital mastering: Anne-Marie Sylvestre
Booklet editor:Jacques-André Houle
Graphic design:Diane Lagacé
Cover: Borromeo Art Resource, NY
Interior, 1367. Jami Masjid (Congregational Mosque), Gulbarga, Karnataka (Mysore), India.







Turquoise Lands

This recording is a tribute to the Turquoise Lands. The land of each and every person, it is the garden of his memories and of his imagination. There, he sows the seeds of his thoughts and hopes, and nourishes them with his beliefs and his principles. It is the physical and metaphysical place where everyone takes root and in turn gives it meaning, vision, aroma, and colour.

Yet turquoise is much more than a colour. lt is the symbol that unites man in a great region that stretches from the Western Mediterranean to Central Asia and even as far as India. As in the sparkling water, the dazzling sky, and the splendid monuments—whether a mosque, synagogue, church, palace or caravansary—the colour turquoise is a primordial element in the visual environment of the entire region.

The Turquoise Lands are foremost those creative spaces where, regardless of country, creed or politics, there is a certain commonality of vision that is to be found in many aspects of these people's lives. This territory has created a deep symbiosis as well as a homogenous cultural and social entity that is one of humanity's great legacies.

The present CD features instrumental and vocal music representing a variety of traditions from these Turquoise Lands. The Sephardic (Judeo-Spanish) romances have mainly come down to us through the oral tradition of Sephardic people from various countries around the Mediterranean. The two pesrevs by Gazy Giray, an Ottoman composer from the end of the sixteenth century, are taken from the rich collection of instrumental music notated by Dimitrie Cantemir. Visage de Sylphe is a composition inspired by Indian vocal techniques, set to a gazal by Hafez, a great fourteenth-century Persian poet. Again from Persia, Farah is one of the oldest instrumental pieces still part of today's repertoire of classical Persian music. The Constantinois Malouf is played here in an instrumental version.


KIYA TABASSIAN
TRANSLATION: JACOUES-ANDRE HOULE



Françoise Atlan — voice

Born in 1964 and graced with a naturally beautiful voice developed through her childhood, Françoise Atlan began to learn the piano with her mother at age six. Her musical studies at the Saint-Étienne and Aix-en-Provence conservatories were rewarded in 1984 with Prizes in piano and chamber music. While a student of musicology at the university of Aix-Marseille, she perfected her vocal technique and her grasp of the lyric repertoire with Andréa Guiot at the Paris Opéra.
With the contemporary music choir conducted by Roland Hayrabedian, she distinguished herself in the solo part of Maurice Ohana's Cantigas, the recording of which obtained the Grand Prix de l'Académie du Disque in 1987. From 1987 to 1989 she was First Soloist with the vocal ensemble Musicatreize, specializing in contempo-rary music (Ohana, Ligeti, Nono).
Her Judeo-Berber roots brought her to develop a keen interest in traditional music, particularly of the Mediterranean region. Her international career has led her to sing both the repertoires of Western early music and of traditional music with great success in the United States, Japan, Spain, Portugal, Italy, Great Britain, Morocco, Tunisia, ex-Yugoslavia, Holland, Belgium, Norway, and Israel.
Ms. Atlan regularly gives master classes at the Ethno-musicological workshops in Geneva, the Basel Schola Cantorum, and at the Centre de Musique Médiévale in Paris. She won the 1998 Prix Villa Médicis Hors les Murs, which gave her the opportunity to perfect the Arabic-Andalusian repertoire of Fez tradition for three years with Mohammed Briouel. ln 2001, Françoise Atlan took part in the creation of Florence Bachet's work Femmes, commissioned by Radio France and performed with the Ensemble FA conducted by Dominique My.


Constantinople

Since its inception in 1998, Constantinople has endeavoured to find a unique mode of expression and a new, creative approach to interpreting the music of the Middle Ages and the Renaissance. To do so, the group juxtaposes a careful study of historical manuscripts with a pursuit of the living oral tradition of the Near and Middle East—more specifically, the classical Persian tradition.
The ensemble uses early European instruments such as the lute, vihuela, medieval harp, viola da gamba, fiddle, recorder, cornetto, and shawm, alongside instruments frorn the Middle East such as the setar (a plucked stringed instru-ment from Persia), the tombak, daf, and dayereh (Persian percussion instru-ments), and the 'ud (one of the most ancient instruments of the Middle East and the Mediterranean, and the ancestor of the European lute).
These instruments have a rich history and a musical heritage that is kept alive by each of the musicians in the ensemble. Through their knowledge and skills, the members of Constantinople breathe new life into music of the past while creating a new, rich aesthetic experience in the present.
Constantinople, under the artistic direction of Kiya Tabassian, explores the music from the cultural sphere of the Mediterranean in the Middle Ages and Renaissance. The group cultivates a unique form of expression that gives free rein to creativity and improvisation, yet respects the basic forms of the music it seeks to reinterpret.


Kiya Tabassian — setar, artistic director

Born in Tehran in 1976, Kiya Tabassian received his initial training in Persian
music from Mehrdad Torabi at the Bahârlou Institute in Tehran, from Reza Ghassemi in Paris, and Kayhan Kalhor in Montreal. He has since continued to develop his instrumental skills independently. He has also studied composition at the Conservatoire de Musique de Montréal with Gilles Tremblay and Michel Gonneville. He has taken advanced tuition in classical Persian music with Dariush Talai.
ln 1989, he founded the Tahmassebi Ensemble, which he directed for two years and for which he contributed several compositions. He is the co-founder of Constantinople, CodexQuartet and Radical 3, ensembles that have performed in a number of Canadian cities. In addition, he performs regularly throughout the U.S., France, Greece, and Mexico, both as a soloist and with other musicians.
In 2000, he was composer in residence for Musique Multi Montréal with a project entitled "Poussières d'étoiles." Along with his brother Ziya, he recorded a first CD of Persian classical music entitled Garden of the Memory and three CDs with Constantinople on the ATMA label.
He is active in the MediMuses project as a member of the research group on the history of Mediterranean music. Kiya is a member of the Conseil Québécois de la Musique. He has received several grants from the Canada Council for the Arts and the Conseil des arts et des lettres du Québec.


Guy Ross — 'ud, medieval harp

Guy Ross earned a B.A. in lute performance at Laval University. Since then, he
has specialized in vocal and instrumental music of the Middle Ages and the Renaissance. Serious research led him to develop ideas and a playing technique based on the study of treatises and other repertoires from the 14th to the 17th centuries.
As well, he has polished his vocal and instrumental approach to the interpretation of medieval music through work with Benjamin Bagby and Barbara Thornton of the Ensemble Sequentia.
Over the past several years, he has developed a deep interest in the 'ud (the lute of the Middle East) and has explored classical Turkish music, in both practice and theory. He is presently a member of Constantinople, an ensemble that explores early repertoires of the East. Guy Ross teaches the lute at Laval University. He was a member of the ensembles Anonymus and Strada for ten years.


Matthew Jennejohn — mute cornett, cornetto, recorders

Born in British Columbia, Matthew Jennejohn pursues an active performing career on the cornetto, recorder, and baroque oboe. A specialist in music of the Renaissance, Baroque, and Middle Ages, he has performed with many of the leading early music ensembles in North America including Constantinople, the Studio de Musique Ancienne de Montréal, Les Boreades, Ensemble Arion, Tafelmusik, Les Voix Baroques, Tempesta di Mare, Les Idées Heureuses, The Trinity Consort, La Nouvele Sinfonie, and Les Violons du Roy.
He studied early music at the Royal Conservatory of The Hague, McGill University, and the University of British Columbia with Bruce Haynes, Marion Verbruggen, Ku Ebbinge, and Peter Hannan as well as private instruction and workshops with William Dongois and Bruce Dickey.
He is frequently heard on CBC Radio and Radio-Canada, and has a number of CD recordings to his credit, with Monica Huggett, Barthold Kuijken, Jaap ter Linden, Matthew White, and Eric Milnes.


Isabelle Marchand — fiddle

Isabelle Marchand began her studies on the viola da gamba with Louis Bégin and Michel Ducharme. She holds a Bachelor of Music degree from the Université de Montréal and an M.A. from McGill University, where she studied with Mary Cyr. Throughout her years of training, she participated in numerous workshops in both North America and Europe with Sarah Cunningham, Jordi Savall, Wieland Kuijken, and Lawrence Dreyfus. Upon completion of her studies in Montreal, she continued her training for two years at the Koninklijk Conservatorium (Royal Conservatory) in The Hague with Wieland Kuijken.
After returning to Montreal in 1987, she joined the Royal Consort. As a regular member of the Ensemble Claude-Gervaise from 1981 to 1992, she recorded with the group and toured extensively in Europe, Mexico, and Canada. She was also a member of La Nef for ten years. She is co-founder of Les Plaisirs baroques and is now an active member of Constantinople.


Ziya Tabassian — percussion

Ziya Tabassian started playing the tombak (a Persian percussion) at the age of 11. From 1994 to 2001 he studied classical percussion with Julien Grégoire in Montreal, and has completed a bachelor's degree in percussion performance at the Université de Montréal. During the winter of 2002, with the help of the Conseil des arts et des lettres du Québec, Ziya went back to Iran for an advanced course in tombak with M. Bahman Rajabi. Recently, he completed a residency at the Banff Centre for the Arts, where he explored contemporary music on Persian percussion instruments.
He plays in several classical, modern, and world music ensembles and is a co-founder and an active member of both Constantinople (medieval and Renaissance music) and Duo Prémices (soprano & percussion). Ziya has performed in several concerts in Canada, the U.S., and Greece, notably at the World Music Institute in New York, the Yerba Buena Center in San Francisco, Megaron Mousikis in Athens, and Chicago's VVorld Music Festival.
Ziya was invited to participate in the recording of a new release by Kayhan Kalhor with the Kronos Quartet. Also, along with his brother Kiya, he has recorded a CD of Persian classical music entitled Garden of the Memory and has three CDs with Constantinople on the ATMA label. He has also recorded for several other productions, including with the Nouvel Ensemble Moderne and En Chordais.