Jubilations

/ du VIème au XXIème siècle
Cum Jubilo







cumjubilo.com
Ligia Digital Lidi 0202291-15
2015














1. Letis canamus [1:05] antienne | Antiphonaire de Reichenau

2. Vox nostra resonet [1:37] Codex Calixtinus | conduit à 2 voix de Maître Jean Legal cc 102


3. [4:40]
Magnificat 1er ton | cantique de Marie
Magnificat primi toni | Girolamo Frescobaldi | orgue


4. O frondens virga [1:30] antienne | Hildegard von Bingen
5. Jubilatio [4:32] polyphonie de Patrick Burgan composée sur le texte O frondens virga


6. [5:22]
Que est ista | répons, chant de Vêpres | Graduel de Fontevrault [5:22]
Resonant interna Domino | prose


7. Tiento sobre la letania de la Virgen [5:50]
Litanies de la Vierge, dans le style du XVIIème siècle | Pablo Bruna | orgue


8. Benedicamus angelus dixit [1:10] séquence, trope de Benedicamus Domino | Graduel de Fontevrault


9. Exultemus et letemur [2:28] séquence | Graduel de Fontevrault


10. Victime Paschali laudes [1:55] séquence | conduit à 2 voix | Codex de Las Huelgas Hu 63
11. Sequentia in Resurrectione Domini [3:42] Hans Buchner | orgue


12. Surgens Jesus [2:04] épons | Graduel de Fontevrault


13. Congaudeant catholici [2:03]
conduit à 3 voix de Maître Albert de Paris (extraits) | Codex Calixtinus cc 96


14. Veni sancte spiritus [0:15] séquence (1ère strophe)
15. Veni sancte spiritus [4:37] Peter Philips | orgue


16. Salve dies sanctissima [2:47] séquence | Graduel de Fontevrault


17. Ad superni regis decus [2:37]
trope de Benedicamus Domino | conduit à 2 voix de Maître Albéric, archevêque de Bourges | Codex Calixtinus cc 98


18. Verbum patris hodie [2:20]
organum à 2 voix | trope de Benedicamus Domino | Codex de Las Huelgas Hu 41


19. [10:15]
Ave maris stella [10:15] hymne
Ave maris stella | Jehan Titelouze | orgue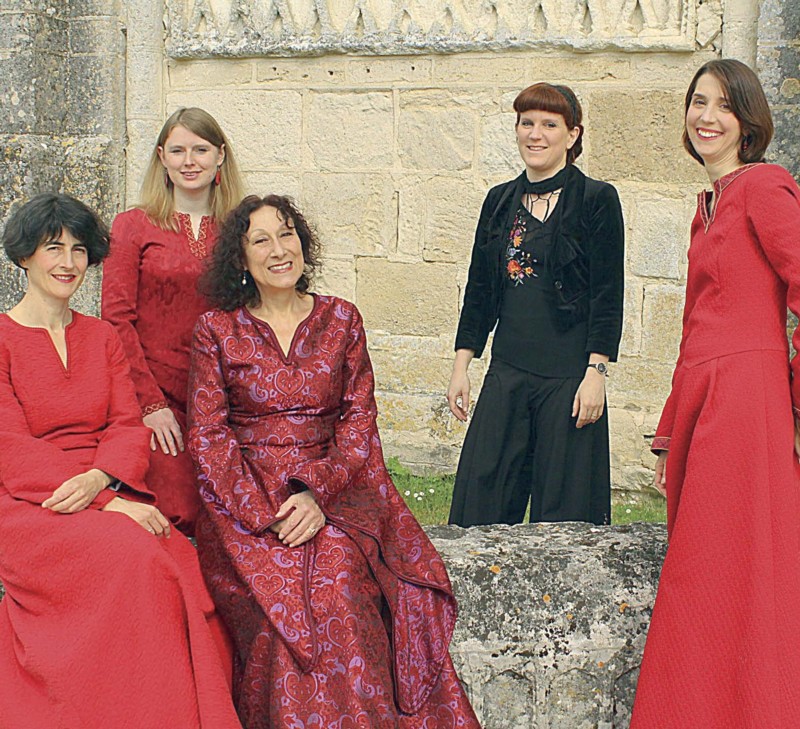 Cum Jubilo

Angélique Greuter | soprano
Sarah Richards | soprano
Laurence Esquieu | mezzo
Catherine Ravenne | contralto

Judicaëlle Giraudeau-Bureau
orgue/organ Quentin Blumenroeder de l'abbaye de Saint-Amant de Boixe

Remerciements à Anne Richards, Anaël Vignet et Quentin Blumenroeder





Direction artistique, enregistrament et montage et design / Artistic direction, digital recording and editing by : Eric Baratin
Abbaye de Saint-Amant de Boixe - Charente : 11 / 2014
Accord de l'orgue / Tuning of the organ : Quentin Blumenroeder

℗ et © Ligia digital, 2015







English liner notes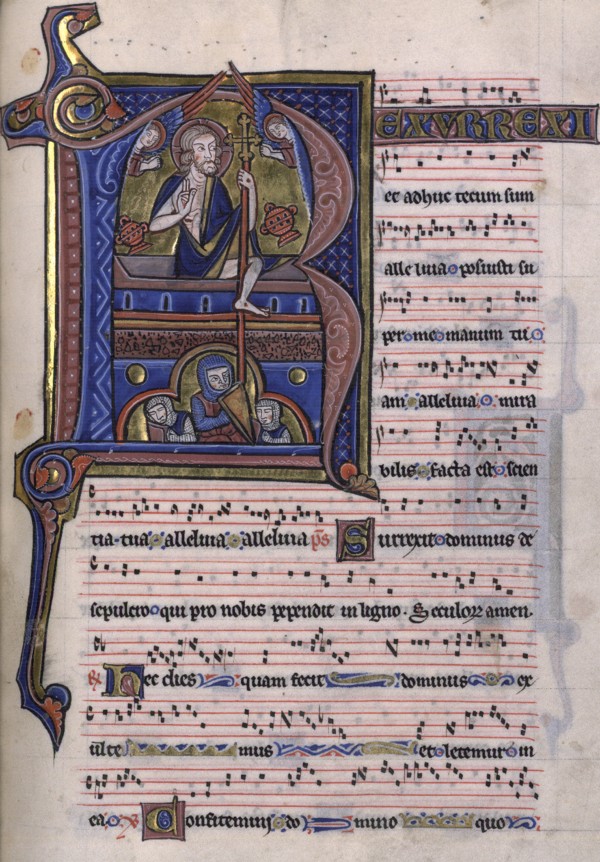 « Chante en jubilant ! » | Catherine Ravenne

Saint Augustin dès le Vème siècle mettait l'accent sur l'importance de la jubilation comme expression première du chant : « expression de l'âme s'épanouissant dans la joie » ; « joie la plus profonde de l'être ».

La jubilatio est la quintessence de la musique sacrée médiévale, élan vital exprimant l'indicible, déployant à l'infini une palette d'expressions multiples, que ce soit dans le plain-chant ou les polyphonies.

Les chants les plus anciens, notés dans les manuscrits depuis le IXème siècle, ont été de tous temps source d'inspiration pour les compositeurs qui ont transcendé cette jubilation et ce jusqu'à notre époque.

La musique pour orgue est particulièrement représentative de cette démarche. En effet, dès la fin du Moyen Âge, un dialogue s'instaure dans la liturgie entre le plain-chant et le contrepoint de l'orgue issu des mêmes thèmes.

C'est ce qui a motivé mon désir de réaliser ce programme alternant les chants a cappella et les pièces d'orgue, en demandant à Patrick Burgan la création d'une œuvre inspirée par la jubilatio originelle.

Les chants attachés aux grandes célébrations de la liturgie sont une expression privilégiée de la Jubilatio : dans ce CD sont représentés les offices et les fêtes de la Vierge, de Sainte Ursule et les 11.000 vierges, de Saint Jacques, de Pâques et de la Pentecôte.

Quatre pièces d'orgue de ce disque trouvent leur origine dans les chants suivants: les chants marials Ave maris stella et Magnificat ont inspiré un nombre impressionnant de compositeurs.

Le premier est une hymne attribuée à Venance Fortunat (VIème siècle), chantée lors des fêtes de la Vierge et à l'office de Vêpres. Le second est le cantique de Marie, tiré de l'Evangile de Saint Luc, également chanté aux Vêpres.

Pour la séquence Victime paschali laudes, chant bien connu pour la fête de Pâques, j'ai choisi la version à deux voix du Codex de Las Huelgas, fameux manuscrit du monastère de religieuses cisterciennes de Las Huelgas, près de Burgos, daté du XIIIème siècle.

Le Veni sancte Spiritus est une séquence pour la fête de la Pentecôte dont nous devons le texte à Stephen Langton, archevêque de Cantorbury (XIIème siècle).

L'antienne de Magnificat O frondens virga est un exemple parfait de l'inspiration de la grande Hildegarde de Bingen : pure création textuelle et musicale, prière intense, présente dans le Riesencodex de Wiesbaden (XIIème siècle). C'est ce texte qu'a choisi Patrick Burgan pour sa création Jubilatio : « Cette pièce est une commande de l'Ensemble Cum Jubilo qui souhaitait une oeuvre nouvelle à l'image de son nom, donc toute imprégnée d'un sentiment hautement jubilatoire. L'antienne de Magnificat « O frondens virga » de Hildegard von Bingen, s'est révélée le meilleur écrin pour remplir ce cahier des charges, avec son lyrisme simple et lumineux. Tout d'abord, un exorde aux accords éclatants nous incite à l'élévation ; vient ensuite une exultation tourbillonnante de forme fuguée ; puis enfin une douce prière qui appelle de ses voeux la main secourable qui viendra nous relever. »

L'antienne Letis canamus pour la fête de Sainte Ursule et les 11000 vierges se retrouve dans quelques manuscrits de l'est de l'Europe, ici un Antiphonaire de Reichenau - Karlsruhe Aug.LX (XIIème siècle) : un plain-chant exalté évoquant les lys et les roses des martyrs.

Le Benedicamus Domino, chant de la messe, a donné lieu à de très nombreux tropes (inventions textuelles et/ou mélodiques ajoutées dans le but de mettre en valeur une pièce existante), souvent polyphoniques. L'organum Verbum patris hodie du Codex de Las Huelgas en est un exemple, entraînant les voix solistes dans des mélismes triomphants.

Les polyphonies du Codex Calixtinus, célèbre manuscrit du XIIème siècle conservé à la cathédrale de Saint-Jacques de Compostelle, sont parmi les plus anciennes à avoir été notées ; toutes à la gloire de Saint Jacques, elles sont d'inspiration et de styles très différents car leurs auteurs, français pour la plupart, sont multiples.

Il s'agit essentiellement de conduits à deux voix comme Ad superni regis decus, autre trope de Benedicamus Domino, construit dans le style du déchant (note contre note), complètement ludique dans le jeu du contrepoint en mouvements contraires.

Le conduit Vox nostra resonet fait entendre une voix supérieure fleurie dans ses dessins, se déployant sur le chant syllabique de la voix inférieure.

Congaudeant catholici serait la plus ancienne polyphonie notée à trois voix connue du répertoire médiéval occidental, en fait d'abord un conduit à deux voix auquel une troisième voix semble avoir été ajoutée postérieurement à l'encre rouge. Le contrepoint s'en trouve
enrichi, suscitant même quelques intéressantes dissonances.

Ces polyphonies de facture encore archaïque ne contiennent aucune notation rythmique, l'interprétation est entièrement basée sur l'écriture modale et textuelle, dans le style des polyphonies orales improvisées.

Dans ce CD nous présentons cinq pièces inédites du Graduel de Fontevrault (XIIIème siècle), souvent appelé Graduel d'Aliénor de Bretagne, du nom de la seizième abbesse de ce monastère de femmes à qui il aurait appartenu. Ce manuscrit conservé à la Bibliothèque Francophone Multimédia de Limoges est riche à plus d'un titre ; très bien conservé, il est remarquable par ses enluminures aussi bien que par un répertoire de chants propres (que l'on ne peut trouver dans aucun autre manuscrit) : il s'agit le plus souvent de séquences et proses, chants monodiques de forme syllabique organisant mélodiquement les strophes par deux. Les chants présentés ici sont propres au manuscrit.

Benedicamus angelus dixit est un court rappel du Quem quaeritis, l'un des tous premiers drames liturgiques originaire de l'abbaye de Saint-Martial de Limoges mettant en scène la rencontre des trois femmes au tombeau avec l'ange ; dans ce trope le récit et les dialogues sont insérés à l'intérieur du texte du Benedicamus Domino, rappelant la manière des épîtres farcies présentes dans ce manuscrit. Cette pièce s'inscrit dans le temps de la fête de Pâques, donc un moment de la liturgie particulièrement jubilatoire, également parfaitement exprimé dans les strophes de la séquence Exultemus et letemur, et surtout dans le refrain, véritable cri de joie récurrent sur deux textes différents.

Le répons Surgens Jhesus mane prima sabbati fait intervenir le personnage de Marie-Madeleine au moment de la Résurrection, dans un chant totalement inspiré du répons graduel Hec dies de Pâques qui se déploie dans les vocalises très extériorisées. Ce répons semble être propre au Graduel de Fontevrault : une antienne Surgens Jhesus est présente dans les manuscrits, mais la mélodie est tout autre et le texte diffère, ici le répons donne la parole à Marie-Madeleine : « et il m'a parlé ».

La fête de la Résurrection trouve son prolongement dans une séquence pour les fêtes de la Pentecôte : Salve dies sanctissima, autre pièce propre à ce manuscrit, véritable chant à la gloire du Christ, surprend par le développement original et inventif de sa mélodie de strophe en strophe, jusqu'au Amen final, tropé par nos soins avec une deuxième voix en contrepoint.

Le répons Que est ista penetravit celos pour l'office de Vêpres présente un trope très intéressant sous forme d'une prose finale : Resonant interna Domino, véritable glose greffée sur le mot « resonant » à la fin du répons.

Les strophes de la prose viennent conclure superbement ce chant de louanges à la Vierge.



• Remarque sur la prononciation du latin : pour les chants traditionnels comme Magnificat ou Veni sancte Spiritus, ainsi que pour les manuscrits étrangers, nous avons gardé notre choix habituel de prononciation qui tient compte des influences italiennes, espagnoles ou allemandes.

En ce qui concerne le Graduel de Fontevrault, nous avons opté pour une prononciation plus marquée « à la française », d'après les recherches des linguistes aboutissant à la conclusion que le latin avait commencé à se déformer en France dès le Vème siècle, et donc qu'au XIIIème
siècle il s'était affaibli et nasalisé.

• Transcriptions de Catherine Ravenne : Graduel de Fontevrault – Codex Calixtinus – Antiphonaire de Reichenau – Codex de Las Huelgas (organum Verbum patris).

Catherine Ravenne




Pièces pour orgue | Judicaelle Giraudeau-Bureau

Depuis ses origines médiévales, le répertoire pour orgue est jalonné de compositions basées sur des thèmes empruntés au plain-chant. Ce matériau, fait de figures imposées par la liturgie, constitue une contrainte fructueuse pour les compositeurs.

Cela témoigne de la prégnance et de l'intensité de ce patrimoine musical en Occident qui s'inscrit toujours dans nos productions contemporaines : productions visant à l'interpréter d'après les sources connues et productions de compositeurs d'aujourd'hui, tel Patrick Burgan, qui rendent hommage à sa beauté.

Le choix des pièces d'orgue de ce disque est guidé par l'esprit jubilatoire qui préside à ce projet et par les qualités de l'orgue renaissance de St-Amant de Boixe réalisé par Quentin Blumenroeder.

J'ai souhaité faire entendre des œuvres de compositeurs européens depuis les premières tablatures allemandes du XVème siècle jusqu'au coeur de la période baroque.

En se rapportant au caractère élémentaire du plain-chant qui met en jeu la voix nue, on peut employer la comparaison avec le thème de la nudité en peinture dont les occurrences, depuis l'Antiquité jusqu'à aujourd'hui, révèlent chacune au spectateur une part de son éprouvé quant au désir. Ces thèmes grégoriens relient entre elles selon un même principe des œuvres d'époques différentes, révélant à l'auditeur des perspectives esthétiques subtiles.

La comparaison, d'apparence profane, n'en semble pas moins justifiée si l'on songe à notre thème de la jubilation qui se définit comme joie mise à nue, débusquée, avenue. Les pièces de ce programme sont liées par la franchise de leur expression, l'absence de voiles, la plénitude.

Ave Maris Stella, Jehan Titelouze (1563 ?- 1633)
En 1623, Jehan Titelouze, organiste de la cathédrale de Rouen, publie à Paris chez Ballard Hymnes de l'Eglise pour toucher sur l'orgue, avec les fugues et recherches sur leur plain-chant, publication cruciale car elle inaugure le répertoire français pour orgue, près d'un siècle après les tablatures d'Attaingnant. Titelouze y élabore un contrepoint savant, usant du plain-chant comme matériau de base : dans le 1er verset, il apparaît classiquement en cantus firmus à la basse. Le second verset est traité sous forme de fugue. Dans le troisième, on le retrouve à la basse et en canon entre les deux voix supérieures. L'hymne s'achève sur une fugue triomphante portée par la pédale.

Magnificat primi toni, Girolamo Frescobaldi (1583-1643)
Dans son ouvrage, Il secondo libro di Toccate publié en 1627, Girolamo Frescobaldi, organiste à la basilique St Pierre de Rome, réserve explicitement certaines pièces, dont trois Magnificat, à l'orgue (précédemment, la plupart des pièces étaient destinées indifféremment à l'orgue ou au clavecin). On remarquera que les versets d'orgue sont d'une grande concision et d'une sobriété qui ne rappelle en rien les toccate contrastées et fougueuses du même auteur.
Le plain-chant y est également très peu reconnaissable.

Tiento sobre la letania de la Virgen, Pablo Bruna (1611-1679)
Ce chef d'œuvre de « l'aveugle de Daroca », comme on le surnomme, est basé sur une thématique simple de litanies dédiées à la Vierge. En usage depuis les premiers siècles de la chrétienté, il s'agit de suppliques alternées entre les prêtres et les fidèles. Ainsi, le motif thématique
omniprésent donne naissance à des variations de plus en plus virtuoses et jubilantes. Cette pièce, pensée à l'origine pour l'orgue espagnol dont les registres sont coupés au milieu du clavier, joue sur un contraste de timbres entre les basses et les dessus.

Veni Sancte Spiritus, Peter Philips (1560 ?- 1628)
D'origine anglaise mais de confession catholique, Peter Phillips quitta son pays pour rejoindre Rome. Il sillonna ensuite toute l'Europe, s'enrichissant de multiples rencontres et influences. Singulièrement, son oeuvre pour clavier est constituée d'un nombre conséquent d'involatura, arrangements d'œuvres vocales.
Deux pièces pour clavier seulement sont à destination religieuse, Benedicam Dominum et Veni Sancte Spiritus.
Ce dernier s'articule en 10 versets d'une polyphonie à 4 parties. La basse y reprend le thème de la séquence chantée pour la messe de la Pentecôte.

Sequentia in Resurrectione Domini, Hans Buchner (1483-1538)
(Victimae paschali laudes, Mors et vita duello, Angelicos testes, sudarium et vestes, Scimus, Christus surrexisse)
Hans Buchner, élève de Paul Hofhaimer et héritier d'une déjà brillante école d'orgue allemande, fut organiste à Constance. Il publia vers 1520 un important ouvrage didactique le Fundamentum, qui propose une méthode d'orgue en trois parties : une première section sur la
technique instrumentale, une seconde sur l'art de transcrire les oeuvres vocales au clavier et une troisième sur l'art du contrepoint élaboré sur cantus firmus. A la suite de cette dernière partie, Buchner propose une cinquantaine de pièces mettant en oeuvre les moyens indiqués
dans sa méthode dont quatre séquences.






L'Ensemble Cum Jubilo, depuis ses débuts en 2005, s'est attaché à faire partager au public l'intense jubilation qui émane des musiques les plus anciennes du répertoire occidental, présentes dans les manuscrits médiévaux. Toutes les interprétations de Cum Jubilo sont basées sur l'étude et les transcriptions des manuscrits originels.


Catherine Ravenne, créatrice et directrice artistique de Cum Jubilo, a choisi de s'entourer de trois chanteuses solistes aux voix incarnées, capables d'une grande liberté d'exécution, dans l'idée que les premières notations induisent une dynamique particulière de ce chant non mesuré, donc une interprétation essentiellement vivante dans le processus de recréation d'un répertoire aussi lointain.

Artiste lyrique soliste, Catherine Ravenne a travaillé avec Anne-Marie Deschamps et l'Ensemble Venance Fortunat, Vincent Genvrin et la Lyre séraphique, Laurence Equilbey et le choeur Accentus, les Solistes de Lyon-Bernard Têtu, Pierre Cao et Arsys Bourgogne.

Elle participe aux séminaires de Claire Maître, chargée de recherches à l'IRHT-CNRS.

Dans l'idée que les chants médiévaux ont de tous temps inspiré les compositeurs, Cum Jubilo a sollicité des compositeurs et créé des oeuvres de Betsy Jolas, Patrick Burgan, Michel Sendrez.

Quelques étapes du parcours de Cum Jubilo : Festival Voix et Route Romane en Alsace ; Nuits Romanes de Poitou-Charentes, Eté Musical de Bourges, Nuits Musicales de Maisons-Laffitte, Jeudis Musicaux des Eglises romanes en Pays Royannais, Festillesime 41 (Loir-et-Cher), Festival de Basse Navarre, Festival Itinérance de Poitiers. L'Ensemble s'est produit au Musée National du Moyen Âge (Musée de Cluny), est invité au Festival de l'Escarène (Alpes Maritimes).

Cum Jubilo est subventionné par le Département de la Charente, la Région
Poitou-Charentes, la DRAC Poitou-Charentes. Site officiel : www.cumjubilo.com



Organiste et claveciniste, Judicaëlle Giraudeau-Bureau étudie l'orgue avec Olivier Vernet au CRR de Tours où elle obtient un premier prix d'orgue à l'unanimité, puis un prix régional. Elle se perfectionne auprès de Dominique Ferran, Frédéric Desenclos et Marie-Louise Langlais.

Elle reçoit pour le clavecin l'enseignement de Françoise Marmin et d'Aurélien Delage auprès duquel elle valide son DEM. Elle bénéficie en outre au CRR de Bordeaux des conseils de Guillaume Rebinguet-Sudre pour la musique de chambre et Kevin Manent pour la basse continue.

Diplômée d'Etat au CESMD de Poitiers, elle enseigne actuellement l'orgue, le clavecin et la basse continue à l'Ecole Départementale de Musique de Charente.

Elle est par ailleurs titulaire d'un DEUG de Russe à l'université de Poitiers.

Elle fonde l'Ensemble Pérégrine en 2015 avec Virginie Magimel (traverso) et Emmanuelle Faure (violoncelle baroque). Elle collabore comme claveciniste et organiste avec les membres du collectif Aria Magenta (Tours).

On a pu l'entendre au Festival du Périgord Noir, au Festival Au Gré des Arts, au Festival International d'orgue de Chatou, aux Concerts du marché à Poitiers et à Sarlat, au Festival de musique de chambre Commixtus, aux Nuits Romanes, au Festival Les orgues en Touraine, au Festival des orgues de la Nièvre à la cathédrale de Poitiers (avec Cum Jubilo) et à la cathédrale de Tours.


Patrick Burgan est agrégé de musicologie, 1er prix de composition, orchestration et analyse du CNSM de Paris, lauréat de l'Institut de France, lauréat du prix Del Duca et de l'Académie des Beaux-Arts, Grand-Prix Sacem de la musique symphonique.

Son œuvre, qui compte trois opéras, de nombreuses pièces orchestrales, de musique de chambre et de musique vocale, se voit régulièrement jouée dans la plupart des pays du monde par des formations et des solistes prestigieux.

L'association Alcmène est dédiée à la promotion de la musique de Patrick Burgan.

Site officiel :
www.patrickburgan.fr







« Sing gleefully! » | Catherine Ravenne

As early as the 5th century, Saint Augustine emphasized the importance of jubilation as the primary expression of singing : « expression of the soul blossoming in joy » ; « the deepest joy of the being ».

Jubilatio is the quintessence of medieval sacred music ; it is a vital impulse which expresses the unspeakable, displaying an infinite palette of means of expression in plainchant as well as in polyphonic pieces.

The oldest chants written down in manuscripts from the 9th century onwards have inspired generations of composers who have transcended this jubilation up to the present day.

Organ music is particularly representative of this approach. Indeed, as early as the end of the Middle Ages, a dialogue is established in the liturgy between sung plainchant melodies and organ counterpoint, the organ building a rich polyphony on or around the plainchant's theme. It is this phenomenon that sparked my desire to carry out this program alternating a cappella singing and organ pieces. It is also the reason why I asked Patrick Burgan to create a work inspired by the original jubilatio.

Chants attached to important celebrations of the liturgy are of course a privileged ground for the expression of the jubilatio : the feasts and offices of special importance represented in this CD are that of the Virgin, Saint Ursula and her companions the 11000 virgins, Saint James, Easter and Pentecost.

Four organ pieces on this record originate in the following chants :

The Marian chants Ave maris stella and Magnificat have inspired an impressive number of composers.

The first one is a hymn of praise to the Virgin attributed to Venancius Fortunatus (5th century), sung during the celebrations of the Virgin and at Vespers. The second one is the Canticle of Mary, taken from the Gospel of Luke, a very old chant also sung at Vespers.

For the sequence Victime paschali laudes, a well-known chant for Easter, I have chosen a polyphonic setting, a two-part conductus of the Las Huelgas Codex, the famous 13th-century manuscript from the feminine Cistercian monastery of Las Huelgas, near Burgos.

Veni sancte Spiritus is a sequence for the feast of Pentecost which was written by the Archbishop of Canterbury Stephen Langton in the 12th century.

The antiphon O frondens virga is a perfect example of the inspiration of the great Hildegard of Bingen. It is an original textual and musical composition, an intense prayer. It is to be found in the Riesencodex (Wiesbaden, 12th century). It is the text of this piece to which Patrick Burgan has chosen to give a new musical setting in his creation Jubilatio : « This piece is a commission from the Cum Jubilo Ensemble ; they wanted a new piece that would reflect the spirit of their name, therefore infused with a highly jubilant feeling. The text of Hildegard von Bingen's Magnificat antiphon « O frondens virga » proved, with its simple and bright lyricism, to be the best setting to meet these requirements. First an exordium with bright chords leads us to elevation ; then comes a swirling exultation in the form of a fugue; at last is heard a sweet prayer beseeching the helping hand that will make us rise again. »

The antiphon Letis canamus vocibus for the feast of Saint Ursula and the 11000 virgins is found in a few manuscripts of Eastern Europe, here an Antiphonary of Reichenau – Karlsruhe Aug.LX (12th century) : it is a vivid plainchant that compares Ursula and her companions in martyrdom, the 11000 virgins, to lilies and roses.

The Benedicamus Domino, a Mass chant, has inspired many tropes (new textual and/or melodic inventions that are added to enhance an existing piece), most of them in the form of polyphonic settings. The organum Verbum patris hodie from the Las Huelgas Codex illustrates this well, leading the solo voices into great, triumphant melismas.

The polyphonies preserved in the Codex Calixtinus, a famous manuscript of the 12th century kept at the cathedral of Santiago de Compostela, are among the oldest to have been written down ; all of them are to the glory of Saint James, but they show quite different inspirations and styles, having been composed by a number of different authors, most of them French.

They consist essentially in two-part conductus such as Ad superni regis decus, another trope of the Benedicamus Domino, built in the style of descant (note against note), the movements of the counterpoint weaving the two voices together in a playful manner.

In the conductus Vox nostra resonet, the listener's ear is attracted to the florid patterns the upper voice displays above the syllabic chant line of the lower voice.

Congaudeant catholici is probably the oldest three-part polyphony in the medieval western repertoire ; in fact, the third voice, written down in red ink, may have been added later. The piece's counterpoint is thereby enriched, generating some interesting dissonances.

The style of these polyphonies is still archaic, without any rhythmical notation ; the interpretation is entirely based on the structure of the modal scales, and on the stresses of the Latin text, in the style of improvised oral polyphony.

We present in this CD five pieces from the 13th-century Graduel de Fontevrault, often called Graduel d'Aliénor de Bretagne, that have not been recorded previously ; Aliénor de Bretagne was the sixteenth abbess of this women's monastery and the Gradual probably belonged to her. This manuscript, currently kept at the Bibliothèque Francophone Multimédia of Limoges, is rich in many ways ; it is very well preserved, and is remarkable by its illuminations as well as by its large repertoire of unique chants : these are mostly sequences and proses, which are monodic chants set to music in a syllabic style ; the melodic pattern organizes the verses two by two.

The chants recorded here are unique to this manuscript.

Benedicamus angelus dixit is a short reminder of the Quem quaeritis, one of the earliest liturgical dramas which originated at the abbey of Saint-Martial of Limoges, staging the encounter of the three women with the angel at Jesus' tomb. In this piece the story and dialogues are inserted as tropes inside the original text of the Benedicamus Domino, in a style reminiscent of the manner of the farced epistles present in this manuscript.

This piece is intended for Easter Sunday, thus a time of great jubilation in liturgy, also perfectly conveyed in the stanzas of the sequence Exultemus et letemur, and above all in its refrain, the melody of which comes back as a burst of joy at the end of every verse, with two different texts.

The responsory Surgens Jhesus mane prima sabbati pictures the character of Mary Magdalene at the moment of the Resurrection ; this chant is totally inspired by the well-known gradual Hec dies for Easter which displays vibrant melismas in a constantly renewed cry of joy. This responsory seems to be unique to the Fontevrault Gradual : an antiphon Surgens Jesus appears in a number of other manuscripts, but the melody and the text are different ; here the responsory goes on to make Mary Magdalene speak : « and He spoke to me ».

The feast of the Resurrection finds an extension in a sequence dedicated to the feast of Pentecost :

Salve dies sanctissima, another piece unique to this manuscript, and which is a genuine song to the glory of Christ, amazes by the original and creative development of its melodies from stanza to stanza, up to the final Amen to which we have added a second voice in counterpoint.

The responsory Que est ista penetravit celos for Vespers presents a very interesting trope in the form of a final prose, Resonant interna Domino, which is a gloss developed on the word « resonant » at the end of the responsory. The verses of the prose beautifully conclude this song of praise to the Virgin.


• Notes on the pronunciation of Latin : for traditional chants such as the Magnificat or Veni sancte Spiritus, as for pieces from foreign manuscripts, we have kept to our usual choice of pronunciation taking into account Italian, German or Spanish influences.

As for the pieces from the Fontevrault Gradual, we have opted for the French-style pronunciation, based on linguistic researches which concluded that in France Latin had begun to deform as early as the 5th century, so that in the 13th century it was pronounced in a nasalized and weakened manner.

• Transcriptions by Catherine Ravenne : Fontevrault Graduel – Codex Calixtinus – Reichenau Antiphonary - Las Huelgas Codex (organum Verbum patris).




Works for organ | Judicaelle Giraudeau-Bureau

From its medieval origins onwards, the organ repertoire has been punctuated with compositions based on musical themes borrowed from the plainchant repertoire. This material, imposed by the liturgy, constitutes a fruitful constraint for composers.

This testifies to the significance and intensity of this western musical legacy that still plays a part in our contemporary productions : productions that aim at performing it from the sources available to us and productions by contemporary composers, such as Patrick Burgan, who pay tribute to its beauty.

The choice of the organ pieces selected for this record was made taking into account both the jubilant spirit which presides over this project and the characteristics of the beautiful Renaissance organ built by Quentin Blumenroeder.

I have chosen works by European composers ranging from the German tablatures of the 15th century to pieces from the height of the Baroque period.

Taking into account the prime characteristics of plainchant, which involves the naked voice, we can use the comparison with the theme of the nude in painting, each occurrence of which - from Antiquity until today - reveals to the onlooker part of his own feeling as to desire. The Gregorian themes of plainchant link works from different periods together according to a same principle, unveiling subtle aesthetic perspectives to the listener.

This comparison, though apparently profane, doesn't seem any less justified when one bears in mind our theme of jubilation which can be defined as pure, naked joy, that has come out into the open. The pieces of this program are united by the frankness of their unveiled expression,
and their plenitude.

Ave Maris Stella, Jehan Titelouze (1563 ?- 1633)
In 1623, Jehan Titelouze, organist at the cathedral of Rouen, had his Hymnes de l'Eglise pour toucher sur l'orgue, avec les fugues et recherches sur leur plain-chant published in Paris by Ballard ; this was a crucial publication because it inaugurated the French organ repertoire, almost a century after the tablatures published by Attaingnant. Titelouze developed a skilful counterpoint, using plainchant as a basic material : in the first verse, it classically appears as cantus firmus at the bass. In the second verse, it is treated in the form of a fugue. In the third one, the plainchant can be found in the bass and also appears in a canon between the two upper voices. The hymn ends with a triumphant fugue sustained by the pedal.

Magnificat primi toni, Girolamo Frescobaldi (1583-1643)
In his work Il secondo libro di Toccate published in 1627, Girolamo Frescobaldi, organist at Saint Peter's Basilica in Rome, explicitly intended some pieces, including three Magnificat, for the organ (previously, most pieces were intended either for the organ or the harpsichord). It is to be noted that the organ verses are remarkably concise and sober, their style thus quite different from that of Frescobaldi's contrasted and ardent toccate. The original plainchant, here a psalmody, is barely recognizable.

Tiento sobre la letania de la Virgen, Pablo Bruna (1611-1679)
This masterpiece by « el ciego de Daroca » (the blind man of Daroca), as he is known, is based on a simple theme of litanies dedicated to the Virgin. In use since the early centuries of Christianity, these were supplications sung in turn by the priests and the congregation. The omnipresent thematic pattern generates variations that increase progressively in virtuosity and jubilation. This piece, originally designed for the Spanish organ, the registers of which are cut in the middle of the keyboard, plays on contrasting tones between the bass voices and the upper voices.

Veni Sancte Spiritus, Peter Philips (1560 ?- 1628)
Of English origin but a catholic, Peter Philips fled his country and went to Rome. He then travelled throughout Europe, improving his musical mastery through numerous encounters and influences. His keyboard works strikingly consist of a significant number of involatura, arrangements of vocal works.

Only two of his keyboard pieces are intended for religious use : Benedicam Dominum and Veni Sancte Spiritus. This last piece, written in four-part polyphony, is structured in ten verses. It is the bass that plays the theme of the sequence sung at Pentecost mass.

Sequentia in Resurrectione Domini, Hans Buchner (1483-1538)
(Victimae paschali laudes - Mors et vita duello - Angelicos testes, sudarium et vestes - Scimus Christus surrexisse)

Hans Buchner studied with Paul Hofhaimer. Heir to an already outstanding German organ school, he worked in Constance as organist of the cathedral. About 1520 he published an important didactic work, the Fundamentum, which offers an organ method organized in three parts : the first section focuses on instrumental technique, the second teaches the art of transcribing vocal works for the keyboard and the last shows how to elaborate artfully a counterpoint on a cantus firmus. After this last part, Buchner gives fifty pieces implementing the techniques presented in his method, including four sequences.







The Ensemble Cum Jubilo began performing in 2005 ; since then it has aimed at communicating to a wide audience the intense jubilation which characterizes the oldest musics of the western repertoire. All of Cum Jubilo's renderings are based on the study and transcription of the original manuscripts.


Catherine Ravenne, Cum Jubilo's creator and artistic director, has chosen to collaborate with three soloist singers whose full-bodied voices are capable of great freedom of performance, having in mind that early notations induce a specific dynamic of this unmeasured chant, and therefore an essentially vibrant interpretation in the process of re-creating such a distant repertoire. As a lyrical solo artist, Catherine Ravenne has worked with Anne-Marie Deschamps and the Ensemble Venance Fortunat, Vincent Genvrin and La Lyre Séraphique, Laurence Equilbey and the Accentus chamber choir, the Solistes de Lyon - Bernard Têtu, Pierre Cao and Arsys Bourgogne.

She participates in seminars directed by Claire Maître, a researcher at the French IRHT-CNRS.

Holding the view that medieval chants have always inspired composers, Cum Jubilo has commissioned and created works by the composers Betsy Jolas, Patrick Burgan and Michel Sendrez.

Cum Jubilo has performed with success in festivals such as Voix et Route Romane (Alsace), Nuits Romanes (Poitou-Charentes), Bourges Eté Musical, Nuits Musicales (Maisons-Laffitte), Jeudis Musicaux des Eglises romanes en Pays Royannais, Festillésime 41 (Loir-et-Cher), Festival de Basse Navarre, Festival Itinérance (Poitiers). The Ensemble has also performed at the Museum of the Middle-Ages (Musée de Cluny) in Paris and is invited at the Festival de l'Escarène (Alpes Maritimes).

Cum Jubilo is subsidized by the Charente Department, the Poitou-Charentes Region,
and the DRAC (Regional Directorate of Cultural Affairs) of Poitou-Charentes.
Official website: contact@cumjubilo.com


Organist and harpsichordist, Judicaëlle Giraudeau-Bureau has studied the organ with Olivier Vernet at the Regional Conservatoire of Tours (CRR) where she was unanimously awarded a first prize, and a year after a regional award. She then continued to perfect her skills with Dominique Ferran, Frédéric Désenclos and Marie-Louise Langlais.

She has studied the harpsichord with Françoise Marmin and with Aurélien Delage, under whose tuition she obtained her Musical Studies Diploma (DEM).

At the CRR of Bordeaux she also benefited from Guillaume Rebinguet-Sudre's advice in the field of chamber music and of Kevin Manent's in that of basso continuo.

She passed her State Teaching Certificate at the CESMD of Poitiers; since then she has been teaching the organ, the harpsichord and basso continuo at the Departmental Music School of Charente.

She also has a degree from the University of Poitiers in Russian.

In 2015 she created the Ensemble Pérégrine with Virginie Magimel (traverso) and Emmanuelle Faure (baroque cello). She works as a harpsichordist and organist in collaboration with the members of the Aria Magenta collective (Tours).

She has given performances in numerous festivals : « Périgord Noir », « Au Gré des Arts », Chatou International Organ Festival, « Concerts du marché » at Poitiers and Sarlat, Commixtus Chamber Music Festival, « Nuits Romanes », « Orgues en Touraine », « Festival des Orgues » (Nièvre). She has also performed at the cathedrals of Poitiers (with Cum Jubilo) and Tours.


Patrick Burgan is holder of the Agrégation in Musicology; first prizewinner in composition, orchestration and analysis at the Superior Conservatoire of Paris (CNSM); award winner of the Institut de France; he has also been awarded the Del Duca and Académie des Beaux-Arts prizes and won the Grand-Prix Sacem for symphonic music.

His work, which includes three operas, numerous pieces for orchestra, chamber music and vocal music, is regularly performed in many countries over the world by prestigious ensembles and soloists.

The Association Alcmène is dedicated to the diffusion of Patrick Burgan's music.


Official website: www.patrickburgan.fr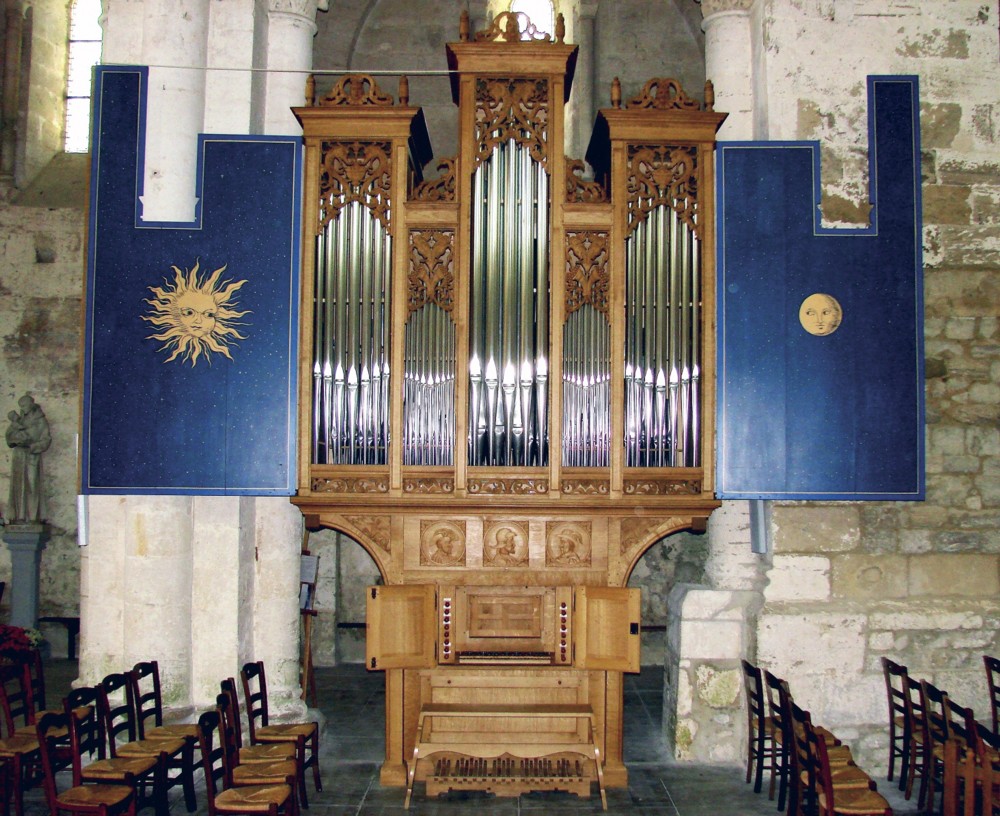 L'orgue de l'abbaye de Saint-Amant de Boixe
L'orgue de l'abbaye de Saint-Amant de Boixe a été réalisé par le facteur d'orgue
Quentin Blumenroeder en 2012 dans l'abbatiale historique du site de l'abbaye de
Saint-Amant de Boixe, Centre d'Architecture Romane Georges Duby (Charente),
à l'initiative de l'Association Dom Rémi Carré.

DESCRIPTIF
La partie instrumentale est construite d'après l'orgue primitif d'Alkmaar (1511) aux Pays-Bas.
Le clavier, muni de 7 feintes brisées (F#, G#, D#, Ab, D#, Ab', D#'),
comporte une octave courte (C, D, E-C''). Le pédalier est de 26 notes (C, D, E-D', E').
Son diapason est fixé à 465 hz (18°) et le tempérament est mésotonique au un-quart de comma.

COMPOSITION


Clavier

Principal 8'
Cornet III (chape libre)
Bourdon 8'
Octave 4'
Flûte ouverte 4'
Flageolet 2' (chape libre)
Nasard 3'
Tiercelette BD1 3/5 (chape libre)
Mixture 2' extractible IV-VII rgs
Trompette
Pédale

Principal 8' emprunt
Trompette 8' emprunt
Tirasse Mobile

Tremblant doux
Rossignol


La mention « chape libre » signifie que l'emplacement de ce jeu est prévu.
Il reste muet dans l'attente des tuyaux qui le composeront. Ceux-ci restent à financer.