Vox Sonora

/ Diabolus in Musica


Conduits de l'École de Notre-Dame (XIIe - XIIIe siècles)






medieval.org
medieval.org / c
Studio SM D2673
1998









1. Vetus abit littera [3:25] conduit
2 ténors AG·RB, baryton JPR, baryton-basse EV

2. Ecce tempus gaudii [0:53] rundellus
basse PhR | 2 ténors AG·RB, baryton JPR, baryton-basse EV

3. Pater noster [6:07] conduit | attribué à PÉROTIN
baryton JPR, baryton-basse EV, basse PhR

4. Homo cur degeneras [3:47] conduit
ténor RB

5. Hac in die salutari [0:57] conduit
2 ténors AG·RB

6. Serena virginum ~ MANERE [3:47] motet-conduit
2 ténors RB·AG, baryton JPR, basse PhR

7. Vide prophecie ~ Viderunt omnes [3:58] motet | PÉROTIN
2 ténors AG·RB // baryton JPR, baryton-basse EV, basse PhR · (Wolfenbüttel 2)

8. Nicholai presulis [2:15] conduit
ténor RB, baryton-basse EV, basse PhR

9. Nicholaus pontifex [1:20] rundellus
ténor AG | ténor RB, baryton JPR, baryton-basse EV, basse PhR

10. Salvatoris hodie [7:03] conduit | PÉROTIN
2 ténors RB·AG, baryton JPR, baryton-basse EV, basse PhR
Vs.: 2 ténors RB·AG, baryton-basse EV · (Wolfenbüttel 2)

11. Vade retro sathanas [2:43] conduit
baryton JPR

12. Vhe proclamet clericorum [0:57] conduit
2 ténors AG·RB, baryton JPR

13. Ver pacis aperit [2:21] conduit
ténor RB | ténor AG

14. Ave maris stella [3:23] conduit
baryton-basse EV, basse PhR

15. Latex silice ~ LATUS [2:55] motet-conduit
ténor AG, baryton JPR, baryton-basse EV, basse PhR

16. Veris ad imperia [1:31] conduit
baryton JPR, baryton-basse EV, basse PhR

17. A solis ortus cardine [1:18] rundellus
2 ténors AG·RB

18. Excitatur caritas [3:58] conduit
2 ténors AG·RB, baryton JPR, baryton-basse EV, basse PhR

19. Mors [1:58] motet | attribué à PÉROTIN
ténor AG, baryton JPR, baryton-basse EV, basse PhR

20. Benedicamus domino [6:02] organum | attribué à PÉROTIN
2 ténors AG·RB | baryton JPR et basse PhR · (Montpellier)




ENSEMBLE
DIABOLUS IN MUSICA
Antoine Guerber

Raphaël BOULAY, ténor - RB
Antoine GUERBER, ténor - AG
Jean-Paul RIGAUD, baryton - JPR
Emmanuel VISTORKY, baryton-basse - EV
Philippe ROCHE, basse - PhR




SOURCES MANUSCRITES:

– F : Florence, Biblioteca Medicea-Laurenziana, Pluteus 29,1 (1,2,3,4,5,6,8,9,11,12,13,14,15,16,17, 18 et 20)
– W2 : Wolfenbüttel, Herzog August Bibliothek 1206 (7,10)
– Mo : Montpellier, Bibliothèque universitaire section Médecine H 196 (19)


Transcriptions : Antoine GUERBER,
excepté le motet «Mors» (transcription Y. Rokseth : Polyphonies du Xilléme siècle)

Traductions du latin : Paul-Augustin Deproost

Prise de son, montage, direction artistique : Jean-Marc Laisne

Enregistreur : NAGEA D 20 bits
micros BRUEL et KJAER 4006,
montage 24 bits DIGIDESIGN

Enregistré du 7 au 10 septembre 1997
en l'abbaye de Fontevraud.

Photo couverture : «Moines chantant à l'office»
Beauneveu - Artephot/A.D.P.C.
Conception et réalisation graphique : Studio SM

Ⓟ 1998 Studio SM




notas en español


English liner notes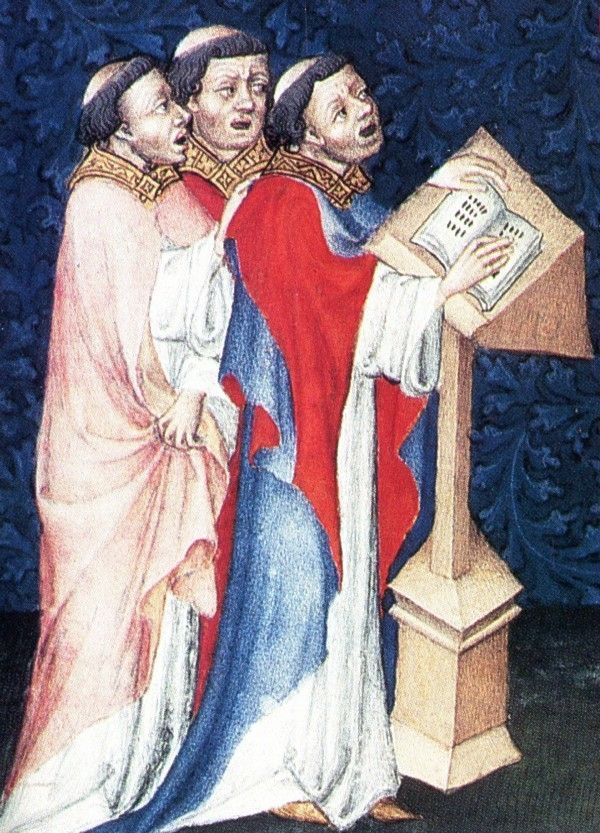 ---


V o x S o n o r a

CONDUITS DE L'ÉCOLE DE NOTRE DAME
(XII et XIIIèmes siècles)



La pratique de la polyphonie au cours de la liturgie est attestée en occident depuis la fin du VIIème siècle. Le premier traité musical qui tente de nous la décrire, la Musica Enchiriadis de Roger de Laon, en parle comme d'une pratique fort ancienne et généralisée. Dès la fin du Xème siècle et le début du XIême, des manuscrits nous transmettent en notations neumatiques les premiers tropes polyphoniques. Le centre de la France, Chartres, l'Angleterre, puis le Limousin autour de la fameuse abbaye de St Martial de Limoges, semblent avoir été des lieux privilégiés de création musicale, mais il est certain que la pratique polyphonique, très probablement improvisée, était très largement répandue. Quoi de plus naturel, en effet, dans la belle acoustique d'une église romane, que d'embellir une mélodie grégorienne en faisant sonner des quintes, des quartes ou des octaves ? Mais il s'agit là d'usages qui se développent de façon parallèle dans différentes provinces, dans des aires géographiques restreintes.

A partir des années 1150, pour la première fois, un lieu de création musicale va dominer tous les autres: un nouveau style de polyphonies, qu'on appelle aujourd'hui l'Ecole de Notre Dame, va se développer dans la cathédrale parisienne, mais aussi dans les grandes églises de l'Ile de France. Très vite, les procédés des compositeurs parisiens deviendront universels. Fait exceptionnel pour le Moyen-Age, leurs oeuvres seront copiées, dans toute l'Europe, jusqu'à la fin du XIVème siècle et donneront également naissance à un important corpus d'écrits de théoriciens. Cette diffusion s'explique bien-sûr par l'extraordinaire nouveauté de ces musiques et le génie des créateurs parisiens, mais aussi par la renomée exceptionnelle de Paris au XIIIème siècle. «Paris expers paris» (Paris sans pair), «mère des Arts» (lettres, philosophie, sciences, musique...). On n'hésite pas à voir dans la cité une «deuxième Athènes». Son Université devient la toute première du monde chrétien, attirant les esprits les plus brillants de tout l'occident. L'art français est désormais le modèle esthétique de toute la chrétienté et la France occupe une position sans égal. Consolidation et centralisation du pouvoir royal comme du pouvoir clérical, développement du commerce, épanouissement des villes sont les principaux éléments qui font du royaume de France une puissance rayonnante. Un nouveau monde, urbain, s'y construit peu à peu. La ville devient le creuset d'une civilisation nouvelle, elle facilite les rapports humains, elle favorise une «éducation collective» du goût. Un homme nouveau est en train de s'y former et la vie spirituelle en est transformée.

Ces polyphonies nouvelles s'exprimeront dans trois genres principaux: l'organum, sous l'impulsion de Léonin vers 1150, le conduit de 1170 à 1240, puis le motet à partir du début du XIIIème siècle, qui connaîtra d'innombrables développements. Toutes les histoires de la musique font la part belle aux deux grands noms qui nous sont restés de cette Ecole de Notre Dame, les premiers de compositeurs de polyphonie sacrée, dont le génie était tel qu'ils étaient dignes d'être retenus par la postérité: Léonin et Pérotin. Leur vie nous est, par contre, presque totalement inconnue. Léonin écrivit vers les années 1150-1175 des organa à deux voix sur cantus firmus liturgique, que nous ne connaissons que dans leur état plus tardif, remaniés par Pérotin. Pérotin fut, lui, actif peu après Léonin (vers 1180-vers 1210?). «Pérotin» est probablement le diminutif de Pierre, nom de l'écolier chantant à la Maîtrise, devenu Magister Cantus, c'est à dire maître de la schola, faisant chanter les enfants. Ce nom n'est pourtant jamais mentionné dans les cartulaires de la cathédrale Notre Dame. Sans doute Pérotin est-il mort assez jeune, sans avoir eu le temps d'être nommé à l'un des postes importants à Notre Dame: doyen, chantre, sous-chantre (fonctions honorifiques), archidiacre, chancelier, pénitencier ou chanoine prébendé, dont les noms sont tous inscrits dans ces registres. Autre hypothèse, avancée par C. Page (1), Pérotin pourrait être l'un de ces chantres professionnels, «maîtres en organum», pauvres contrairement aux chanoines prébendés, et obligés d'aller monnayer leurs talents dans quelque cathédrale de province. L'influence de Pérotin sera pourtant considérable. Contrairement aux pratiques médiévales habituelles, ses oeuvres continueront à être chantées très longtemps après sa mort et considérées comme prestigieuses, presque aussi prestigieuses que le chant grégorien. Premier compositeur de musique à quatre parties, Pérotin est aussi l'inventeur de procédés musicaux fondamentaux: l'imitation, l'échange des voix, la variation mélodique. Ces innovations et l'impulsion que Pérotin donnera à la création musicale de son temps seront si fortes que tout le XIIIème siècle ne fera qu'en méditer les leçons et en tirer les conséquences. Comme le montre Y. Rokseth (2), Pérotin semble avoir privilégié les registres graves de la voix, à une époque où l'on apprécie plutôt les voix aigües et même très aigües (acutissimus vocibus). Les oeuvres de Pérotin sont pleines de fraîcheur et de vigueur, sachant ménager des effets jusqu'alors inouïs, des contrastes, des jeux de tension-détente, des symétries de construction, tout cela sans perdre de vue leur but final, leur pulsation interne, mettant en valeur une vie intérieure et une respiration qui frappent autant nos oreilles modernes que celles de ses contemporains. Si Léonin était réputé pour ses organa et Pérotin pour ses déchants, il est plus que probable qu'ils ont tous deux pratiqué tous les styles, ainsi que de nombreux autres compositeurs dont la postérité n'a pas retenu les noms.

A l'origine chant accompagnant un déplacement au cours de la liturgie, le conduit se démarque du chant grégorien contrairement à l'organum et au motet à ses débuts, par une mélodie et un poème nouvellement créés. Les clercs trouveront ainsi dans le conduit un moyen nouveau de création musicale et littéraire et donneront libre cours à leurs talents artistiques: i1 nous reste 390 conduits, en incluant les «rundelli». La moitié de ces conduits n'est probablement pas parisienne d'origine («francilienne», devrions-nous dire, si ce néologisme n'était pas anachronique). Il s'agit là d'un corpus extraordinaire témoignant du génie créatif de l'Ecole de Notre Dame. Les conduits peuvent être monodiques: leur respiration, leur envergure, leur diversité sont souvent étonnantes. Sans eux, notre connaissance de la monodie médiévale serait incomplète. Ils sont souvent composés sur des poèmes des plus grands esprits de l'époque, tels Guillaume de Châtillon ou Philippe le Chancelier. Les conduits polyphoniques sont à deux et trois voix, il n'en existe que trois à quatre voix. Deux styles principaux s'y opposent: le style syllabique («sine caudis», exemple: Ver pacis, Ave maris stella...) chanté selon la prosodie latine, et le style mélismatique («cum caudis», exemple: Pater noster) sans doute moins archaïque, où une syllabe peut être traitée par un long développement polyphonique. Le contraste entre ces deux styles, dans une même pièce, est la principale caractéristique des grands conduits de l'Ecole de Notre Dame. Ils étaient composés par «empilement», le compositeur écrivant d'abord une mélodie la plus belle possible, puis, sur ce chant, ajoutant un déchant (Francon de Cologne). Les conduits étaient réputés difficiles à chanter, compliqués, virtuoses mais beaux, brillants et délectables à entendre. Ils n'étaient pas tous chantés au cours de la liturgie. C'est bien-sûr le cas des rundelli, mais aussi de ceux qui prennent la forme de véritables sermons pour le pêcheur ordinaire ou pour le clergé lui-même: les «admonitio» (avertissement). La prédication connaît alors une vigueur nouvelle et les manuels de confession se répandent dans toute la France du XIIIème siècle. Il nous reste des milliers de sermons qui témoignent non seulement des préoccupations théologiques de ce temps: la lutte contre toutes les formes de déviance (hérétisme, judaïsme, etc...), mais aussi de l'actualité politique ou des problèmes internes à l'Eglise de France. Beaucoup de textes de conduits se réfèrent à la simonie, à la corruption ou à la molesse du clergé. Les autres textes de conduits parlent des grandes fêtes de l'année liturgique (Pâques, Noël et son octave ou l'Avent ...); de la Vierge ou des grands saints, dont Nicolas, l'intercesseur du clergé.

Du temps de Léonin et Pérotin, la notation musicale commence à peine à se codifier: les mêmes signes graphiques peuvent avoir des significations différentes. Les chantres travaillent encore principalement à l'aide de leur mémoire. Les grands manuscrits qui nous transmettent ce répertoire (F, Wl, W2) sont postérieurs à la période de création et datent du milieu du XIIIème siècle. Il faut donc faire appel à la prosodie latine pour pouvoir transcrire ces polyphonies selon les modes rythmiques ternaires décrits par les théoriciens, qui tentent pour la première fois de rationnaliser les structures de la polyphonie et de décrire les durées musicales. Le transcripteur doit souvent faire des choix et, pour certains chants, plusieurs transcriptions peuvent être proposées, possibilité qui existait sans doute déjà au XIIIème siècle! Toute transcription moderne ne peut d'ailleurs être qu'une proposition et ne peut prétendre contenir une réalité définitive. Pour les chanteurs que nous sommes, la difficulté augmente quand l'on sait que les notions de rythme devaient être bien différentes entre l'époque de Pérotin et celle de la rédaction des manuscrits qui nous restent! Le plus intéressant et le plus parlant est pour nous, bien-sûr, de travailler directement sur les fac-similés de ces manuscrits, dans l'esprit des chantres du XIIIème siècle, en essayant d'interpréter les descriptions d'ornements dont beaucoup de théoriciens parlent: tremblements, vibrations, répercussions, fioritures, ajouts de notes, intonations ornées, etc. (Anonyme IV, Walter Odington, Jean de Garlande, Francon de Cologne).

Nous pourrons alors contribuer à la réalisation du souhait du grand musicologue Gorden Anderson, dans la préface de son étude sur les conduits (3):
«Il est urgent que ces oeuvres soient interprétées, maintenant que tous les manuscrits de l'Ecole de Notre Dame sont répertoriés et publiés, pour qu'elles deviennent familières au mélomane, comme des oeuvres habituelles des répertoires de concerts. Pour l'interprète, l'auditeur, comme pour l'étudiant, elle présentent une source inestimable d'inspiration. Sans les conduits, notre compréhension de la musique du XIIIème siècle serait incomplète et imparfaite.»


Antoine GUERBER


(1) Christopher Page «The Owl and The Nightingale»
(2) Yvonne Rokseth «Polyphonies du XIIIème siècle (Commentaries)
(3) Gorden Anderson «Notre Dame and related Conductus»

Autres ouvrages et articles importants:
· Robert Falck «The Notre Dame Conductus»
· Eduard Gröninger «Repertoire Untersuchungen ...»
· Janet Knapp «Thirty-five Conductus»
· Armand Machabey «A propos des quadruples Pérotiniens»
· Edward H. Roesner «Magnus Liber» (Introduction)
· Yvonne Rokseth «Le contrepoint double vers 1248», «La polyphonie parisienne de XIIIème siècle»
· Ethel Thurston «Pérotin»
· Hans Tischler «Pérotin»
· Craig Wright «Education in the Maîtrise of Notre Dame of Paris»




L E S R U N D E L L I
Chants servant de support aux danses cléricales, divertissements pieux des jours de fête dans les cloîtres.

Nicholaus pontifex fait l'éloge de St Nicolas, évêque intercesseur du clergé.

A solis ortus et Ecce tempus (repris en langue germanique dans le manuscrit des Carmina Burana) sont de simples réjouissances du temps de Pâques, qui font écho aux païennes et antiques maïerolles.



L E S C O N D U I T S
Vetus abit littera: l'un des rares conduits à 4 voix du XIIIème siècle. Le poème, de trois strophes égales, célèbre la naissance du Christ: «réjouissons-nous! Le péché a été pardonné!». La musique conserve tout au long de la pièce une homophonie syllabique impressionnante, tout en jouant sur l'audacieuse modulation fa-fa dièze à l'intérieur de ce mode de sol, et se termine par une brève vocalise sur l'avant-denière syllabe de chaque strophe.

Pater noster: il s'agit d'un des très rares textes liturgiques repris sans aucune modification pour être traité en conduit. La musique est attribuée à Pérotin par Robert Falck. Le large ambitus des mélodies, le contrepoint solennel et spectaculaire en font une pièce extraordinaire, ponctuée par une insolite série de «amen».

Homo cur degeneras: poème moral sur l'ingratitude de l'homme sauvé par le Christ et sur la vanité des richesses de ce monde. La mélodie ample et libre est dans la tradition des grandes compositions monodiques de l'Ecole de Notre Dame.

Hac in die: curieuse pièce en style de rondeau populaire, rarissime dans les conduits à deux voix. Les étonnantes répétitions de textes «hoc in an», probablement chantées le jour de la «fête de l'âne», sont de burlesques onomatopées dénuées de sens, et demeurent un exemple unique dans ce répertoire.

Nicholai presulis: conduit pour le jour de la fête de St Nicolas. Le style syllabique en est très simple, faisant intervenir des jeux rythmiques, comme des sortes d'onomatopées sur la première ou la dernière syllabe de chaque phrase.

Salvatoris hodie: grand conduit de Pérotin pour la fête de la Circoncision du Christ (1er janvier), chanté dans les cathédrales pendant la messe, avant l'Evangile. Nous retrouvons tout le génie de Pérotin dans les longs mélismes à la texture très transparente (exemple: syllabe «da» du mot «candidatur»), comme dans ses célèbres organa à 4 voix: Viderunt et Sederunt.

Vade retro Sathanas: il s'agit des deux dernières strophes d'un long poème de Philippe, Chancelier de Notre Dame, mettant en scène un dialogue entre Diogène et Aristippus, disciple et élève de Platon. La mélodie évolue en «marches harmoniques» descendantes, les phrases musicales successives s'arrêtant sur chaque note importante du mode de ré: la, sol, fa puis ré.

Vhe proclamet: poème énergique s'élevant contre l'enrichissement du clergé. La mélodie de base est la même que celle de la chanson «Pols est qui a ensient», de Simon d'Authie, trouvère et doyen du chapitre de la cathédrale d'Amiens.

Ver pacis aperit: conduit en l'honneur du couronnement de Philippe Auguste, le 1er novembre 1179 à Reims par son oncle Guillaume de Champagne, archevêque de Reims et ami de Gautier de Châtillon, auteur du texte de ce chant. La mélodie de l'une des deux voix est la même que celle de la chanson «Ma joie me semont» du trouvère Blondel de Nesle.

Ave maris stella: poème paraphrasant les strophes individuelles de l'un des hymnes les plus célèbres du Moyen-Age, portant ce même titre. Chaque premier vers de strophe est extrait du texte de cet hymne.

Veris ad imperia: chanson de printemps dont l'une des voix reprend la fameuse mélodie de troubadour «A l'entrada del tens clar».

Excitatur caritas: poème de Gautier de Châtillon pour la fête de la Nativité de la Vierge (8 septembre) qui utilise le refrain, procédé assez rare dans les conduits polyphoniques.



L ' O R G A N U M
Benedicamus Domino: organum à trois voix (longs développements mélismatiques sur une teneur reprenant une mélodie grégorienne. L'organum est une musique liturgique et n'est jamais sorti de la liturgie). Yvonne Rokseth estime probable que Pérotin soit l'auteur des 5 Benedicamus domino du manuscrit de Florence, dont celui-ci est extrait.



L E S M O T E T S
Latex silice/Latus et Serena/Manere: ces deux morceaux figurent sans leur voix de teneur dans le manuscrit de Wolfenbüttel 1, qui les considère alors comme des conduits. Dans le manuscrit de Florence, retenu pour cet enregistrement, il s'agit bien de motets à 4 voix basés sur les teneurs grégoriennes Latus et Manere, alors que l'introduction de la teneur de Serena, par exemple, donne lieu à d'inhabituelles dissonances.

Vide prophecie: motet «organal», c'est à dire construit à partir d'un fragment d'organum, en l'occurrence deux des quatre voix du graduel de Pérotin «Viderunt omnes» qui a tant frappé ses contemporains. Le teneur est exactement la même pour ces deux pièces, et l'une des voix supérieures du «Viderunt» est simplement pourvue d'un texte qui commente celui du graduel.

Mors: il s'agit dun «hoquet»: la voix de teneur et le «double» (ici, la voix la plus aigüe) ne chantent pas en même temps, mais se «chevauchent» et se répondent, tandis que le duo des «triple» et «quadruple» (ici, les deux voix intermédiaires) paraît presque indépendant. L'auditeur peut avoir l'impression de deux morceaux différents superposés: un «double déchant» dont parle le théoricien Jean de Garlande.

Antoine Guerber







V o x S o n o r a

CONDUCTUS DE LA ESCUELA DE NOTRE DAME
(siglos XII y XIII)


Existen testimonios de que la polifonía se venía practicando en Occidente durante la liturgia desde finales del siglo VII. El primer tratado musical que nos aporta un esbozo de su descripción, Musica Enchiriadis, de Roger de Laon, habla de la polifonía como una costumbre muy antigua y generalizada. Desde finales del siglo X y principios del siglo XI, los manuscritos nos transmiten en notación neumática los primeros tropos polifónicos. El centro de Francia, Chartres, Inglaterra y, posteriormente, la región del Lemosín, en torno a la famosa abadía de San Marcial de Limoges, parecen haber sido lugares privilegiados de creación musical, pero es seguro que la polifonía, seguramente improvisada, se practicaba en muchos otros sitios. ¿Cómo no aprovechar la excelente acústica de una iglesia románica para ornamentar una melodía gregoriana con quintas, cuartas u octavas? Pero se trata de costumbres que se van desarrollando en paralelo en distintas provincias y en zonas geográficas reducidas.

A partir de la década de 1150, un lugar de creación musical va a dominar por primera vez a los demás: surge un nuevo estilo de polifonía, denominado hoy Escuela de Notre Dame, en la catedral de París y en las otras iglesias principales de la Ile de France. Y, rápidamente, el arte de los compositores parisienses será algo universal. El hecho es excepcional en la Edad Media: sus obras se copian en toda Europa, hasta finales del siglo XIV, y serán el origen de un importante cuerpo de escritos teóricos. La importante difusión se explica evidentemente por lo novedoso de aquellas músicas y el genio de los compositores parisienses, pero también por la excepcional fama de que gozaba París en el siglo XIII: Paris expers paris (París no tiene par), mère des Arts (letras, filosofia, ciencias, música...). Se afirma que la ciudad es una «segunda Atenas». Su Universidad es la primera del mundo cristiano y atrae a las mentes más brillantes de todo Occidente. El arte francés se ha convertido en el modelo estético de toda la cristiandad y la posición ocupada por Francia no tiene parangón. Consolidación y centralización del poder real y del poder clerical, desarrollo del comercio y explosión de las ciudades, son los principales elementos que convierten al reino de Francia en una potencia resplandeciente. Se va construyendo un nuevo mundo urbano. La ciudad se convierte en los cimientos de una civilización nueva, donde se fomentan las relaciones humanas y la educación colectiva de la estética. Es la cuna de un hombre nuevo. La vida espiritual ha empezado a transformarse.

Aquellas nuevas polifonías se expresaban en tres géneros principales: el organum, inspirado por Léonin hacia 1150, el conductus, de 1170 a 1240, y luego el motete, a partir de principios del siglo XIII, que tendrá un sinfín de desarrollos. Todas las historias de la música conceden un puesto de honor a los dos grandes nombres de la Escuela de Notre Dame que han llegado hasta nosotros, los primeros compositores de polifonía sacra cuyo genio tenía tal magnitud que no podían sino pasar a la posteridad: Léonin y Pérotin. Pero su vida nos es prácticamente desconocida. Léonin escribió hacia 1150-1175 cantos de órgano para dos voces en cantus firmus litúrgico, que sólo conocemos en sus versiones finales, adaptados por Pérotin. La obra de éste último es posterior a la de Léonin (hacia 1180-1210). Pérotin es probablemente un diminutivo de Pierre, nombre del alumno que cantaba en la Maîtrise (escuela de música sacra) y que llegó a ser Magister Cantus, es decir, maestro de la escolanía que dirigía las voces infantiles. Pero este nombre no se cita nunca en los cartularios de la catedral de Notre Dame. Pérotin murió seguramente muy joven, sin haber tenido tiempo de ascender a uno de los puestos importantes de Notre Dame, como decano, chantre, subchantre (funciones honoríficas), arcediano, canciller, penitenciario o canónigo prebendado, porque en sus registros se encuentran los nombres de cuantos ocuparon dichos puestos. Según otra hipótesis, de C. Page 1, puede que Pérotin fuera uno de los chantres profesionales, maestros de organum pobres que, a diferencia de los canónigos prebendados, tenían que proponer su talento en cualquier catedral de provincias. Y sin embargo, la influencia de Pérotin será considerable. En contra de lo que era habitual en la Edad Media, sus obras seguirán cantándose mucho tiempo después de su muerte y se considerarán prestigiosas, casi tan prestigiosas como el canto gregoriano. Pérotin, primer compositor de música a cuatro partes, es también el inventor de procedimientos musicales fundamentales: la imitación, el diálogo de voces, la variación melódica. Todas estas innovaciones y el impulso aportado por Pérotin a la creación musical en su época tendrán tanta fuerza que durante todo el siglo XIII se meditarán sus lecciones y se sacará provecho de los derivados de las mismas. Y. Rokseth 2 nos demuestra que Pérotin parece haber privilegiado las voces graves, cuando gustaban más las voces agudas, incluso muy agudas, las acutissimus vocibus. Las obras de Pérotin están impregnadas de alegría y vigor, con efectos hasta entonces impensables, pero sin perder el objetivo último, su impulso interno, dando valor a una vida interior y una respiración que llaman la atención de nuestro oído moderno al igual que lo hicieran con el de sus contemporáneos. Si Léonin era conocido por sus organa y Pérotin por sus discantus, es casi seguro que ambos practicaban todos los estilos como tantos otros compositores cuyos nombres no han pasado a la posteridad.

El conductus era al principio un canto que acompañaba un desplazamiento durante la liturgia pero se distinguía del canto gregoriano, a diferencia del organum y de los primeros motetes, por su melodía y su texto recién creados. Los clérigos encontraron por lo tanto en el conductus un nuevo modo de creación musical y literaria y dieron rienda suelta a su genio artístico: nos quedan 390 conductus, incluyendo los rondos. Seguramente la mitad de ellos no es de origen parisiense (habría que decir «franciliano», de la Ile de France, pero la expresión resulta aquí anacrónica). Se trata de un cuerpo extraordinario que da testimonio del genio creador de la Escuela de Notre Dame. Los conductus pueden ser monódicos: su respiración, su envergadura, su diversidad son a menudo sorprendentes. Si no hubieran llegado hasta nosotros, nuestros conocimientos sobre la monodia medieval serían incompletos. Su composición suele basarse en poemas de las principales plumas de la época, como Guillaume de Châtillon o Philippe le Chancelier. Los conductus polifónicos son a dos y tres voces y sólo hay tres a cuatro voces. Se oponen dos estilos principales: el estilo silábico (sine caudis, por ejemplo: Ver pacis, Ave maris stella...), cantado conforme a la prosodia latina, y el estilo melismático (cum caudis, por ejemplo: Pater noster), seguramente menos arcaico, donde una sílaba puede tratarse con un largo desarrollo polifónico. El contraste entre ambos estilos, en una misma pieza, es la principal característica de los grandes conductus de la Escuela de Notre Dame. Se escribían por «superposición»: el compositor escribía primero la más bella melodía y luego, sobre este canto, añadía un discantus (Françon de Cologne). Los conductus tenían fama de ser difíciles de cantar, complicados, virtuosos pero hermosos, brillantes y que deleitaban al escucharlos. No se cantaban todos durante la liturgia. Es lo que ocurre con los rondos y también con los que tienen forma de auténticos sermones para el pecador ordinario o para el mismo clérigo: las admonitio (advertencias). La predicación adquiere por aquel entonces un auge nuevo y los manuales de confesión se difunden por toda Francia en el siglo XIII. Han llegado hasta nosotros miles de sermones que demuestran no sólo las preocupaciones teológicas del momento: la lucha contra cualquier tipo de desviación (herejía, judaísmo, etc...) sino además la actualidad política o los problemas internos de la Iglesia de Francia. Muchos de los textos de los conductus hablan de la simonía, la corrupción o las flaquezas del clero. Los demás textos de los conductus hablan de las grandes fiestas del año litúrgico (Pascua, Navidad y su octava, o Adviento...), de la Virgen o de los santos principales, entre ellos Nicolás, intercesor por el clero.

En tiempos de Léonin y Pérotin, la notación musical apenas si empieza a codificarse: los mismos signos gráficos pueden tener distintos significados. Los chantres siguen trabajando todavía de memoria. Los principales manuscritos que nos transmiten este repertorio (F, W1, W2) son posteriores al periodo de creación y datan de mediados del siglo XIII. Por eso hay que acudir a la prosodia latina para poder transcribir esas polifonías según los modos rítmicos ternarios descritos por los teóricos, quienes intentan, por primera vez, racionalizar las estructuras de la polifonía y describir los tiempos musicales. De todas formas, el transcriptor tiene que elegir. Hay cantos para los que pueden proponerse varias transcripciones, posibilidad ésta que seguramente existía ya en el siglo XIII. Por otra parte, las transcripciones modernas no pueden ser sino proposiciones, sin que pueda pretenderse que son la realidad definitiva. Para nosotros, intérpretes, la dificultad es aún mayor si tenemos en cuenta que las nociones de ritmo eran seguramente muy distintas en la época de Pérotin y en la época en que se redactaron los manuscritos que han llegado hasta nosotros. Pero lo más interesante y revelador para nosotros es trabajar directamente con los facsímiles de los manuscritos, metiéndonos en el espíritu de los chantres del siglo XIII, intentando interpretar las descripciones de ornamentos que muchos teóricos han explicado: temblores, vibraciones, repercusiones, adornos, añadidos de notas, entonaciones ornamentadas, etc. (Anónimo IV, Walter Odington, Jean de Garlande, Françon de Cologne).

Podremos así aportar nuestra contribución para hacer realidad el deseo del gran musicólogo Gorden Andersen, en el proemio de su estudio sobre los conductus 3:

«Ahora que ya están repertoriados y publicados todos los manuscritos de la Escuela de Notre Dame, urge interpretar sus obras para que el melómano las reconozca como obras habituales de los programas de los conciertos. Representan una valiosísima fuente de inspiración para el intérprete, el auditor y el estudiante. Si no contáramos con los conductus, nuestro conocimiento de la música del siglo XIII sería incompleto e imperfecto».



Antoine Guerber
(Traducción: MA. Lebret-Sánchez,
con algunas modificaciones del escribano)



(1) Christopher Page «The Owl and The Nightingale»
(2) Yvonne Rokseth «Polyphonies du XIIIème siècle (Commentaries)
(3) Gorden Anderson «Notre Dame and related Conductus»

Autres ouvrages et articles importants:
· Robert Falck «The Notre Dame Conductus»
· Eduard Gröninger «Repertoire Untersuchungen ...»
· Janet Knapp «Thirty-five Conductus»
· Armand Machabey «A propos des quadruples Pérotiniens»
· Edward H. Roesner «Magnus Liber» (Introduction)
· Yvonne Rokseth «Le contrepoint double vers 1248», «La polyphonie parisienne de XIIIème siècle»
· Ethel Thurston «Pérotin»
· Hans Tischler «Pérotin»
· Craig Wright «Education in the Maîtrise of Notre Dame of Paris»




L O S R O N D E L L O S
Cantos de las danzas clericales, diversiones piadosas de los días festivos en los claustros.
Nicholaus pontifex es un elogio a San Nicolás, obispo intercesor del clero.
A solis ortus y Ecce tempus (integrado en lengua germánica en el manuscrito de Carmina Burana) son la expresión sencilla del regocijo de Pascua, eco de las paganas y antiguas fiestas de mayo.



L O S C O N D U C T U S
Vetus abit ittera: uno de los escasos conductus a cuatro voces del siglo XIII. El poema, compuesto por tres estrofas iguales, celebra el nacimiento de Cristo: «¡alegrémonos porque el pecado ya se ha perdonado!». La música conserva a lo largo de toda la pieza una homofonía silábica impresionante, jugando al mismo tiempo con la modulación llena de audacia de fa-fa sostenido dentro de este modo de sol; se termina con una breve vocalización en la antepenúltima sílaba de cada estrofa.

Pater noster: se trata de uno de los escasísimos textos litúrgicos que se recuperan sin modificación alguna para tratarlos como un conductus. Robert Falck atribuye su música a Pérotin. El amplio ámbito de sus melodías, su contrapunto solemne y espectacular lo convierten en una pieza extraordinaria, puntuada por una serie insólita de «amén».

Homo cur degeneras: poema moral sobre la ingratitud del hombre redimido por Cristo y sobre la vanidad de las riquezas de este mundo. La melodía, amplia y libre, sigue la tradición de las grandes composiciones monódicas de la Escuela de Notre Dame.

Hac in die: curiosa composición en estilo de rondo popular, algo rarísimo en los conductus a dos voces. Las sorprendentes repeticiones del texto «hoc in an», que se interpretaban probablemente el día de la «fiesta del asno», son onomatopeyas burlonas, carentes de sentido y un ejemplo único en este repertorio.

Nicholai presulis: conductus para el día de San Nicolás. Su estilo silábico es muy sencillo, utilizando juegos rítmicos, como una especie de onomatopeyas en la primera o en la última sílaba de cada frase.

Salvatoris hodie: importante conductus de Pérotin para la fiesta de la Circuncisión de Cristo (1 de enero), cantado en las catedrales durante la misa, antes del Evangelio. Reconocemos todo el genio de Pérotin en los largos melismas de una textura muy transparente (ej: sílaba «da» de la palabra «cadidatur») así como en sus célebres organa a cuatro voces: Viderunt et Sederunt.

Vade retro Sathanas: se trata de las dos última, estrofas de un largo poema de Philippe, Canciller de Notre Dame, que escenifica un diálogo entre Diógenes y Aristipo, discípulo y alumno de Platón. La melodía evoluciona en gradas armónicas descendentes, las sucesivas frases musicales se detienen en cada nota importante del modo re: la, sol, fa y luego re.

Vhe proclamet: poema enérgico que se opone al enriquecimiento del clero. La melodía de base es la misma que la de la canción Fols est qui a ensient, de Simon d'Authic, trovero y decano del cabildo de la catedral de Amiens.

Ver pacis: coductus en honor de la coronación de Felipe Augusto, el 1 de noviembre de 1179, en Reims, por su tío Guillermo de Champaña, arzobispo de Reims y amigo de Gautier de Châtillon, autor del texto de este canto. La melodía de una de las voces es la misma que la de la canción Ma joie me semont, del trovero Blondel de Nesle.

Ave maris stella: poema que parafrasea las estrofas individuales de uno de los más conocidos himnos de la Edad Media, que tiene el mismo título. Cada uno de los primeros versos de las estrofas se ha extraído del texto de este himno.

Veris ad imperia: canción de primavera donde una de las voces recoge la famosa melodía de los trovadores A l'entrada del tens clar.

Excitatur caritas: poema de Gautier de Châtillon para la fiesta de la Natividad de la Virgen (8 de septiembre) en el que se utiliza el estribillo, procedimiento poco frecuente en los conductus polifónicos.



E L O R G A N U M
Benedicamus Domino: Órganum a tres voces (largos desarrollos melismáticos sobre un tenor que recoge una melodía gregoriana). El órganum es una música litúrgica nunca utilizada en otros momentos. Yvonne Rokseth opina que es posible que Pérotin sea el autor de los 5 Benedicamus domino del manuscrito de Florencia, del que se ha extraído este órganum.



L O S M O T E T E S
Latex silice/Latus y Serena/Manere: estos dos fragmentos figuran sin la voz de su tenor en el manuscrito de Wolfenbüttel, que los considera entonces como conductus. En el manuscrito de Florencia, seleccionado para esta grabación, se trata efectivamente de motetes para cuatro voces basados en los tenores gregorianos Latus et Manere, mientras que la introducción del tenor de Serena, por ejemplo, presenta disonancias nada habituales.

Vide prophecie: motete organal, es decir, construido a partir de un fragmento de órganum, en este caso dos de las cuatro voces del gradual de Pérotin, Viderunt omnes, que tanto impresionó a sus contemporáneos. El tenor es exactamente el mismo en ambas piezas y una de las voces superiores del Viderunt cuenta sencillamente con un texto que comenta el del gradual.

Mors: se trata de un hoquetus: la voz del tenor y el duplum (se trata aquí de la voz más aguda) no cantan al mismo tiempo sino que se encabalgan y se responden, mientras que el dúo del triplum y el cuadruplum (aquí, las dos voces intermedias) parece casi independiente. El oyente puede tener la impresión de que se trata de dos fragmentos distintos superpuestos: un doble discantus del que habla el teórico Jean de Garlande.








V o x S o n o r a

CONDUCTUS OF THE NOTRE DAME SCHOOL
(12th and 13th Centuries)


The use of polyphony during the liturgy is known to have existed in the west since the end of the 7th century. The first musical treatise which attempts to describe it, Roger de Laon's Musica Enchiriadis, speaks of it as a very ancient and widespread practice. The first polyphonic tropes, in the Neum system of notation, appear in manuscripts dating from the end of the 10th, and beginning of the 11th, century. Central France, Chartres, England, and the Limousin with its famous St Martial de Limoges Abbey, seem to have been especially active centres of composition, but what is certain is that polyphony, very probably improvised, was extremely widespread. For what could be more natural, given the wonderful acoustics of a Romanesque church, than to ornament a Gregorian melody by making the fifths, fourths and octaves resound? But these were practices which developed simultaneously in different provinces and within limited geographical areas.

From the middle of the 12th century on, one centre of composition came, for the first time, to dominate all others. A new style of polyphony, today known as the Notre Dame School, developed in Notre Dame Cathedral in Paris and in the big churches of the Île de France. The methods of the Parisian composers rapidly became universal. Up until the end of the 14th century their works were copied all over Europe - highly unusual in the Middle Ages - and also generated a considerable body of theoretical writing.

The spread of this music can be explained not only by the extraodinary newness of the music and by the genius of the Parisian composers, but also by the exceptional reputation of Paris in the 13th century. «Paris expers Paris» (peerless Paris), «mother of the Arts» (literature, philosophy, sciences, music etc.). The city was readily recognised as a «second Athens». Its University became the best-known in the Christian world, attracting the most brilliant minds in the West. French art was henceforth the aesthetic model for all Christianity and France occupied a matchless position. The consolidation and centralisation of royal and clerical power, the development of trade, and the expansion of the towns are the main factors which made the kingdom of France a powerful influence. A new world, urban in character, was gradually being built. Towns became a melting-pot for a new civilisation, facilitating human relationships and fostering the «collective education of tastes». A new type of man was being fashioned and spiritual life was transformed as a result.

These new polyphonies can be grouped into three main genres: the organum, given its impetus by Leonin towards the middle of the 12th century, the conductus from 1170 to 1240, and from the beginning of the 13th century, the motet, which was to go through innumerable developments. All works on the history of music devote a lot of space to two great names from the School of Notre Dame; Léonin and Pérotin. They were the first composers of sacred polyphony and their genius was such that their reputation still lives on. Of their lives, however, very little is known. Around 1150-1175, Léonin was writing two-part organa on liturgical cantus firmus, although these are known to us only in their later form, reworked by Pérotin.

Pérotin was composing just a little later than Léonin (circa 1180 - circa 1210?). His name is probably a diminutive of Pierre. As a schoolboy he sang in the choir school, and became a Magister Cantus, that is to say, master of the Schola, leading the children's choir. The name is never mentioned in the records of Notre Dame Cathedral, however. Pérotin probably died fairly young, before he could be appointed to one of the important posts at Notre Dame: Dean, Cantor, Subchanter (honorary posts), Archdeacon, Chancellor, Penitentiary, Prebendary Canon, whose names are all entered in these registers. Another hypothesis, put forward by C. Page (1), is that Pérotin might have been one of those professional cantors, a «master of the organum» who were poor, unlike the prebendary canons, and had to sell their talents in some provincial cathedral.

Pérotin's influence was nonetheless considerable. Contrary to usual Medieval practices, his works continued to be sung long after his death, and were considered prestigious, almost as prestigious as the Gregorian chant. The first composer of four-part music, Pérotin was also the inventor of basic musical devices: imitation, exchange of voices, melodic variation. These innovations, together with the impetus he gave the musical composition of his time were so powerful that their influence and consequences were felt throughout the 13th century. As Yvonne Rokseth (2) has shown, Pérotin seems to have privileged the lower registers of the voice at a time when high, and even very high voices (acutissimus vocibus) were in favour. Pérotin's works are full of freshness and vigour, skilfully handling hitherto unheard of effects - contrasts, alternation of tension and relaxation, and structural symmetry - yet never losing sight of their final goal and internal pulsation, highlighting an inner life and phrasing which are just as striking to the modern ear as they were to his contemporaries. Although Léonin was reputed for his organa and Pérotin for his descants, it is more than likely that they both wrote in all styles as did very many other composers whose names have been lost to posterity.

The conductus was originally a processional chant sung during the liturgy, and unlike the organum and the first motets, it differed from Gregorian Chant by virtue of having a melody and an original poetic text. The clerics thus found a new means of musical and literary expression in the conductus and were able to give free rein to their artistic talents. 390 conductus have been preserved, including the «rundelli». Half of these conductus, are probably Parisian in origin, or more precisely, originate from the Paris region. This represents an extraordinary body of work which testifies to the creative genius of the Notre Dame School. The conductus can be monodic and their phrasing, scope and variety are often astonishing. Without them, our knowledge of Medieval monody would be incomplete. They were often composed around poems by the greatest minds of the time such as Guillaume de Châtillon and Philippe le Chancelier.

Polyphonic conductus were written for two or three voices - only three four-part conductus exist. There are two main contrasting styles; the syllabic style («sine caudis», for example: Ver pacis, Ave maris stella ...) sung in accordance with the rules of Latin prosody, and the doubtless less archaic melismatic style («cum caudis», for example: Pater Noster), where one syllable may be the subject of a long polyphonic development. The use of these two contrasting styles in the same piece is the main characteristic of the great conductus of the Notre Dame School. They were composed by «superposition». The composer first wrote the most beautiful melody possible, then a descant was added above the chant (Francon de Cologne). The conductus were reputedly complicated and difficult to sing, virtuoso but beautiful pieces, brilliant and lovely to listen to. They were not all sung during the course of the liturgy. This was the case with the rundelli of course, and also with the «admonitio» (warning) which took the form of a veritable sermon for ordinary sinners or for the clergy themselves. Preaching took on new vigour and confession manuals became widespread in 13th century France. Thousands of sermons have come down to us which bear witness not only to the theological concerns of the time - the battle against all forms of deviance including heresy and Judaism - but also to political matters and the internal problems of the Church of France. Many of the words to the conductus refer to simony, corruption and laxity on the part of the clergy; others to the major feast-days of the liturgical year (Easter, Christmas and its octave and Advent etc.), the Virgin, and the major saints, including Nicholas, intercessor for the clergy.

At the time of Léonin and Pérotin, musical notation had only just begun to be codified and one graphic sign might have several meanings. The Cantors still worked mainly from memory. The great manuscripts bearing this repertoire (F, W1, W2) date from the mid-13th century, after they were composed. We must therefore have recourse to Latin prosody in order to transcribe these polyphonies in accordance with the compound rhythms described by the theorists who were attempting for the first time to rationalise polyphonic structures and describe time values. The transcriptor is often faced with a choice and for certain chants, several transcriptions are possible, which was doubtless already true in the 13th century! Moreover, any modern transcription can only be a suggestion and cannot claim to represent a definitive reality. This adds to the difficulties for singers such as ourselves since we know that ideas of rhythm must have changed in the period between Perotin's time and that in which our manuscripts were written. The most interesting and evocative for us is, of course, to work directly from facsimiles of these manuscripts in the same spirit as the 13th century cantors, trying to interpret the description of ornaments of which many theorists speak: trembles, vibrations, repercussions, fioritura, added notes, ornamented intonations, etc. (Anonymous IV, Walter Odington, Jean de Garlande, Francon de Cologne).

We may thus contribute to carrying out the wishes of the great musicologist, Gorden Anderson, in the preface to his study on the conductus (3):

«Now that all the manuscripts of the Notre Dame School have been listed and published, the works must be performed as a matter of urgency so they become as familiar to the music-lover as the usual concert repertoire. For performer, listener and student alike, they represent an invaluable source of inspiration. Without the conductus, our understanding of 13th century music would be incomplete and imperfect».


Antoine GUERBER



(1) Christopher Page «The Owl and The Nightingale»
(2) Yvonne Rokseth «Polyphonies du XIIIème siècle (Commentaries)
(3) Gorden Anderson «Notre Dame and related Conductus»

Other important books and articles:
· Robert Falck «The Notre Dame Conductus»
· Eduard Gröninger «Repertoire Untersuchungen ...»
· Janet Knapp «Thirty-five Conductus»
· Armand Machabey «A propos des quadruples Pérotiniens»
· Edward H. Roesner «Magnus Liber» (Introduction)
· Yvonne Rokseth «Le contrepoint double vers 1248», «La polyphonie parisienne de XIIIème siècle»
· Ethel Thurston «Pérotin»
· Hans Tischler «Pérotin»
· Craig Wright «Education in the Maîtrise of Notre Dame of Paris»




T H E R U N D E L L I
Chants which accompanied clerical dances, pious amusements for feast-days in the cloisters.
Nicholaus pontifex praises St Nicholas, Bishop and intercessor for the clergy.
A solis ortus and Ecce tempus (In Germanic language in the Carmina Burana manuscript) are simple celebratory songs for Eastertide, an echo of the pagan and ancient maïerolles.



T H E C O N D U C T U S
Vetus abit littera: one of the rare 13th century four-part conductus. The poem, in three equal stanzas, celebrates the birth of Christ - «let us rejoice»! «sin has been forgiven»! The music preserves an impressive syllabic homophony throughout, whilst at the same time playing on a daring F-Fsharp modulation within this mode of G, and finishes with a brief vocalization on the penultimate syllable of each stanza.

Pater noster: one of the rare liturgical texts to be used without any alterations for a conductus. Robert Falck attributes the music to Pérotin. The scope of the melodies and the solemn, spectacular counterpoint make it an extraordinary piece, punctuated by an unusual series of «amen».

Homo cur degeneras: a moral poem on the ingratitude of Man saved by Christ, and on the vanity of this world's riches. The sweeping, free melody is in the tradition of the great monodic compositions of the School of Notre Dame.

Hac in die: a curious piece in the style of a popular round, extremely rare in two-part conductus. The surprising
«hoc in an» texts, probably sung on the «Feast of the Donkey», are onomatopoeic burlesques with no meaning and are unique in this repertoire.

Nicholai presulis: conductus for St Nicholas's Day. The syllabic style is very simple, with plays on rhythm like the onomatopoeia on the first or last syllable in each sentence.

Salvatoris hodie: one of Pérotin's great conductus, for the Feast of the Circumcision of Christ (1st January), sung in the cathedrals during mass, before the reading of the Gospel. All Pérotin's genius is displayed in the long melisma with their highly transparent texture (the syllable «da» in the word «candidatur» for example), as in his famous four-part organa: Viderunt et Sederunt.

Vade retro Sathanas: This is the two final stanzas of a long poem by Philippe, Chancellor of Notre Dame, which take the form of a dialogue between Diogenes and Aristippus, a disciple and pupil of Plato. The melody develops in descending «harmonic steps», the successive musical phrases marking a pause on each important note in the mode of D: A, G, F then D.

Vhe proclamet: an energetic poem railing against the enrichment of the clergy. The basic melody is that of the song «Fols est qui a ensient», by Simon d'Authie, a trouvère and Dean of the Chapter of Amiens Cathedral.

Ver pacis aperit: conductus in honour of the coronation of Philippe Auguste, on 1st Novembere 1179 in Reims, by his uncle Guillaume de Champagne, Archbishop of Reims and friend of Gautier de Châtillon, who wrote the words to this song. The melody of one of the two voices is the same as that of the song «Ma joie me semont» by the trouvère Blondel de Nesle.

Ave maris stella: a poem which paraphrases the individual stanzas of one of the most famous hymns of the Middle Ages, of the same name. The first line of each stanza is taken from the text of this hymn.

Veris ad imperia: a spring song of which one of the voices has the famous troubadour melody «A l'entrada del tens clar».

Excitatur caritas: poem by Gautier de Châtillon for the Feast of the Nativity of the Virgin (8th September) which has a refrain, a fairly unusual device in polyphonic conductus.



T H E O R G A N U M
Benedicamus Domino: a three-part organum (long melismatic developments over a tenor using a Gregorian melody. The organum is liturgical music and has never left this context). Yvonne Rokseth considers possible that Pérotin wrote the 5 Benedicamus domino in the Florence manuscript from which this is taken.



T H E M O T E T S
Latex silice l Latus and [/i]Serena l Manere[/i]: these two pieces appear without their tenor voice in the Wolfenbüttel 1 Manuscript which considers them to be conductus. In the Florence manuscript which was used for this recording, they are indeed motets for four voices based on the Gregorian tenors Latus et Manere, whilst the introduction of the tenor in Serena, for example gives rise to unusual dissonances.

Vide prophecie: an «organal» motet, that is to say, built up from a fragment of organum, in this case, two of the four voices of Pérotin's gradual, «Viderunt omnes» which made such an impression on his contemporaries. The tenor is exactly the same for these two pieces, and one of the upper voices of the «Viderunt» is simply given a text which comments of that of the gradual.

Mors: this is a «hoquet»: the tenor voice and the «double» (in this case, the higher voice) do not sing at the same time, but «dovetail» and respond to each other, whilst the «triple» and «quadruple» voices (in this case, the two middle voices) seem almost independent. The listener may have the impression of two different pieces superposed: a «double descant» as mentioned by the theoretician, Jean de Garlande.

Antoine GUERBER