Campus stellae

.

Chants sacrés du XIIe siècle

— Discantus


Saint-Martial de Limoges | Santiago de Compostela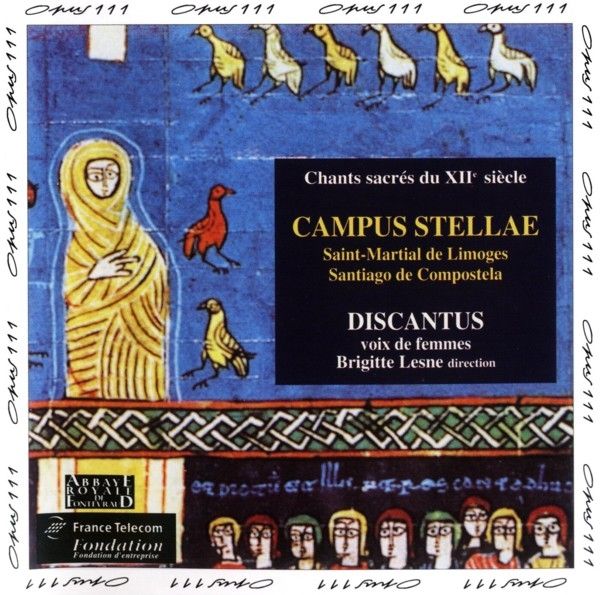 medieval.org
Opus 111 OPS 30-102
1994





1. Novus annus dies magnus [3:17]
Conductus | tutti
Saint-Martial de Limoges | Paris, Bibliothèque Nationale, lat. 1139

2. Ad superni regis decus [3:42]
Trope de Benedicamus domino | 7 · 6
Magister Albericus archiepiscopus Bituricensis (archevêque de Bourges)
Codex Calixtinus, cc 98

3. Dies ista celebris [2:53]
Trope de Benedicamus domino | 7
Saint-Martial de Limoges

4. Congaudeant catholici [4:00]
Trope de Benedicamus domino | tutti
Magister Albertus Parisiensis
Codex Calixtinus, cc 96

5. Alleluia. Gratulemur et letemur [5:19]
Prosa | tutti
Prosa sancti Jacobi Latinis, Grecis et Ebraicis verbis, a domno Papa Calixto abreviata
Prose de Saint Jacques en latin, en grec et en hébreu, abrégée par le Pape Calixte
Codex Calixtinus, cc 76

6. Dies ista gaudium [3:21]
Trope de Benedicamus domino | 4
Saint-Martial de Limoges

7. Res est admirabilis [3:05]
Prosa | 3, 4, 10 · 2, 7, 8
abbaye de Fontevraud | Limoges, Bibliothèque Municipale 2

8. Plebs domini [4:09]
Conductus | 10 · tutti
Saint-Martial de Limoges | Paris, Bibliothèque Nationale, lat. 3719, fol. 39v

9. Gregis pastor [2:38]
Trope de Benedicamus domino | tutti
Saint-Martial de Limoges | London, British Museum Library, ADD 36881, f13'

10. Uterus hodie virginis floruit [2:50]
Versus | 9
Saint-Martial de Limoges | Paris, Bibliothèque Nationale, lat. 3719, fol. 38v

11. Mira dies oritur [2:39]
Trope de Benedicamus domino | 3
Saint-Martial de Limoges | Paris, Bibliothèque Nationale, lat. 3719, fol. 38v

12. Cunctipotens genitor Deus [3:36]
Organum — Trope de Kyrie | 7 · 1, 6, 9
Magister Gauterius de Castello Rainardi
Codex Calixtinus, cc 111

13. Lilium floruit [4:11]
Versus | 6
Saint-Martial de Limoges | Paris, Bibliothèque Nationale, lat. 3719, fol. 43

14. Quam dilecta tabernacula [5:26]
Prosa | tutti
Beauvais | ms London, British Library, Egerton 2615; edition : W. Ant

15. Rex immense [2:41]
Trope de Kyrie | 4, 5 · 8, 9 · tutti
Fulbertus episcopus Karnotensis (Fulbert, évêque de Chartres)
Codex Calixtinus, cc 108

16. Clemens servulorum gemitus tuorum [2:54]
Prosa | 5 · 3, 4, 8, 10
Prosa sancti Iacobi crebro cantanda a domno Guilelmo patriarcha Iherosolimitano edita
Prose de saint Jacques, a chanter continûment, composée par maître Guillaume, patriarche de Jérusalem
Codex Calixtinus, cc 78

17. Flore vernans gratie [4:37]
Conductus | tutti
Saint-Martial de Limoges | BNF lat 1139, f78

18. Judicii signum [8:40]
Prophétie de la Sibylle | tutti
Lectionnaire de Marseille | Paris, Bibliothèque Nationale, Latin 1018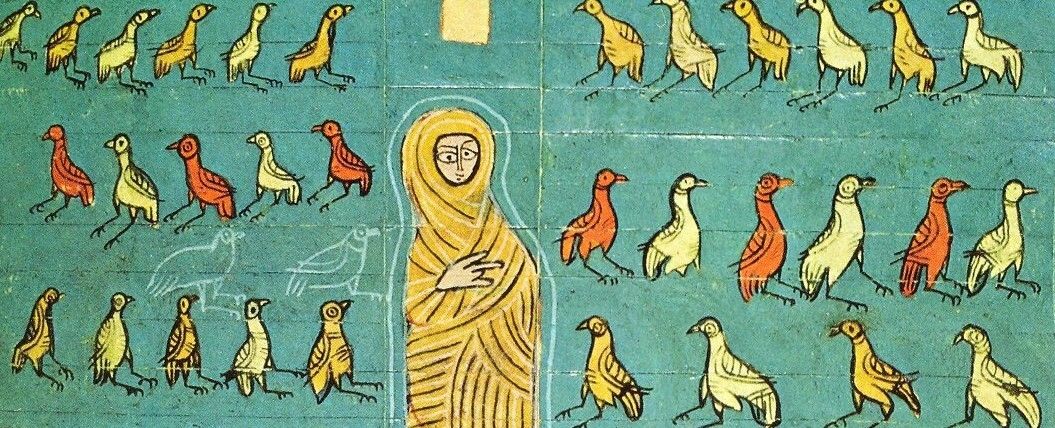 DISCANTUS
voix de femmes Brigitte Lesne

Laurence Brisset – 1
Claire Jéquier – 2
Lucie Jolivet – 3
Emmanuelle Gal – 4
Anne Guidet – 5
Brigitte Le Baron – 6
Brigitte Lesne – 7
Caroline Magalhaes – 8
Catherine Schroeder – 9
Catherine Sergent – 10



DISCANTUS, ensemble de voix de femmes, se consacre essentiellement à faire revivre les répertoires sacrés monodiques et polyphoniques du Moyen Age tels qu'ils étaient pratiqués par les moniales dans leur monastère. Discantus propose une lecture vivante des notations musicales de cette époque, depuis les neumes de Saint-Gall et de Laon, pour le chant grégorien, jusqu'aux grands manuscrits issus des Ecoles Saint-Martial de Limoges et Notre-Dame de Paris.
L'ensemble développe ses activités en liaison avec le Centre de Musique Médiévale de Paris.

BRIGITTE LESNE, chanteuse, membre des ensembles Alla Francesca et Gilles Binchois, fonde l'ensemble Discantus en 1989. Elle se produit également en récital et exerce une importante activité pédagogique au Centre de Musique Médiévale de Paris, dont elle est co-directrice artistique.


Producer : Yolanta Skura
Artistic supervision, engineer, editing : Arnaud Moral
Digital recording
Recording : Abbaye de Fontevraud, 2-5 January 1994
Cover : Beatus de Liebana, The Virgin, Queen of the martyrs and saints (detail) D.R.
Cover design : Fernand Dutilleux
Composition du livret / Typesetting : Peter Vogelpoel
℗ 1994 Original recording made by Opus Production, Paris
© 1994 Opus Production, Paris
Réf. : OPS 30-102

L'ensemble Discantus est soutenu par la Fondation d'entreprise France Télécom depuis 1992.






Campus stellae : de Saint-Martial de Limoges à Santiago de Compostela

DANS LE SILLAGE des Mages venus d'Orient, le pèlerin se laisse guider par l'étoile, et sa démarche symbolise la quête, jamais satisfaite, d'une lumière suprastellaire. Au XIIe siècle, de toutes les régions d'Europe, hommes et femmes se dirigent vers le Campus stellae, Compostelle, pour vénérer le tombeau de saint Jacques, ce tonitrui filius, « fils du tonnerre », que l'on dit proche du Christ. Si les routes d'Europe se souviennent de ces voyages — toponymie, décoration des églises... —, elles ne peuvent plus transmettre les brillantes et nécessaires harmonies qui en scandaient les stations.

L'Europe médiévale en mouvement a fait avec elle cheminer et évoluer sa musique. Le Livre de Saint-Jacques (Codex Calixtinus) fut copié en Bourgogne, pour Compostelle. Il a guidé à la fois le pèlerin et le chantre. L'itinéraire qu'il décrit prouve que des traditions diverses se côtoyaient au tournant des routes et lors des grandes étapes : Beauvais, Sens, Chartres, Paris, Orléans, Tours, Limoges, Le Puy, Moissac, Conques. Ce n'est pas une voie qui est tracée, mais un faisceau de rencontres religieuses, humaines, linguistiques, culturelles, enfin musicales. Avec le pèlerinage voyagent des sons nouveaux, ceux qui ne sont pas diffusés par les filiations monastiques.

Le pèlerin qui venait de l'Europe du Nord découvrait, en traversant l'Aquitaine, les polyphonies et conduits composés autour de la célèbre abbaye de Saint-Martial, dans le Limousin, et qui valurent son renom à ce que nous appelons l'Ecole musicale de Saint-Martial. Le Codex Calixtinus, qui, avec d'autres manuscrits du Sud, transmet ces répertoires, atteste que ces musiques ont abouti à l'extrême finis terrae du monde occidental, là où il n'y a plus que la mer et les étoiles : maris stella. Au XIIe siècle, l'espoir se résume dans ces deux mots, qui sont exploités à satiété, et qui expriment une attente spirituelle autant que courtoise.

Le Liber Sancti Jacobi indique la voie, les lieux de repos, les merveilles à visiter ; il met en garde contre les embûches, les bandits, les rivières à éviter parce que polluées, etc. Il transmet de surcroît le répertoire musical composé pour Saint-Jacques, chargé de nouveautés, dans une écriture enfin devenue, depuis peu, parfaitement lisible, et selon un langage polyphonique qui ne se cache plus. Car les pèlerinages, comme les jeux liturgiques et les réjouissances de clercs, offrent des possibilités d'invention que la liturgie traditionnelle semblait restreindre.

Un chant nouveau enrichit les anciennes structures : des textes sont insérés dans le Kyrie (Rex immense), qui peut désormais être interprété en organum à deux voix (Cunctipotens genitor Deus). Des séquences, repensées à partir des modèles traditionnels, sont mises en polyphonie (Res est admirabilis). Le chant du Benedicamus domino, conclusion des offices du matin et du soir, est préparé par un versus. Et tout concourt à accroître la solennité. Le conduit à refrain, qui favorise le dialogue entre le chantre et le chœur, est propice aux déplacements processionnels (Plebs domini) et annonce les lectures solennelles.

Que ces chants soient en monodie, et alors souvent ils font entendre, par l'alternance des registres sonores, la variété des couleurs vocales. S'ils sont polyphoniques, ils assemblent dans le même temps des voix qui, dit le chantre, se séparent pour faire résonner la musique, et se retrouvent sur les consonances, pour donner à percevoir l'harmonie universelle. Des compositions à prédominance syllabique (une ou deux notes par syllabe) servent une littérature neuve et savante, mais elles ne tardent pas à laisser le chantre déployer sa voix en des vocalises qui mettent le tout en valeur (Dies ista celebris, Lilium floruit, Ad superni regis decus).

De telles nouveautés sont composées à l'occasion des grandes fêtes, des festivités extraordinaires, de l'arrivée aux grands sanctuaires, ou des célébrations saisonnières qui remplissent les longues nuits d'hiver. Des récréations rituelles et annuelles donnent aux clercs l'occasion de mener l'humour jusqu'à l'insolence. Le cycle de Noël est enrichi d'un abondant répertoire, car il magnifie l'an nouveau (Mira dies oritur, Novus annus) et surtout l'étonnant mystère de la naissance merveilleuse : divine et virginale (Uterus hodie... O partus mirabilis).

La nature est omniprésente dans les créations littéraires de ce monde champêtre (Flore vernans gratie, Lilium floruit); les instruments cités symbolisent la musique, elle-même allégorie de la joie (Gregis pastor). Les poètes se souviennent encore des sources scripturaires, des grands thèmes théologiques, mais ils sont aussi influencés par leurs auteurs classiques (Tityrus). Saint Augustin lui-même invoqua l'antique Sibylle, cette prophétesse qui, en présentant l'annonce messianique de la nuit de Noël, rappelait la tragique angoisse de la fin des temps, toujours sous-jacente à cette célébration (Judicii signum). Quant au culte de saint Jacques, il s'inspire des récits étonnants de son histoire, qui attisent la ferveur des pèlerins. Une prose polyglotte (Alleluia — Gratulemur et letemur) enfin, résume le rayonnement de ces lieux. Que de langues réunies pour chanter à Compostelle, et quelle modernité préfigurent ces grands rassemblements !


MARIE-NOËL COLETTE


Le répertoire de ce disque est emprunté à des traditions régionales qui ont particulièrement marqué l'histoire musicale du XIIe siècle :
• Saint-Martial de Limoges (Manuscrits Paris, Bibliothèque Nationale Latin 1139, 3549, 3719; London, British Library, Additional 36881)
• Santiago de Compostela : manuscrit conservé à Compostela, appelé Codex Calixtinus (fac-similé noir et blanc et transcription : W.M. Whitehill et G. Prado, Liber Sancti Jacobi : Codex Calixtinus, 3 vols, 1944. Fac-similé couleur : Ed. Kaydeda, Madrid, 1993)
• Beauvais (Manuscrit London, British Library, Egerton 2615. Edition : W. Ant, Ein Festoffizium des Mittelalters aus Beauvais, 2 vols, Koln, 1970)
• La prophétie de la Sibylle Judicii signum est chantée d'après un Lectionnaire de Marseille (Paris, Bibliothèque Nationale, Latin 1018)
• La prose polyphonique Res est admirabilis est empruntée à un manuscrit originaire de l'abbaye de Fontevraud (XIVe siècle ; Limoges, Bibliothèque Municipale 2).

Transcriptions musicales : Marie-Noël Colette et Brigitte Lesne.
On peut lire Le Guide du Pèlerin de Saint-Jacques (inclus dans le Codex Calixtinus) dans l'édition et la traduction de J. Vielliard, Mâcon, 1978.








Campus stellae: from the Abbey of St Martial in Limoges to Santiago de Compostela


FOLLOWING IN THE TRADITION of the magi kings travelling from the east, the early pilgrims took a star as their guide, thus symbolizing the quest, never fulfilled, for suprastellar light. In the 12th century, men and women from all over Europe made their way towards the Campus stellae (Compostela in Spain) to venerate the tomb of St James, the tonitrui filius, 'son of thunder', who was held to be close to Christ. Although traces of these pilgrimages have survived until the present day — in place-names, decorative elements in churches, etc. —, they cannot bring to life the splendid harmonies which were a necessary accompaniment to the pilgrims at each stage of their journey.

As Medieval man moved through Europe, music travelled with him, and developed. A copy of the Liber Sancti Jacobi ('Book of St James'), Codex Calixtinus, was made in Burgundy for Compostela. It served as a guide both for the pilgrim and the cantor. The route it provides proves that various traditions co-existed along the road and at the principal stopping-places: Beauvais, Sens, Chartres, Paris, Orleans, Tours, Limoges, Le Puy, Moissac and Conques. Indeed, it was less a matter of mapping out a path to be followed than of drawing up a whole network of human, religious, linguistic, cultural and, last but not least, musical meeting-points. The pilgrims brought with them a world of new sounds, sounds which did not travel via the networks that existed between monasteries.

On their way through Aquitaine, pilgrims from northern Europe discovered the polyphonic music and the conducti that were composed in and around the famous Abbey of St Martial in the Limousin. The Codex Calixtinus which, along with other manuscripts from the South, was the vehicle for this repertory, bears witness to the fact that all this music ended its journey at the ultimate finis terrae of the western world, where there was nothing save sea and stars: maris stella. In the 12th century, human aspirations were summed up in these two words, which were exploited to the point of saturation and expressed a spiritual expectancy just as much as a courtly one.

The Liber Sancti Jacobi gives the route to be followed, together with resting-places and the wonderful sights to be seen along the way. It warns against dangers likely to be encountered, places where bandits were active, polluted rivers and other risks. Above all, it passes on to us the musical repertory composed for St James and its wealth of new ideas in a form of writing which had only recently become readily readable — works conceived in a polyphonic language that no longer needed to be kept hidden. For the pilgrimages, like the liturgical games and festivities of the clerics, offered possibilities for inventiveness that the traditional liturgy seemed to hedge around with limitations.

The ancient structures were enriched with a new style of song: texts were added to the Kyrie (Rex immense), which could be performed in two-part organum (Cunctipotens genitor Deus). There were sequences which had been rethought on the basis of traditional models and provided with polyphonic settings (Res est admirabilis). The chant of the Benedicarnus domino, which concluded both the morning and the evening services, was introduced by a 'versus'. All this conspired to deepen the sense of solemnity. The conductus with refrains, which created opportunities for dialogue between the cantor and the choir, was particularly suitable for processions (Plebs domini), and provided an introduction to the ceremonial readings.

In the case of monodic chants, variety of vocal colour was achieved by alternations in register. As for the polyphonic music, it brought together at one and the same time voices which — in the words of the cantor — moved apart to make the music ring out, and came together on the consonances — an image of universal harmony. There were compositions of a predominantly syllabic nature (one or two notes per syllable); they were designed to set off texts which were new and learned in style, but they soon developed into a means for the cantor to display a talent for vocalization, thus enabling the work as a whole to achieve its real plenitude (Dies ista celebris, Lilium floruit, Ad superni regis decus).

Pieces incorporating these new ideas were composed for the principal feast days, particular festive occasions, arrivals at the great sanctuaries, or for the seasonal celebrations which filled the long winter nights. Each year, moments of ritual recreation gave the clerics an opportunity for humour which was often taken to the point of insolence. The Christmas cycle of feasts gave rise to a particularly rich repertoire, for it 'magnified' the New Year (Novus annus, Mira dies oritur) and above all the wonder and mystery of the birth of Christ, both divine and virginal (Uterus hodie... O partus mirabilis).

Nature is an ever-present element in the literary creations of this world so closely connected with the countryside (Flora vernans gratie, Lilium floruit); the instruments that are mentioned are symbols for music, itself an allegory of joy (Gregis pastor). The poets still recall the scriptural sources and the great theological themes, but are also influenced by their classics (Tityrus). St Augustine himself invoked the ancient Sibyl, the prophetess who, on Christmas Eve, while announcing the coming of the Messiah, reiterated the tragic anguish aroused by the prospect of the end of time, which has always been an underlying theme of this feast (Judicii signum). As for the cult of St James, it drew its inspiration from the amazing accounts of his life, all of which served to heighten the ardour of the pilgrims.

The extraordinarily far-reaching influence of all these places is summed up in a 'prose' made up of a mixture of languages (Alleluia — Gratulemur et letemur). Indeed, many were the languages that congregated to sing at Compostela, and what modernity was foreshadowed in these great gatherings!


MARIE-NOËL COLETTE
Translation: John Sidgwick