The A-la-mi-re Manuscripts

/ Capilla Flamenca ·

La Caccia


Flemish Polyphonic Treasures for Charles V


Josquin · Pierre de la Rue · Adrian Willaert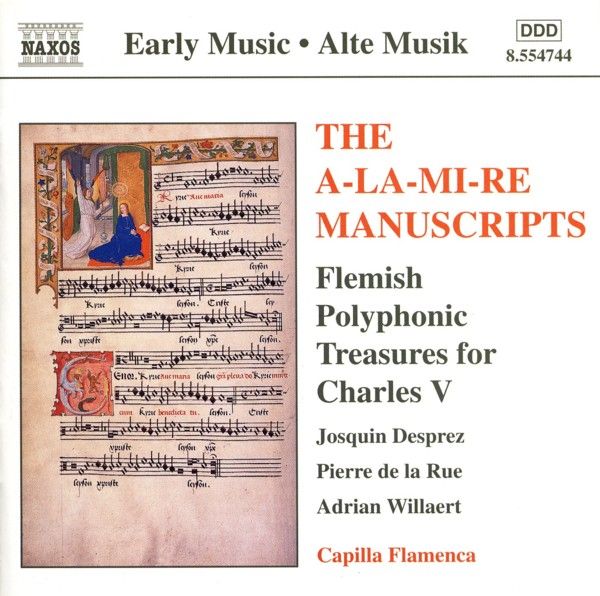 medieval.org
capilla.be
Naxos 8.554744
1999






Matthias GASCOGNE
1. Kyrie [3:47]
Missa Myn hert

Jean MOUTON — Antonie de FÉVIN
2. Celeste beneficium / Adiutorium nostrum [6:15]

JOSQUIN ?
3. Proch dolor ~ Pie Jhesu [2:53]

Piere MOULU
4. Mater floreat [5:32]

Adrian WILLAERT
5. Agnus Dei [4:04]
Missa super Benedicta es

6. Salve Regina [7:38]
on Myn Hert

Heinrich ISAAC
7. Maudit soyt [1:22]
instrumental

Pierre de la RUE
8. Autant en emporte [1:18]
instrumental
9. Myn hert altyt heeft verlanghen [2:22]

Cornelis RIGO
10. Celle que j'ay [2:34]
instrumental

Hans NEWSIEDLER
11. Myn hert altyt heeft verlanghen [3:39]
instrumental

12. Plus oultre [2:40]

JOSQUIN
13. Plaine de dueil [5:43]

Pierre de la RUE ?
14. Soubz ce tumbel [5:04]

Marbianus de ORTO
15. Dulces exuviae [2:47]

Pierre de la RUE
16. Jam sauche [1:16]
instrumental

Petrus ALAMIRE
17. Tandernaken op den Rijn [3:09]
instrumental




CAPILLA FLAMENCA
Dirk Snellings

Marnix de Cat, Stratton Bull — counter-tenors
Jan Caals, Christopher Kale — tenors
Lieven Termont, Bart Demuyt — baritones
Dirk Snellings, Paul Mertens — basses

Bassa capella:
Gail Ann Schroeder, Piet Van Steenbergen, Liam Fennely — violas da gamba
Jan Van Outryve — lute

Alta capella:
LA CACCIA
Patrick Denecker

Patrick Denecker
Gunter Carlier
Mirella Ruigrok
Bernhard Stilz
Peter Van Heyghen




Recorded in the Chapel of the Irish College, Leuven, Belgium
from, 28th June to first July 1999.
Producer: Dirk Snellings
Recording supervisor: Paul Beelaerts
Engineer: Jo Cops
Music notes: Eugeen Schreurs, Alamire Foundation
of the Kathoheke Universileit, Leuven.
Cover Illustration: Illuminated page from the Mechelen Choirbook

Ⓟ & © 1999 HNH International Ltd.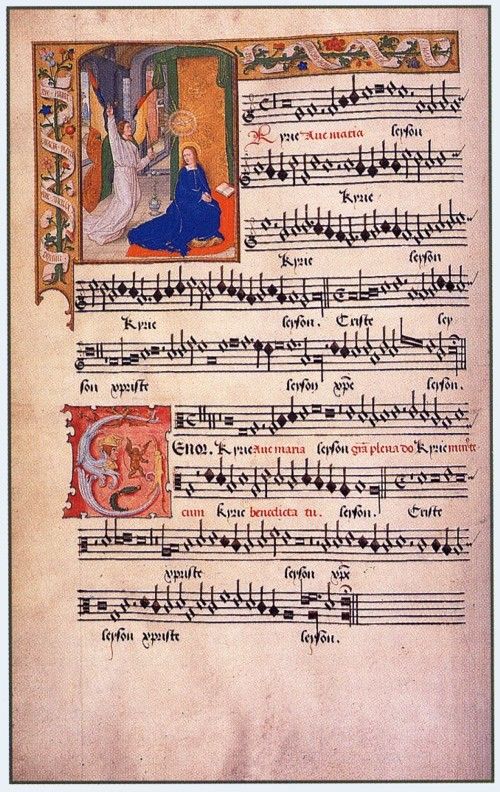 Polyphonic treasures from the Alamire scriptorium

Some 500 years ago, an unknown German musician from Nuremberg arrived in the Low Countries, having probably travelled by way of the trade routes leading from southern Germany to Antwerp. He called himself Petrus Alamire, a pseudonym that any trained musician would have immediately recognised as a reference to the late Medieval system of musical education that made use of the hand of Guido d'Arezzo. The combination of the pitch 'a' and the note names la, mi, and re (found in the three hexachords) are the main elements involved.

The man behind this pen name was in fact one Petrus Imhoff or Imhove or Van den Hove. He was probably educated in the Nuremberg of Dürer and received his first known commissions as a music calligrapher in the Low Countries, for organizations in 's-Hertogenbosch (Illustrious Confraternity of Our Lady, in 1497) and Antwerp (Collegiate Church of Our Lady, in 1499). Alamire very quickly rose to become one of the most desired music calligraphers and producers of beautiful choir books in the Low Countries. Important commissions were not slow in coming: in 1503 he realised a royal edition for Philip the Fair, in 1509 he entered the service of Archduke Charles as escripvain et garde des livres, and in 1511 he took on a double assignment for the emperor Maximilian and his daughter Margaret of Austria. The manuscripts soon played a role in the pan-European political dealings of the Burgundian-Habsburgs. Many rulers needed to be "bought off" by Archduke Charles in order to win their votes for the approaching election of Holy Roman Emperor in 1519. Charles chose the motto Plus oultre, that was probably set to music by an anonymous composer (Vienna, Österreichische Nationalbibliothek, Handschriftensammlung, MS 9814). The court's frequent choice of such manuscripts as one-of-akind official gifts should come as no surprise, considering that many influential rulers, including the elector Frederick the Wise of Saxony and Pope Leo X, showed a great interest in music, at a time when the polyphony at the Burgundian-Habsburg court was blossoming as nowhere else in Europe, and when Alamire had developed a unique and highly refined Ghent-Bruges style to illuminate his calligraphic musical editions. These manuscripts have often been very well preserved and are held as the treasures of a number of important European libraries, including Brussels (the former court library), Jena (choir books from the collection of Frederick the Wise), Munich (codices of Wilhelm IV of Bavaria), London (the Henry VIII manuscript), the Vatican (for Pope Leo X), and Vienna (former Habsburg court library).

After the imperial elections Alarnire continued to remain active, and his atelier, where numerous scribes were now employed, produced weighty editions of the finest quality, illuminated in the Ghent-Bruges style. In particular, the members of the the Habsburg house showed great interest: in 1523, Margaret of Austria ordered additions made to the chansonnier (Brussels, Royal Library, MS 228) that was first made for her in 1516; imperial choir books were produced for Charles' très noble plaisir and carried to Spain by a special envoy for use by the Capilla Flamenca that resided there (1523/1526); and Alamire made a number of manuscripts in the 1530s for Maria of Hungary, the governess of the Low Countries after Margaret of Austria, who rewarded him in his old age with a pension.

Among other proud owners of Alamire manuscripts were Raimund Fugger, a member of the bankers' family that had supported Charles V, and Archduke Wilhelm IV of Bavaria, who helped to stem the tide of advancing Protestantism. Finally, a number of important churches (and collegiate churches), such as the Church of Our Lady in Antwerp, and especially the richer brotherhoods, such as the two in 's-Hertogenbosch and Antwerp mentioned above, were in a position to acquire Alamire manuscripts, which they cherished as valuable works of art, as the following note shows: [10/1/1514] pro meester Alamÿre sangschriffer gedaen 1 $ vlems omdadt hij ons aen gegeven heeft te maeken eenen coostelick sangboeck voer ons capelle in manyiren die noodt dis gelixs en zal gesin zijn al met mottetten van 5 stÿmmen. (for Master Peter Alamire, music copyist, paid 1$ Flemish because he has promised to make us a costly singing book for our chapel, the likes of which will never again be seen, with motets for five voices).

Although many interesting aspects of Alamire's life remain obscure, we do have a good overview of his biography. We know that he lived first in Antwerp and later in Mechelen, that he was married to Katlyne sander Meeren, that he dealt in manuscripts, various musical instruments (cornetti, crumhorns, flutes, clavichords), lute strings, and even paintings, that he instructed Christian II of Denmark, a brother-in-law to Charles V (who was later banished), in the business of mining, and that he also carried letters for such eminent humanists as Pirckheimer and Dürer, the latter of whom referred to Alamire as a 'a man not lacking for humour' (homo non infestivus). But the most intriguing part of his life story was his activity as a spy for the English court of Henry VIII in the years 1515-1518. Partly with the help of his cover as a merchant of manuscripts, 'minstrel/singer/ chaplain' Alamire spied on Richard de la Pole, nicknamed 'the White Rose', who was the exiled English pretender to the throne, resident chiefly in Metz. Eventually the English court began to suspect their top agent, whom they had originally trusted wholeheartedly, of counter-espionage. Even a gift of five part books, a splendid parchment choir book, eight cornetti, and many lute strings, together with secret political information, were not able to convince Henry VIIII and his lord chancellor, Cardinal Wolsey, of his loyalty.

Despite all this, Alamire will surely go down in history chiefly as an eminent music calligrapher, who with his atelier of copyists, illuminators, and miniaturists, successfully spread Flemish polyphony throughout western Europe, and particularly throughout the leading royal courts. Some 850 compositions of very high quality (mostly Masses, followed by motets, chansons, and a few instrumental works and polyphonic songs on Dutch texts) have come down to us through this collection of no fewer than 48 choir books and twelve (sets of) fragments, often discovered in book bindings. The most important polyphonists of the period 1495-1535 are represented, including the éminence grise Johannes Ockeghem, Notenmeister Josquin Desprez, Margaret's favourite Pierre de la Rue (with by far the most compositions), and the newcomer Adrian Willaert. Although it is not strictly speaking taken from the corpus of Alamire manuscripts, a splendid musical genealogy can be heard in the 'composers' motet' Mater floreat florescat by Pierre Moulu, that was probably written mound 1517.

The corpus of Alamire manuscripts offers an ideal source for a CD prograrnme. From this unique body of documents we have selected a number of representative works that act as a sample of Alamire's production between about 1497 and 1535. A special place in the whole is held by the above-mentioned chansonnier of Margaret of Austria (Brussels, Royal Library, MS 228), both for its content (for example, the many regretz chansons) and its form. The manuscript opens with the remarkable six-voice motet Ave sanctissima Maria, probably by Pierre de la Rue, which takes the form of a triple canon. The tenor of this motet is illuminated by a miniature of Margaret praying to the Virgin Mary. This scion of the Burgundian-Habsburg house (represented by the coat of arms in the bass part) is clearly dedicating the song book to Mary (represented by the miniature of the crowned Virgin with the Christ child). Margaret's favoured composer, de la Rue, composed a mass on this motet. In the Agnus Dei of this Mass, de la Rue weaves an as yet unidentified cantus firmus (O dulcis amica Dei) as a canon into the complex polyphony. The chansonnier includes just one song on a Dutch text, Myn hert altyt heeft verlanghen, that also serves as a model for a Mass by Matthias Gascogne. In the Kyrie of this Mass the chanson is clearly recognisable. The popularity of this work is indicated by its inclusion in four Alamire manuscripts.

Mass movements were in practice often combined with motets, a procedure we have also applied on this CD. Celeste beneficiam, with its second part, Adiutorium nostrum (probably by Févin or Mouton), was originally a motet for the French king, mentioning respectively St Anne (Anne of Bretagne, the French queen), Renatus (the saint who hears the prayers of pregnant women and childless couples, his name meaning literally 'reborn'), and Ludovicus (Louis XII). In a manuscript presented to the English king, we also find St Catherine (Catherina of Aragon, the first wife of Henry VIII), Georgius, and Henricus 'rex', a clear reference to the English king. A third version of the work places Anne at the centre. This reading of the motet was created for Queen Anne of Hungary, the wife of Ferdinand of Hungary/Bohemia, brother of Charles V. We have, however, chosen a fourth variant, originating in the Low Countries, which substitutes St Ruinoldus (patron of the cathedral in Mechelen) and Margareta, an explicit reference to the Regent resident there.

The theme of sorrow — so emphatically present in the chansonnier belonging to Margaret, who was forever marked by the premature death of each of her two husbands — is most fully present in the seven-voice motet Proch dolor, which, as a sign of mourning, is recorded completely in black notation. It is a musical 'tombeau' on the death of Margaret's father, Maximilian. The work is masterful in its construction: next to a three-voice canon under the motto Celum terra mariaque succurrite pio (Heaven, earth, and sea come to the aid of the pious), four voices sing of the death of the monarch.

In the last manuscript that Alamire produced for the Illustrious Confraternity of Our Lady in 's-Hertogenbosch (codex 72a), the younger generation of the post-Josquin era is represented, with Adrian Willaert in the vanguard. He is the composer of the Agnus Dei from the two- to five-voice Missa super Benedicta, based on his own motet of the same name, and on the Gregorian chant Benedicta. The sacred portion of the CD concludes with an anonymous Salve regina. With its 29 settings of the Salve regina, manuscript 34 from the Bayerische Staatbibliothek in München is unique of its kind, although archival research suggests that Alamire must have made other such Marian manuscripts, especially for brotherhoods devoted to the Virgin. Settings of the Salve regina were highly suited to the daily worship of the Virgin, but could also be used at the end of a Mass. Unusual here is the superius of Myn hert heard in the superius of the motet, in combination with fragments of the Gregorian Salve regina.

For the performance of sacred music, Marguerite and her nephew Charles had at their disposal the grande chapelle that Charles had inherited front his father Philip the Fair and that he later would rename the Capilla Flamenca when he moved to Spain. Members of the grande chapelle and of the chapelle domestique also provided performances of secular music, such as the above-mentioned Myn hert, the only Dutch-language song in Margaret's chansonnier. It was a highly popular song, judging by the many arrangements made for lute (Judenkönig, Newsidler, Phalesius). The song is in ABA form, but the relation between the prosody of the Dutch text and the music suggest that the original version may well have been in French. In any case there is a three-voice version of the song (Celle que j'ay) by the almost completely unknown composer Cornelis Rigo de Bergis, probably a native of Bergen-op-Zoom or of Mons (Dutch: Bergen) in Hainaut. Unfortunately, in the version found in the so-called Basevi codex (Florence, Biblioteca del Conservatorio, Basevi 2439), a fairly early manuscript that can be attributed to a predecessor of Alamire's, Martin Bourgeois, only the text incipit survives, so that we must be content with an instrumental performance. However, the musical resemblance to the Dutch song is striking.

The central place of extreme melancholy in the chansonnier is typified by Soubz ce tumbel by Pierre de la Rue, an epitaphe de l'amant vert on a text by Margaret's court poet, Jean Lemaire de Belges. It is an intense farewell to Margaret's 'green lover', a parrot. The same sort of grief is exuded by both Plaine de deuil by Josquin Desprez, masterfully constructed upon a canon in the tenor part, and by Dulces exuviae, composed by the first court chaplain to Philip the Fair and Archduke Charles, and included in both the chansonnier (MS 228) and the Basevi codex. This composition sets the last words of the dying Dido, a text that was highly prized at the Burgundian-Habsburg court and which spread from there to other allied royal courts, such as that of Henry VIII. The corpus of Alamire manuscripts includes versions by Josquin, Mouton, Ghiselin, and two anonymous composers.

Besides singers (including both adults and around six boys) and a court organist (Henri Bredemers), the court also had at its disposal a maximum of twelve trumpeters as well as a number of menestrels who were responsible for the performance of the instrumental music. Both intimate ensembles of instruments bas (lute, viol, and keyboard) and louder groups of instruments hauts (sackbuts, shawms, and crumhorns) played introvert, melancholy music next to more extrovert pieces. In order to find examples of such works, we have had to search beyond the confines of the sources produced by Alamire and his studio: a manuscript from southern Germany (Vienna, Österreichische Nationalbibliothek, MS 18810), that once belonged to the influential Fugger family, shows clear links with the Habsburg court. This collection comprises a number of spirited works (such as Maudit soyt by Heinrich Isaac), as well as the only preserved composition by Alamire himself, a five-voice instrumental piece written expressly for crumhorns and based on the Dutch song, Tandernaken op den Rijn, in which two girls exchange views on love. In this ingenious composition we can hear the composer behind this calligrapher, a man who brought the most beautiful examples of the polyphony of the Low Countries into the realm of the most powerful figures of his day.


Eugeen Schreurs
Alamire Foundation, K. U. Leuven
Translation: Stratton Bull