Shakespeare's Music
The Folger Consort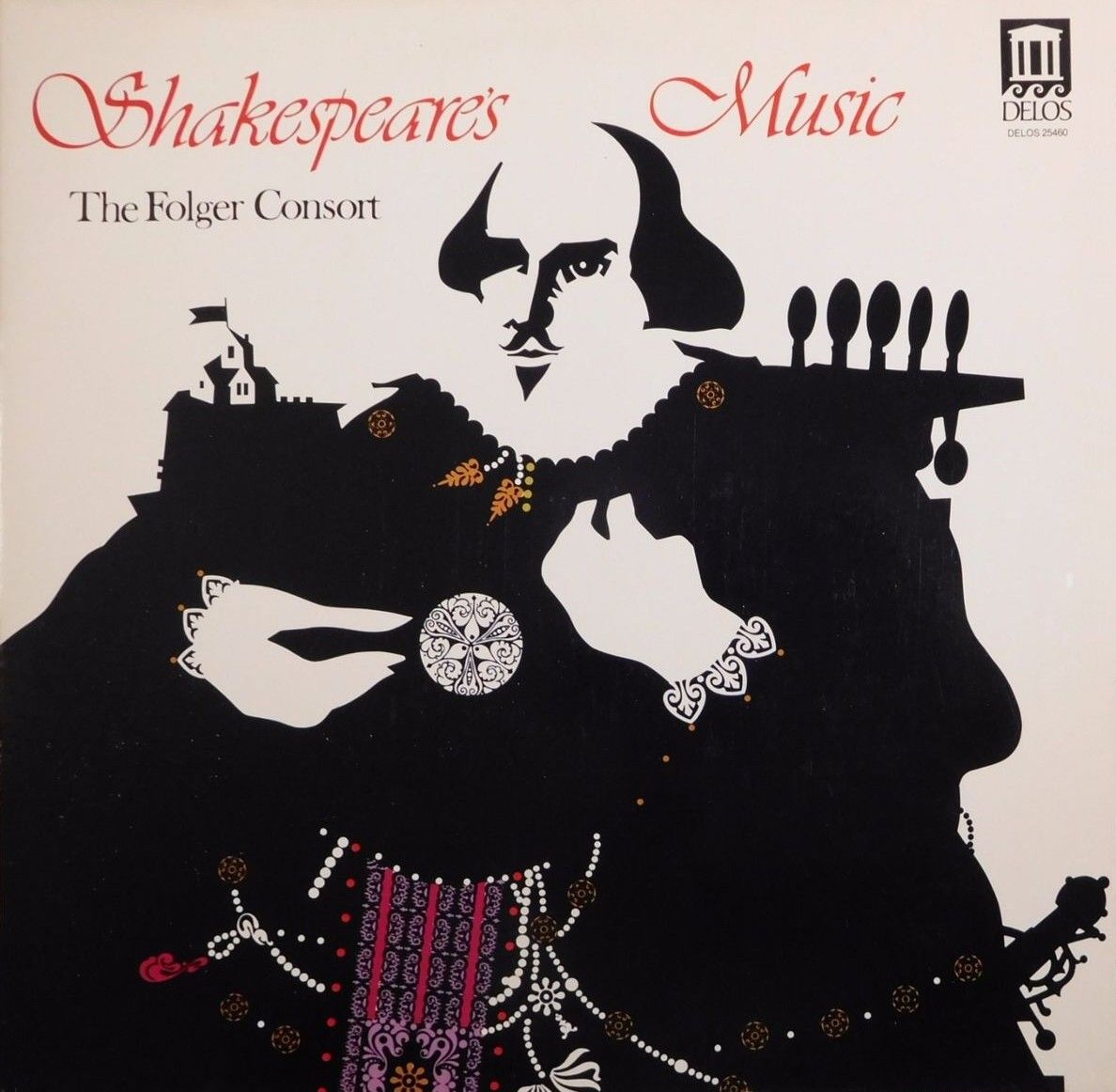 worldcat.org
Delos DEL-25460 (LP)
1981








Side 1; [25:48]

Side One is largely devoted to some of the more widely known and loved music composed by Henry Purcell and associated with the plays of Shakespeare. It also includes some captivating music by Thomas Arne. Three of his songs from the plays round off Side One and provide an interesting comparion to earlier settings to be heard on Side Two.

Band 1 [5:56]
Suite from The Fairy Queen: * Henry PURCELL
Prelude [1:50]
Largo [1:12]
Fairies' Dance [0:48]
Haymaker's Dance [0:53]
Rondeau [1:02]

Band 2 [5:21]
Full Fathom Five [2:16] Henry PURCELL
The Willow Song [1:38] Pelham HUMFREY
Come Unto These Yellow Sands [1:18] Henry PURCELL

Band 3 [6:41]
The Owl [2:33] Thomas ARNE
Blow, Blow Thou Winter's Wind [1:46] Thomas ARNE
Where The Bee Sucks [2:14] Thomas ARNE

Band 4 [7:31]
Suite from The Fairy Queen: * Henry PURCELL
Entry dance [1:16]
Dance for the Followers of the Night [1:50]
Chaconne [3:12]
Hornpipe [1:04]

* Henry Purcell's version of A Midsummer Night's Dream



Side 2; [22:02]
Each selection separately banded
Side Two is composed of music written before that of Purcell and Arne. In addition to music actually written for the plays, we have included songs and instrumental works based on the same examples of English popular and traditional music that Shakespeare drew upon in his works.

O Mistresse Mine [1:45] Thomas MORLEY

It Was A Lover And His Lass [2:30] Thomas MORLEY

Witches Dance I [1:37] Anon. / Masque

O Death, Rock Me Asleep [2:07] Anon.

Come Live With Me And Be My Love [3:16] William CORKINE

Where The Bee Sucks [1:45] Robert JOHNSON

The Willow Song [2:06] Anon.

Witches Dance II [1:34] Anon. / Masque

Full Fathom Five [1:48] Robert JOHNSON

Bonny Sweet Robin [3:01] Folk / Thomas SIMPSON




THE FOLGER CONSORT

Robert Eisenstein, viol
Scott Reiss, recorder
Christopher Kendall, lute

Ann Monoyios, soprano
David Gordon, tenor



The Folger Consort is an ensemble of musicians drawn from a broad background of orchestral, solo, chamber music and scholarly experience The Consort's fundamental goal is to provide to the rapidly widening early music audience performances which combine a strong basis in scholarship with a vivid sense of the vitality and universal appeal of Medieval and Renaissance music.

The Consort is in residence at the Folger Shakespeare Library, performing regularly in the Library's unique Elizabethan Theatre. The Folger Library, repository tor the most significant collection of English and Continental Renaissance materials in the western hemisphere and the world's finest collection of Shakespearean materials, stands as perhaps the ideal home for an early music ensemble.

In the eighteenth century, knowledge of our musical heritage began to expand in two directions. As music was composed in the nineteenth and twentieth centuries historians and scholars unearthed a wealth of music reaching ever further back into the store of European culture through the Baroque, the Renaissansce and the Middle Ages. More recently, music from these periods has moved from the world of research into that of performance. Through the efforts of the Pro Musica Antique of Brussels, the New York Pro Musicas and subsequent generations of early music ensembles, the music of these earlier times has reached the ears of an enthusiastic and growing audience.



Executive Producer: Amelia S. Haygood
Recording Engineer: David Hancock
Disk Mastering Engineer: Bruce Leek
Disk Mastering at IAM Cutting Center using a transformerless cutting system
Matrix: K-M
Album Design: Tri-Arts, Inc.
Photos: Courtesy Folger Shakespeare Library

Folger Consort Production Staff:
Leni Spencer, Executive Director
JoAnn Azzarello, Project Director
Robert Eisenstein, Research and notes
Michael David Brown, cover graphics
Jeanne Khron, cover design

℗ © 1981 DELOS RECORDS INC, Santa Monica CA