A Medieval Christmas
The Folger Consort
with Johana Arnold and Tina Chancey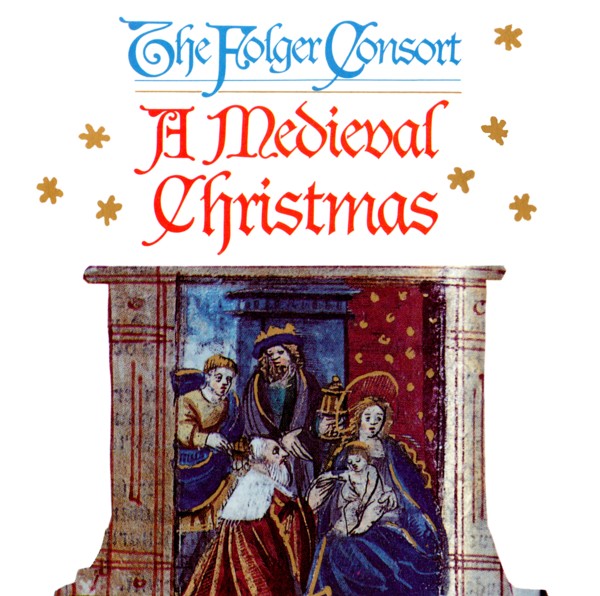 medieval.org
worldcat.org
Bard BDCD 1-91 06
1991





A Medieval Christmas


The Folger Consort presents a stirring selection of Christmas music from late 11th-century southern France to 15th-century England.These are pieces of wonderful variety — intimate and inspiring, courtly and rustic, complex and engagingly simple. Yet this rich diversity of music shares the telling of the Christmas story.




Aquitanian vers and Las Huelgas Manuscript
1. Natus est rex [6:10]
2. Noster cetus psallat letus [2:26]
3. Angelorum laude digna [2:13] Hu 60
4. In sapiencia [5:36] Hu 62
5. Benedicamus Domino [1:58] Hu 37
6. Ave caro [1:05] Hu 136
7. Psallat chorus [1:47] Hu 123


13th-Century England
8. Excelsus in numine [1:43]
9. Angelus ad virginem [3:20] 'Gabriel, fram heven-kinge', several settings
10. Ductia [1:28]
11. Ductia [1:42]


Trecento · Italy
12. Benedicamus Domino [1:07]
13. Cristo e nato [2:57]
14. Benedicamus Domino [1:29] PAOLO da FIRENZE
15. Ave, Dei genitrix [3:57]
16. Kyrie [1:32]
17. Gloria [2:19] EGARDUS
18. Salutiam divotamente [1:58]


15th-Century English Carols
19. Nowell; Dieu vous garde [2:59]
20. Ah, my dear son [4:45]
21. Ave rex angelorum [1:46]
22. There is no rose [3:10]
23. Lullay, lullow [1:17]
24. Nowell, Nowell: Tidings True [3:07]
25. Nowell sing we [2:23]


Note: unless marked, compositions are anonymous






THE FOLGER CONSORT and Johana Arnold / photo: Mary Noble Ours






The Folger Consort is ensemble-in-residence at the Folger Shakespeare Library, a leading center for medieval and Renaissance studies in Washington, D.C. Founding members of the Consort are Robert Eisenstein, rebec, vielle, recorders, Christopher Kendall, lute, harp, mandora, and Scott Reiss, recorders, psaltery, percussion. Joining the Consort on this recording are Johana Arnold, soprano, and Tina Chancey, rebec, vielle, kamenc, recorder.

For further information on the Folger Consort, contact the Division of Museum and Public Programs at the Folger Shakespeare Library, 201 East Capitol Street, S.E., Washington, D.C. 20003 (202) 544-7077; fax (202) 544-7520.



Werner Gundersheimer, Director, Folger Shakespeare Library
Janet Alexander Griffin, Producer, Folger Consort
Susanne Oldham, Manager, Folger Consort

DDD
Recorded in Abbey Chapel, Mount Holyoke College, South Hadley, Massachusetts
Recording and editing engineer: Curt Wittig.
Producer: The Folger Consort
Edit producer: Scott Reiss
Session producer: Ronn McFarlane
Designer: Jeanne Krohn

© and ℗ 1991 Bard Records.

All rights reserved. Unauthorized duplication is a violation of applicable laws. Made in the U.S.A.

The front cover illustration is from a book of hours presented by Anne of Cleves to Henry VIII;
Enchiridion Preclare Ecclesie Sarisburiensis (Paris, ca.1533) in the collection of the Folger Shakespeare Library.


This collection of Christmas music spans the late 11th century in southern France to the 15th century in England. The selections show a great variety of musical styles, learned and rustic, complex and engagingly simple; yet most of these pieces have the telling of the Christmas story in common. It is striking that a 14th-century laud from Florence can appeal to us in some of the same ways as a much later carol from England. While almost all of the works you will hear, both instrumental and sung, are directly connected to Advent or Christmas itself, we have rounded out the program of carols and liturgical pieces with a few instrumental selections which seem to fit the spirit of the season. We hope the result is a pleasing sort of international musical smorgasbord, a holiday buffet for the ears.

Natus est rex and Noster cetus psallat letus are 11 th-century vers, non-liturgical religious songs that survive in a manuscript from the great library of the Abbey of St. Martial in Limoges, south-central France. Because this area, home to the first troubadours, was important in the development of secular song in the vernacular, its major role in Latin song and early polyphony is often not realized. How these pieces were performed and in what context are open questions. They may have been sung by monks for recreation or as additions to liturgical services. It is amazing how many of the St. Martial texts refer to "harmonia" and "symphonia," suggesting the use of instruments and simple polyphony in performance. The second of our two vers is polyphonic — the first line of music creates a two-part texture with the second line, the third with the fourth, and so on.

The manuscript preserved at the Castilian monastery of Las Huelgas dates from the 14th century. It is an anthology of earlier music, some as old as the 12th century. Many pieces in this large source belong to the French and particularly Parisian repertory of the 13th century, but there are numerous examples of native Spanish work as well. One interesting thing about the Las Huelgas codex is that it is written in much less ambiguous notation than most earlier sources containing similar music. All of our examples, except the beautiful prosa, In sapiencia, are polyphonic, and demonstrate the powerful and beautiful effects these composers could achieve with very limited means.

The English pieces performed here instrumentally are not really Christmas pieces at all. Excelsus in numine is a motet in honor of St. Thomas of Canterbury, although the radiant, luminous quality of the piece reflects the mood of the season. The concluding English works are two of three such pieces preserved in modal notation without texts. They have always been presumed to be instrumental works, probably dances. The fact that they are virtually indistinguishable from parts of texted conducti of the time encourages some of us to look to the large conductus repertoire as a way to extend the very limited surviving body of medieval instrumental music. Angelus ad virginem (Gabriel, fram heven-kinge), in addition to being an Advent song, has the distinction of being the one piece of music that has a direct association with Geoffrey Chaucer. The dandy young scholar in "The Miller's Tale" sings it to the accompaniment of a psaltery in order to charm his lady visitors. There are several surviving versions, all of which may be heard here.

Although we usually think of 14th-century music as predominantly polyphonic, it is worth noting that polyphony was the exception rather than the rule in most churches in Italy during this time. It was cultivated only by a very small circle of musicians and cognoscenti. The instrumentally performed works in this group are from the very few late 14th-century Italian sources of liturgical polyphony, and show a decided French influence. The opening Benedicamus Domino is in a style more appropriate to the 13th century, and probably does date from that period. Paolo's setting of the same text is the only one of our polyphonic selections written in the style of Italian madrigals of the time. The Kyrie and Egardus' Gloria are much more like French mass movements. The sung tunes are laude, that is, popular, folk-like songs which may have been used in street processions. Melodically, these engaging pieces seem to reveal the influence of the troubadours, Gregorian chant, and perhaps folk song. Laude were used, if not sometimes written, by the wandering groups of penitents which arose because of the devastating wars and plagues between 1250 and 1350. These people sought to atone for the sins of the world by flagellating themselves, as well as by singing. Our examples, fortunately, are celebratory in nature, so we need not imagine tortuous original performances.

In early 15th-century England, the Church had by no means completely succeeded in its struggle against native paganism. Especially among the common people, customs and beliefs from the old religion were still maintained. The medieval Church dealt with this problem in many ways. Some customs, such as the hanging of wreaths of mistletoe and ivy, were simply absorbed and became integral parts of popular Christianity. To reach the largely illiterate masses, however, the Church had to use every possible attraction. Important feasts, especially Christmas, were made as elaborate and eye-catching as possible, with colorful processions and much music to ornament the liturgy. The first Christmas carols have their origins here. Their basic purpose was to involve the people in the Church through instructive texts, beautiful melodies, and dance-like rhythms. The word carole in previous centuries referred to a dance song, and the dance-like quality still seems present in many of these 15th-century examples. At any rate, the anonymous composers of these carols certainly must have achieved their aims. The simple, warm beauty and lively motion of these songs capture perfectly a Christmas spirit that has not changed since the 15th century.

Robert Eisenstein




medieval.org
worldcat.org
cdbaby.com
Bard 837101 4415 3 7
2007



Digitally remastered with four bonus tracks
from Sing heigh, Ho! Unto the green holly!

before 'old' track#1, Natus est rex:
1 • Lux Hodie...orientis Partibus [2:21]

after 'old' track #25, Nowell sing we:
27 • Noel, Nowell: I Am Here, Sire Christesmas [2:14]
28 • Abide [1:05]
29 • The Boares Head [3:12]