Balletto. Renaissance Harp / Nancy Hurrell

---


cdbaby.com
hurrellharp.com
Radian Arts
2005










1. Balletto, belo da balar [1:47] Vincenzo CAPIROLA. (1474-1548)

2. Doria Colonna [1:38] Fabritio CAROSO (Nobilta di Dame, 1600)

3. Branle Pinagay [1:41] Thoinot ARBEAU (Orcheosography, 1589)

4. Pavaniglia [1:23] Cesare NEGRI (Le Gratie d'Amore, 1602)

5. Pavana con su glosa [3:21] ANTONIO [de Cabezón] (1510-1566)

6. Pavana alla venetiana [2:16] Joan Ambrosio DALZA (Intabulatura di Lauto, 1508)

7. Cantiga 100. Santa Maria, strela do Dia [2:26] Spain (13th century) CSM 100

8. Cantiga 29. Nas mentes senpre teer [2:03] Spain (13th century) CSM 29

9. Combien que j'aie ensoie [1:40] Reina Codex (14th century)

10. Pavane. Bel fiore [3:05] Intabulatura Nova (1551)

11. Pavane Ferrareze [2:18] Pierre PHALESE (Premier Livre de Danseryes, 1571)

12. Il Bianco Fiore [2:16] Cesare NEGRI (Le Gratie d'Amore, 1602)

13. Pavane. Si par soufrir [3:25] Tielman SUSATO (Danserye, 1551)

14. Fusi pavana piana [2:32] Intabulatura Nova (1551)

15. Quando nascette Ninno [1:37] Italian carol

16. La Canarie [1:42] Michael PRAETORIUS. (1571-1612)

17. Italiana [1:53] Anon. (17th century), trans. Oscar CHILESOTTI

18. Le Campane di Parigi [2:34] Anon. (17th century), trans. Oscar CHILESOTTI

19. Bransle de la Torche [1:48] Michael PRAETORIUS. (1571-1612)

20. Hermit's Branle [1:19] Thoinot ARBEAU (Orcheosography, 1589)

21. Cantiga 282. Par Deus [3:41] Spain (13th century) CSM 282



Nancy Hurrell, harps
Douglass Freundlich, lute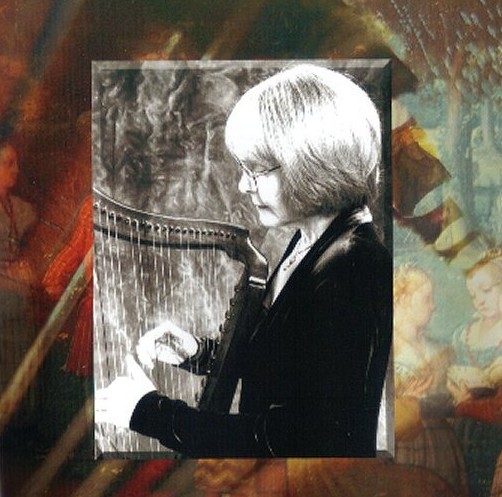 Nancy Hurrell performs on historical harps in solo concerts in the US, Canada, Ireland and England. In Boston, Nancy is the harpist in early music groups including Ensemble Musica Humana, Cappella Clausura, Musicians of the Old Post Road and Renaissonics, playing for concerts, Boston Early Music Festival, and WGBH radio. Nancy is a harp consultant for the Museum of Fine Arts, Boston, assisting with the historical harp collection and is a teacher of Renaissance harp at Brandeis University and the Boston Conservatory. Many of the arrangements on this recording appear in her books: "Historical Harp Collection, Vol. 1 & Vol. 2". Douglas Freundlich, lute, joins Nancy on tracks 4, 12 and 16.





HARPS
Catherine Campbell, copy of 17th c. German single-row harp. Museum of Fine Arts, Boston
George Riggs (England), medieval Gothic bray harp

ARRANGEMENTS
Nancy Hurrell, Historical Harp Collection. Vol. 1, published by Afghan Press.

CREDITS
Recording Engineer/Editing: Jonathan Hurrell, Design: Bobby Thorp, Radiant Arts Inc.

THANKS to
John Tyson, RENAISSONICS, Doug Freundlich, Catherine Campbell, Judy Kadar, Andrew Lawrence-King, Dorothy Olsson, and Afghan Press.

COVER
16th c. painting of dancers and musicians, on the lid of a spinet, Victoria & Albert Museum, London.
Woodcut of Renaissance harp: Praetorius Syntagma musicum, 1619.




* * *





In the 16th and 17th centuries, dance was an important part of the social life in the courts of Europe. Ladies and gentlemen took dance lessons from the dancing masters attached to the courts. The dancing masters Fabritio Caroso, Thoinot Arbeau, and Cesare Negri wrote dance manuals with music included. The dance music fit the steps and formations exactly. In Caroso's book, Nobilta di Dame, 'On the Nobility of Ladies', (1600), the music was composed for lute, which transcribes beautifully for harp. "Doris Colonna", from Caroso, was a popular renaissance tune for improvising on a ground, and is known in other versions as Spagnoletta.

"Il Bianco Fiore" and "Pavaniglia" appear in Negri's dance treatise, Le Gracie d'Amore (1602). "Il Bianco Fiore" (The White Flower), a galliarde, is an athletic dance with high leaps. "Branle Pinagay" is from Arbeau's Orchesography (1589); dance tunes with corresponding steps are clearly presented, and useful drawings of dancers are included. The bransle is a circle dance, with kicks and jumps. The "Hermit's Branle" is a mimed branle, where the dancers make the greeting gestures of hermits [men of a Religious Order]. In "Bransle de la Torche", by Michael Praetorius (1571-1612), dancers carry torches as they leave the circle to select new partners. "La Canarie" also appears in a Praetorius collection; the tune in duple time was music for the canario, a Spanish dance with stomping and flourishes.

"Balletto, belo da balar" (Balletto, beautiful for dancing) is by Vincenzo Capirola (1474-1548), an Italian lutenist and composer of noble lineage. A balleto was a type of light dance song or madrigal with a 'fa-la' refrain. "Pavana alla venetiana" by the Italian lutenist, Joan Ambrosio Dalza, was published by Petrucci in 1508. Dalza named his dances according to their regional origin. The pavane is a stately, slow couples dance. "Bel fiore" (Beautiful flower) and "Fusi pavana piana" (fuso, It. "joined together") appear in the collection, Intavolatura Nova (1551). Composed for the keyboard, the elaborate ornamentation is written into the arrangement.

"Pavana con su glossa" by Cabezon is an early harp piece in the form of theme and variations. It is in the collection by Venegas de Henestrosa, Libro de cifra nueva para tecla, harpa y vihuela (1557). Sixteenth century collections of dance and instrumental music, such as Danserye (1551) by Susato and Premier Livre de Danseries (1571) by Phalese were full of popular tunes of the day and were arranged in four and five parts. In this recording, the "Pavane Ferrareze" and "Si par souffrir" [If through suffering] are taken from these collections and arranged for harp. "Italiana" is a popular 16th century piece, also known as Villanella, Currant, or Volte. The drone is meant to imitate rustic bagpipes. "Le Campane di Parigi" ("Bells of Paris") is a lute piece from Madrigali, Villanelle ed arie di danze. It portrays the change ringing of church bells. Both pieces were collected by the 19th century musicologist Oscar Chilesotti (1848-1916), and were later used as themes in Ottorino Respighi's "Ancient Airs and Dances."

From an earlier time, the French chanson. "Combien que j'aie ensoie", has a romantic theme of longing: 'Though I am and have been away from you longer than I would wish...'. From the Reina Codex (14th century), this song from the French Ars Nova has typically long wandering phrases. The Cantigas de Santa Maria are devotional songs to the Virgin Mary from 13th century Spain. King Alfonso X (1321-1284) collected over 400 songs. Some may have been composed by himself. The cultural mix of Muslims, Christians and Jews found in Alfonso's court, is reflected in the cantigas, with Middle Eastern harmonies and rhythms, combined with the Christian songs of praise to the Virgin Mary.