Rosa das Rosas / Kings and Beggars

---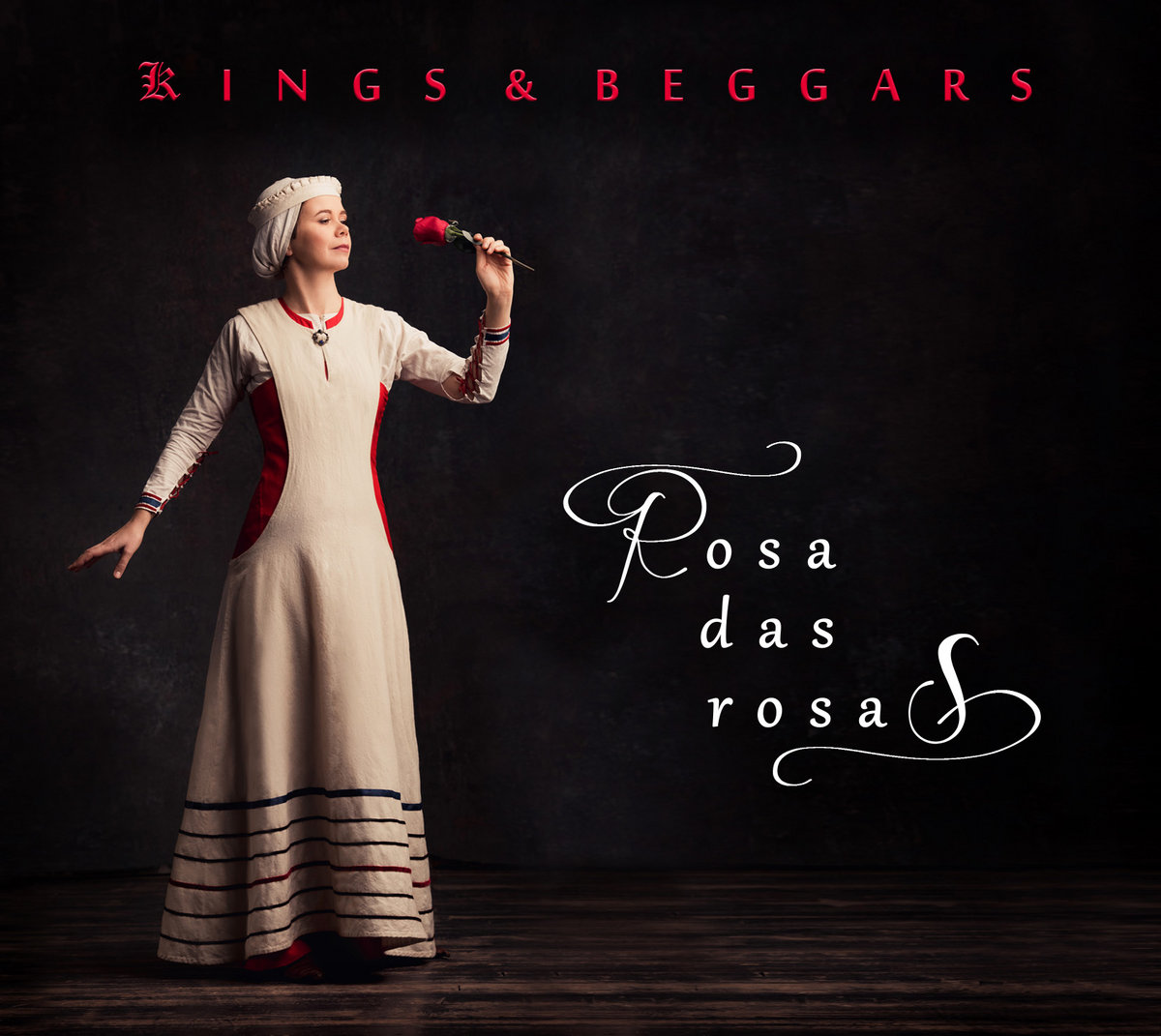 kings-and-beggars.com.ua
bandcamp.com
spotify.com
© 2018 Kings and Beggars






1.

Como poden per sas culpas

[4:10]

CSM 166



2.

Porque ben Santa Maria

[5:11]

CSM 327



3.

Pode por Santa Maria

[5:31]

CSM 163



4.

Non sofre Santa Maria

[5:37]

CSM 159



5.

Des oge mais quer' eu trobar

[1:55]

CSM 1



6.

Quen a omagen da Virgen

[3:29]

CSM 353



7.

A Virgen Santa Marķa

[6:03]

CSM 8



8.

Maravillosos e piadosos

[3:46]

CSM 139



9.

Santa Maria strela do dia

[2:55]

CSM 100



10.

Miragres fremosos

[4:01]

CSM 37



11.

Como Deus fez vinno d'agua

[4:59]

CSM 23



12.

A que por

[5:57]

CSM 384



13.

A Madre de Jesu-Cristo

[1:55]

CSM 302



14.

Da que Deus mamou

[3:43]

CSM 77



15.

A Virgen mui groriosa

[6:17]

CSM 42



16.

Quen quer que na Virgen fia

[5:39]

CSM 167



17.

Rosa das rosas

[5:36]

CSM 10








XIII century Castilian court was known as a science and art centre from Pyrenees to the Alps.
Musicians, dancers and singers drove to the court of Alfonso X the Wise,
and not only Christians but also people of other believes.
We want to show this educated multicultural society of those old times.













Kings and Beggars

Anna Vasylchenko — medieval fiddle, recorders, litvinian shawm, galician gaita, vocals
Yevhen Grinevich — recorders, medieval shawm, vocals
Marta Hovdysh — hurdy-gurdy, recorders, vocals
Max Kerner — bass citole, oud, vocals
Artur Temchenko — medieval drum, tar, daf, pandereta, percussion, vocals

Guest musician: Anton Korolev — tarota





Recorded, mixed and mastered by Max Kerner at MAX220 Studio, Lviv, 2016-2018
Sound engineering: Max Kerner and Anna Vasylchenko
Designed by Artem Bulat, Anna Kozlovska and Anna Vasylchenko
Photos by Arina Kozlovska




youtube.com:
"Rosa das Rosas"
Full medieval show









Thanks

Kings & Beggars thanks Dmytro Pliska and Kateryna Uspenska for help in selling our albums!

Anna thanks all members of Kings & Beggars for pieces of individuality they have put in this work! Also thanks to Artem Bulat for as always invaluable input in the life of the ensemble and comprehensive support :)

Max thanks to Lusiena for inspiration and cosiness, my sweethearts Valery, Ksu and Mikefor joy, my dear mother for patience and caring and everyone from K&B for pleasant work and providing me with cheese during mixing and mastering process.

Eugen thanks all in Kings & Beggars for their existence in this world :)

Marta: Sincere thanks to all members of the band for all the jokes, funny moments and fantastic creative atmosfere. Thank you for taking me into the family and kindly having endless patience for me being an annoying perfectionist. Seriously, guys, you're the best.

The Cantigas de Santa Maria (CSM), composed at thee court of king Alfonso X of Castile in the second half of the XIII century, is a vast repertory of poetry in medieval galician. The 420 compositions include 353 narratives of miracles of the blessed Virgin Mary as well as a large number of devotional and liturgical poems, almost all set to music, and many illustrated by miniatures divided into smaller panels. The CSM are thus more than a body of literature or a miracle collection, they are a cultural project of great importance for medieval literature, music, and art, and for the history of patronage. Alfonso X's 'Cantigas Project' occupied most of his reign (1252-1284) and was seen by him as an important part of both his political survival and his personal salvation.

In his last will and testament of 21 january 1284, written in Seville, seventy-four days before his death, Alfonso X decreed that all the cantigas codices be housed in the cathedral of that city, where his body was to be interred and that the cantigas de loor should be sung in the cathedral on the feast days of the Virgin. According to José. M. Llorens Cisteró, the king's wish was honored on feast days, not only in the cathedral, during the procession, but also in religious ceremonies at court and in popular festivities.

By the middle of the fourteenth century, however, interest in the cantigas had begun to decline until they were totally forgotten.

Four contemporary manuscripts survive: To (the Toledo ms, now in the Biblioteca Nacional de Madrid), T (the Códice Rico, in The Escorial Library), E (the Códice de los Músicos, also in The Escorial) and F (the Florence ms, in the Biblioteca Nazionale Centrale, Florence). They represent at least three different compilations or stages in the elaboration of the Cantigas Project: an early collection of 100 poems to which appendices were added (To); followed by a much expanded and highly ornamental collection of 400 (T+F) of which the second volume (F) was left in an incomplete and possibly disordered state; and a reference collection of 400 (E) with many imperfections and signs of hasty completion.


Como poden per sas culpas (CSM #166) - Because of his sins, a man suffered an illness that twisted his lambs and left him crippled. He stayed that way for five years. He vowed that if he were cured he would take a quantity of wax to Salas every year. He was immediately cured. Without delay, he went to Salas with the wax. Although he had not walked for a long time, he was nimble and felt no pain. He thanked and praised Mary for the miracle.

Porque ben Santa Maria (CSM #327) - A church dedicated to the Virgin stood outside the town of Odemira. 1t was a venerable church and many miracles were performed there. A woman offered to the church a finely woven altar cloth. It measured a little more than a vara, a priest admired the cloth and coveted it. He stole it and took it to his house. He had a pair of underpants fashioned from it. He put on his new underwear and lay down, but he could not sleep because his heels began to press into his thighs. The pain was excruciating, and, confessing his sin, he called on the Virgin. He repented and had a large linen cloth placed on the altar. He was taken to the church and everyone prayed for him to the Virgin. She cured him and they praised her name.

Pode por Santa Maria (CSM #163) - A gambler, playing dice in Huesca, lost everything and renounced the Virgin. He was instantly crippled and struck dumb. He could not move from that place, and if he wanted something he had to gesture for it, using sign language, he asked to be taken to Salas. At Salas, he gazed at the Virgin's statue and asked her pardon. The Virgin healed him and he praised her from then on.

Non sofre Santa Maria (CSM #159) - Some pilgrims took lodging at an inn and ordered bread, wine and meat for dinner. Then they went to the church to pray. A servant girl stole one of the nine pieces of meat. On their return, the pilgrims discovered that the meat was missing and asked the Virgin to recover it. The piece of meat jumped up and down, striking the sides of the chest in which it was hidden, the pilgrims rejoiced, recovered the meat, and hung it from a silk cord in front of the Virgin's altar at Rocamadour.

Des oge mais quer eu trobar (CSM #1) - Cantiga de loor, instrumental

Quen a omagen da Virgen (CSM #353) — instrumental


A Virgen Santa Maria (CSM #8) - A minstrel, Pedro de Sigrar, was singing and playing fiddle in front of a statue of the Virgin. He prayed to the Virgin to give him a candle and she caused one to rest on his fiddle. A monk, the shrine treasurer, snatched it back, and accused the minstrel of sorcery. The candle returned to the fiddle and the people, seeing this, did not allow the monk to take it away from the minstrel again. The monk acknowledged the miracle, repented, and asked the minstrel's pardon. Every year the minstrel brought a candle to the Virgin's church.

Maravillosos e piadosos (CSM #139) - A woman took her son to church and commended him to the Virgin so that he would be kept safe from harm. The little boy, who was eating a piece of bread, ran up to the statue of the Virgin and Child. He offered the bread to the child, saying: "Do you want a bite?" the Virgin told her son to invite the little boy to dine with him in heaven. The infant Christ spoke to the boy, promising him he would eat with him in heaven the following day. The little boy died. He went straight to heaven.

Santa Maria strela do dia (CSM #100) cantiga de loor, instrumental

Miragres fremosos (CSM #37) - a man felt a burning sensation in his foot and lay before the altar in a church dedicated to the Virgin. The pain was so intense that he had his foot amputated. Nevertheless, he continued to pray to the Virgin to perform a miracle on his behalf. While he was sleeping, the Virgin stroked his foot and healed the flesh. When he woke up he examined his foot. After discovering that it had been restored, he began to walk around. Everyone who heard the news came to see it and gave thanks to the Virgin. They held her miracles to be more glorious than those of any other saint.

Como Deus fez vinno d'agua (CSM #23) - The Virgin saved a lady of good character from embarrassment. A king happened to visit her and she gave him meat, fish, bread, and barley, but she had very little wine. She tried to buy some wine, but could not obtain any. She went to a church and prayed to the Virgin, vowing never to wear wool or linen again. Her prayer was answered. The king and his companions had plenty to drink and both rich and poor found plenty of wine in the woman's cellar.

A que por (CSM #384) - There was a monk, an ordained priest who delighted in saying the hours of the Virgin and reading the lives of the holy fathers. He also wrote very beautifully, whenever he came to write Mary's name, he painted it in three colors: gold, blue and rose. The monk carried Mary's name with him and kissed it frequently to overcome the devil. Once, he fell gravely ill. The abbot and all of the monks gathered around him. One was appointed to stay at his side, since he was in such a terrible condition. The appointed friar fell asleep and saw the Virgin Mary appearing at the sick monk's bedside. She told him not to be afraid and promised to take him to Paradise. She said that his name was written in the Book of Life because he had written hers in three colors. Then the Virgin took the sick monk's soul. When the friar discovered that the sick man had died, he rang the bells. The monks and the abbot came quickly and he told them about the miracle. The monks praised the Virgin and the abbot had the miracle put in writing.

A madre de Jesú-Cristo (CSM #302) - instrumental

Da que Deus mamou (CSM_ #77) - A woman was almost entirely paralyzed. Her limbs were shriveled and twisted, and no medicine could cure her. She was carried on a litter to the church of the Virgin in Lugo and kept vigil there. On the Virgin's feast in august, mary straightened her limbs. Each of her limbs made a loud cracking sound as the shrunken tendons stretched. The bishop and the people who witnessed her healing wept and gave thanks to the Virgin.

A Virgen mui groriosa (CSM #163) - During tile renovation of a church in Germany, a statue of the Virgin was moved temporarily from the altar to a portico in the town square. Some young men were playing ball in the square. One of the youths was wearing a ring given to him by his beloved. Thinking the ball could damage it, he put it on the finger of the statue for safekeeping. Kneeling before the statue, he placed the ring on its finger. He promised the Virgin that he would never love another lady, and that he would be faithful to her. The statue closed its finger around the ring, and the people seeing this, advised the young man to join the cistercian order. He disregarded his promise to the Virgin and married his girlfriend. On his wedding night, as he was lying in bed, the Virgin appeared to him and rebuked him for being unfaithful to her. The bridegroom would not leave his bride, so the Virgin lay down on the bed, and separated him from his wife. She demanded that he leave at once. He was so frightened that he got up at once, and wandered through the wilderness for a month. Later, he lived as a hermit in a grove of pine trees and served the Virgin.

Quen quer que na Virgen fía (CSM #167) - A moorish woman from Borja had a beautiful son. The boy became ill and died. His mother had heard of the miracles performed by the Virgin of Salas and she decided to trust in her. Despite the objections of other moorish women, she commended her son to the Virgin and bought a wax image to offer at Salas. She went to Salas, carrying her dead son. She prayed to the Virgin, keeping vigil all night long. The Virgin revived the child although he had been dead for three days. The woman converted to Christianity.

Rosa das rosas (CSM #10) - cantiga de loor