Music for a Winter's Eve: Bringing Light to the Darkness
Susan Rode Morris · Shira Kammen · Eileen Hadidian · Maureen Brennan · Julie Jeffrey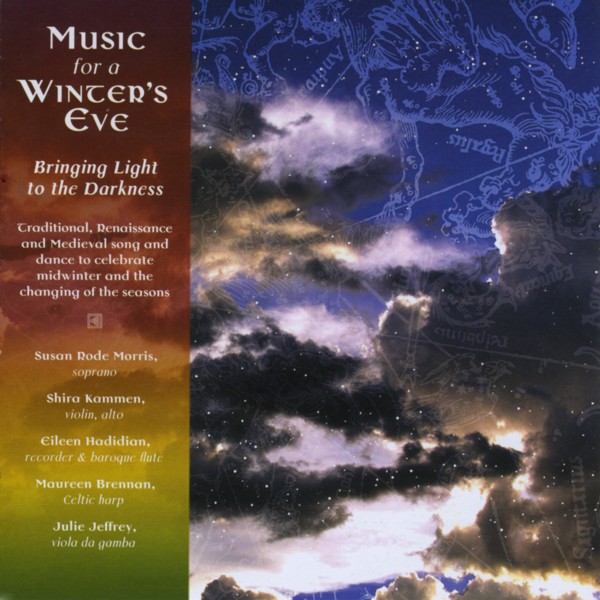 magnatune.com
Magnatune
2012






Traditional, Renaissance and Medieval song and dance
to celebrate midwinter and the changing of the seasons.




CHRISTMAS & NEW YEAR

1. One yeir begins (Lady Lothian's lilt) [1:36]
Anonymous 17th century Scottish

2. Taladh Chriosta (Christ-Child Lullaby) [3:46]
Traditional Hebrides (Eriskay Island)

3. Chestnut / Daphne / Scotch Cap

[6:23]
Playford's The English Dancing Master, 1651

4. There was three kings into the East [4:42]
Robert Burns (1759-1796)

5. The blud-red rose at Yule [2:43]
Robert Burns, set to the tune of 'To daunton me'

6. Christmas eve / day / New year's night [4:41]
Traditional Irish/English

7. Drive the cold winter away [2:13]
Dancing Master (arrangement by Anne Hodgkinson)


A WINTER'S TALE

8. Tourdion / Dehors lonc pr&eacute: [5:30]
16th century French / 13th century French

9. Lullay, lullow [2:50]
15th century English

10. Broome, bonny broome / Grimstock / Jog on [4:11]
Dancing Master


THE SCOTTISH HIGHLANDS

11. Cauld blaws The Wind [1:21]
Robert Burns

12. Stingo / Under and over / Kathren Oggie [4:45]
Dancing Master

13. The gloomy night is gath'ring fast / O, wert thou in the cauld blast [4:36]
Robert Burns


HOME & HEARTH

14. O'Carolan's rambel to Cashel [3:24]
Turlough O'Carolan (1670-1738)

15. Homeless Wassail [3:39]
Ian Robb

16. Calliope house / Pipe on the hob / The ale is dear [3:37]
Traditional Irish

17. Wassail song [1:47]
Traditional English





Recorded June 10-17, 2003 at Muscletone Studio, Berkeley, CA
Recorded and Mastered by Derek Bianchi
Graphic Design & Cover Photoillustration: Doug Chompson

Special Thanks to:
Kit Higginson for his help as producer (tracks #2, 4, 7 & 17), and
all the Friends of Healing Muses who have made this project possible

Homeless Wassail recorded with special permission from Ian Robb
Words and music by lan Robb. ©1998,
performing rights affiliation - SOCAN

℗ © 2003 Healing Muses Recordings, Albany, CA



ARTISTS

Susan Rode Morris — soprano
Shira Kammen — violin, alto
Eileen Hadidian — recorder & baroque flute
Maureen Brennan — Celtic harp
Julie Jeffrey — viola da gamba


Susan Rode Morris is a singer of unusual versatility whose accomplishments encompass a wide range of repertoire and musical styles. A native of the San Francisco Bay Area, she has received much critical acclaim for her expressiveness and naturlaness in singing, as well as her communicative presence. She is a founding member of Ensemble Alcatraz and has sung with many ensembles including Philharmonia Baroque Orchestra, American Bach Soloists, Sequentia Köln, Sex Chordae Consort of Viols, Magnificat, Women's Philharmonic, and FOOLIA! Susan has premiered numerous works by Bay Area composers, including opera and theater pieces. She founded a recording company, Donsuemor, which has released three compact discs, including songs of Henry Purcell and the 18th century Scottish poet Robert Burns. A special love of Susan's is teaching children the joy of singing in small private schools. She owns a baking company (Donsuemor) which supplies the U.S. with fresh madeleines.

Shira Kammen received her degree in music from UC Berkeley and studied vielle with Margriet Tindemans. A member for many years of ensembles Alcatraz, Project Ars Nova and Medieval Strings, she has also worked with Sequentia, Hesperion XX, the Boston Camerata, Anne Azema, Kitka, and the King's Noyse, and is the founder of Class V Music, an ensemble performing on river rafting trips. Shira happily collaborated with singer/storyteller John Fleagle for fifteen years, and performs now with several new ensembles: Fortune's Wheel, a medieval ensemble; Ephemeros, a new music group; Panacea, an eclectic ethnic band; and Trous Bras, a dance band devoted to the music of Celtic Brittany. She has started her own recording label, Bright Angel Records.

Eileen Hadidian received her DMA in Early Music from Stanford University. She has appeared in concert throughout the western United States, and was the founder and artistic director of Hausmusik, an early music concert series in Albany, CA showcasing local musicians in new and innovative programs. She is the recipient of the annual Citizen in the Arts Award, given by the City of Albany to honor a significant contribution to the arts. Eileen's encounter with cancer has led her to explore ways in which music can help critically and chronically ill people by promoting relaxation, diffusing pain, and reducing anxiety. Her non-profit organization, Healing Muses, brings healing music to Bay Area hospitals, hospices and convalescent homes, and is the recipient of grants from the East Bay Community Foundation and The Institute of Noetic Sciences.

Maureen Brennan is an accomplished performer, playing both early classical and Celtic music on the Irish harp. She has toured throughout the U.S. and Canada in a variety of ensembles, and has performed for cruise ships in Alaska and Tahiti. She continues as a soloist for Irish and Scottish events throughout the Bay Area, and as the harper with Wake the Dead, a Celtic/Grateful Dead crossover band. Maureen's appearances include San Francisco Performances at Six, Noontime Concerts at St. Patrick's Church, the Oakland and the Young Museums, the Lick Observatory Summer Music Series, the Festival of Harps, and the Freight and Salvage. She teaches at conferences throughout the U.S. and has recorded five CDs, included the world acclaimed Harpestrv collection.

Julie Jeffrey began her professional career in Chicago, where she served as assistant director of the University of Chicago Collegium Musicurn under Howard Mayer Brown and Mary Springfels. Since her move to the San Francisco Bay Area, she has appeared in concert with Magnificat, The Newberry Consort, A Sett of Vyolls, Class V Music, Flauti Diversi, the Carmel Bach Festival, and 1hc California Shakespeare Festival, and she is a member of Sex Chordae Consort of Viols. With Ensemble Sans Souci she has explored innovative reincarnations of old and new music, and with the Celtic ensemble Distant Oaks she continues to exercise her interest in expanding the viol's repertoire beyond conventional boundaries.





Twelfth Night or Epiphany, a feast celebrated January 6, was identified with the coming of the three Wise Men. in Europe it is a special occasion for observing surviving pagan winter solstice celebrations, encouraging the turning of darkness into light and the coming of the New Year, and celebrating the beginning of Carnival season.

Our recording expresses many of the sentiments associated with the New Year, the changing of the seasons, the rebirth of life and wishes for good fortune and prosperity, through medieval and traditional carols, songs by the famous Scottish poet Robert Burns, and Renaissance and traditional dances from England and Ireland.

The carol, a traditional song type in English, originally covered a variety of subjects. Although we have come to associate it with the celebration of Christmas, the carol includes many songs to the Virgin and various saints, stories of the Epiphany, the Passion, the seasons, celebrations of nature, and lullabies such as Lullay, lullow.

The wassails are of pre-Christian origin, taking their name from the words of the toast (wæs hæl, be whole). Wassails usually included good luck wishes for the house, the master thereof, and all his herds and crops for the new year. A good example is the Wassail Song. Ian Robb's poignant Homeless wassail touches upon a different aspect of the holiday season, the plight of the homeless in winter. Robb quotes older wassail songs and carols in his contemporary and timely setting.

Lady Lothian's lilt (One yeir begins) is an old song found in the Scottish volume of the large corpus Musica Brittonica. it is unusual in that it uses a much wider vocal range than many of the songs from the period.

Scotland's national poet Robert Burns lived during the latter part of the 18th century. He grew up in very humble conditions, was educated at home, and labored hard on his father's farms. At an early age he began to write poetry that allowed him to express what was in his heart and mind. He also loved music and made the collecting of Scottish songs parts of his life's work. He travelled throughout his country collecting native tunes that existed with or without verses, or only in fragments, and he created rhymes to complete them. After his reputation as a fine poet was firmly established, he found a publisher in Edinburgh with the same goal: to make a collection of Scottish songs. Together they published the Scots' Musical Museum, to which Burns contributed over two hundred original and revised traditional songs.

The gloomy night is gathering fast was written as Burns was preparing himself to leave his homeland forever and sail to Jamaica, having been seriously jilted by his lover. He set it to the tune Roslin Castle, which is haunting, dark and passionate. O wert thou in the could blast is the last song Burns wrote. As he lay on his deathbed, he was cared for by a young nurse named Miss Jessie Lewars. He was inspired to write this one last song to her, because of her kindness to him. He called upon her that if she would play him her favorite tune on the harpsichord and teach it to him by ear, he would compose verses for it.

Could blows the wind is set to the tune Up in the morning early. The tune was first printed in Scotland around 1755 without words, but it was a well-known melody going by the names of Stingo, The Oyl of Barley, and Cold and Raw, and was published by John Playford in the 1695 edition of The English Dancing Master. This popular tutor, first published in 1651, was the first book to give music and dance instructions specifically for country dancing. A compilation of well-known tunes from different sources, many of them dating back to the 16th century, The English Dancing Master was expanded and reprinted many times between 1651 and 1728. A number of Playford's tunes, such as To drive the cold winter away, appeared as both songs and dances.

Turlough 0' Carolan (1670-1738) was the last of the great 18th century Irish harpers. Blinded by smallpox when he was eighteen, he turned to music and the harp. His patron, Mrs. McDermott Roe, taught him the basic skills, then provided him with a harp, a horse and a guide. Thus began O'Carolan's career as an itinerant harper. He roamed through Ireland and composed hundreds of tunes. Many of them were dedicated to his patrons, who would provide him with room and board, and sometimes pay, in exchange for an evening's entertainment. O'Carolan drew his inspiration from three sources: native folk melody, the Irish harp tradition, and contemporary Italian composers, such as Geminiani, who lived in Dublin towards the end of his life and whom O'Carolan met.

- Eileen Hadidian & Susan Rode Morris