The Dawn of Joy |

Chominciamento di Gioia

/
Shira Kammen · Margriet Tindemans
Songs and Dances from 14th-Century Italy |

Canti e Balli del Trecento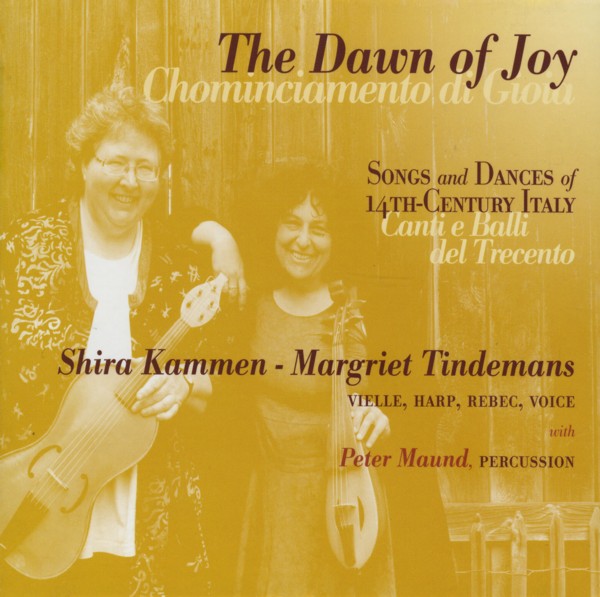 shirakammen.com
magnatune.com
Magnatune
2010





1. Cavalcando con un giovane accorto [1:45] Magister PIERO da Firenze (14th c)

2. Non al suo amante [3:16] JACOPO da Bologna (fl. c. 1340-55)

3. Chominciamento di gioia [6:48] British Library, Add. 29887
Peter Maund, percussion

4. Un fior gentil m'apparse [3:25] Antonio Zacara da TERAMO (14th c)

5. Ochi dolenti mie [3:22] Francesco LANDINI (1325?-1397)

6. Lamento di Tristano — La Rota (MT) [4:25] British Library, Add. 29887

7. Salterello [3:14] British Library, Add. 29887
Peter Maund, percussion

8. O Petre [2:35] Johannes CICONIA (c. 1373-1411)

9. Salterello di virtu [3:43] Margriet Tindemans
Peter Maund, percussion

10. Lucente stella (MT) [2:35] Codex Rossi

11. Dança amorosa — Troto [2:41] British Library, Add. 29887

12 - [4:41]
Per allegreçça · Francesco LANDINI
Istanpita Allegreçça · Margriet Tindemans

13. Ballata I'voi che tu ritrovi amore [3:18] GHERADELLO da Firenze (d. 1364)

14. Pianza la bella iguana [3:12] Codex Rossi

15. A Sea of Stars [5:23] Margriet Tindemans

16. Ave maris stella [1:43] Codex Faenza

17. Salterello [2:44] British Library, Add. 29887

18. Mille merçede amor [2:14] EGIDIUS de Francia (14th c)

19. La bionda treçça [1:52] Francesco LANDINI

20. Principio di virtu [6:21] British Library, Add. 29887
Peter Maund, percussion




Shira Kammen and Margriet Tindemans - vielle, rebec, harp, voice
with Peter Maund, percussion (tracks 3, 7, 9 & 20

Engineer: Derek Bianchi
Recorded June 18, 22, 23, 24, 2010 at MuscleTone Studio, Berkeley, California
Editing : Shira Kammen, Margriet Tindemans, Derek Bianchi
Mastering: Derek Bianchi
Design: Christine Marie Larsen, Seattle, WA
Photo by Dobbie Reinard




The Dawn of Joy

Chominciamento di gioia, or The Dawn of Joy, is the title of a dance from a collection of instrumental pieces in what is known (quite prosaically) as British Library, Additional 29987. This manuscript, now in London, contains 119 compositions, all by composers of the Italian Trecento. Among the best known today are Francesco Landini, Niccoló da Perugia, and Jacopo da Bologna. The instrumental works in the manuscript are grouped together and consist of several Istanpitte, Salterelli, and other dances. All have intriguing names, such as the title dance of our CD. Another memorable title, Principio de Virtu, might refer to a connection of the manuscript with the Visconti family in Milan: Gian Galeazzo Visconti was known as the Count of Virtù.

The Istanpitta, or Estampie, is the only medieval dance form for which descriptions as well as music have survived. Each phrase, or punctum, in an estampie is repeated. A refrain of differing length is inserted after each iteration of a phrase, alternating open and closed endings. The Salterello follows the same principle but tends to be shorter and less complicated in character.

It is quite extraordinary that these dances were written down at all, since we know that the players of these pieces, known as minstrels or jongleurs, mostly improvised their art. Successful minstrels needed a tinker's bagful of talents. According to Guiraut de Calançon (Fadet Joglar), they were expected to play at least nine instruments, have a knack for storytelling and songwriting, sing, improvise dances, juggle, perform magic tricks, demonstrate acrobatic skills, catch little apples on knives, imitate birdsong, jump through four hoops, and, if possible, dance with bears!

Although playing for dancers would have been an important part of the professional musicians' job, they didn't hesitate to play vocal works. They made their own arrangements or improvised on songs their audiences knew. Even in church this practice was not unknown: the famous hymn Ave maris stella served as the base for a highly ornamented version in the Faenza Codex, a 15th-century manuscript containing instrumental arrangements of mostly 14th-century vocal polyphony.

Women played instruments, as amateurs and as professionals. Francesco da Barberino, in his Reggimento e costumi di donna, a 14th-c. treatise on the education of young women, states that they should learn to play instruments, especially the vielle and the harp; they should know how to sing and compose text and music and be able to perform these songs, accompanying themselves. In Boccaccio's Decameron female musicians outnumber the male players.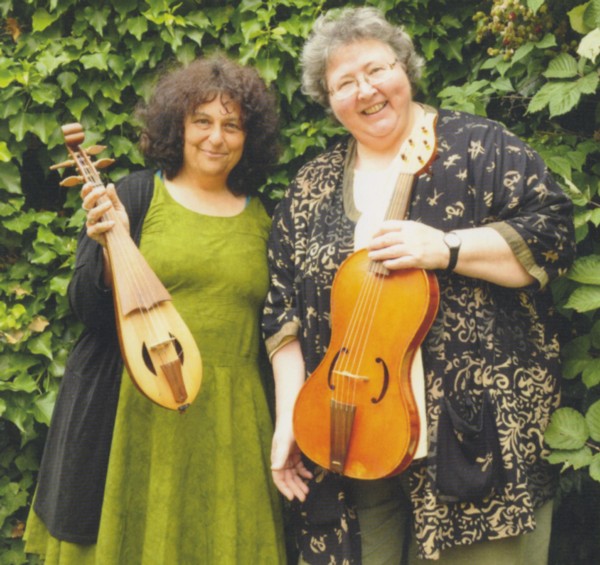 SHIRA KAMMEN and MARGRIET TINDEMANS cover the range of early to modern string instruments, from the medieval vielle, rebec and harp to the viola da gamba, violin, and viola. They have performed and recorded, individually and together, with Sequentia, Medieval Strings, Project Ars Nova, Ensemble Alcatraz, Hesperion XX, the King's Noyse, the Newberry and Folger Consorts, The Harp Consort, the Boston Camerata and Camerata Mediterranea.

Their collaboration, which has lasted over 30 years, has been enriched by Shira's exploration of traditional music and untraditional venues. She is the founder of Class V Music, an ensemble dedicated to performance on river rafting trips, on the Colorado, Rogue and Klamath rivers. Shira's original music is featured in a film about JRR Tolkien fans. She can be heard on several television and movie soundtracks.

Margriet's fascination with music, poetry and languages of the Middle Ages has taken many forms over a long career. After decades of worldwide touring, she is now in her 21st year as the founding director of the Medieval Women's Choir in Seattle. Her creative energies have resulted in numerous medieval instrumental dances and in compositions for the choir. She is also music director of the Northwest Puppet Center in Seattle, for which she regularly arranges 17th- and 18th-century operas, including The Magic Flute, Pulcinella vendicato, and The Dragon of Wantley.

PETER MAUND has performed with early and contemporary music ensembles throughout North America, the United Kingdom, Europe and Israel. Described by The Glasgow Herald as "...the most considerate and imaginative of percussionists," he appears on over 50 CDs and has served on the faculty of the University of California, Berkeley.


Instruments used on this CD:
Vielles by Karl Dennis (Warren, RI), David Van Zandt (Seattle, WA), and Fabrizio Reginato (Treviso, Italy)
Harps by Patti Pike (Boston, MA) and John Fleagle (Boston, MA)
Rebec by John Fleagle (Boston, MA)
Frame drum by Abdulhamid Alwan (Milwaukee, WI)
Darabuka US
Riqq Egypt