Guillaume de MACHAUT

. Unrequited
Liber unUsualis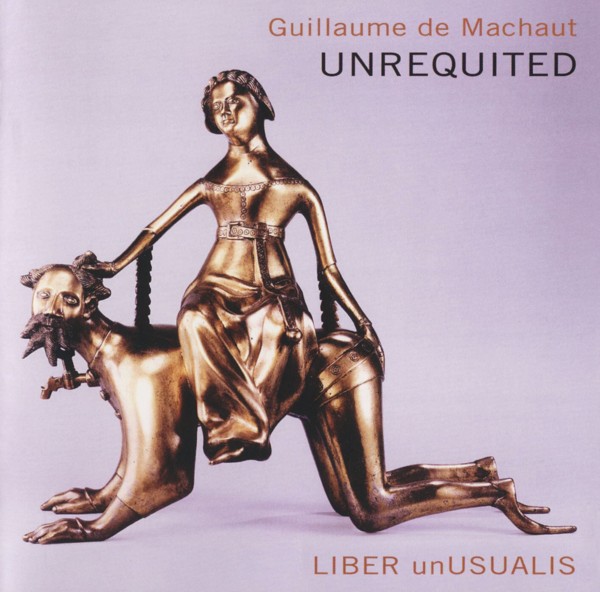 medieval.org
Liber unUsualis 1001
2003






Guillaume de MACHAUT

1. Felix virgo, mater Christi ~ Inviolata genitrix ~
Ad te suspiramus gementes et flentes [3:50]
motet · soprano MG, mezzo-soprano CB, tenors WH, JS

2. Trop plus est bele que biauté ~ Biauté parée de valour ~
Je ne sui mie certeins d'avoir amie [2:28]
motet · soprano MG, mezzo-soprano CB, tenor WH

3. J'aim miex languir en ma dure dolour [5:25]
ballade · tenors WH, JS

4. Dame, ne regardes pas [7:04]
ballade · soprano MG, mezzo-soprano CB

5. Quant en moy vint premierement ~ Amour et biauté parfaite ~
Amara valde [3:40]
motet · soprano MG, mezzo-soprano CB, tenor WH

6. Donnez, signeurs, donnez à toutes mains [5:22]
ballade · mezzo-soprano CB, tenors WH, JS

7. Martyrum gemma latria ~ Diligenter inquiramus ~
A Christo honoratus [3:26]
motet · soprano MG, mezzo-soprano CB, tenor WH

8. Je ne cuit pas qu'oncques à creature [5:44]
ballade · mezzo-soprano CB, tenor WH

9. Dame, de qui toute ma joie vient [6:23]
ballade · soprano MG, mezzo-soprano CB, tenors WH, JS

10. Qui es promesses de Fortune se fie ~ Ha! Fortune trop sui mis ling de port ~
Et non est qui adjuvet [1:45]
motet · mezzo-soprano CB, tenors WH, JS


Pierre des MOLINS
11. De ce que foul pense [5:43]
ballade · soprano MG, mezzo-soprano CB, tenor WH


Franciscus ANDRIEU
12. Armes, amours, dames, chevalerie ~ O flour des flours de toute melodie [7:24]
ballade · soprano MG, mezzo-soprano CB, tenors WH, JS



LIBER unUSUALIS
Melanie Germond, soprano
Carolann Buff, mezzo-soprano
William Hudson, tenor
with
Jordan Sramek, tenor






PROGRAM NOTES
by Carolann Buff


One of the more famous images of Guillaume de Machaut (c.1300-1377) is of the composer encountering Nature who presents to him her children—Science, Rhetoric, and Music. Machaut certainly utilized these gifts in all that he undertook. In his lifetime, he produced over 100 known musical works including a complete mass and wrote numerous poems included in some 70 different manuscripts. Known as a great composer and poet in fourteenth-century France, his lasting influence still ripples outward to performers and scholars today. Machaut's existing legacy is remarkable because of his careful attention to the smallest details of his works, the sheer volume of his musical and literary output, his attentive supervision and organization of his manuscripts, the quality and presentation of his music, and the large number of musical genres in which he was fluent. Even in his own time, Machaut was considered one of the primary influences on music composition in the fourteenth century.

Despite being born into a family of simple means, Machaut managed to enter the circle of his influential and wealthy patrons. Very early in his career he was employed by Jean of Luxembourg, King of Bohemia, and later by Jean's daughter, Bonne. Other notable personages who patronized Machaut were Charles II King of Navarre, Jean Duke of Berry, Philip the Bold Duke of Burgundy, and future kings Charles V and John II of France. In addition to employment by nobles, Machaut held several well paying benefices as canon, as at Reims Cathedral and at the Church of St. Quentin in Vermandois, which kept him in considerable financial stability for much of his life. This substantial wealth and his relative fame allowed him the luxury of time and freedom to mold carefully all of his works, literary and musical, into art.

Machaut is best known for being the link between the "new art" of music innovated by Philippe de Vitry (1291-1361) and the style of composition of the later middle ages. Vitry's compositional system is based upon the enormous range of musical expression made possible by new notational techniques explained in his treatise, Ars nova (c. 1322). Machaut used these notational devices and existing poetic forms to create a new and distinct sound in his compositions, having a lasting influence on the next two generations of composers.

The isorhythmic motet, a musical genre based on borrowed plainchant melodies or fragments and organized into rhythmic and melodic groups, had steadily gained prominence as a formula since its conception in the twelfth century. Until the 1330's, this form was a lyric genre, often in the vernacular with multiple texts, with literary themes such as love and fortune. Two examples are the motets Quant en moy vint premierement / Amour et biauté parfaite / Amara valde and Qui es promesses de Fortune / Ha! Fortune trop sui mis ling de port / Et non est qui adjuvet. In the 1340's, this practice changed. The multiple texts and the Latin tenors remained, but the texts of the upper voices became more political, with motets dedicated to particular persons or in honor of certain events. The motet Felix virgo, mater Christi / Inviolata genitrix / Ad te suspiramus gementes et flentes is a prayer for peace to the Virgin Mary after the siege of Reims by the English during the Hundred Years' War. Martyrum gemma latria / Diligenter inquiramus / A Christo honoratus is a motet in honor of St. Quentin, probably written for the Collegiate Church of St. Quentin Vermandois. One motet that serves both lyrical and honorary functions is Trop plus est bele que biauté / Biauté parée de valour / Je ne sui mie certeins d'avoir amie. This motet is unusual because, although it is a late period motet, the upper voices sing vernacular texts. The tenor is also not a piece of Latin plainchant, but probably a French song tune. In addition, the tenor is not truly isorhythmic, but organized like a rondeau. Scholars conjecture that the style of text setting and the rhythmic organization of this piece reflect Machaut's mature style, circa 1350, and that the song may have been intended as a memorial benediction to Bonne of Luxembourg. Machaut consistently places this motet last in his manuscripts highlighting the final "Amen" in the text.

The ballade genre, unlike the motet, is a relatively new song form in the fourteenth century. Machaut borrowed the form from poetry and is credited for being a major innovator in this genre. The duet ballades such as J'aim miex languir en ma dure dolour; Dame, ne regardes pas; and Je ne cuit pas qu'oncques creature reflect Machaut's careful attention to the original poetic forms, matching the text to his musical settings. Poetry and music were irrevocably linked in all of Machaut's writings. Not only did he conceive of the music and text as one idea, but he also segued comfortably from narrative to poem to song. Dame, de qui toute ma joie vient from the longer literary work, Remede de Fortune, is a song sung by the protagonist, the poet, after seeing his beloved in a garden and being comforted by the character of Hope. One ballade, Donnez, signeurs, donnez toutes mains, is unusual because the text's theme is more similar to honorary motets being composed in the late fourteenth century than the common topic of unrequited love prevalent in other ballades. This ballade, on the subjects of largesse and the honor of nobility, may have been intended for Jean Duke of Berry who was sent as a hostage to the English in the terms spelled out at the Treaty of Brétigny in 1360. One ballade in this collection is not by Machaut, although it was attributed to him in at least one manuscript and is published in many manuscripts together with Machaut's compositions. De ce que foul pense, by P. de Molins (fl. mid-fourteenth century), was probably the most widely circulated piece in fourteenth-century France and is even woven into a tapestry called "Le Concert." Molins, like Machaut, was associated with Jean Duke of Normandy (later King Jean II of France). His beautiful song setting reflects how well the ballade form had influenced Machaut's contemporaries.

Machaut's own voice is clearly heard in his music not only because of carefully created and preserved manuscripts which the composer himself oversaw, but also because he is certainly the author of almost all the poems which he set to music. The texts from Machaut's prolific output of poems present a clear image of the man, his lusts, and his tribulations. Most notably, his words illuminate the image of a great composer and artist. By combining poetry, song forms and music, Machaut fully realizes the offerings Nature has given him: the genre formulas are the presence of Science; Rhetoric is in his poetry; and his wonderful melodies are the gifts of Music.

AIthough there are many clues to performance in Machaut's manuscripts, so much more abundant than any of his contemporaries, there are certain challenges that remain for the modern performer. The issue of tuning, especially for voices that so easily slide into just intonation, is notable. Machaut clearly intended his music to have a certain element of tension and release which is heightened by tuning in the Pythagorean system. The wide major third of Pythagorean tuning leads the ear to resolve outward to the pure fifth and the narrow minor third inward to the unison. Another adjustment for the modern performer is the emphasis on the linear as opposed to the vertical. What might appear as syncopation in modern meter is really a shift by an eighth or quarter note of a horizontal line. Performers succeed when they consider the interaction between voices as happy coincidences of conjunction leading to common goals. The texts, so obviously important to Machaut the poet, must be pronounced in an older style of French vernacular or French Latin to facilitate rhyme schemes and to add to the colors of the texts, particularly the ballades that are simply musical poems. Finally, it is important to resolve how to handle untexted musical lines. Scholars still debate whether these are intended as instrumental or vocal parts, but as Liber unUsualis is an all-vocal group and many of the pieces work as all-vocal textures, the decision is whether to add a text or leave the part on a single vowel. For each piece, a choice was made as to what adds or subtracts to the text and if texting a line is even suitable or possible.

The one piece not mentioned above is not by Machaut but about him. In a great tribute, the poet Eustache Deschamps and the composer F. Andrieu, both Machaut's contemporaries, prepared a double ballade upon his death. Their tribute Armes, amours, dames, chevalerie / 0 flour des flours de toute melodie is perhaps the most eloquent and fitting description of the works and life of Machaut:


Tres doulz maistres qui tant fuestes adrois,
[O] Guillaume, mondains dieus d'armonie:
Aprés vos fais qui obtendra le choys
Sur tous fayseurs? Certes ne le congnoys.
Vo nom sera precieuse relique,
Car l'on ploura en France [et] en Artois
La mort Machaut, le noble rethouryque.
Sweet master of skill so adept,
William, worldly god of song:
Who will win election after you
Above all artists? Surely, I do not know.
Your name shall be a precious relic, for
Men will mourn in France and Artois the
Death of Machaut, noble fashioner of song.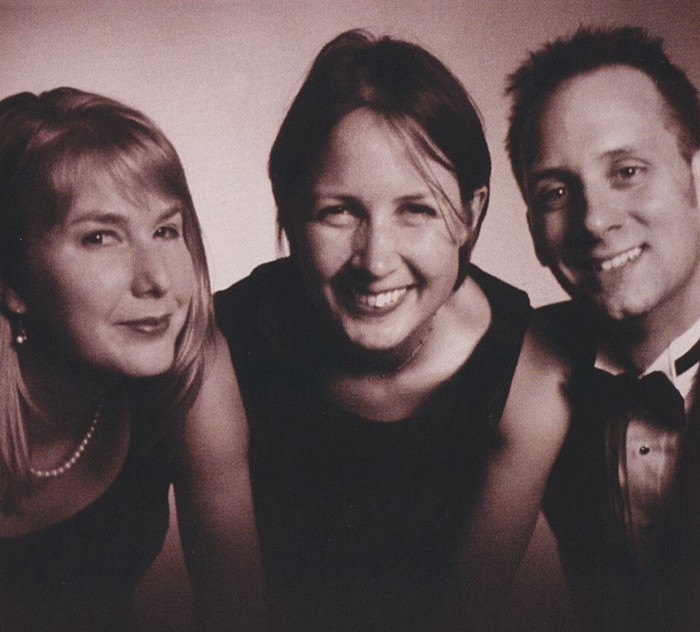 ABOUT LIBER unUSUALIS


Hailed by The Boston Globe as "deeply moving," Liber unUsualis is internationally recognized for their interpretation and performance of medieval music, engaging audiences with inventive programming and technical mastery of the repertoire. Since forming in 1996, they have garnered critical acclaim both in the U.S. and abroad, as winners of the 2002 International Young Artist's Presentation—Early Music in Antwerp, Belgium; an unprecedented "Honourable Mention" at the 1997 Early Music Network's International Young Artists Competition (U.K.); and as semi-finalists in the 1999 Concert Artists Guild's Competition (U.S.). The trio has performed extensively throughout the U.S., and has performed abroad at international music festivals in England, Wales, Belgium, and Spain.

The members of Liber unUsualis (Melanie Germond, soprano; Carolann Buff, mezzo-soprano; and William Hudson, tenor) each hold Master's degrees in historical performance from Longy School of Music. This shared academic background allows the group to unify their programs with research into both original manuscripts and scholarly editions as well as a thorough attention to historical context. The ensemble remains strongly committed to reaching beyond the academic and technical aspects of performing Medieval and early-Renaissance repertoire, continually exploring ways to express the underlying emotion of the music. The group has presented several workshops and lecture-demonstrations that emphasize their unique approach to historical performance at Harvard and Tufts Universities, as well as other academic institutions throughout the United States. Since 1999, Liber unUsualis has been Ensemble-in-Residence at the Episcopal Cathedral Church of St. Paul, Boston where they present an annual concert series along with performance workshops on various repertoires.

Liber unUsualis has developed and performed a broad range of programs that span from the earliest florid polyphony of the St. Martial repertory to the refined harmonies of the Flemish Renaissance masters. The ensemble's next recording project will be of their program "Forgotten Flyleaves: Music of Medieval England," available on Passacaille in 2004.

Guest artist Jordan Sramek studied early vocal performance at the College of St. Scholastica in Duluth, Minnesota. Now a resident of St. Paul, he is the Founder/Artistic Director of The Rose Ensemble and enjoys an active freelance career as a singer, director and teacher. He was awarded a Minnesota State Arts Board Fellowship for Performing Musicians in 2000 and received a 2002 Arts Board Career Opportunity Grant for his research in medieval Irish chant and polyphony.



MANY THANKS TO
Simon Carrington
Mark Engelhardt
Pete Goldlust
Joel Gordon
Nina Hinson
Richard & Lois Hudson
Kathryn Karczewska
Scott Metcalfe
Michael Rogan & Hugh Wilburn
Gil & Nathalie Rose
Jordan Sramek
Catherine Stephan
Margaret Switten

and several much appreciated Anonymouses
who know who they are

ACKNOWLEDGMENTS
Recorded at Church of the Redeemer, Chestnut Hill, Massachusetts
on June 4-8, 2002 (#2, 4, 5, 7, 8, 11) & July 18-20, 2002 (#1, 3, 6, 9, 10, 12)
Recorded, edited and mastered by: Joel Gordon
Producers: Scott Metcalfe & Liber unUsualis
Design: Melanie Germond & Pete Goldlust
Translations: Dr. Kathryn Karczewska
Front Cover: Aquamanile: Aristotle Ridden by Phyllis, c. 1400
Southern Netherlands or Eastern France (Lorraine). Bronze
The Metropolitan Museum, New York. Robert Lehman Collection, 1975
Photos of Liber unUsualis: Liz Linder

Ⓟ & &copy 2003 LIBER unUSUALIS

LIBER unUSUALIS
Info@liberunusualis.com
www.liberunusualis.com