French Chansons. Josquin · Jannequin · Sermisy · Lassus
The Scholars of London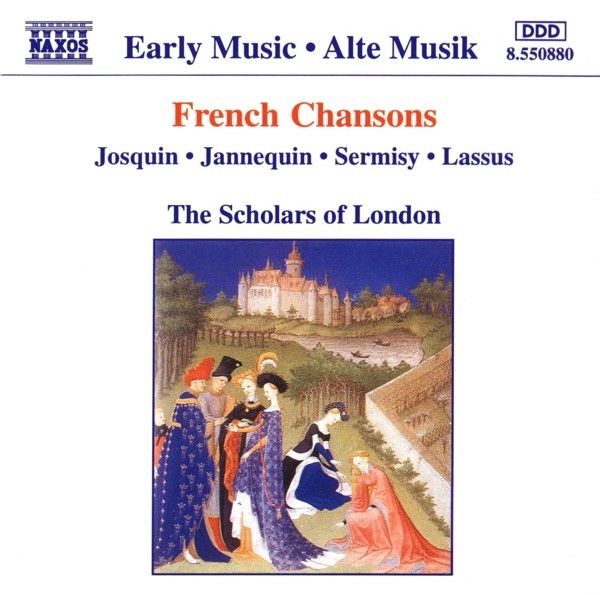 medieval.org
gramophone.net
Naxos Early Musik · Alte Musik S8.550880
1993









JOSQUIN (c. 1440-1521)
01 - Faulte d'argent [2:05]
02 - Mille regretz [1:55]

Clément JANEQUIN (c. 1485-1558)
03 - Le chant des oiseaux [3:15]

Pierre SANDRIN (fl. 1538-61)
04 - Je ne le croy [1:59]

Clément JANEQUIN
05 - Clément JANEQUIN. Or vien ça [2:19]

Nicolas GOMBERT (c. 1500-56)
06 - Aime qui vouldra [2:43]
07 - Quant je suis aupres [1:32]

Claudin de SERMISY (c. 1490-1562)
08 - Tant que vivrai [2:17]
09 - Venez, regrets [2:11]
10 - La, la maistre Pierre [0:59]

Jacques ARCADELT (c. 1505-68)
11 - En ce mois délicieux [2:43]
12 - Margot labourez les vignes [1:06]
13 - Du temps que j'estois amoureux [2:20]
14 - Sa grand beauté [2:52]

Jehan TABOUROT (1520-95)
15 - Belle qui tiens ma vie [2:03]

VASSAL
16 - Vray Dieu [1:03]

Jacob CLEMENS (c. 1515-c. 1556)
17 - Prière devant le repas [2:02]
18 - Action des Graces [2:22]

Pierre PASSEREAU (fl. 1509-47)
19 - Il est bel et bon [1:01]

Claude LE JEUNE (c. 1530-1600)
20 - Ce n'est que fiel [3:46]

Orlando de LASSUS (1532-94)
21 - Bon jour mon coeur [1:29]
22 - Si je suis brun [1:49]
23 - Beau le cristal [1:39]
24 - La nuit froide [2:38]
25 - Un jeune moine [2:18]

Anthoine de BERTRAND (fl. 1561-82)
26 - De nuit, le bien [3:11]

Guillaume COSTELEY (c. 1530-1606)
27 - Arrête un peu mon coeur [4:25]




The Scholars of London



Recorded at St. Silas The Martyr, St. Silas Place, Kentish Town, London
from 15th to 17th May, 1993
Producer / Engineer: Gary Cole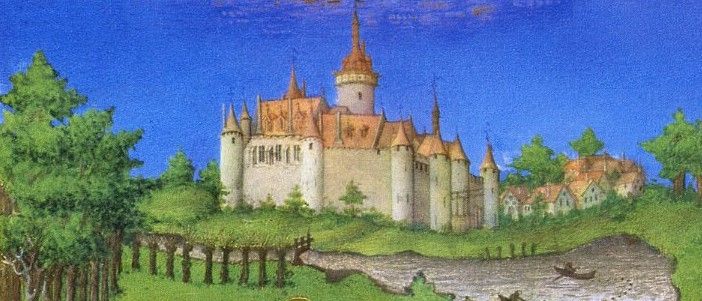 This recording comprises a representative selection from the thousands of French polyphonic songs or Chansons which were composed during the 16th century. This type of music, which had much in common with the Italian Madrigal - its composers included - became popular not just in France but all over Europe. The intention here is to celebrate the sheer variety within the genre, ranging from bawdy #25 to bucolic #10 , from dance #15, #19 to devotion #17, #18 and from the philosophical #23, #24 to the pleasure #16, #26 and pain #11, #27 of requited or unrequited love.

Chansons had already been composed in the 15th century by earlier Franco-Flemish composers such as Machaut [sic], Dufay, Busnois and Ockeghem, to name perhaps the four most famous, but the courtly manner of their music and its verse remained mediaeval in feeling. With the advent of the Age of Humanism however, a musical transformation was brought about through the influence of the leading composer of the time, Josquin Desprez, and his innovative compositional techniques of voice-leading and imitation. His Faute d'argent #1 is a robust canon between alto and baritone, probably based on a scurrilous popular song (see also #10 and #12). Quite different is Mille regretz #2, a tantalizingly short but haunting love song, later expanded by Gombert into a 6-voice version, on which Morales in turn composed a Parody Mass. Such borrowing and reworking was a common feature of composition at the time, and many famous Chansons provided material for masses and dance music. Sermisy, Arcadelt and Lassus were amongst the most frequently honoured in this way.

The music of continental Europe continued to be dominated by composers from the region of Flanders (roughly speaking, modern-day Belgium) until well into the second half of the 16th century. These men pursued international careers - Gombert in Madrid, Arcadelt in Rome, and Lassus in Munich (the only notable exception was Clemens) - and whilst it would be true to say that no composer of the time escaped their influence, that is in no way to belittle the achievement or originality of others such as Clément Jannequin, a native of Bordeaux, and composer of probably the most famous Chanson of all, #3 Le Chant des oiseaux: the great Gombert himself made a three voice version of it, perhaps for the enjoyment of his colleagues and fellow-countrymen in the Emperor Charles V's famous Capilla Flamenca (Flemish Choir).

A markedly different approach becomes noticeable in some Chansons by the Parisian court composers Sermisy and Sandrin. There, a new aesthetic agenda, partly set by progressive poets such as Marot #8 and Ronsard #21, demanded greater emphasis on the Gallic virtues of charm, simplicity and textual clarity as against the relative obscurity of abstract polyphony. The maturation of this style can be heard in the songs by Le Jeune #20 and Bertrand #26, but the Chanson did also continue to develop to a certain extent in a more Madrigalian direction #27.

The printer Attaignant, followed by Le Roy & Ballard in Paris and Susato in Antwerp, successfully published hundreds of Chansons in the course of the 16th century, causing them to be widely disseminated, and incidentally assuring their preservation down to the present day.


Robin Doveton