Medieval and Renaissance Songs of Portugal and Spain
The New York Consort for Poetry and Music
---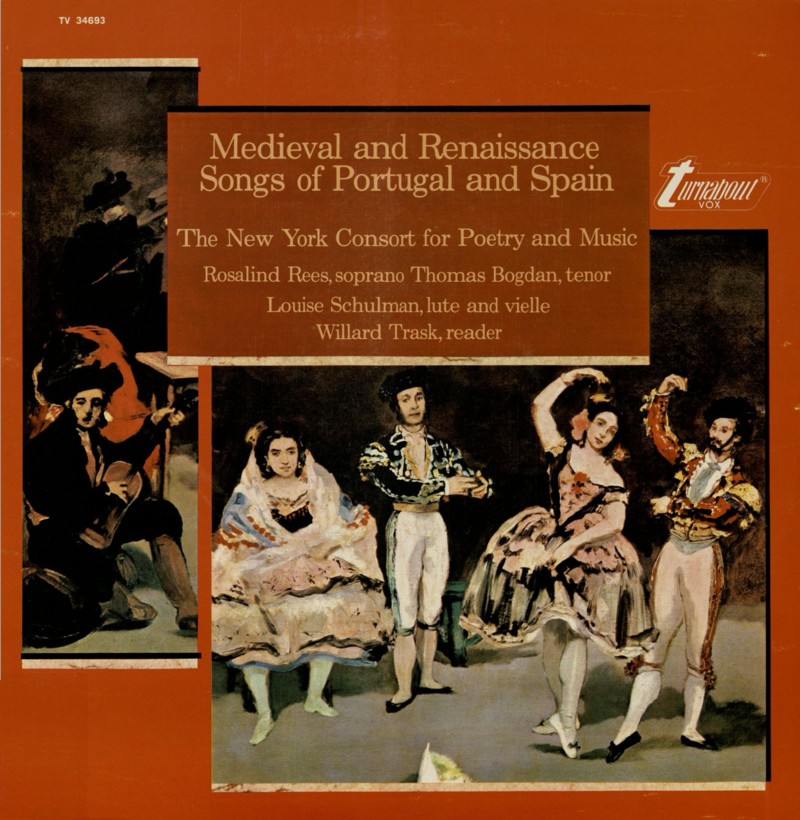 medieval.org
worldcat.org
discogs.com
Vox "Turnabout" TV 34693
1976

C








Side I: THE MIDDLE AGES [25:53]

1. Cedit frigus hiemale [1:32]
anonymous 3-part conductus, monastery of Ripoll, 12th c. — soprano and tenor

2. Tant m'abelis ioys e amors e chans [3:01]
Berenguer de PALAZOL, fl. 1150-1185 — tenor and lute


ALFONSO X, 13th c., Cantigas de Santa Maria
3. Rosa das rosas e fror das flores [4:48] CSM 10 — soprano and lute
4. Como poden per sas culpas [2:55] CSM 166 — tenor and lute


5. Martin CODAX, 13th c., Cantigas de Amigo. Five Songs [10:57]
(a) Ai ondas que eu vin veer [2:20] ca VII — soprano and vielle
(b) Mandad' ei comigo [2:41] ca II — soprano and lute and finger cymbals
(c) Ondas do mar de Vigo [3:13] ca I — soprano and lute
(d) Mia irmana fremosa [1:53] ca III — soprano and vielle
(e) Eno sagrado en Vigo [0:50] ca III — reader


6. Mariam matrem virginem [2:25] LV 8
anonymous 3-part virelai, Llibre Vermell de Montserrat, 14th c. — soprano, tenor, vielle




Side II: THE RENAISSANCE [23:29]

1. Puse mis amores [2:38]
3-part villancico, BADAJOZ, early 16th c. — soprano, tenor, vielle

2. Cuydados meus tão cuydados [2:56]
anonymous 3-part villancico, Cancioneiro Musical, Elvas, early 16th c. — tenor and lute

3. Dindirín [1:20]
anonymous 4-part villancico, Cancionero de Palacio, 16th c. — soprano and lute

4. Triste estava el rey David [3:01]
romance, Alonso de MUDARRA (ca. 1508-1580), Tres Libros — tenor and lute

5. Paseábase el rey moro [2:50]
romance, Miguel de FUENLLANA (d. ca. 1579), Orphenica Lyra — soprano and lute

6. Tú que vienes de camino [1:25]
duet, Francisco de PEÑALOSA (ca. 1470-1528), Cancionero de Palacio — soprano and tenor

7. Falai mi&ntildea amor [1:49]
romance, Luis MILÁN (16th century), El Maestro — tenor and lute

8. Alta [1:22]
dance, Francisco de la Torre (fl. 1500) — 3 lutes


9. Three anonymous villancicos from the Cancionero de Upsala (1556) [5:44]
(a) Dime robadora [1:33] 2-part villancico — tenor and lute
(b) Ay luna que reluzes [2:48] 4-part villancico — soprano and lute
(c) Vesáme y abraçáme [1:23] 3-part villancico — soprano, tenor, vielle





The New York Consort for Poetry and Music

Rosalind Rees — soprano
Thomas Bogdan — tenor
Louise Schulman — lute and vielle

Willard Trask — reader

Guest Musicians:
Peter Bannon and Dennis Godburn, lutes (Side II, band 8)



Recorded on January 28-30, 1976
Recording engineer: David Hancock
Recording edited by Louise Schulman
Musical direction & arrangements by Louise Schulman
Produced by Gomer Rees and Gregg Smith
Translations and notes copyright © 1977 by Willard Trask
TMK(s)® TURNABOUT • Marca(s) Registrada(s) • Printed in U.S.A.
℗ 1977 VOX PRODUCTIONS, INC., 211 East 43rd St., New York, N.Y. 10017





---
Side I: THE MIDDLE AGES (25:53 Min.)

Band 1. Anonymous (12th century ), Cedit frigus hiemale.
Catalonian 2-part conductus from a manuscript in the monastery of Ripoll. The distinguishing feature of the polyphonic conductus is that its tenor was not derived from a plain-song melody but was invented or, more rarely, borrowed from a popular tune. The first three lines of this text (which is in Latin) suggest that it was originally a secular song in praise of spring, later adapted for religious use.
Performance: soprano and tenor. 1:32 min.

Band 2. Berenguer de Palazol, Tant m'abelis joys e amors e chan.
Berenguer de Palazol, who flourished from 1150 to 1185, was one of the earliest Catalonian troubadours. Eight songs of his survive, all with words in Provençal. This one is a typical love song addressed to his lady. Like other troubadours, Berenguer composed both words and melody. The original text comprises five stanzas and an envoy, of which stanzas I and V and the envoy are sung. Original melody with added accompaniment.
Performance: tenor and lute. 3:01 min.

Bands 3 and 4. Alfonso X, Rosa das rosas e fror das frores and Como poden per sas culpas.
These two pieces are from the Cantigas de Santa Maria, a 13th-century collection of 427 songs in praise of the Virgin Mary, with texts in Galician-Portuguese. The manuscripts attribute their composition to Alfonso X, King of Castille and Leon ( 1221-1284), but it is more likely that he only collected them. Most of them are ballads recounting miracles of the Virgin, but every tenth one is a devotional song directly in her praise. Each of them begins with a refrain which is then repeated after every stanza.
Rosa das rosas e fror das frores is the first of the devotional songs. Original melody with added accompaniment. Three stanzas (out of five) are sung. Performance: soprano and lute. 4:48 min.
Como poden per sas culpas is a ballad recounting a miracle of the Virgin. Only the first and last stanzas are sung. Original melody with added accompaniment. Performance: tenor and lute. 2:55 min.

Band 5. Martin Codax (13th century ), Five Songs. 10:57 min.
Out of the nearly 1700 songs (love songs, girls' songs, satires) that have come down to us from the school of secular poets that flourished in Portugal and Galicia from the end of the 12th to the beginning of the 14th centuries, the melodies to only six have been preserved in a single manuscript. Of these six, due to damage to the manuscript, only four can be reconstructed with certainty. They are all by the minstrel Martin Codax, by whom we also have one song the melody to which was not written down.
The four for which we have ascertainable melodies are all girls' songs (that is, the speakers in them are girls) and all of them have to do with the port and pilgrimage city of Vigo, in the Spanish province of Galicia.
Performances (all with added accompaniment):
(a) Ay ondas que eu vin veer, soprano and vielle.
(b) Mandad' ey comigo, soprano and lute and finger cymbals.
(c) Ondas do mar de Vigo, soprano and lute.
(d) Mia irmana fremosa, soprano and vielle.
The one song of Martin's to which no melody was supplied in the manuscript is a love song in which the speaker is a man.
(e) Eno sagrado en Vigo. Performance: reader.

Band 6. Anonymous (14th century ), Mariam matrem virginem.
Religious 3-part virelai, with text in Latin, from the 14th-century Catalonian manuscript known as the Llibre Vermell.
Performance: soprano, tenor, vielle. 2:25 min.


Side II. THE RENAISSANCE (23:29 Min.)

Band 1. Badajoz (early 16th century), Puse mis amores.
Badajoz was a Spanish composer who worked in the service of King John III of Portugal, whose reign was from 1521-1557. This 3-part song of his, with text in Portuguese, is a villancico, one of the most popular forms of the period. In terms of musical structure, the villancico has the pattern ABBA, where the first A represents the opening section, B a contrasting section (which is repeated), and the second A a repetition of the opening section.
Performance: soprano, tenor, vielle. 2:38 min.

Band 2. Anonymous (early 16th century), Cuydados meus tão cuydados.
This 3-part villancico is included in the Cancioneiro Musical preserved in the Public Library of the Portuguese city of Elvas. Text in Portuguese.
Performance: tenor and lute. 2:56 min.

Band 3. Anonymous (16th century), Dindirín.
4-part villancico from the 16th-century Spanish Cancionero de Palacio. The text is in a dialect close to Catalan. The refrain imitates the song of a nightingale.
Performance: soprano and lute. 1:20 min.

Band 4. Alonso de Mudarra (ca. 1508-1580), Triste estava el rey David.
This romance for voice and vihuela is from Mudarra's Tres Libros, published in 1546. The vihuela, the Spanish equivalent of the lute, was used both to accompany songs and as a solo instrument. The school of Spanish musicians who wrote for it are known as the vihuelistas. In musical terms, the romance is a setting for the words of a narrative ballad. This one (of which the Spanish text is only a fragment) is based on the Biblical story of David and Absalon.
Performance: tenor and lute. 3:01 min.

Band 5. Miguel de Fuenllana (died ca. 1579), Paseábase el rey moro. Song for voice and guitara from Fuenllana's Orphénica Lyra, published in 1554. The guitara was an instrument with four courses (instead of the five courses of the vihuela). It was used in popular performances of romances, a whole class of which have, like this one, Moorish subjects. Text in Spanish.
Performance: soprano and lute. 2:50 min.

Band 6. Francisco de Peñalosa (ca. 1470-1528), Tú que vienes de camino.
Vocal duet (incomplete) from the Cancionero de Palacio, with text in Spanish.
Performance: soprano and tenor. 1:25 min.

Band 7. Luis Milan (16th century), Falai miña amor.
Villancico for voice and vihuela, with text in Portuguese. Milan was the earliest of the Spanish school of vihuelistas (see note to Side II, Band 4). This song is from his El Maestro, published in 1536.
Performance: tenor and lute. 1:49 min.

Band 8. Francisco de la Torre (fl. 1500). Alta.
A slow 3-part dance in triple meter with a highly ornamented upper part.
Performance: three lutes (with guest artists Peter Bannon and Dennis Godburn ). 1:22 min.

Band 9. Anonymous (from the Cancionero de Upsala, 1556), Three Villancicos.
The Spanish song-book entitled Villancicos de diversos autores, published at Venice in 1556, has become known as the Cancionero de Upsala because some chance brought the only known copy of it to rest in the Swedish city of that name. 5:44 min.
(a) Dime robadora. 2-part villancico. Performance: tenor and lute.
(b) Ay luna que reluzes. 4-part villancico. Performance: soprano and lute.
(e) Vesáme y abraçáme. 3-part villancico. Performance: soprano, tenor, vielle.


Notes by Willard Trask



---


The NEW YORK CONSORT FOR POETRY AND MUSIC was founded in 1973 in the belief that poetry and music are of equal importance in the art of song. Since its first performance in February of that year (which was saluted by New York magazine as "most lovely, stylish, wonderful, a remarkable occasion"), it has appeared at colleges, universities, poetry societies, and public libraries throughout the United States. Its repertory now includes, in addition to the Spanish and Portuguese Medieval and Renaissance music represented on this record, programs comprising vocal and instrumental music of the Provençal troubadours and the French trouvères, as well as Medieval and Renaissance music of Germany and Italy.

WILLARD TRASK is best known as a poet and translator. Among other works, he has published Medieval Lyrics of Europe and The Unwritten Song: Poetry of the Primitive and Traditional Peoples of the World, in addition to translations of Erich Auerbach's Mimesis and E. R. Curtius's European Literature and the Latin Middle Ages. His translation of Casanova's History of My Life received the National Book Award for Translation in 1967. He has taught courses on medieval lyric poetry at Juniata College and Sweet Briar College. He now teaches a seminar in translation at Columbia University.

ROSALIND REES, soprano, a graduate of the Cleveland Institute of music, has enjoyed an unusual career in the United States and Europe. Her range of repertoire is enormous. She has performed standard oratorio literature with such groups as the Paris Chamber Orchestra, the Syracuse Orchestra, the Waukesha Symphony, the Brooklyn Philharmonic and Musica Aeterna, and is equally active in the 20th Century repertoire, singing over 75 songs of Charles Ives and several works by Webern, Schoenberg and Stravinsky. Miss Rees is soprano soloist with the internationally-known Gregg Smith Singers and, incidentally, wife of director Gregg Smith. In a recent appearance she premiered a new work of William Schuman, "The Young Dead Soldiers," with the National Symphony, Antal Dorai conducting.

THOMAS BOGDAN, tenor, has performed in opera, oratorio and concert throughout the United States. He is a founding member of L'Ensemble, N.Y. City, and has appeared as soloist at the Aspen Music Festival, the Mostly Mozart Festival, and for the Jaffrey Ballet. As tenor soloist with the Gregg Smith Singers he has performed throughout Europe and Southeast Asia as well as in the U.S., singing musical literature from the Renaissance up to the contemporary and avant guard. He was soloist in the world premiere and recording of Ned Rorem's Mass, and can also be heard singing the male leads in Gershwin's opera Blue Monday (TV 34638), and in Blitzstein's opera The Harpies (soon to he released), on Vox/Turnabout records.

LOUISE SCHULMAN is a versatile artist who at present is involved in two successful careers. She plays five instruments: viola, baroque violin, viola da gamba, vielle and lute. She performs worldwide as viola soloist and chamber music artist and has made recordings for Vox, Columbia, Nonesuch and other labels. She has been artist-in-residence at colleges and universities all over the United States and is violist of the Long Island Chamber Ensemble and the St. Luke's Chamber Ensemble. Her career in early music includes, in addition to her activities with The New York Consort for Poetry and Music, numerous guest appearances with such early music groups as the Waverly Consort and the New York Consort of Viols. She is also a founding member of Guido's Other Hand, a Renaissance instrumental trio. She has taught classes in early music at the Juilliard School, Hartt College and Windham College. Miss Schulman wishes to express her continuing gratitude to her teacher, Joseph Iadone.