Wanderers' Voices

. Medieval Cantigas & Minnesang
The Newberry Consort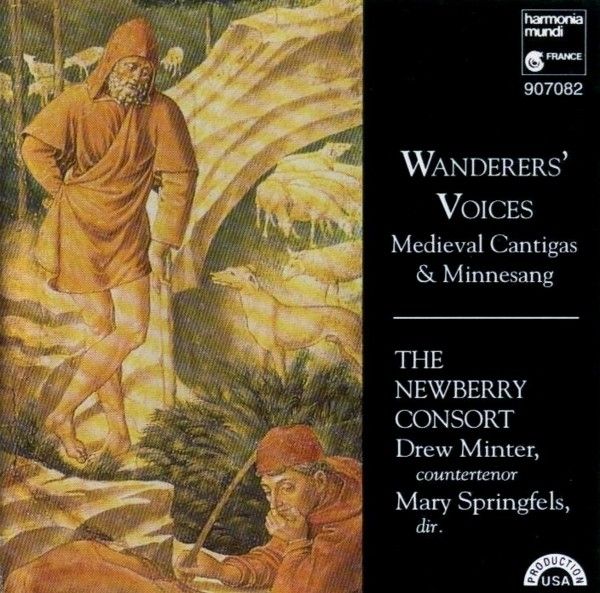 medieval.org
Harmonia Mundi USA 90 7082
1991








Der UNVERZAGTE
1. Der kuninc Rudolp [2:46]
citole, 2 vielles

NEIDHART
2. Sinc an, guldîn huon! [6:14]
voice, rebec, citole
3. Urloup hab' der winder [2:06]
(Pseudo-NEIDHART) instrumental composition based on it
citole, lute
4. Owe dirre nôt! [4:02]
voice, vielle MS

TANNHÄUSER
5. Ich lobe ein wip [3:35]
rebec, vielle MS, citole



Oswald von WOLKENSTEIN
6. Wol auff, gesell [2:52]
citole, 2 vielles
7. Durch Barbarei, Arabia [4:57]
voice, citole, rebec, vielle MS
8. Freu dich, du weltlich creatur [1:23]
rebec, citole, lute
9. Es seusst dort her von orient [12:27]
voice, vielle DD


10. Jocundare plebs fidelis [5:39]
Codex Las Huelgas | 2 vielles



Cantigas de amigo
Martin CÓDAX
voice, vielle DD, lute, citole
11. I. Ondas do mare de Vigo [3:29]
12. II. Mandad'ei comigo [3:41]
13. III. Mia irmana fremosa [1:42]
14. IV. Ai Deus, se sab'ora meu amigo [3:06]
15. V. Quantas sabedes amare amigo [1:25]
16. VI. Eno sagrado en Vigo [1:51]
17. VII. Ai ondas que eu vin veere [2:34]





The Newberry Consort
Mary Springfels

Drew Minter, countertenor
David Douglass, rebec, vielle
Mary Springfels, lute, vielle


Recording: November 18-20, 1991, Skywalker Sound, Nicasio, California
Methuen, Massachusetts
Executive Producer: Robina G. Young
Sessions Producer: Steve Barnett
Recording Engineer: Brad Michel
Editing: Paul F. Witt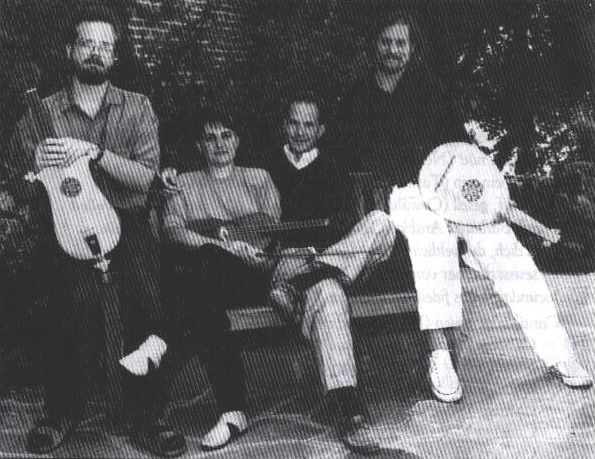 WANDERERS' VOICES


Medieval German love lyric, Minnesang, would never have taken the form it did were it not for wanderers. In the second half of the 12th century the imperial court under Frederick Barbarossa moved frequently throughout the territories under his rule, both in Germany and in Italy. Poets moved too, and it is known that French poets were present at an important festival organized by Barbarossa in 1184. The wandering of the court and the wandering of the poets introduced French and Provençal lyric to members of the imperial court and inspired them to compose German songs on romance models. These songs, quite different from previous German lyric, provided in turn the models for "classical" Minnesang, the remarkable flourishing of German love lyric in the decades around 1200. Minnesang was written, usually by aristocratic poets, to be sung before courtly audiences. For the most part the songs combine a limited number of motives in artful and often rather abstract commentary on the relationship between the knightly singer/poet, the noble woman whom he loves, usually in vain, and the courtly audience to which he addresses his song.

This highly stylized, aristocratic art is the point of reference for Neidhart, a professional singer and therefore, inevitably, a wanderer. Neidhart probably began his career in Bavaria, may have gone on a crusade in 1217, and was active sometime between 1230 and 1246 at the court of the duke of Austria. Such a court would have had the sophistication to appreciate what is at stake when Neidhart takes the conventions of classical Minnesang and transposes them to a peasant setting. Neidhart still praises his beloved in traditional terms, but now he is poor and she is a peasant girl. He employs the traditional vocabulary, but overwhelms it with concrete references to peasant clothing, dances, and proper names. He still has rivals, but they are peasant boys, who usually get the better of him. He offers his beloved his (probably fictitious) home at Reuental — "Valley of Sorrow." Neidhart, the first Minnesänger whose melodies survive in any number, was immensely popular and was often imitated in the later Middle Ages.

While Neidhart's travels seem to have been restricted to southern Germany and Austria, two centuries later Oswald von Wolkenstein (ca. 1376-1445), a nobleman from South Tirol, travelled throughout Europe and beyond. He refers to these travels — perhaps with some exaggeration — at the beginning of "Durch Barbarei, Arabia", contrasting his previous mobility to the unwelcome isolation in which he finds himself back home. Whereas Neidhart creates a concrete but fictional world of peasants, Oswald incorporates specific details from his own life into his songs: his travels, his successes at court, his estrangement from his lord. These are combined with a late medieval genre, a lament on the difficulties of life at home. "Es seusst dort her von orient" draws on another tradition, that of the Tagelied or dawn song, which portrays lovers parting at daybreak. Oswald sets the traditional parting dialogue of the lovers in a world-wide meteorological context, then concludes each strophe with a highly condensed, explicitly erotic refrain.


JAMES A. SCHULTZ


Women's songs were composed in abundance throughout Europe in the Middle Ages. In France, they were called chansons de toile; in Germany, Frauenlied; in Galicia, cantigas de amigo. Each national type evolved its own sets of conventions of character, dramatic situations, and poetic form. We may never know to what extent any of these large repertoires of lyric verse accurately represented the voices of real women. In fact, much of this poetry was written for courtly consumption by men, who presumably performed their own works. The songs might be better understood as impersonations rather than authentic depictions of the female point of view.

The Gallego-Portuguese cantigas de amigo constitute the largest and most attractive genre of medieval women's songs. They owe much of their form and content to ancient traditional Iberian women's popular poetry. By the 12th century, the cantigas de amigo, along with their male-voiced counterparts, the cantigas de amor, were completely a product of the high court culture. Their seeming artlessness was very carefully cultivated.

Over five hundred cantigas de amigo survive today, but only six, written by the mid-13th-century poet Martin Codax, still possess their music. A single, damaged sheet containing seven poems and six melodies was discovered in 1914 in the binding of a later volume. This somewhat enigmatic treasure is now in the collection of the Morgan Library in New York. Even though two of the poems in the Morgan manuscript seem to have been added at a slightly later date, for a variety of stylistic reasons, Codax' cantigas are still generally thought to be a cycle, the earliest song cycle known to Western music.

Given the restricted number of words in the cycle, Codax was able to convey an impressive amount of narrative information. True to the traditions of the cantiga form, the singer is alone. Her absent lover is away on a sea voyage, but she has received word that he will soon return. She is overjoyed but anxious. She rejoices that he is safe and boasts that he is a favorite of the king. She calls out to her mother, who seems to be an ally, and invites her sister to share her seaside watch with her. She has chosen the holy shrine at Vigo as her trysting place. She feels profoundly alone, free even of chaperones or spies. She sings of a time when her lover will swim in the sea with her. She dances for her absent lover in the shrine, describing herself as a woman who has known no man, except her friend. She concludes her solitary vigil with a final invocation to the waves.

Much of the effect of this elegant series of little strophic songs is in its build-up of sensuous and dramatic detail, word by word. The Cantigas de amigo of Martin Codax are in many ways a quintessential medieval artifact. Every element is derivative of some ancient model (which might even include The Song of Songs): poetic originality as we appreciate the concept had very little meaning for the medieval artist or his audience. Nevertheless, this compilation of well-known motifs manages always to be fresh, immediate, and moving, an exquisite expression of longing.


MARY SPRINGFELS