The Mystery of Notre-Dame

. Chant & Polyphony / Orlando Consort
Plainchant and organum from the Magnus liber organi
for the Feast of St. Stephen, Easter and the Assumption of the Blessed Virgin Mary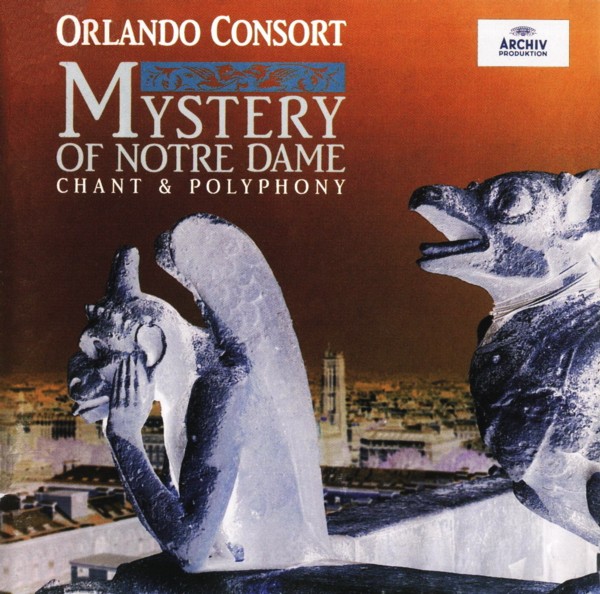 medieval.org
Archiv 453 487
1997









Easter

1. Pascha nostrum immolatus [1:45] Communion

2. Et valde mane una sabbatorum à 2 [10:27] Matins responsory

3. Victimae paschali laudes [2:25] Sequence

4. Cristus resurgens — Dicant nunc à 3 [6:06] Processional Antiphon



Feast of the Assumption of the Blessed Virgin Mary

5. Benedicta à 3 — Virgo, Dei genitrix à 3 [16:09] Gradual

6. Alleluya à 2 — Assumpta est Maria à 2 [8:06] Alleluya

7. Beata es, virgo Maria [2:16] Offertory



Feast of St. Stephen

8. Etenim sederunt principes [4:15] Introit

9. Sederunt principes à 4 — Adiuva me, Domine à 4 [16:22] Gradual (PEROTINUS)

10. Alleluya à 2 — Video celos apertos à 2 [6:43] Alleluya

11. Video celos apertos [1:32] Communion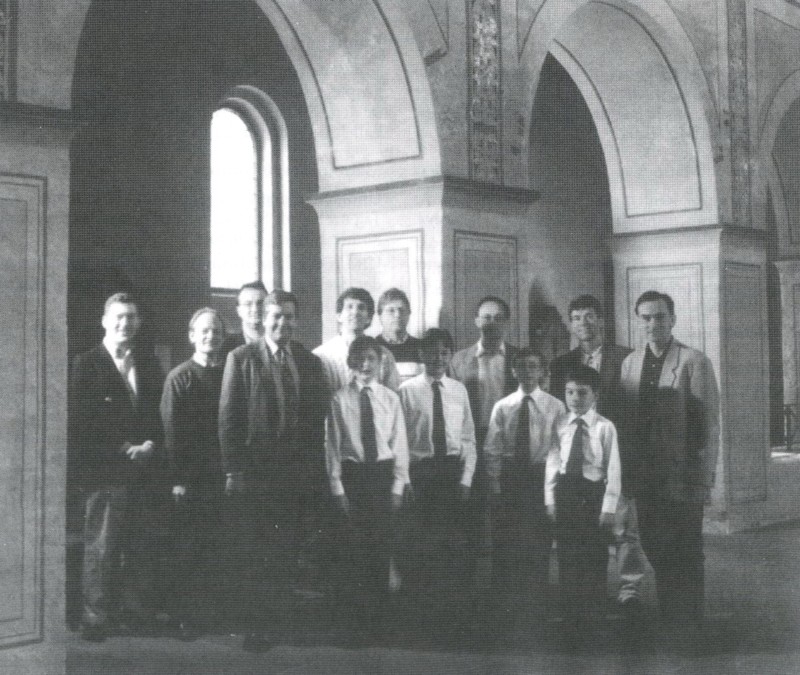 ORLANDO CONSORT
Robert Harre-Jones — alto | director of plainchant
Charles Daniels — tenor • Angus Smith — tenor
Donald Greig — baritone

with Simon Berridge — tenor

Plainchant:
Choristers of Westminster Cathedral Choir
Gerald Beatty • Matthew Davies • Benedict Durbin • Dominic Walker — trebles
Master of Music: James O'Donnell

Stephen Charlesworth • Charles Pott — baritones
Michael McCarthy • Julian Clarkson — basses





DDD 4D
Recording: Mandelsloh (Neustadt), St. Osdag Kirche, 5/1996
Executive Producer: Dr. Peter Czomyj
Recording Producer: Arend Prohmann
Tonmeister (Balance Engineer): Gregor Zielinsky
Recording Engineer: Reinhild Schmidt
Editing: Oliver Rogalla
Editions: Prof. Mark Everist. The music appears in vols. 1-4 of Le Magnus liber organi de Notre Dame de Paris, 7 vols. (Monaco: Editions de l'Oiseau Lyre, 1994)
P 1997 Deutsche Grammophon GmbH, Hamburg
C 1997 Deutsche Grammophon GmbH, Hamburg
Complete art work by Seib Werbeagentur, Hamburg
Illustration "Ile de la Cite" • Bibliothèque historique de la Ville de Paris
Artist Photos: Suzie Maeder (Orlando Consort) · Joachim Rilhl (Mandelsloh)
Art Direction: Lutz Bode
Printed in Germany by/ Imprimé en RFA par Münstermann, Hannover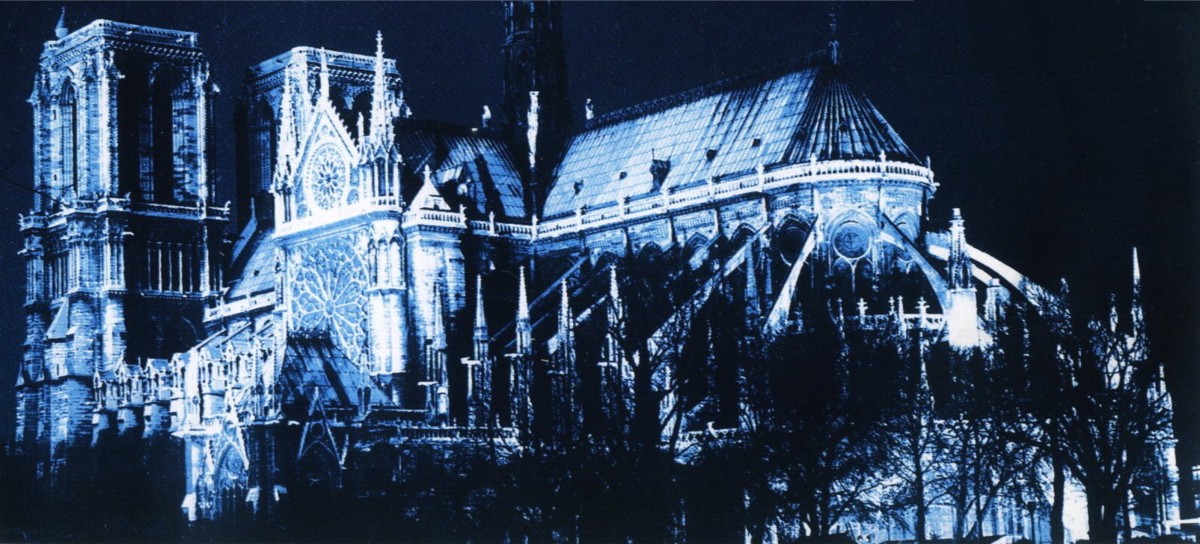 NOTRE DAME POLYPHONY


The history of late 12th-century polyphony was first written a hundred years after the event by a monk who may have come from the Abbey of Bury St. Edmunds; the past has not entrusted us with his name and he is usually referred to by the title he received when his treatise was first published in the 19th century: Anonymous IV. Anonymous as he was, he tells us about two of the most important composers of the fifty years either side of 1200: the magistri Leoninus and Perotinus. Leoninus, we are told, wrote a cycle of two-part settings of the most important chants in the liturgical year - Christmas, Easter, Assumption and other feasts; this cycle was called the Magnus liber organi - the great book of organum. Perotinus and his contemporaries played an important role in the careful recasting and elaboration of this repertory. According to the monk from Bury St. Edmunds, Perotinus either shortened or edited (interpretations vary) Leoninus' great book of organum; long sections of almost improvisatory scope were rewritten according to the tighter principles of discant composition that Perotinus himself may have contributed to codifying. Perotinus wrote organa in three and four parts, and Anonymous IV mentions two works by name: Sederunt principes is one of these. Both Leoninus and Perotinus worked at the Cathedral Church of Notre Dame de Paris; while little is conclusively known about the biography of Perotinus, recent fashion has inclined to identify Leoninus with Leo, a canon of Notre Dame in later life and, incidentally, an author of neo-Ovidian homoerotic poetry.

Musical contributions to the liturgy at the Cathedral Church of Notre Dame were of two types: monophony (liturgical chant) and polyphony (organum). Routine celebration of the Mass and Office was accompanied by a number of plainsong items; in addition to the Ordinary of the Mass, each feast was marked out by its Proper liturgical chants: introit, gradual, alleluya, sequence, offertory and communion (for the Mass) and responsories (for the Office) During the last third of the twelfth century, Leoninus and Perotinus selected some of these chants for reworking in polyphony; Leoninus and his generation composed in two parts (organum duplum) while Perotinus and his colleagues also composed for three and four voices (organum triplum and quadruplum).

Organa of the type that make up Leoninus' Magnus liber organi, and of the type at which Perotinus and his contemporaries excelled, are polyphonic settings of plainsong. The original chants employ two musical styles: the solo sections are elaborately melismatic and contrast with the simpler, more syllabic, sections sung by the schola. It is the melismatic solo sections of the chant that are set polyphonically. The result is that a performance of organum involves polyphony and plainsong. Sederunt principes and Benedicta are both graduals and have the overall structure Respond - Verse - Respond. Within each of these main sections are settings of both solo and choral chants; the Respond consists of polyphony followed by the remainder of the chant, and the same pattern is followed in the verse, and of course in the return of the respond. Usually, the second respond is simply a repeat of the first one, as in the case of Benedicta; in Sederunt principes, the repeat of the respond is fully written out.

Leoninus' organa dupla of the Magnus liber organi took the plainsong and did one of two things with it: he laid out the lowest part (the tenor) in long notes and wrote highly elaborate, rhapsodic lines above it (the duplum); this style of music was called organum per se (medieval terms vary, and theorists took a pedantic pleasure in pointing out the complexities of usage for a term - organum - that could mean a complete piece or a generic style or - as here - a subsection). Alternatively, he took the long melismas of the chant and organized them into repeating rhythmic cells and wrote a correspondingly tight rhythmic duplum above it. The rhythmic organization of this procedure gave rise to what are called the rhythmic modes (this style was called discantus). Both types of music exist within the same composition; the sections based on highly melismatic chants that use the rhythmic modes are called clausulae when they are given discrete, self-contained forms.

In some respects, the organa tripla and quadrupla of the next generation are similar: they take the solo sections of the chant only, and subject them to a polyphonic treatment. When writing for three and four voices, however, the composers adopted different attitudes to rhythm. In the clausulae - as in organum duplum - rhythm and metre are carefully controlled, and the resulting structures are complex and sophisticated. In contrast to organum duplum, the organa tripla and quadrupla do not adopt such an abruptly different style for the rest of the polyphony; here, the composers again employ the sustained-tone tenor (the liturgical-chant in long notes) but now set the two or three upper voices in the same sorts of rhythmic patterns found in clausulae - in other words, patterns where rhythm and metre were strictly controlled. The result is a composition in which the performative flexibility of organum duplum is banished but one in which the composer can fix musical ideas with precision and durability.

The Orlando Consort have selected music from three of the major feasts from the liturgical year: Easter, the Assumption of the Blessed Virgin Mary and the Feast of St. Stephen (26 December). They have merged this focus on three feasts with a range of liturgical items: introit, gradual, alleluya, offertory, communion, responsory and processional antiphon, and offer a range of musical styles: plainsong, organum duplum, triplum and quadruplum.

It used to be thought that the sustained notes in organum duplum were to be held relentlessly: a challenge to breath control and the sanity of the singer taking the part. Re-readings of 13th-century theory suggest that the tenor is responsible for contributing with great subtlety to the texture of the work by breaking the sound, at the same time as one or more of the upper voices, and this is the procedure that the Orlando Consort employ in the recording here.

Although the presentation of the upper voices in the three- and four-part works is largely uncontentious, performing the duplum lines in organum per se is a skill that is difficult to regain at the end of the 20th century. The music notated in the original manuscripts give a mixture of information: some idea of what the composer's overall structure might have been, an idea of at least one (and probably more than one) performer's view of the music - and it has to be remembered that a performer's "view" of this music would almost certainly have entailed changes to pitch and rhythm, and a sense of what a 13th-century editor would have done in trying to copy down and render consistent a wide range of material. So these sections which, in their floridity, resemble late 18th- and early 19th-century coloratura vocal lines, differ in that they are not just blueprints to be ornamented; they are blueprints that have already been partially ornamented, and the singer of the duplum part treads a very careful path between the slavish duplication of a medieval performer's view of the work and the complete recreation of Leoninus' music.

The plainsong on this recording is performed by boys and men that formed the basis of the schola, and is present in every number either in order to complete the liturgical structure of the individual items or as the single mode of presentation in liturgical chant; in the case of the monophony, the use of men and boys serves to contrast the solo and schola sections of the music very clearly.

The editions of the music used in this recording are taken from the manuscripts Florence, Biblioteca Medicea-Laurenziana, Pluteus 29.1 (polyphony) and Paris, Bibliothèque nationale de France, fonds latin 1112 (plainsong).

Mark Everist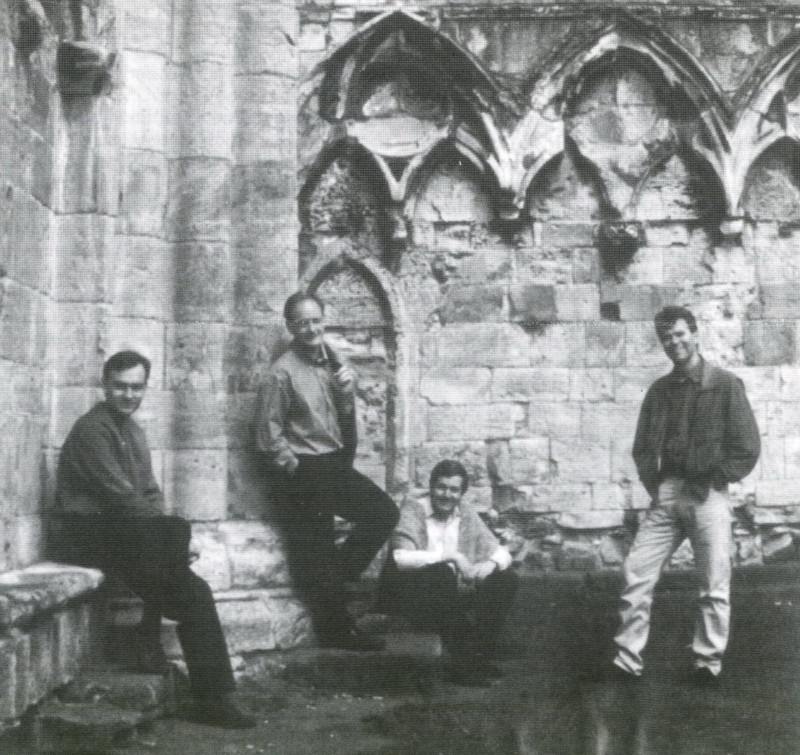 ORLANDO CONSORT


Formed in 1988, the ORLANDO CONSORT has rapidly achieved a reputation as one of the most accomplished and challenging groups performing repertoire from the 11th to the 15th centuries. All the singers in the group are established soloists and have appeared frequently with groups such as the Tallis Scholars, and the Gabrieli and Taverner Consorts. Collaborating
with leading academics on music that has rarely if ever been performed in modem times, they have set new standards of performance, particularly with regard to the tuning and pronunciation of their chosen repertoire.

The Orlando Consort gave highly-acclaimed concerts at the Utrecht Early Music Festival in 1989, 1990 and 1996. In 1991 and 1995 the group undertook extensive tours for both the British and Dutch Early Music Networks. The Consort has appeared in festivals in Belfast, York, Brinkburn, Santander, Antwerp, Bruges, Berlin, Cologne, Frankfurt, Prague, Graz and Padua, as well as in the USA and Canada. They were artists-in-residence at Queen's University, Belfast, for the academic year 1993-94, and in 1996 received the Noah Greenberg Award of the American Musicological Society. Their recording of sacred choral works by Dunstable won the Gramophone's Early Music award in 1996.

The present recording is the second the group has made since signing an exclusive contract with Deutsche Grammophon /Archiv Produktion in 1996; the first was of Ockeghem's Missa "De plus en plus" and a selection of his chansons (DG 453 419-2). Future projects include a recording of chansons by Machaut.








The School of Notre Dame

/ Orlando Consort


LÉONIN • PEROTIN









medieval.org
Archiv 477 5004
2004






CATHEDRAL VOICES
THE ORLANDO CONSORT SINGS MUSIC FROM THE "MAGNUS LIBER ORGANI"


In 1163 Pope Alexander III laid the foundation stone for a building that was to be one of the most daring of all medieval edifices: the Cathedral of Notre Dame in Paris remains a miracle of ecclesiastical architecture, its interior and exterior impressing the observer equally with their powerful and yet seemingly weightless appearance. The work of several architects, the cathedral took almost a century to build, a timescale that is in delightful contrast with the unity of its overall impression.

Even before the building work was complete, a further, audible change had taken place within the cathedral, a change that marked a sudden and decisive development in polyphonic music and that was brought about in particular by the two leading musicians at Notre Dame, Leoninus and Perotinus. Thanks to these two composers, the newly built cathedral became the focus of a musical revolution far greater than anything previously known. If we are able to trace this development today, more than eight hundred years later, we owe this in part to the labours of musicologists, but also and above all to ensembles that have specialized in performing this music and in that way brought these scholarly discoveries to life. There is no doubt that the Orlando Consort is one of the most progressive groups of its kind. Through their association with musicologists and their regular appearances at early music concerts, this four-man ensemble has set standards of performance practice that others have striven to emulate. In particular, their interpretations are characterized by sensitivity to matters of intonation and pronunciation. After such a lengthy period of time, today's audiences can gain access to this fascinating music only if its interpreters allow us to experience its spiritual content, too. And it is very much this that sets the Orlando Consort apart from other early music ensembles. As the Gramophone critic wrote in 1997 on the occasion of the group's first release on the Deutsche Grammophon label, "they sing with such refined intonation that the music is irresistible". That this music would ever be described as "irresistible" is something that earlier generations of musicologists would never have thought possible.

The Orlando Consort owes its success not just to its refined intonation but also to its diction: its French pronunciation of the Latin words colours the liturgical text and invests it with that lean-toned character that recalls Gothic pillars soaring skywards. Synaesthetic impressions of this kind were by no means unknown in the early Middle Ages, for richly ornamented melismas in the solo sections were clearly intended to carry an additional layer of meaning. The Orlando Consort has found a way of performing early polyphony so that it constitutes a positively sensual veneration of God.

The interpretation of the organa dupla — two-part settings — demands a skill on the part of the performers that consists not just of vocal technique but also of an ability to imbue the text with meaning, for the original notation offers only hints at what the composer may have intended in terms of musical texture. As a result, today's singers have the task of putting themselves in the position of singers from the Middle Ages and at the same time fathoming the practices associated with 12th-century notation. All of this demands a considerable intellectual effort to come to terms with the spirituality of the period. The upper part of the duplum will succeed only if the singer knows what he is doing from a stylistic point of view: modal rhythm must be understood, and the often rhapsodical melodic lines must be meaningfully structured and related to the tenor line beneath them. To achieve this requires the singer to perform a tightrope walk between merely imitating his medieval counterpart and attempting to breathe life into the notated musical texture. The Orlando Consort has won awards not least for its ability to invest the music it performs with a very real sense of spirituality.

The complex nature of the music written for Notre Dame emerges above all from the three- and four-part pieces in which the singers Robert Harre-Jones, Charles Daniels, Angus Smith and Donald Greig use their voices to create an apparently endless sense of space. Clearly intoned intervals and melismas convey a feeling of the solemnity that reflects the liturgical occasion. The singers have chosen liturgies from three of the Church's main festivals: Easter, the Assumption of the Blessed Virgin Mary and the Feast of the protomartyr St Stephen on 26 December.

The undoubted high point of the ensemble's interpretation is their performance of Perotinus's Sederunt principes, which was written for the liturgy of the Feast of St Stephen. This four-part gradual follows a monophonic introit and reveals the whole richness of the musical texture: the solo section of the previous chorale is polyphonically reworked, the tenor now being entrusted with the extended chorale melody, while the three upper voices accompany it with their melismatic lines. The modal rhythm of these upper voices is fixed, in which respect it differs from that of the two-part organum. The performers are thus denied some of the spontaneity that the duplum offers its singers, but instead we have a chance to hear the composer's precise instructions realized. More than eight hundred years after these fascinating polyphonic pieces were written, the lean-toned cathedral voices of the four members of the Orlando Consort create the impression of messengers opening up a remote and unknown world to us for the very first time.

Ulrike Brenning
(Translation: Stewart Spencer)










IM KLANG DER KATHEDRALE
DAS ORLANDO CONSORT SINGT AUS DEM »MAGNUS LIBER ORGANI«


Im Jahre 1163 legte Papst Alexander III. den Grundstein für einen Kathedralenbau, der zu den mutigsten Entwürfen der mittelalterlichen Architektur werden sollte: Die Kathedrale Notre-Dame zu Paris ist noch heute ein Wunderwerk des Kirchenbaus. Außen wie innen beeindruckt sie durch ihre gewaltige und dennoch schwerelos wirkende Erscheinung. Trotz ihrer fast 100 Jahre währenden Bauzeit unter der Leitung verschiedener Baumeister bietet sie ein reizvoll geschlossenes Gesamtbild.

Während dieser Zeit, als die Arbeiten noch nicht vollendet waren, vollzog sich im Innern der Kirche bereits eine weitere, eine akustische Revolution. Sie markiert eine sprunghafte Entwicklung der polyphonen Musik, namentlich vorangetrieben durch Leonin und Perotin, die führenden musikalischen Köpfe an Notre-Dame. Die eben neu gegründete Kathedrale wurde durch sie zum Mittelpunkt eines musikalischen Wirkens von weit größerer Intensität als je zuvor. Dass wir das umwälzende Geschehen heute, mehr als 800 Jahre später, nachvollziehen können, verdanken wir einerseits der Musikwissenschaft, andererseits aber vor allem Ensembles, die sich auf diese Musik und ihre Ausführung spezialisiert haben und so die wissenschaftlichen Erkenntnisse erst in eine sinnlich erfahrbare Form bringen.

Zu den avanciertesten Ensembles dieser Art zählt zweifelsohne das Orlando Consort, ein erstklassiges Männer-Vokalquartett. Durch die enge Zusammenarbeit mit Musikwissenschaftlern und die rege Teilnahme an Akademien für Frühe Musik setzt das Orlando Consort Maßstäbe für die Aufführungspraxis, vor allem in der Klanggestaltung und der Sprachbehandlung dieser faszinierenden Musik. Sie kann sich einem Publikum nach so langer Zeit nur erschließen, wenn es den ausführenden Sängern gelingt, auch den geistigen Kontext dieser Musik wieder erlebbar werden zu lassen. Und eben dies zeichnet das Orlando Consort auf ganz besondere Art und Weise aus — »they sing with such refined intonation that the music is irresistible«, urteilte der Rezensent der Zeitschrift Gramophone 1997 anlässlich der Ersteinspielung bei der Deutschen Grammophon. Dass diese Musik eines Tages als »unwiderstehlich« bezeichnet werden würde, daran hatten nicht einmal Generationen von Musikwissenschaftlern geglaubt.

Zur verfeinerten Intonation darf man auch die Diktion des Textes zählen: Die französische Aussprache des Lateinischen färbt den liturgischen Text und verleiht ihm jenen schlanken Charakter, der an hoch aufstrebende gotische Säulen denken lässt. Synästhetische Verschmelzungen dieser Art waren dem frühen Mittelalter nicht fremd; bei reich ausgeschmückten Melismen der Solo-Abschnitte war eine weitere Bedeutungsebene durchaus intendiert. Das Orlando Consort versteht es, die frühe Mehrstimmigkeit als sinnliche Verehrung Gottes vorzutragen.

Die Gestaltung der zweistimmigen Gesänge, der organa dupla, verlangt von den ausführenden Sängern eine Geschicklichkeit, die sich aus stimmlichem Können und inhaltlicher Durchdringung zusammensetzt, denn die originale Notation bietet nur Anhaltspunkte dessen, was sich der Komponist als Struktur gedacht haben könnte. So fällt dem Sänger heute die Aufgabe zu, sich in den Sänger des Mittelalters zu versetzen und darüber hinaus den Gepflogenheiten der Notation im 12. Jahrhundert nachzuspüren; das erfordert eine starke innere Auseinandersetzung auch mit der Geistigkeit jener Epoche. Die Oberstimme des Duplum gelingt nur, wenn der Sänger eine große Stilsicherheit in der Gestaltung besitzt: Es müssen rhythmische Modi erfasst, die oft rhapsodischen Melodielinien sinnvoll gegliedert und mit dem darunter liegenden so genannten »tenor« klanglich verbunden werden. Es ist dies eine Gratwanderung zwischen der Imitation eines mittelalterlichen Sängers und dem Versuch einer Wiedererweckung der aufgeschriebenen musikalischen Struktur. Nicht zuletzt für die geistige Durchdringung der von ihnen aufgeführten Musik hat das Orlando Consort renommierte Preise erhalten.

Die Komplexität der Musik an Notre-Dame kommt vor allem in den drei- und vierstimmigen Sätzen zur Geltung, in denen die Sänger Robert Harre-Jones, Charles Daniels, Angus Smith und Donald Greig mit ihren Stimmen eine unendlich wirkende Weite des Raumes erzeugen. Klar intonierte Intervalle und Melismen vermitteln jene Feierlichkeit, die dem liturgischen Anlass entspricht. Liturgien für drei Hochfeste des Kirchenjahres haben die Sänger ausgewählt — Ostern, Mariae Himmelfahrt und das Fest des Erzmärtyrers Stephanus (26. Dezember).

Den Höhepunkt stellt die Interpretation des Sederunt principes von Perotin dar, geschrieben für die Liturgie des Festtages des heiligen Stephanus. Nach dem einstimmigen Introitus folgt dieses vierstimmige Graduale und offenbart den ganzen Reichtum der musikalischen Struktur: Der Solo-Abschnitt des vorausgegangen Chorals erscheint in einer mehrstimmigen Bearbeitung, in welcher der grundlegende Part (tenor) die weit ausgedehnte Choralmelodie vorträgt, welche die drei Oberstimmen in melismatischen Linien umranken. Die rhythmischen Modi dieser Oberstimmen sind — anders als im zweistimmigen Organum — genau festgelegt. Die Spontaneität der Ausführung, wie sie das Duplum den Sängern bietet, ist hier zwar nicht gegeben, aber wir haben die Möglichkeit, die präzisen Angaben des Komponisten hörend nachzuvollziehen. Über 800 Jahre nach der Entstehung dieser faszinierenden Mehrstimmigkeit wirken die schlanken »Kathedral-Stimmen« der vier Sänger des Orlando Consorts in diesem Zusammenhang wie Boten, die erstmals eine ferne, unbekannte Sphäre erschließen.

Ulrike Brenning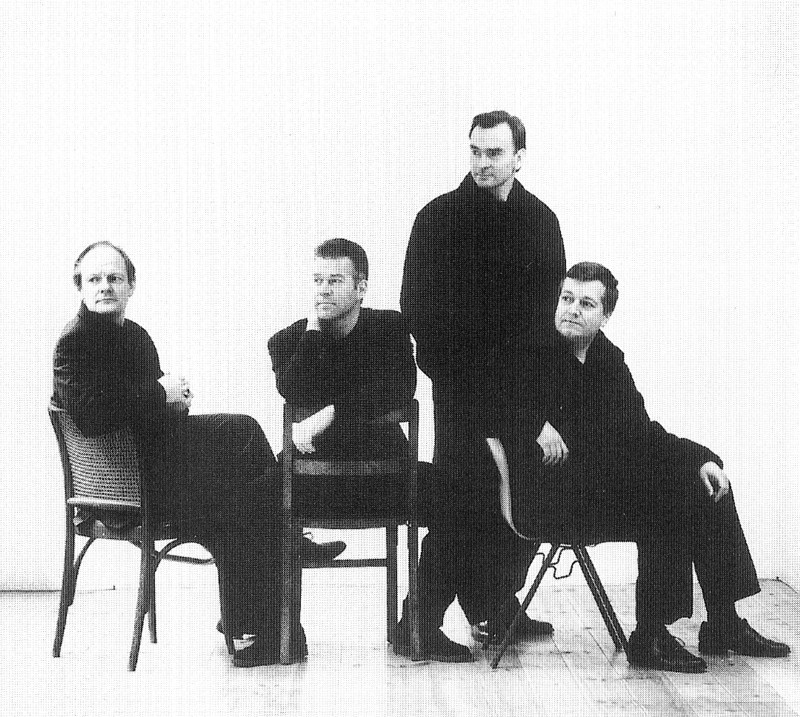 DDD

Recording: Mandelsloh (Neustadt), St. Osdag Kirche, 5/1996
Executive Producer: Dr. Peter Czornyi
Recording Producer: Arend Prohmann
Recording Engineer: Reinhild Schmidt
Editing: Oliver Rogalla
Editions: Prof. Mark Everist: The music appears in vols. 1-4 of Le Magnus fiber organi de Notre Dame de Paris, 7 vols. (Monaco: Editions de l'Oiseau Lyre 1994)
Booklet Editor: Eva Zöllner
P 1997 Deutsche Grammophon GmbH, Hamburg
© 2004 Deutsche Grammophon GmbH, Hamburg
Orlando Consort: © Marco Borggreve / DG
Cover Photo: © zefa visual media / J.A. Kraulis
Art Direction: Nikolaus Boddin
Printed in the E. U.