Músicas del Alcázar

/ Eduardo Paniagua


Musics from the Alcazar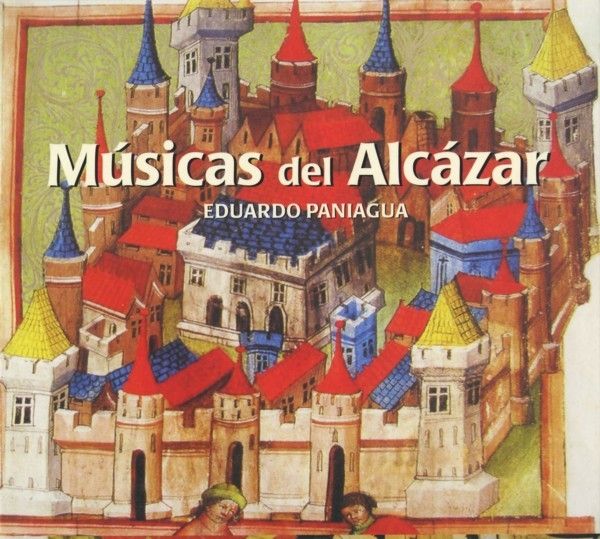 medieval.org
Pneuma «Colección Histórica · Tres culturas» PN-1400
compilación, 2012


Este CD es un homenaje cultural a los alcázares hispanos, luz de las culturas y espacios donde se creó la mejor música de su época. Temas de esta selección musical se escuchan en el paseo nocturno del Alcázar de Cordoba en su espectáculo de fuentes con luz. Textos y documentación en los CDs originales y en www.pneumapaniagua.es>

This CD is a cultural tribute to the Spanish Alcazars, the light of cultures and spaces where the best music of the time was created. Some tracks on this musical selection can be heard when you stroll around the Alcazar of Cordoba at night to see the illuminated fountains. Words and documentation on the original Pneuma CDs and at www.pneumapaniagua.es
Eduardo Paniagua
I
PUENTE ROMANO/SALÓN DE MOSAICOS/PALACIO VISIGODO
ROMAN BRIDGE/HALL OF MOSAICS/VISIGOTH PALACE

1. La tajada de carne [5:38] CSM 159
María Luz Alvarez, canto | C. Carazo, canto y fídula | E. Almendros, flauta de sauce | E. Paniagua, percusiones
PN-400. Cantigas de flauta y tamboril, 10 (7:14)

2. El azor del Viso [3:10] CSM 352
E. Almendros, arpa | J. Muñoz, flauta doble | E. Paniagua, flauta | L. Delgado, udca
PN-570. Cantigas de Jerez, 1

3. Can vei la lauzeta [3:39] Bernart de VENTADORN (...1147-1170...)
LA. Muñoz, canto | C. Carazo, viola | J. Muñoz, cálamo | E. Paniagua, flauta | E Sánchez, guitarra | D. Mayoral, percusiones
PN-1010. Trovadores en Castilla, 4 (5:01)


II
MURALLAS INEXPUGNABLES/PALACIO DEL EMIR OMEYA/TORRE DEL HOMENAJE
IMPENETRABLE WALLS/PALACE OF THE EMIR OMEYA/TOWER OF TRIBUTE

4. Dios es magnífico | Darch Ram al Maya, andalusí [3:30]
E. Paniagua, fhal | C. Carazo, viola | W. Sheik, laúd | J. Muñoz, kaval | F. Sánchez, cítola | LA. Muñoz, fídula | J. Martínez, viola de rueda | D. Mayoral, darbugas
PN-1110. Tesoros de al-Andalus, 8

5. Enamorado nostálgico | Moaxaja modo Hidyaz [5:39]
E. Paniagua, flautas | El Arabi Serghini, canto, darbuga y tar | L. Akrim, laúd | J. Eddine, violín y coro | A. Bouamar, coro
PN-500. Wallada e Ibn Zaydún, 7

6. El icono de Damasco [5:18] CSM 9 (versión)
D. Mayoral, darbuka | E. Paniagua, flauta | D. Psonis, lira | J. Muñoz, kaval | F. Sánchez, vihuela péñola | LA. Muñoz, fídula | C. Carazo, viola
PN2-880. Cantigas de Bizancio, CD1, 1 (13:39)


III
PALACIO CALIFAL/ESTANQUES Y ALBERCAS/BAÑOS ARABES
PALACE OF THE CALIPH /PONDS AND LAKES/ARAB BATHS

7. Dos Juglares [2:43] CSM 259
Vicente Molino, nay | Eduardo Paniagua, fahl | Luis Delgado, pandero y tar
PN-240. Cantigas. Remedios curativos, 4

8. Nahawand [2:59]
Sana' Qá'im wa-nisf | andalusí • Larbi Akrim, laúd
PN-260. La Belleza Contemplada, 5

9. Vino generoso [4:04] (versión)
Amin Shahin, arghul | David Mayoral, derbuka | El Wafir Shaikeldine, req
PN-1040. Cautivo de amor. Moaxajas en Egipto, 6


IV
NORIAS Y MOLINOS/CEMENTERIO CALIFAL/HUERTA MEDICINAL
WATERWHEELS AND WINDMILLS/CEMETERY OF THE CALIPHS/MEDICINE GARDEN

10. Pueblo de moros [3:57] CSM 99
J. Muñoz, axabeba | E. Paniagua, fahl | C. Carazo, viola | E. Almendros, tambor, címbalos | L. Delgado, pandero
PN2-590. Cantigas de Sevilla, CD1, 7

11. Noche de meditación [3:09]
Mohammed Berraq, canto | E. Paniagua, salterio
PN-750. Almuédano, 11

12. Santa Maria os enfermos sana [3:18] CSM 69 (versión)
L. Vincent | P. Vega | C. Carazo, canto | E. Paniagua, psalterio, flautas, tambor | W. Sheik, laúd
PN-010. Cantigas de Toledo, 8 (15:32)


V
ALCÁZAR CRISTIANO/CABALLERIZAS REALES/PATIO MUDÉJAR
CHRISTIAN ALCAZAR/ROYAL MEWS/MUDEJAR COURTYARD

13. Danza del ajedrez [3:52] CSM 47
Eduardo Paniagua, kaval | David Mayoral, derbuka, req | Serguei Sapricheff, def turco
PN-690. Latidos del Andalus, 1

14. Alta · Danza sobre La Spagna [3:15] Francisco de la TORRE, s. XV
L. Luckert, viola da gamba | F. Sánchez, vihuela | E. Paniagua, flautas, campanil | C. Carazo, viola | D. Mayoral, percusiones
PN-660. La Conquista de Granada, 7

15. Canción de boda para la reina [2:20] Malúf al-Rizqi, s. XIV
J. Muñoz, kaval | E. Paniagua, flauta | C. Carazo, viola | W Sheik, laúd | E Sanchez, guitarra | D. Mayoral, darbugas y req
PN-1160. La Rosa de la Alhambra, 12


VI
UNIDAD DEL REINO/PUERTA DE AMÉRICA/LUZ DE LAS CULTURAS
UNITY OF THE KINGDOM/GATE OF AMERICA/ LIGHT OF CULTURES

16. La bassa castiglia · Falla con misuras [4:46] GULIELMUS, (h. 1475)
E. Paniagua, flautas y regal | F. Sánchez, vihuela L. Luckert, viola da gamba | D. Mayoral, dulcimer y percusión
PN-710. Juana I de Castilla, 15

17. Xácaras [2:08] Lucas RUIZ DE RIBAYAZ, (-1650-?)
R. Delfino, arpa | M. Posch, flauta | T. Wimmer | C. Pasetto, JD. Valencia, viola da gamba | M. Ambrosini, viola teclas | W. Reithofer, percusión
PN-410. Misteris de Dolor (Accentus Austria), 11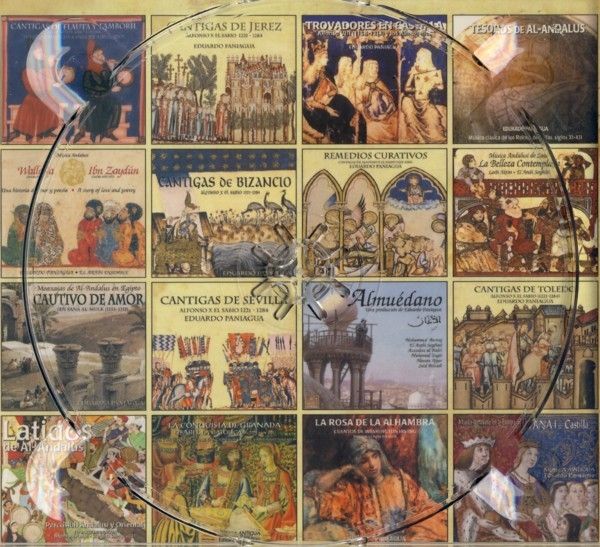 MÚSICAS DEL ALCÁZAR • MUSICS FROM THE ALCAZAR

Idea, selección, arreglos y producción musical • Idea, selection, and musical production:
Eduardo Paniagua

Sonido • Sound:
Hugo Westerdahl · Axis · Madrid 2012

Portada: Tractatus Ludo Scacorum (h. 1549)
Jacobo de Cessolis (h. 1330)
Translation: Lesley Ann Shuckburgh

Producción: EDUARDO PANIAGUA • 2012 PNEUMA
Depósito Legal: M-36054-2012




English liner notes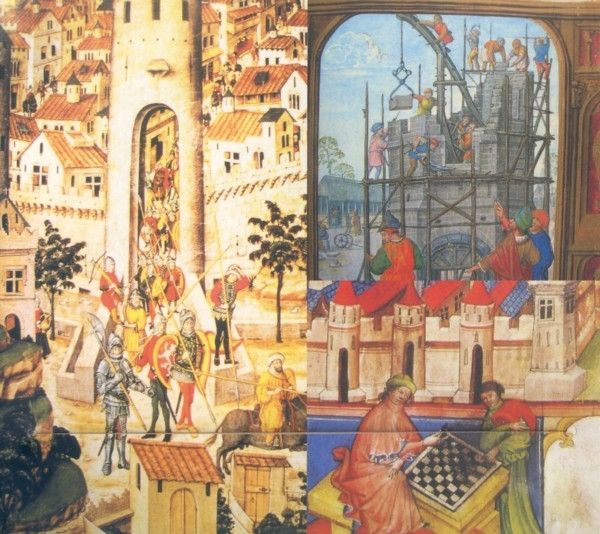 MÚSICAS DEL ALCÁZAR, siglos XII al XVII


Alcázar es un término español de origen árabe (al-qasr), a su vez del latín (castrum), para designar un castillo o palacio fortificado. Los alcázares andalusíes, residencias reales musulmanas donde florecieron singularmente la música y la poesía, fueron más tarde reconstruidos para los mismos fines por los reyes cristianos.

Cada ciudad antigua tiene su alcázar y por sus reconstrucciones son famosos el Alcázar de Segovia, el Alcázar de Toledo, el Real Alcázar de Madrid, etc. Pero sin minusvalorar las alcazabas de Jaén, Almería, Málaga, y Granada, son especialmente emblemáticos los alcázares que han inspirado esta selección de música histórica española: los Reales Alcázares de Sevilla, Patrimonio de la Humanidad, construidos al inicio de la invasión árabe alrededor del año 720 y ampliados por Pedro I el Cruel, en el siglo XIV, y el Alcázar de los Reyes Cristianos de Córdoba, reconstruido por Alfonso XI en el año 1328.

El Alcázar de Córdoba, fortaleza y palacio de sólidos muros, encierra en su interior gran parte de la historia y de la vida de la evolución arquitectónica cordobesa. Restos romanos y visigodos conviven con los de origen árabe en este majestuoso solar, ya que fue lugar predilecto de los distintos gobernantes de la ciudad. Abderramán I (756) fue quien reconstruyó y amplió el Alcázar romano-visigodo y lo hizo centro del Emirato, junto a la Mezquita aljama, hoy catedral, y al Cementerio real del jardin de la Rawda. Cuando en 1236 Córdoba es conquistada por Fernando III el Santo, el edificio del antiguo Palacio Califal estaba totalmente arruinado. Alfonso X el Sabio hacia 1252 comenzó su restauración, que fue completada durante el reinado de su nieto Alfonso XI. En la historia posterior el alcázar tuvo múltiples usos; los Reyes Católicos organizaron desde allí la conquista del Reino de Granada y más tarde fue Sede del Santo Oficio (Inquisición) y cárcel.

Ibn Baskuwal (m.1183) cuenta lo siguiente, según el historiador al-Maqqari:

Un día, yendo el rey de caza, llegó a un lugar que entonces era un desierto (jarab') cubierto por impenetrable maleza. El rey soltó su halcón favorito tras una perdiz que, elevándose al campo llamado más tarde peña de Abu Ubaydat, descendió en la espesura. El rey ordenó cortar la maleza y así descubrió la cúspide de un magnífico edificio de asombrosa estructura, construido con grandes bloques de piedra unidos entre sí con plomo fundido. El rey ordenó que se excavara en toda su extensión. Los cimientos se encontraban sumergidos en agua sobre un lecho de piedras. Cuando el rey vio esto, dijo: "No hay duda que esta obra es de algún famoso monarca y debo reconstruirlo". Reintegrado a su estado primitivo lo habitó como castillo real. Sus súbditos se establecieron en la vecindad y así se construyó la ciudad de Córdoba, quedando el alcázar en su centro, siendo la morada de los reyes que se sucedieron.

Eduardo Paniagua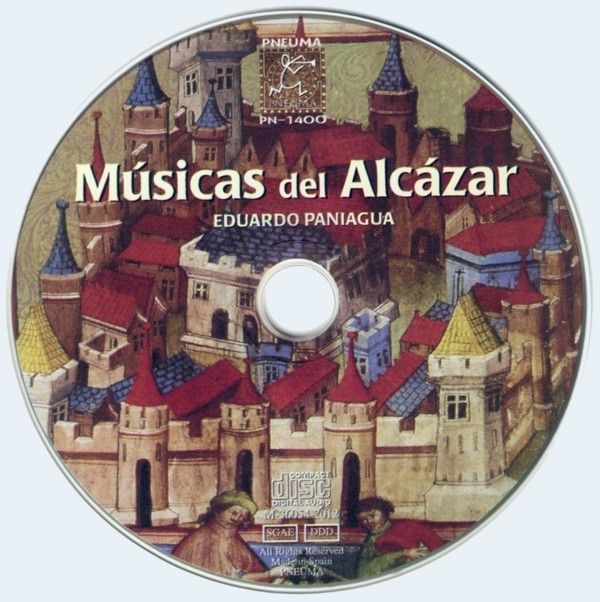 MUSICS FROM THE ALCAZAR, 12th-17th centuries


Alcazar is a Spanish term of Arabic origin (al qasr), which in tum comes from Latin (castrum), and is used to refer to a castle or fortified palace. The Alcazars in Al-Andalus, Muslim royal residences where music and poetry flourished in a spectacular way, were later rebuilt by the Christian kings for the same purposes. Every old city has its Alcazar and the ones at Segovia, Toledo, Madrid, etc. are famous for having been rebuilt. But without wishing to underrate the citadels in Almeria, Málaga, Jaén and Granada, the Alcazars that inspired this selection of historical Spanish music are especially emblematic: the Royal Alcazar of Seville, a World Heritage Site, built at the beginning of the Arab invasion in about 720 and extended by Pedro I the Cruel in the 14th century, and the Alcazar of the Christian Monarchs in Córdoba, rebuilt by Alfonso XI in 1328.

The Alcazar of Cordoba, a fortress and solid-walled palace, encloses much of the history and life of the architectural evolution of Córdoba. This majestic site was favoured by the different governors of the city and Roman and Visigothic remains live side by side together with those of Arab origin. Abd al-Rahman I (756) rebuilt it and extended the Roman-Visigoth Alcazar making it the centre of the Emirate, together with the Mosque, today the cathedral, and the royal cemetery in the Rawda gardens. When Cordoba was conquered by Fernando III el Santo (St Ferdinand III of Castile) in 1236 the old palace of the Caliphs was totally ruined. Towards 1252 Alfonso X el Sabio (the Wise) began to restore it, and work was completed during his grandson Alfonso XI's reign. The Alcazar was put to many uses throughout history. The Catholic Monarchs used it to organize the conquest of the Kingdom of Granada, and it was later the headquarters of the Inquisition and a prison. According to the historian al-Maqqari, the following story was told by Ibn Baskuwal (d.1183):


One day, when the king was going hunting, he reached a place that was then a desert (jarab') covered with impenetrable undergrowth. The king released his favourite falcon to chase a partridge and it flew over the field later known as Abu Ubaydat rock, and then dropped into the bushes. The king ordered the undergrowth to be cut back and in doing so uncovered the top of a magnificent building with an amazing structure, built with great blocks of stone joined together with molten lead. The king ordered the whole area to be dug out. The foundations were submerged in water resting on a bed of stone. When the king saw this he said, "There is no doubt that this is the work of a famous monarch and I must rebuild it". Once restored to its original state he used it as his royal residence. His subjects moved to the vicinity and that is how the city of Cordoba was built, the Alcazar remained at its centre, and was home to the kings who succeeded him.

Eduardo Paniagua