Alfonso X el Sabio, 1221-1284

.

Cantigas de Bizancio


El Oriente Cristiano ·

The Christian Orient

/ Eduardo Paniagua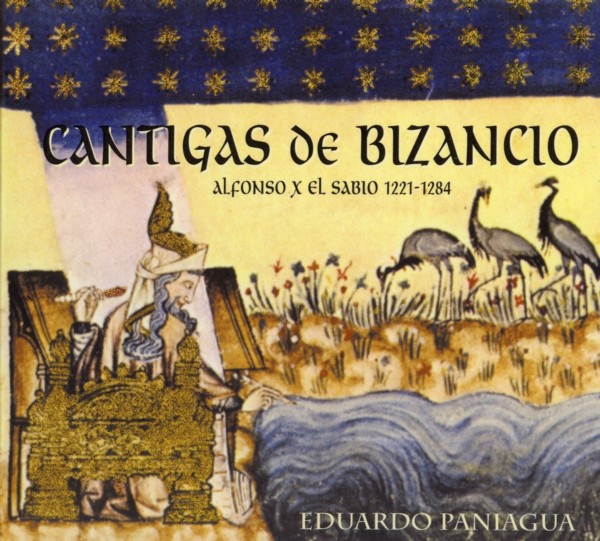 medieval.org
Pneuma «Colección Cantigas» PN2-880
2006





CD 1
Iconos bizantinos e imágenes de Santa María
Byzantine Icons and Images of the Virgin Mary


1. EL ICONO DE DAMASCO • THE ICON OF DAMASCUS
Por que nos ajamos [13:39] CSM 9

2. EL ICONO PERDIDO • THE LOST ICON
Gran dereit' é que fill' o demo [7:40] CSM 34

3. LA VIRGEN DE LA LECHE • THE VIRGIN OF THE MILK
Nas mentes sempre tẽer [4:45] CSM 29

4. VIRGEN BLACHERNIOTISSA • THE VIRGIN BLACHERNIOTISSA
Pois aos seus que ama [9:39] CSM 264

5. EL MORO DE ULTRAMAR Y LA VIRGEN DE LA LECHE • THE MOOR FROM OVERSEAS AND THE VIRGIN OF THE MILK
Porque ajan de seer [9:19] CSM 46

6. EL CERCO DE CONSTANTINOPLA • THE SIEGE OF CONSTANTINOPLE
Todo logar mui ben pode [11:30] CSM 28



CD 2
Santos, Patriarcas y Emperadores
Saints, Patriarchs and Emperors


1. SAN JUAN ELEIMOSYNARIUS • ST. JOHN ELEEMOSYNARIUS
O que pola Virgen de grado [10:23] CSM 145

2. SAN JUAN DAMASCENO • ST. JOHN THE DAMASCENE
Sempr' a Virgen Santa [10:54] CSM 265

3. EL EMPERADOR Y EL PATRIARCA • THE EMPEROR AND THE PATRIARCH
En tamanna coita non pode seer [12:31] CSM 131

4. EL JUDÍO DE BIZANCIO • THE JEW FROM BYZANTIUM
Pagar ben pod' o que dever [13:49] CSM 25

5. ICONO EN LA PIEDRA • THE ICON IN THE STONE
Con razon nas creaturas [9:58] CSM 342

6. SAN JUAN CRISÓSTOMO • ST. JOHN CHRYSOSTOM
Quen a Santa Maria de coraçon [8:10] CSM 138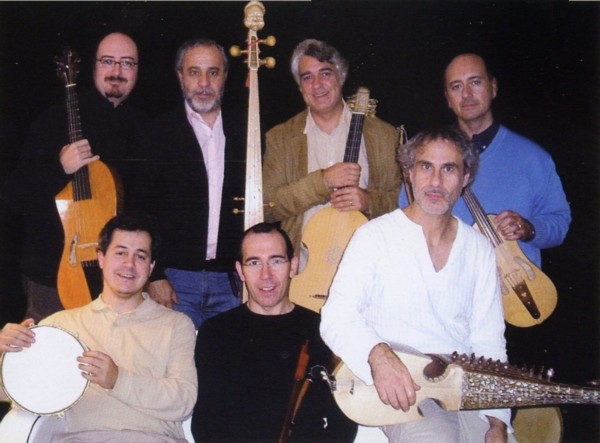 MÚSICA ANTIGUA
Eduardo Paniagua

Cesar Carazo — canto tenor y viola
Luis Antonio Muñoz — canto bajo, fídula y pandero
Luis Calero — canto contratenor

Felipe Sánchez — vihuela de péñola y guitarra medieval
Dimitri Psonis — santur, lira griega, saz y rababa
Jaime Muñoz — kaval, ajabeba, cálamo, chalumeau, gaita y gayda
David Mayoral — darbuka, panderos, panderetas y campanas
Eduardo Paniagua — tromba marina y flautas dulces



Diseño gráfico: Pneuma
Portada: Cantiga 110, Miniatura 6 · Interior: Miniaturas del prólogo, y cantigas n° 9 y 34

Traducción poemas: José Filgueira
English translation: Lesley Ann Shuckburgh

Grabado el 12 de noviembre de 2006 en Axis. Madrid por Hugo Westerdahl

Producción: EDUARDO PANIAGUA • 2006 PNEUMA
Depósito Legal: M-38700-2006


Dirección General de Promoción Cultural
CONSEJERÍA DE CULTURA Y DEPORTES
Comunidad de Madrid




English liner notes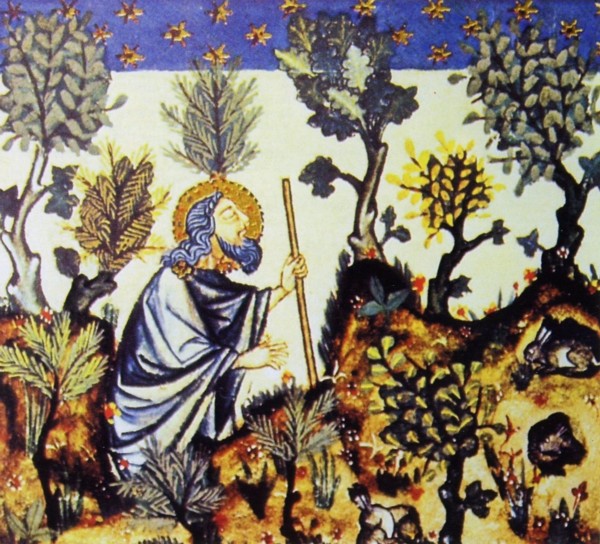 CANTIGAS DE BIZANCIO


Las Cantigas del Oriente Cristiano son canciones del siglo XIII. Músicas hechas en los Reinos de Castilla, León y Andalucía que cantan sucesos recogidos en el Oriente conocido de la época. Constantinopla aparece como lugar donde suceden 9 Cantigas, y en ellas se valora una visión anti-iconoclasta con la narración y descripción de valiosos, bellos y milagrosos iconos de Santa María. Un programa inédito lleno de sutiles y exquisitas historias que muestran la cercanía del Oriente y del otro extremo del mar Mediterráneo en la Edad Media española.

Alfonso X tenía una importante ascendencia familiar europea. Hijo de Fernando de Castilla y León y de Beatriz de Suabia, sobrino de San Luis IX de Francia y del emperador Federico II, rey de Sicilia y de la emperatriz Constanza, nieto de Felipe de Suabia y de Alfonso IX de León, bisnieto del emperador Federico Barbarroja y de Irene de Bizancio -hermana del emperador Alejo IV, y también descendente de Leonor de Inglaterra, hermana de Ricardo Corazón de León e hija de Enrique II Plantagenet y Leonor de Aquitania, casó con Violante de Aragón, hija de la reina Violante de Hungría y Jaime I de Aragón. Tuvo también relaciones diplomáticas con lugares distantes como el reino de Noruega, el sultán de Egipto y el Khan de los Tártaros.

En la corte de Alfonso X el Sabio, 1253-1284, se confeccionaron los Códices de las Cantigas en poesía galaico-portuguesa, uno de los mayores frutos en la literatura de la época y la colección de melodías más importante de la Europa del siglo XIII.



CD 1

1 - CSM 9. EL ICONO DE DAMASCO
Milagro de Nuestra Señora de Sardonay (Sidnaya). Un peregrino hacia Jerusalén recibe de una monja fundadora de un hospital cerca de Damasco el encargo de adquirir un icono de la Virgen. El monje lo olvida y una voz se lo recuerda. Compra el icono a buen precio y quiere quedárselo para venderlo en su tierra. La imagen le salva de un león, de unos salteadores y del naufragio del barco, de camino a Francia, que le iba a llevar a Constantinopla para dar el icono a la iglesia de su orden. La nave retorna a Acre y al hospital donde no quiere entregar el icono encargado, y por ello milagrosamente, no puede salir de la iglesia. El icono, colocado en su altar definitivo, se hace de carne y mana un óleo milagroso "leche de la Virgen".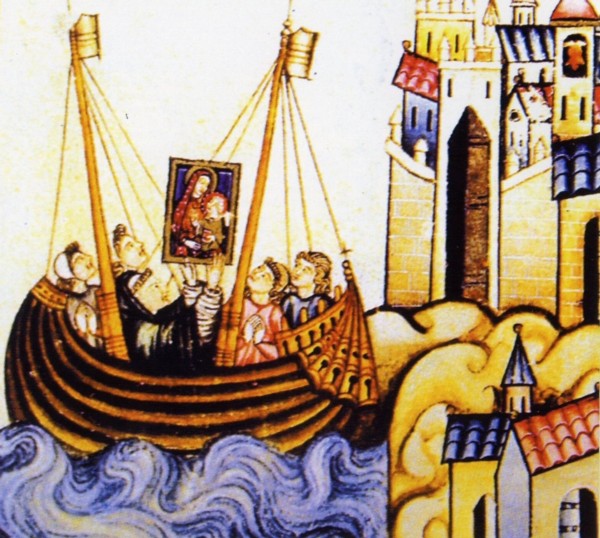 2 - CSM 34. EL ICONO PERDIDO
Un judío roba un icono precioso y bellísimo de Santa María, lo esconde y mas tarde muere. Un cristiano recupera el cuadro y lo limpia. La imagen huele a especias de Ultramar y al ponerla en buen lugar, de ésta manó un óleo milagroso.

3 - CSM 29. LA VIRGEN DE LA LECHE
Devoción de un mahometano en las guerras de cruzada de Ultramar a María en un icono que vierte leche por ambos pechos. Este caudillo sarraceno se convierte con los suyos ante el prodigio.

4 - CSM 264. VIRGEN BLACHERNIOTISSA
Santa María hace perecer las naves de los moros que tenían cercada Constantinopla cuando los cristianos ponen la imagen de la Virgen Blacherniotissa, que pintó San Lucas, en lo alto de la ciudad.

5 - CSM 46. EL MORO DE ULTRAMAR Y LA VIRGEN DE LA LECHE
Un caudillo moro de Tierra Santa en Ultramar se quedó con un icono de Santa María como parte del botín de la guerra contra los cristianos. Meditando incrédulo sobre la Encarnación de Dios en la Virgen, vio como la imagen vertía leche por ambos pechos. Emocionado, se hizo bautizar junto a los suyos.

6 - CSM 28. EL CERCO DE CONSTANTINOPLA
Santa María defendió la ciudad de Constantinopla del sultán de Siria que la combatía y creía poder tomarla. El patriarca San Germán implora a la Virgen que tiende su manto protector sobre la ciudad. El sultán lo ve y se presenta ante el patriarca para pedirle hacerse cristiano.


CD 2

1 - CSM 145. SAN JUAN ELIMOSYNARIUS
San Juan Elemosynarius, patriarca de Alejandría, (†620), empobrecido hasta el extremo por haber dado todo a los pobres, invoca a Santa María. Un pastorcillo celestial le entrega un inmenso tesoro venido del cielo.

2 - CSM 265. SAN JUAN DAMASCENO
Santa María curó a San Juan Damasceno (Padre de la iglesia griega, †780) la mano que le mandó cortar el emperador León III, debido a unas falsas cartas que escribió un alumno envidioso, imitando su letra. Cantiga grande de 27 estrofas.

3 - CSM 131. EL EMPERADOR Y EL PATRIARCA
Alejo I (1081-1118), emperador de Constantinopla, queda sepultado cuando visita sus minas de plata. Gracias a las oraciones de la emperatriz Jordana, Santa María alimenta al emperador. El patriarca de Constantinopla después de un año tiene una visión del hecho y se lo anuncia a la reina. Le salvan y todos dan gracias a Santa María.

4 - CSM 25. EL JUDÍO DE BIZANCIO
Un judío de Bizancio presta dinero a un mercader cristiano y pone por firma a Santa María y a su Hijo. Vencido el plazo manda un arca por mar que milagrosamente llega al judío. Este la guarda sin decir nada y cuando llega el mercader le exige la devolución del préstamo. Acuden a la imagen de Santa María, que habló en testimonio a favor del cristiano. El judío admirado, se convierte.

5 - CSM 342. ICONO EN LA PIEDRA
En la época de Manuel I Komnenos (1143-1180), emperador de Constantinopla, cuando mandó construir un templo con piedra de mármol, al serrar la piedra apareció en las vetas el dibujo de Santa María con el Niño, y lo pusieron en la puerta.

6 - CSM 138. SAN JUAN CRISÓSTOMO
Leyenda hagiográfica de San Juan Crisóstomo, patriarca que fue desterrado de Constantinopla. Le sacaron los ojos y abandonado cayó por un barranco en un zarzal. La Virgen le salva y éste le pide que le muestre lo que Cristo había amado más en este mundo. Se le aparece la Virgen con el Niño al pecho y recupera la vista y más tarde su dignidad y posición.

Eduardo Paniagua



The Cantigas of the Christian Orient are songs from the 13th century. Created in the kingdoms of Castile, Leon and Andalusia they refer to events concerning the Orient known at the time. 9 Cantigas took place in Constantinople. In these an anti-iconoclastic vision can be appreciated with the narration and description of valuable, beautiful and miraculous icons of the Virgin Mary. A previously unreleased programme full of subtle and exquisite stories that show the proximity of the Orient and of the other extreme of the Mediterranean Sea in the Spanish Middle Ages.

Alfonso X had important European ancestors. He was the son of Fernando of Castile and Leon and of Beatriz of Swabia, nephew of both St. Louis IX of France and of the Emperor Frederick II, king of Sicily and of the Empress Constance, grandson of Philip of Swabia and of Alfonxo IX of Leon, great grandson of the emperor Frederick Barbarossa (Redbeard) and of Irene of Byzantium — sister of the emperor Alexios IV, and also a descendant of Eleanor of England, sister of Richard the Lionheart and daughter of Henry II Plantagenet and Eleanor of Aquitaine. He married Violant of Aragon, daughter of Queen Violant of Hungary and James I of Aragon. He also had diplomatic relations with distant places such as the kingdom of Norway, the Sultan of Egypt and the Khan of the Tatars.

The Codices of the Cantigas were completed in the court of Alfonso X the Wise, between 1253-1284, written in Galician-Portuguese poetry. They constitute one of the major fruits of the literature of the time and the most important collection of melodies in 13th century Europe.



CD 1

1. CSM 9. THE ICON OF DAMASCUS
Miracle of Our Lady of Sardonay (Sidnaya). A pilgrim on his way to Jerusalem was asked to acquire an icon of the Virgin by a nun who ran a hospital near Damascus. The monk forgets and a voice reminds him. He buys the icon at a good price and wants to keep it to sell in his country. On his journey to Constantinople to give the icon to the church of his order the image saved him from a lion, from some highwaymen and from a shipwreck on the way to France. The ship returns to Acre and to the hospital where still he resists handing over the commissioned icon, and miraculously cannot leave the church. The icon, on its definitive altar, becomes flesh and a miraculous oil flows out "milk of the Virgin".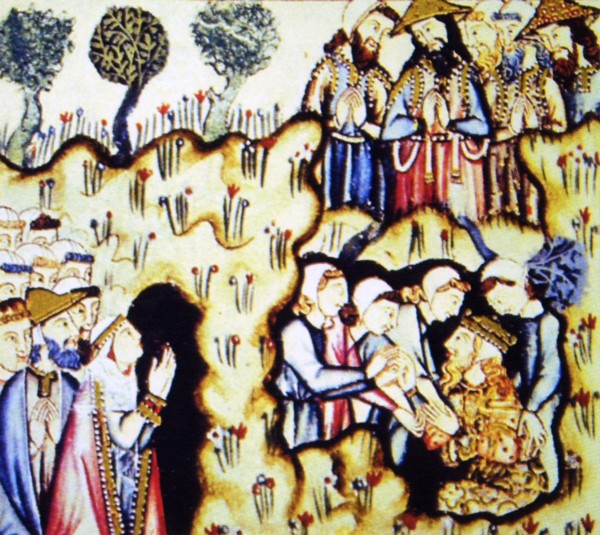 2. CSM 34. THE LOST ICON
A Jew steals a precious and beautiful icon of the Virgin Mary, hides it and later dies. A Christian recovers the picture and cleans it. The image smells of spices from overseas and when put in a safe place, a miraculous substance like oil flows from it.

3. CSM 29. THE VIRGIN OF THE MILK
This is the story of a Moor in the crusades overseas who was devoted to an icon of Mary in which milk flows from both breasts. This Saracen leader and his company are converted in the face of the miracle.

4. CSM 264. THE VIRGIN BLACHERNIOTISSA
The Moorish ships that besieged Constantinople perished because of the Virgin Mary, when the Christians placed the painting of the Virgin Blacherniotissa by St. Luke, at the top of the city.

5. CSM 46. THE MOOR FROM OVERSEAS AND THE VIRGIN OF THE MILK
A Moorish leader from the Holy Land kept an icon of Holy Mary as part of the loot from the war against the Christians. Whilst meditating in disbelief on the Incarnation of God in the Virgin, he saw how milk flowed from both breasts. In his excitement he became baptised along with many other Moors.

6. CSM 28. THE SIEGE OF CONSTANTINOPLE
The Virgin Mary defended the city of Constantinople from the sultan of Syria who was fighting for it and thought he could take it. The patriarch St. Germanos appealed to the Virgin for help and She spread her protective cloak over the city. The sultan witnessed the miracle and approached the patriarch to ask him to make him a Christian.


CD 2

1. CSM 145. ST. JOHN ELEEMOSYNARIUS
St. John Eleemosynarius, patriarch of Alexandria, (+620), impoverished in the extreme having given everything away to the poor, appealed to the Virgin Mary. A celestial shepherd gives him an immense treasure from heaven.

2. CSM 265. ST. JOHN THE DAMASCENE
The Virgin Mary healed the hand of St. John the Damascene (Father of the Greek church, +780), which the Emperor Leon III had ordered be cut off, because of the false letters that a jealous pupil wrote imitating his writing. Cantiga "grande" of 27 stanzas.

3. CSM 131. THE EMPEROR AND THE PATRIARCH
Alexios 1(1081-1118), Emperor of Constantinople, was buried while visiting his silver mines. Thanks to the prayers of the Empress Jordana, the Virgin Mary provided the Emperor with food. A year later the patriarch of Constantinople had a vision of what happened and he told the queen. The Emperor was saved and they all gave thanks to the Virgin Mary.

4. CSM 25. THE JEW FROM BYZANTIUM
A Jew from Byzantium lent money to a Christian merchant who used the Virgin Mary and Her son as guarantors. When the debt fell due the Christian sent the money by sea in a chest that miraculously reached
the Jew who put it away without saying anything. He then demanded the return of the loan when the merchant arrived. They turn to the image of the Virgin Mary, who spoke in favour of the Christian. The Jew, in wonder, was converted.

5. CSM 342. THE ICON IN THE STONE
The Emperor of Constantinople Manuel I Komnenos (1143-1180), commissioned the building of a marble temple. The image of Holy Mary and the Child appeared in the rock when it was cut and it was used for the door.

6. CSM 138. ST. JOHN CHRYSOSTOM
A hagiographic legend of St. John Chrysostom, the patriarch who was banished from Constantinople. His eyes were gouged out and he was left to die. He fell off a precipice into a bramble patch. The Virgin saved him and he asked Her to show him what Christ had loved most in this world. The Virgin with Child at the breast appeared before him and he recovered his sight and later his honour and position.


EDUARDO PANIAGUA