Cantigas de Catalunya

. Abadía de Montserrat
Alfonso X el Sabio, 1221-1284 / Eduardo Paniagua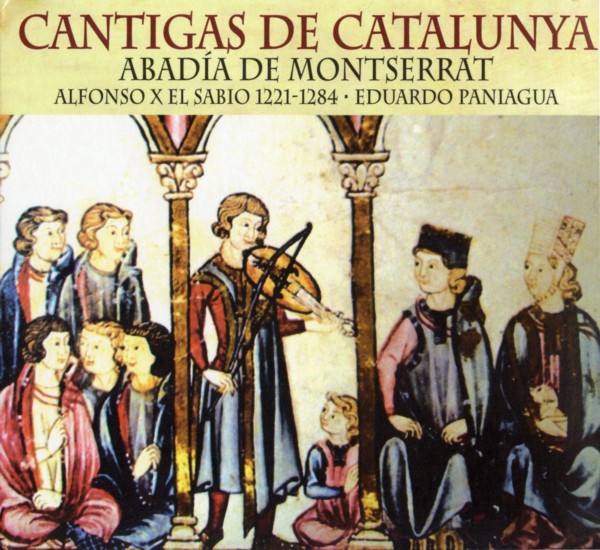 medieval.org
Pneuma «Colección Cantigas» PN-980
2007










LA MUJER DE LÉRIDA
1. En todo logar á poder [4:29] CSM 168

LAS ROCAS DE MONTSERRAT
2. Por razon tenno d' obedecer [6:23] CSM 113

EL CABALLERO ENVIDIOSO DEL JUGLAR
3. Como o nome da Virgen [6:00] CSM 194

EL DONCEL DE ALBESA
4. Quen comendar de coraçon [13:13] CSM 146

LA FUENTE DE MONTSERRAT
5. Tanto son da Groriosa [7:51] CSM 48

MUERTE POR UN RAYO Y RESURRECCIÓN EN MONTSERRAT
6. O que diz que servir [11:47] CSM 311

LOS ROMEROS DE MONTSERRAT Y EL SALTEADOR
7. Mui grandes noit' e dia [7:40] CSM 57

LA SAETA DEL TAHÚR DE CATALUÑA
8. Tan grand' amor á a Virgen [6:41] CSM 154

HOLGAR CON SU AMIGA
9. Non conven que seja feita [10:27] CSM 312







MUSICA ANTIGUA
Eduardo Paniagua

CESAR CARAZO: Canto y viola
LUIS ANTONIO MUÑOZ: Canto y fídula

FELIPE SÁNCHEZ: Laúd, cítola y vihuela de péñola
JAIME MUÑOZ: Tarota, cornamusa, gaida, ajabeba, flabiol y tamboril
DAVID MAYORAL: Darbuga, dumbek, daf y pandereta
EDUARDO PANIAGUA: Salterio, flautas dulces, campanil, darbuga, gong, carraca, cascabeles, sonajero y tar



Grabado en Julio de 2007 en Axis, Madrid por Hugo Westerdahl.

Diseño gráfico: Pneuma
Portada: Miniatura 2 de la Cantiga 194 El Caballero envidioso del Juglar
Interior: Miniatura 5 de la Cantiga 113 Las rocas de Montserrat y
Miniatura 4 de la Cantiga 312 Holgar con su amiga

Traducción de cantigas: José Filgueira
English translation: Lesley Ann Shuckburgh

Producción: EDUARDO PANIAGUA • 2007 PNEUMA
Depósito Legal: M-41025-2007


Dirección General de Promoción Cultural
CONSEJERÍA DE CULTURA Y DEPORTES
Comunidad de Madrid



comentarios en castellano



English liner notes










CANTIGUES DE CATALUNYA


Les Cantigues de Catalunya és un projecte inèdit que mostra les obres musicals del rei savi corn un mosaic, en el qual les histories que expliquen els textos passen a Catalunya.

Aquestes narracions recullen costums i detalls de la vida quotidiana de la seva gent, les seves aventures, la seva salut i les seves conquestes.

Les Cantigues de Santa Maria uneixen el món popular amb el cortesà i el religiós, i el cèlebre santuari medieval de Montserrat hi té una gran importància perquè s'hi realitzen excel·lents miracles.


1. CSM 168. LA DONA DE LLEIDA
Una dona de Lleida veu morir els seus sis fills. Quan mor el darrer puja al terrat i aixeca el cadàver en direcció del santuari de Santa Maria de Salas. El nens ressuscita.

2. CSM 113. LES ROQUES DE MONTSERRAT
Santa Maria salva el monestir de la destrucció que estan a punt de provocar unes roques que s'han desprès del penya-segat i que queien sobre el teulat.

3. CSM 194. EL CAVALLER ENVEJÒS DEL JOGLAR
Un cavaller de Catalunya allotja un famós joglar; s'enamora de la roba i de la seva cavalcadura del seu hoste i quan el cavaller se'n va, ordena robar i matar el joglar. Aquest tan sols anomenant la Verge immobilitza els seus atacants i pot continuar el seu camí i recuperar els seus béns.

4. CSM 146. EL DONZELL D'ALBESA
Un jove de Briançó se'n va de romeria, tot i que la seva mare li prega que no ho faci. Els seus enemics l'ataquen i li treuen els ulls i li tallen les mans. Altres romeus el socorren, se l'emporten al santuari de Santa Maria d'Albesa a Lleida i allà recupera els ulls i les mans.

5. CSM 48. LA FONT DE MONTSERRAT
Un cavaller nega aigua d'una font a un monestir. Aleshores sorgeix una font de la terra monacal per mediació de la Verge.

6. CSM 311. MORT PER UN LLAMP I RESURRECCIÓ A MONTSERRAT
Un home bo mor a causa d'un llamp quan anava de romeria a Montserrat. El seu company, en la missa de l'enterrament, que protesta a la Verge i el mort ressuscita per tal de defensar-la.

7. CSM 57. PROTECCIÓ DELS ROMEUS DE MONTSERRAT A UN SALTEJADOR
Santa Maria fa que sanin uns lladres que havien quedat paralitzats perquè robaven una dama i els seus acompanyants quan anaven de romeria al monestir de Montserrat.

8. CSM 154. LA SAETA DEL TAFUR DE CATALUNYA
Un tafur de Catalunya perd jugant als daus. Aleshores llança una ballesta cap al cel per ferir Déu o Santa Maria. Poc després can la sageta plena de sang sobre la taula de joc. El tafur se'n repenedeix i entra en un monestir.

9. CSM 312. JAURE AMB LA SEVA AMIGA
A Catalunya, un cavaller vol jaure amb la seva amiga a la mateixa estança en la qual anteriorment ha encarregat esculpir una talla de Santa Maria. Tanmateix no aconsegueix el seu propòsit.





Las Cantigas de Catalunya es un proyecto inédito que muestra las obras musicales del Rey sabio como un mosaico, en el que las historias que cuentan sus textos transcurren en el área geográfica de Catalunya. Estas historias y narraciones recogen las costumbres y detalles de la vida de los pobladores de esta tierra.

Las Cantigas de Santa María aúnan lo popular con lo cortesano y lo religioso y el santuario medieval benedictino de Montserrat tiene gran importancia en ellas porque allí se realizan magníficos milagros ante la Virgen negra.


1 - CSM 168. LA MUJER DE LÉRIDA
Una mujer de Lleida ve morir a su seis hijos. Al morir el último sube al terrado y levanta el cadáver hacia la dirección del santuario de Santa María de Salas. El niño resucita.

2 - CSM 113. LAS ROCAS DE MONTSERRAT
Santa María salva al monasterio de la destrucción, a causa de una roca que se desprendió de una peña y caía sobre la iglesia.

3 - CSM 194. EL CABALLERO ENVIDIOSO DEL JUGLAR
Un caballero de Cataluña hospeda a un famoso juglar y se prenda de sus paños y cabalgadura. A su partida el caballero manda robar y degollar al juglar. Éste con sólo nombrar a la Virgen inmoviliza a sus atacantes y puede seguir su camino recuperando sus bienes.

4 - CSM 146. EL DONCEL DE ALBESA
Un joven de Briançón parte de romería, pese a los ruegos de su madre, siendo atacado por sus enemigos. Le sacan los ojos y le cortan las manos. Otros romeros le socorren y llevándole al santuario de Santa María de Albesa en Lleida recupera los ojos y las manos.

5 - CSM 48. LA FUENTE DE MONTSERRAT
La fuente, cuya agua niega al monasterio un caballero, surge en tierra monacal por mediación de la Virgen.

6 - CSM 311. MUERTE POR UN RAYO Y RESURRECCIÓN EN MONTSERRAT
Un hombre bueno cayó muerto por un rayo cuando iba de romería a Montserrat. Su compañero en la misa del entierro protestó a la Virgen y el muerto resucitó para defenderla.

7 - CSM 57. LOS ROMEROS DE MONTSERRAT Y EL SALTEADOR
noit' e dia
Santa María hace que sanen unos ladrones que habían quedado tullidos porque robaban a una dama y sus acompañantes que iban de romería al monasterio de Montserrat.

8 - CSM 154. LA SAETA DEL TAHÚR DE CATALUÑA
Un tahúr de Cataluña pierde a los dados y lanza con saña una ballesta al cielo para herir a Dios o a Santa María. Poco después cae la saeta ensangrentada sobre la mesa de juego. El tahúr se arrepiente y entra en un monasterio.

9 - CSM 312. HOLGAR CON SU AMIGA
En Cataluña un caballero quiso holgarse con su amiga en la misma estancia en la que anteriormente había encargado esculpir una talla de Santa María, y no consiguió su propósito.





The Cantigas of Catalonia presents for the first time the musical works of the wise King as a mosaic of stories that take place in the geographical area of Catalunya. These stories and narratives reflect the customs and details of the lives of the people living in this area.

The Cantigas of Holy Mary unite the popular with matters pertaining to the royal court and religion. The medieval Benedictine sanctuary of Montserrat is very important in them because it is there that wonderful miracles took place in the presence of the black Virgin.



1. CSM 168. THE WOMAN FROM LERIDA
A woman from Lleida sees her six children die. When the last one dies she goes up on to the roof and lifts up the body in the direction of the sanctuary of Santa Maria de Salas. The boy is resurrected.

2. CSM 113. THE ROCKS OF MONTSERRAT
Holy Mary saves the monastery church from being destroyed by a rock that rolled off a crag.

3. CSM 194. THE KNIGHT WHO ENVIES THE MINSTREL
A knight from Catalonia gives lodging to a famous minstrel and takes a fancy to his clothes and mount. When he leaves, the knight orders some robbers to attack the minstrel and cut his throat. The minstrel only has to mention the Virgin May's name and his attackers are paralysed and he can carry on his way, recovering his belongings.

4. CSM 146. THE SQUIRE OF ALBESA
A young man from Briançon goes off on a pilgrimage in spite of his mother's pleas, and is attacked by his enemies. They gouge out his eyes and cut off his hands. Other pilgrims run to his aid taking him to the sanctuary of Santa Maria de Albesa in Lleida where he recovers his eyes and his hands.

5. CSM 48. THE FOUNTAIN OF MONTSERRAT
A knight cut off the natural water supply to the monastery, but with the Virgin Mary's intervention it springs again within the monastery grounds.

6. CSM 311. DEATH FROM LIGHTNING AND RESURRECTION IN MONTSERRAT
A good man dropped dead when he was struck by lightning on a pilgrimage to Montserrat. At the Mass at his funeral his friend complained to the Virgin Mary and the man rose from the dead to defend Her.

7. CSM 57. THE PILGRIMS OF MONTSERRAT AND THE HIGHWAY MAN
Holy Mary heals some thieves who had been left crippled when they robbed a lady and her companions who were going on a pilgrimage to the monastery of Montserrat.

8. CSM 154. THE GAMBLER FROM CATALONIA AND HIS ARROW
A gambler from Catalonia loses at dice and in flay throws his crossbow up to heaven to injure God or the Virgin Mary. Soon afterwards the bloody arrow falls on the gaming table. The gambler repents and enters a monastery.

9. CSM 312. FLIRTING WITH HIS LADY FRIEND
In Catalonia a knight wanted to flirt with his lady friend in the same room that had previously been commissioned to sculpt a carving of Holy Mary. He did not achieve his aim.






LES CANTIGUES DE SANTA MARIA
d'Alfons X el Savi, 1221-1284


Les Cantigues de Santa Maria, compreses en quatre còdexs de pergamí del segle XIII, constitueix l'obra lírica més important de l'Espanya medieval. Escrites en l'idioma galaicoportuguès, són quatre-cents vint-i-set poemes que ens han arribat amb la seva corresponent notació musical i amb extraordinàries miniatures. Combinen relats de miracles difosos a l'Edat mitjana amb lloances a la Verge Maria, testimoni de la devoció mariana que es desenvolupava paral·lelament a la construcció de catedrals gòtiques.

El repertori es d'una extraordinària riquesa ja que totes les seves melodies són diferents i originals.
L'estructura formal d'estrofes amb refrany les fa aptes per a la participació popular.

Eduardo Paniagua, en fer la gravació integral de les Cantigues, ordena aquestes obres segons diferents criteris que donen unitat i personalitat a cada disc. Un criteri és a localització geogràfica de les histories que es narren segons les poblacions o els santuaris marians que col·leccionaven aquests miracles, la vida de Santa Maria. La intenció de la col·lecció transcendeix l'àmbit exclusivament-musical i evoca el rerefons humà i cultural d'aquestes obres medievals.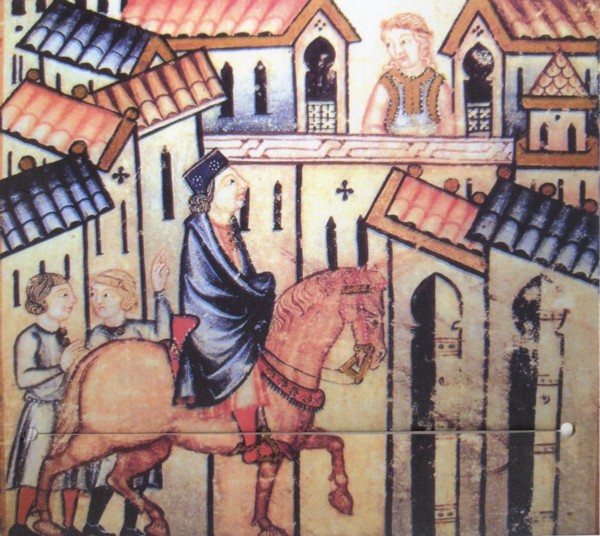 LAS CANTIGAS DE SANTA MARÍA
deAlfonso X el Sabio, 1221-1284

Las Cantigas de Santa María, comprendidas en cuatro códices de pergamino del siglo XIII, constituye la obra lírica más importante de la España medieval. Escritas en el idioma galaico-portugués, son cuatrocientos veintisiete poemas que nos han llegado con su correspondiente notación musical y adornadas con extraordinarias miniaturas. Combinan relatos de milagros difundidos en la Edad Media con loores a la Virgen María, testimonio de la devoción mariana que se desarrolla paralelamente a la construcción de las catedrales góticas.

El repertorio es de extraordinaria riqueza ya que sus melodías son todas distintas y originales. La estructura formal de estrofas con refrán las hace aptas para la participación popular.

Eduardo Paniagua al abordar la grabación integral de las Cantigas, ordena estas obras según varios criterios que dan unidad y personalidad a cada disco. Un criterio es la localización geográfica de las historias que se narran según las poblaciones o los santuarios marianos que coleccionaron estos milagros. Las Cantigas están interpretadas con todo su texto original y la intención de la Colección trasciende lo exclusivamente musical, evocando el trasfondo humano y cultural de estas obras medievales.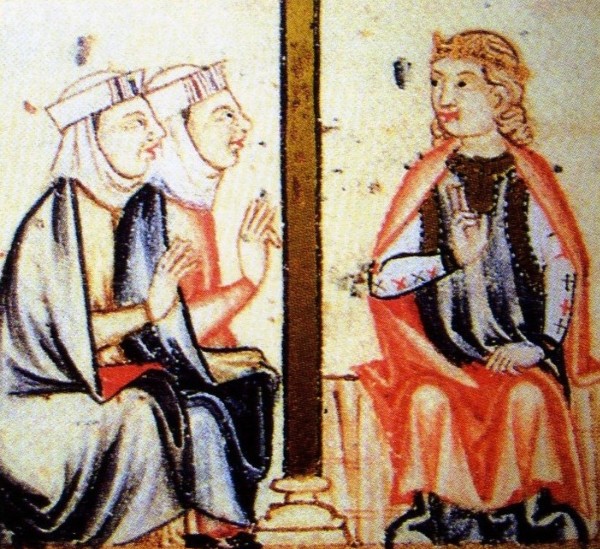 THE CANTIGAS DE SANTA MARÍA
of Alfonso X el Sabio (the Wise), 1221-1284


The Cantigas de Santa Maria, contained in four 13th century parchment codices, is considered to be medieval Spain's most important lyrical work. Written in Galician-Portuguese there are four hundred and twenty-seven poems that have been handed down to us with their corresponding musical notation and extraordinary embellishments and miniatures. They combine tales of miracles popular in the Middle Ages, with praises to the Virgin Mary and are a testament to the Marian devotion that developed in parallel to the construction of the Gothic cathedrals.

The repertoire is extraordinarily rich as its melodies are all different and original The formal structure of verses with a refrain make them apt for popular participation.

When Eduardo Paniagua embarked on the recording of the Cantigas de Alfonso X he organised the works according to different criteria that give unity and personality to each recording. One criterion is the geographical location of the stories that are told according to the villages or Marian sanctuaries that were the scene of these miracles. The Cantigas are performed with all their original text and the intention of the Collection goes beyond the exclusively musical evoking the human and cultural background.


Eduardo Paniagua