Alfonso X el Sabio, 1221-1284

.

Cantigas de Flandes


Eduardo Paniagua ·

Música Antigua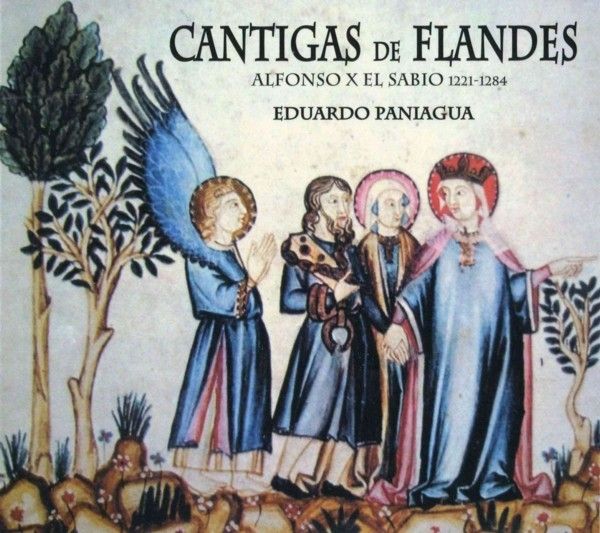 medieval.org
Pneuma «Colección Cantigas» PN-1150
2009









MARAVILLOSOS MILAGROS
1. Maravillosos e piadosos [6:58] CSM 139
canto y coro, órgano de mano, guitarra medieval, axabeba, flauta alto, campanil, gong y darbuga
voice and chorus, portative organ, medieval guitar, axabeba (Moorish flute), alto recorder, chimes, gong and goblet drum


CABALLERO PRESO
2. De muitas guisas [8:02] CSM 158
canto y coro, salterio, vihuela, cítola, viola, guimbri, axabeba, flauta y cántara
solo voice and chorus, psaltery, vihuela, cítola, viola, guimbri (African lute), axabeba, recorder and clay pot


EL CLÉRIGO Y LOS LADRONES
3. Sempr' aos seus val [4:12] CSM 102
canto y coro, flauta de tres agujeros, chicotén, cítara y flauta
solo voice and chorus, three-holed flute, chicotén (psaltery), zither and recorder


EL CLÉRIGO IGNORANTE
4. Quen loar podia [8:09] CSM 32
canto alto y coro, órgano de mano, vihuela, salterio, chalumeau, campanil y gong
alto voice and chorus, portative organ, vihuela, psaltery, chalumeau, chimes and gong


PACTO CON EL DEMONIO
5. O que en Santa Maria de coraçon [4:46] CSM 216
canto y coro, viola de rueda, flauta pastoril y panderos
solo voice and chorus, symphonia, pastoral flute and hand-held frame drums


VISIÓN DE LOS SANTOS
6. Quen Jesu-Crist'e ssa Madre veer quiser [9:08] CSM 261
canto y coro, vihuela, órgano de mano, flauta de tres agujeros y tamboril, flauta
solo voice and chorus, vihuela, portative organ, three-holed flute and tabor, recorder, goblet drums and hand-held frame drums


EL MERCADER DE FLANDES
7. A de que Deus pres [12:06] CSM 267 (=373)
canto y coro, viola, vihuela, órgano de mano, cornamusa, flauta, darbugas, pandero y tamborete
solo voice and chorus, viola, vihuela, portative organ, cornamuse, flute, goblet drums, hand-held frame drums


EL MONJE AHOGADO
8. Macar ome per folia [5:29] CSM 11
canto alto y coro, cálamo, viola de rueda, salterio, caño, flauta y darbuga
alto voice and chorus, reed pipe, symphonia, psaltery, pipe, recorder and goblet drum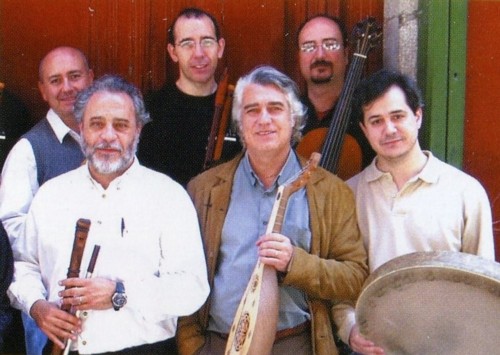 MÚSICA ANTIGUA
Eduardo Paniagua

CESAR CARAZO: canto y coro, viola
LUIS ANTONIO MUÑOZ: canto y coro
SAMUEL CRUZ: canto alto y coro

JAVIER COBLE: órgano de mano y campanil
FELIPE SÁNCHEZ: guitarra medieval y vihuela
JAIME MUÑOZ: axabeba, cálamo, chalumeau, cornamusa, flauta de tres agujeros y tamboril
EDUARDO PANIAGUA: flautas, salterio, cítara, flauta pastoril, darbuga, tamborete, panderos y gong

Invitados:
LUIS DELGADO: viola de rueda (CSM 216), cítola, guimbri y cántara (CSM 158), pandero (CSM 216)
DAVID MAYORAL: darbugas (CSM 139), pandero (CSM 267)
ENRIQUE ALMENDROS: flauta de tres agujeros y chicotén (CSM 102)
RAFAEL MARTÍN: viola de rueda (CSM 11)
LUIS VINCENT: caño (salterio) (CSM 11)








Grabado en el 2009 en Axis, Madrid por Hugo Westerdahl
Producción artística: Eduardo Paniagua.
Premio mejor intérprete Música Clásica 2009 de la Academia de la Música de España

Diseño gráfico: Pneuma
Portada: Cantiga 158
Traducción poemas: José Filgueira
English translation: Lesley Ann Shuckburgh

Producción: EDUARDO PANIAGUA • 2009 PNEUMA
Depósito Legal: M-14142-2009

Comunidad de Madrid • La Suma de Todos
Caja Madrid • Fundación

GRABACIÓN INTEGRAL. CANTIGAS ALFONSO X EL SABIO
BIEN CULTURAL. PATRIMONIO INMATERIAL

Agradecimiento: D.G. Patrimonio Histórico y
D.G. Promoción Cultural de la Comunidad de Madrid




English liner notes










FLANDES MEDIEVAL


Flandes, en francés Flandre y en neerlandés Vlaanderen, es un principado histórico situado en el norte de la Europa continental. La dominación merovingia cristianizó el país hacia el siglo VI, siendo el primer obispo S. Vaast, en Arrás. Esta sede episcopal pasó después a Cambrai y se creó una nueva en Tourenne, al tiempo que florecieron las abadías de S. Vaast en Arrás y la de S. Bertin en Saint-Omer.

La importancia de Flandes data del siglo XIII, cuando sus ciudades comenzaron a prosperar gracias al desarrollo de la industria de tejidos que contribuyó a que emergiera una cultura flamenca singular en cuanto a la pintura, literatura y arquitectura. Incluso en las Cantigas de Alfonso X el Sabio aparece Flandes como un lugar donde comerciantes españoles viajan para sus negocios.

A principios del siglo X, Balduino III estableció las bases del desarrollo industrial y comercial de la región, al crear fábricas de lana y seda en Gante y fundar las ferias anuales de Brujas, Ypres y otras ciudades. En el siglo XI, Flandes pasó a depender del Sacro Imperio y poco después, de la Corona de Francia. A mediados del siglo XI, Flandes había adquirido un poder equivalente al de un reino, y sus gobernantes poseían una notable influencia en los asuntos políticos de Europa occidental. Entre 1191 y 1280, Flandes y la región vecina de Hainaut fueron gobernadas como una única provincia. Todo el país vivía de la lana y ello empujó al poder a disponer de «dinastías burguesas», que entorpecieron con sus «ciudades libres» el poder de los condes feudales. Junto al ascenso de la burguesía aparecieron el poeta Gauthier D'Arras, creador del teatro cómico, y los prosistas Jacquemars Gielée y Alain de Lille.



CANTIGAS DE FLANDES


1. CSM 139. MARAVILLOSOS MILAGROS. "Maravillosos e piadosos"
Historia localizada en Dormaus, Flandes, inspirada en el relato de Gualterius de Cluny y que adquirió popularidad con el film español "Marcelino pan y vino". Ante una imagen de Santa María con el Niño Jesús en brazos, un niño le ofrece pan. Éste animado por su Madre, le contesta diciéndo que mañana comerá con Él en el Paraíso.

2. CSM 158. CABALLERO PRESO. "De muitas guisas"
Un señor tirano, injustamente encarcela y encadena a un caballero honrado. Éste al prometer que irá de peregrinación a Rocamador, es liberado por la Virgen. El preso fue a colgar las cadenas al santuario prometido, pasando por Tolosa de Guipúzcoa.

3. CSM 102. EL CLÉRIGO Y LOS LADRONES. "Sempr' aos seus val"
Relato sencillo y realista de un joven clérigo que estaba perdido en un camino. Un niño se ofrece a conducirle a cambio de monedas. Aceptada la propuesta el niño le lleva a un lugar donde unos ladrones le robaron y arrojaron a una cueva que cubrieron con piedras. Tras pasar la noche pidiendo ayuda a la Virgen, unos pastores lo sacaron herido, y juntos loaron a Santa María.

4. CSM 32. EL CLÉRIGO IGNORANTE. "Quen loar podia"
La Virgen defiende a un clérigo ignorante frente a su obispo que le había criticado y luego despedido de su ciudad porque sólo sabía cantar la misa dedicada a Ella. Leyenda hagiográfica de Haderardus de Derlar.

5. CSM 216. PACTO CON EL DEMONIO. "O que en Santa Maria de coraçon"
Un caballero perdió su hacienda y pactó con el diablo, a cambio de dinero, que le entregaría a su mujer. Por ser su seguidora y para salvarla, Santa María se presentó ante el demonio con la apariencia de la mujer del caballero. El diablo al descubrir el engaño huyó de Ella. El insensato caballero se arrepintió y fue perdonado por ambas.

6. CSM 261. VISIÓN DE LOS SANTOS. "Quen Jesu-Crist'e ssa Madre veer quiser"
Una mujer tenía como mayor deseo ver a hombres y mujeres buenos para escucharles. Un obispo predicó en su tierra y tras escuchar su sermón le expresó su deseo en confesión. Cumpliendo el consejo del obispo, tras ayuno y oración, la mujer tuvo la visión de una gran luz y un puente por el que pasaban los santos, también Jesucristo y su Madre. La mujer llorando pidió ir con ellos y murió al momento. EL obispo al enterarse y ver el cuerpo radiante que olía a aromas de Ultramar, se maravilló entendiendo que era un designio divino.

7. CSM 267 (373). EL MERCADER DE FLANDES. "A de que Deus pres"
La cantiga 267 está repetida en el cancionero con el número 373. Santa María libró a un mercader del peligro de morir entre las olas del mar al que cayó desde una nave. La narración cuenta que un rico mercader muy devoto de la Virgen, que vivía en Portugal entre el Duero y el Miño, fletó una nave para ir a Flandes por el mar Cantábrico. Pero una fuerte tormenta le arrojó al agua y, a punto de morir ahogado, recordó a Santa María que había prometido ir de romería a Rocamador. La Virgen le salvó y maravillosamente llegó al puerto de destino diez días antes de lo previsto. El mercader retornó de Flandes a través de Francia haciendo su peregrinación prometida.

8. CSM 11. EL MONJE AHOGADO. "Macar ome per folia"
En una abadía el monje tesorero además de llevar mal la economía, cada noche iba a holgar con su amiga, aunque al salir siempre saludaba a la Virgen con el "Ave María". Tenía que atravesar un río y en una de las ocasiones murió ahogado. El demonio y los ángeles se disputaban su alma, y cuando los ángeles dieron por perdido el asunto, Santa María salió en su defensa e hizo que los ángeles devolviesen el alma al cuerpo resucitándole. De esta leyenda del monje devoto resucitado, muy utilizada en sermones y exempla, hay versificada versión francesa, inglesa, italiana, islandesa, árabe, etíope y griega. La más antigua, del siglo XI. En España tenemos las de Alfonso X, Gil de Zamora y Berceo.


Eduardo Paniagua

Flanders, in French Flandre and in Dutch Vlaanderen, is a historic principality of northern continental Europe. Merovingian domination brought Christianity to the country in the 6th century (approximately), the first bishop being St. Vaast (St. Vedastus), Bishop of Arras. The See of Arras was later transferred to Cambrai and a new See was created in Tourenne, at the same time the abbeys of St. Vaast in Arras and St. Bertin in Saint-Omer flourished. The importance of Flanders goes back to the 13th century, when its cities began to prosper thanks to the development of the cloth trade that contributed to the emergence of a unique Flemish culture in painting, literature and architecture. Even in the Cantigas of Alfonso X, the Wise Flanders appears as a place where Spanish merchants travelled to trade. At the beginning of the 10th century, Baldwin III established the beginnings of industrial and commercial development in the region, creating wool and silk factories in Ghent and founding the annual fairs in Brugges, Ypres and other towns. In the 11th century Flanders was part of the Holy Roman Empire and soon after it became part of the French crown. By the middle of the 11th century, Flanders had acquired a power equivalent to that of a kingdom, and its governors possessed a notable influence on the political affairs of Western Europe. Between 1191 and 1280, Flanders and the neighbouring region of Hainaut were governed as one province. The whole country lived off the wool trade which was the secret behind its new power, as the "free cities" of the burgeoning "bourgeois dynasties" created an obstacle to the power of the feudal barons. The poet Gauthier d'Arras creator of comic theatre, and the prose writers Jacquemars Gielée and Alain de Lille all blossomed with the rise of the bourgeoisie.


CANTIGAS OF FLANDERS


1. CSM 139. MARVELLOUS MIRACLES
"Marvellous and Pious"
The story is located in Dormaus, Flanders, inspired by the tale by Gualterius de Cluny that became well known because of the Spanish film "Marcelino pan y vino" (Marcelino Bread and Wine).
A boy offers bread to an image of Jesus in a painting of the Blessed Virgin Mary with the Baby Jesus in her arms. The Holy Child responds, encouraged by his Mother, saying that tomorrow the boy will eat with Him in Paradise.

2. CSM 158. THE IMPRISONED KNIGHT
"De muitas guisas"
A tyrannical Lord, unfairly imprisons an honourable knight and throws him into chains. When the knight promises to make a pilgrimage to Rocamadour, he is set free by the Virgin Mary. The prisoner went to hang the chains in the promised sanctuary, via Tolosa de Guipúzcoa.

3. CSM 102. THE CLERICS AND THE THIEVES
"Sempr' aos seus val"
A simple realist tale of a young cleric who lost his way. A boy offers to guide him in exchange for a few coins. He accepts the proposal and the boy takes him to a place where thieves rob him and throw him into a cave that they then cover with stones. After asking the Virgin for help all night, some shepherds rescue the wounded priest, and all together they pray to Holy Mary.

4. CSM 32. THE IGNORANT CLERIC
"Quen loar podia"
The Virgin defends an ignorant cleric whose bishop had criticized him and expelled him from the city because he only knew how to sing mass dedicated to Her. A hagiographic legend by Haderardus de Derlar.

5. CSM 216. A PACT WITH THE DEMON
"O que en Santa Maria de coraçon"
A Knight lost his land and made a pact with the devil, promising to surrender his wife in exchange for money. The wife was devoted to the Virgin Mary who goes to the devil disguised as the knight's wife. The devil fled when he discovered the trick. The stupid knight was sorry and was pardoned by both.

6. CSM 261. A VISION OF THE SAINTS
"Quen Jesu-Crist'e ssa Madre veer quiser"
A woman's greatest desire was to see and listen to good men and women. A bishop preached in her land and after hearing his sermon she expressed her desire in confession. Following the advice of the bishop, after fasting and prayer, the woman had the vision of a great light and a bridge that the saints, Jesus Christ and his Mother were all crossing. The woman in tears asked if she could go with them and died immediately. When the bishop found out and saw the radiant body smelling of aromas from overseas, he marvelled at the sight, and understood that it was part of a divine plan.

7. CSM 267(373). THE MERCHANT OF FLANDERS
"A de que Deus pres"
Cantiga 267 is repeated in the songbook with the number 373. Holy Mary saved a merchant from death at sea when he fell from a ship. The narrative tells the story of a rich merchant who was very devoted to the Virgin Mary. He lived in Portugal between the River Duero and the River Miño, and hired a ship to go to Flanders by way of the Cantabrian Sea. However, during a strong storm, he fell into the water and was on the point of drowning when he called on the help of Holy Mary whom he had promised he would go on a pilgrimage to Rocamadour. The Virgin Mary saved him and miraculously he reached the port of destination ten days earlier than planned. The merchant returned to Flanders through France making the pilgrimage he had promised.

8. CSM 11. THE DROWNED MONK
"Macar ome per folia"
A monk, who was the treasurer in an abbey, not only controlled the economy. Every night he went to have fun with his girlfriend, although when he went out he always saluted the Virgin Mary with a "Hail Mary". He had to cross a river and on one occasion he was drowned. Angels and devils argued over his soul, and when the angels gave up the cause as lost, Holy Mary came out in his defence and made the angels give the soul back to the body and so resuscitate it. There are French, English, Italian, Icelandic, Arabic, Ethiopian and Greek versions of this legend in verse and it is often used in sermons and exempla. The oldest dates back to the 11th century. In Spain there are versions by Alfonso X, Gil de Zamora and Berceo.

Eduardo Paniagua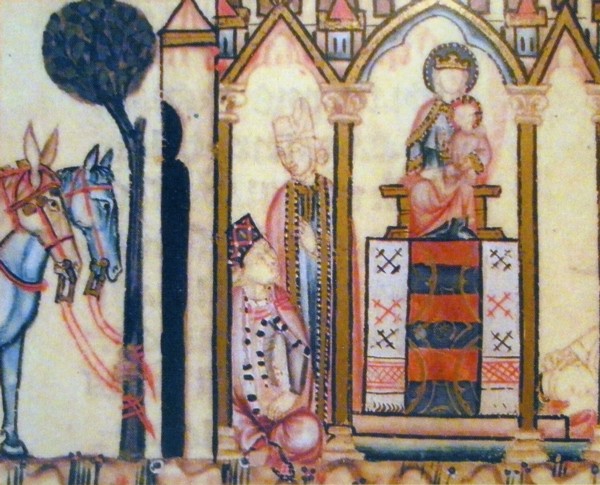 GRABACIÓN INTEGRAL CANTIGAS ALFONSO X EL SABIO
BIEN CULTURAL • PATRIMONIO INMATERIAL



LAS CANTIGAS DE SANTA MARÍA

Las Cantigas de Santa María, comprendidas en cuatro códices de pergamino del siglo XIII, constituye la obra lírica más importante de la España medieval. Escritas en el idioma galaico-portugués, son cuatrocientos veintisiete poemas que nos han llegado con su correspondiente notación musical y adornadas con extraordinarias miniaturas. Combinan relatos de milagros difundidos en la Edad Media con loores a la Virgen María, testimonio de la devoción mariana que se desarrolla paralelamente a la construcción de las catedrales góticas. El repertorio es de extraordinaria riqueza ya que sus melodías son todas distintas y originales. La estructura formal de estrofas con refrán las hace aptas para la participación popular.

Eduardo Paniagua al abordar la grabación integral de las Cantigas, ordena estas obras según varios criterios que dan unidad y personalidad a cada disco. Un criterio es la localización geográfica de las historias que se narran según las poblaciones o los santuarios marianos que coleccionaron estos milagros. Las Cantigas están interpretadas con todo su texto original.

Fundada en 1994 en Madrid, Pneuma comenzó con el objetivo de publicar la música medieval española inédita hasta el momento. La intención de las ediciones de Pneuma trasciende lo exclusivamente musical, buscando el trasfondo humano y cultural de las obras medievales. Cuando nuestros antecesores han conservado las canciones y la música a través de tantos siglos, ya sea en los códices o en la tradición oral, es porque las han considerado de gran valor. Ese valor humano, cultural y espiritual, junto al valor estético musical, es el que Pneuma quiere rescatar y mostrar, participando en el despertar a un mundo mas culto y humanizado, que acepta la riqueza de otras tradiciones y que aprende de lo mejor de su pasado.



THE CANTIGAS DE SANTA MARÍA

The Cantigas de Santa María, contained in four 13th century parchment codices, is considered to be medieval Spain's most important lyrical work. Written in Galician-Portuguese there are four hundred and twenty-seven poems that have been handed down to us with their corresponding musical notation and extraordinary embellishments and miniatures. They combine tales of miracles popular in the Middle Ages, with praises to the Virgin Mary and are a testament to the Marian devotion that developed in parallel to the construction of the Gothic cathedrals. The repertoire is extraordinarily rich as its melodies are all different and original. The formal structure of verses with a refrain make them apt for popular participation.

When Eduardo Paniagua embarked on the recording of the Cantigas de Alfonso X he organised the works according to different criteria that give unity and personality to each recording. One criterion is the geographical location of the stories that are told according to the villages or Marian sanctuaries that were the scene of these miracles. The Cantigas are performed with all their original text.

When Eduardo Paniagua founded Pneuma in Madrid in 1994 his intention was to release previously unrecorded Spanish medieval music. The philosophy behind Pneuma's recordings goes beyond the musical element in search of the human and cultural background of the medieval works. If our ancestors have preserved the songs and the music through so many centuries, in codices or in oral tradition, it is because they considered them to be of great value. That human, cultural and spiritual value, together with the aesthetic musical value, is what Pneuma hopes to capture and bring to light, thus participating in an awakening to a more cultured and human world, that accepts the wealth of other traditions and learns from the best of its past.