Alfonso X el Sabio, 1221-1284

.

Cantigas de Roma


Eduardo Paniagua ·

Música Antigua







Pneuma PN-1490
2014









SANTA MARÍA DE LAS NIEVES
1. Non deven por maravilla [13:00] CSM 309
canto y coro, viola, laúd árabe, arpa, chalumeau, zarb y campanil

EMPERATRIZ DE ROMA
2. Quenas coitas deste mundo [20:32] CSM 5
canto, coro, salterio, laúd, tumbur, cítola, guimbri, flautas, darbuga, pandero y agua

LA IMAGEN DE SAN JUAN DE LETRÁN
3. Maravillosos miragres [7:35] CSM 272
canto, coro, salterio, flauta doble, gaita, cítola, viola, flautas, pandero

LA DONA DE ROMA
4. Sempre seja beneita e loada [6:57] CSM 17
canto, coro, salterio, cítola, flautas, darbuga y pandereta

EL HEREJE DE ROMA
5. Por gran maravilla tenno [10:51] CSM 306
canto y coro, laúd, vihuela de peñola, arpa, cítara, flautas, gaita, darbugas y pandereta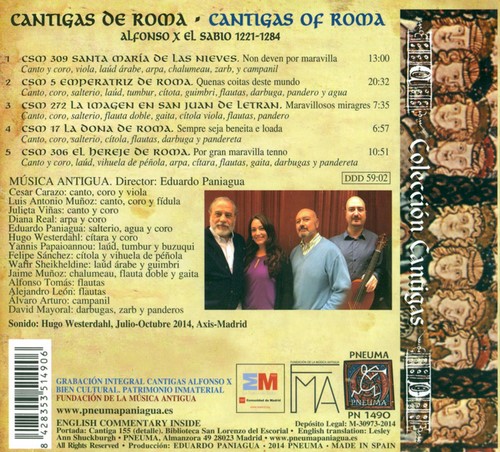 MÚSICA ANTIGUA
Eduardo Paniagua

César Carazo — canto, coro y viola
Luis Antonio Muñoz — canto, coro y fídula
Julieta Viñas — canto y coro
Diana Real — arpa y coro
Eduardo Paniagua — salterio, agua y coro
Hugo Westerdahl — cítara y coro
Yannis Papaioannou — laúd, tumbur y buzuqui
Felipe Sánchez — cítola y vihuela de peñola
Wafir Sheikheldine — laúd árabe y guimbri
Jaime Muñoz — chalumeau, flauta doble y gaita
Alfonso Tomás — flautas
Alejandro León — flautas
Álvaro Arturo — campanil
David Mayoral — darbugas, zarb y panderos



Sonido: Hugo Westerdahl, Julio-Octubre 2014, Axis-Madrid



GRABACIÓN INTEGRAL DE LAS CANTIGAS DE ALFONSO X
BIEN CULTURAL. PATRIMONIO INMATERIAL
FUNDACIÓN DE LA MÚSICA ANTIGUA

Portada: Cantiga 155 (detalle). Biblioteca San Lorenzo del Escorial


Producción: EDUARDO PANIAGUA • 2014 PNEUMA
Depósito Legal: M-30973-2014






1. HOLY MARY OF THE SNOWS
This is number 15 in the Florence Codex and has 14 stanzas. It tells the story of how the church of Our Lady of the Snows was founded, the first church dedicated to Holy Mary in Rome. The events took place on 5th August in the year 352 under Pope Liberius

2. EMPRESS OF ROME
This is number 15 in the Codex of El Escorial and number 19 in the Toledo Codex. In this song with 26 stanzas and 159 lines in longmetre, Holy Mary helps Beatriz, empress of Rome, to escape the suffering and injustice to which she is submitted after defending her chastity and marital fidelity.

3. THE IMAGE IN ST. JOHN LATERAN
This is the story of the miracle of the Virgin Mary in the church of St. John Lateran in Rome. A woman went to confess her many sins, which according to her confessor where unpardonable. He told her ironically that the image of the Virgin painted on a wall would have to move to another wall for him to forgive her.

4. LADY OF ROME
Holy Mary saves a pious woman accused by the devil of incest and infanticide. She had been widowed and she consoled herself with her son, by whom she eventually became pregnant. When her new son was born she killed him in secret.

5. THE HERETIC OF ROME
Cantiga number 20 in the Florence Codex. Painted on a wall in the church of St. John Lateran, there was an image of the Virgin Mary with the Angel of the Annunciation. The artist had painted her with a belt fastened above her belly making it obvious she was pregnant. A heretic commented that being a virgin she could not be pregnant. At that moment, the belt in the painting dropped to the image's waist, in the way a woman would wear it before conception. The man asked for forgiveness crying before the image of the Virgin.