Falling Through Time

/ Pastance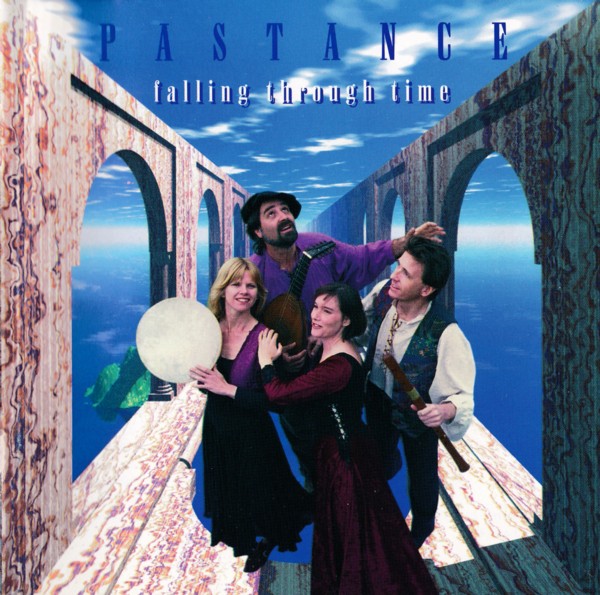 medieval.org
move.com.au
Move MCD 071
1996







Guillaume de MACHAUT (1300-1377)
1. Quant je sui mis [3:27]
voice 1, recorder, lute
2. Douce dame jolie [3:58]
voice 1, recorders, gittern, percussion


3. Dança Amorosa, La manfredina [4:25] Italian 14th C.
fiddle, recorder, 'oud, percussion

4. Kalenda Maya [4:34] Raimbault de VAQUEIRAS (c.1155-1205)
voice 1, fiddle, recorder, bagpipes, percussion

5. Tant m'abelis [2:36] Folquet de MARSELHA, 12th C.
voice 1, lute

6. Double estampie [3:34] English, c. 1320
recorder, gittern, percussion

7. Inperayritz ~ Verges ses par [3:25] 14th C. LV 9
voices 1, 2, recorder, harp

8. Saltarello [5:02] Italian, 14th C.
'oud, gittern, percussion

9. La rosa [2:53] Spanish, 15th C.
voice 1, lute

10. Though some saith [3:17] King HENRY VIII (1491 - 1547)
voices 1, 2, 3, recorders, lute

11. Je n'ay point plus [3:39]
Claudin de SERMISY (c. 1490 - 1562) | Lute intabulation, Pierre ATTAINGNANT (1543)
voices 1, 2, 3, 4, lute

12. O my heart/Consort viii [1:55] HENRY VIII
voices 1, 2, 3, 4/recorder, lute

13. Stonecutter/Greensleeves [3:22] Trad. English
voice 2, recorder, lute/recorder, lute


John DOWLAND (1562-1626)
14. What if I never speed [2:41]
voices 1, 2, 3, 4, lute
15. His golden locks [3:18]
voice 1, recorder, lute
16. Rest awhile, you cruel cares [3:30]
voices 1, 2, 3, 4, lute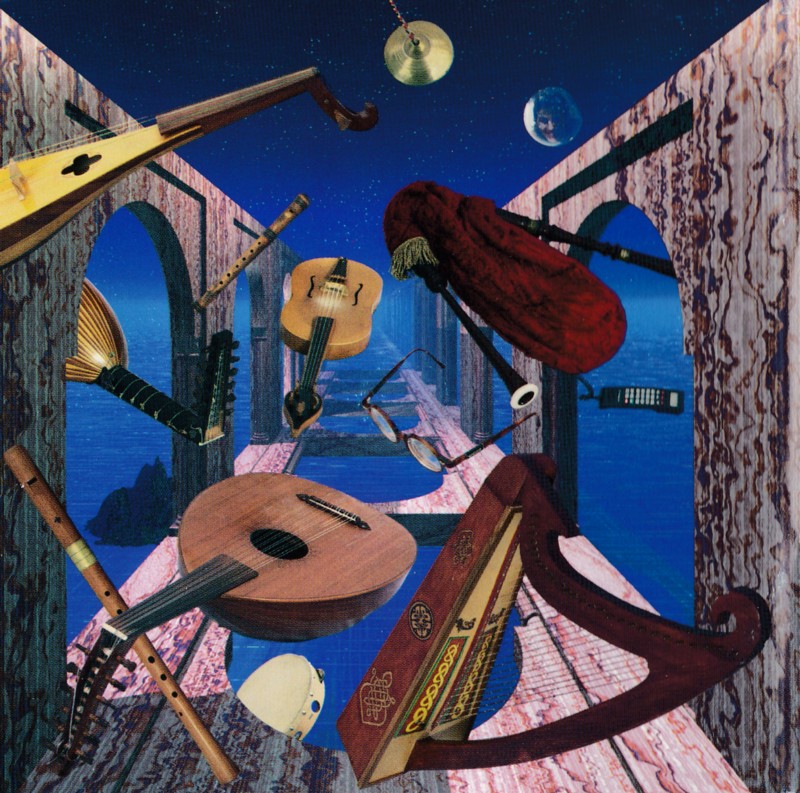 Quant je sui mis/Douce dame
Composed by the famous 14th century poet/musician Guillaume de Machaut, these are beautiful melodies which could be performed simply as they are, by a single unaccompanied voice. Our arrangements of them typify the approach we like to take to this music, using drones as a basis, but sometimes extending them with more modern ideas. Douce dame builds on a melodic motif suggested by the original material, whereas in Quant je sui mis the suggestions of harmony by the moving drone inspired a more modern lute part, which seemed to us to enhance the atmosphere of the piece. There is an almost ethereal quality to this song as one contemplates a love which exists in the poet's mind, unsullied by physical contact: "Thinking defames not".

La Manfredina — La rotta della manfredina
and Dança Amorosa are 14th century instrumental tunes which we combined and arranged to be used for maypole dancing. The opening is a slow version of the second tune - a little meditation before the dance begins.

Kalenda Maya
The troubadour song Kalenda Maya is the only surviving instrumental tune from before the 13th century. A High Style canso text is fitted to the Lower Style estampida instrumental tune. Legend has it that Boniface 1st. Marquis of Montferrat, challenged Raimbault to set one of his characteristically sombre poems to the exuberant melody played by two visiting fiddlers. This performance encompasses both aspects of the song, with a free vocal rendition of the first verse building through the second and last verses (there are many more in the original) to an instrumental performance of the estampida. This is followed by an instrumental version of the vocal estampida Souvent Souspire.


Troubadour songs would traditionally have been performed unaccompanied or with a simple harp or fiddle accompaniment. In these very early songs the notation does not allow us to make a precise interpretation of the rhythm.

Tant m'abelis
In Tant m'abelis we have chosen to use the gentle droning of the lute (our substitute for a bardic harp) to give this rather pensive and textually convoluted song a steady rhythmic impetus.
The two-part estampie which follows, with its dance-like rhythms and jaunty refrain, presents no such notational problems of rhythm. Probably written for organ, our only additions are the specific instrumentation and improvised drumming.

lnperayritz — Verges ses par
This is a two-part motet from the famous fourteenth century Catalonian manuscript known as the Llibre Vermell, or Red Book. It is one of the only songs of this time to be written In occitan, or Provençal, the language of Kalenda Maya used by the troubadours of southern France, and closely related to Catalan. The motet was intended to be sung by pilgrims in praise of the Virgin Mary as they made their way to the monastery at Montserrat in Spain.

Saltarello
The surviving instrumental tunes of medieval Europe betray some of the influences of the long and competitive relationship with the East. Our choice of the 'oud (Arabic lute) to perform the saltarello is designed to give an exotic flavour to this essentially Italian dance tune.

La Rosa
There is also a distinctly eastern flavour about the Sephardic song, La Rosa. This song was introduced to us by Sydney cantor George Mordecai in 1994 (the 500th anniversary of the expulsion of the Jewish people from Spain.) The enormously rich culture of the Sephardim survives throughout eastern Europe, preserving in a timeless folk tradition numerous songs such as this one.

Henry VIII
We first began performing music from the Tudor court of Henry VIII in conjunction with an exhibition of the Mary Rose at the National Maritime Museum. We have chosen three pieces attributed to Henry, which typify one aspect of music-making at his court. They are gentle, intimate works of great charm, and appear to have been written in the early years of his reign. Though some saith, with its youthful spirit and assertions of faithfulness, seems to confirm this. The compact O my heart and the instrumental Consort (No. 8 in the MS) reflect an aspect of music-making which was essentially informai and social.

Je n'ay point plus
In the middle of the Tudor pieces we have inserted a chanson by Claudin de Sermisy. There was a strong international (i.e. Franco-Flemish) presence in Henry's court, and one of Sermisy's compositions appears in the Anne Boleyn song book. His chanson were extremely popular in their day, and we follow this piece by a transcription for lute, published by the Royal printer Attaingnant.

Stonecutter
Jenni brought the song Stonecutter to the group after hearing it sung unaccompanied by Anne Briggs on an old L.P. of traditional erotic love songs that was collected by the famous British folksinger A. L. Lloyd. This genre of folk song presents the antithesis of the courtly love songs heard earlier, with their idealised notion of love and obsession with suffering and unfulfilled longing. The gentle tone of this ballad belies its more lascivious intent.
Greensleeves and Pudding Pies is from the John Playford collection of English Country Dances (1651).

Three lute Songs
The following three lute songs all come from Dowland's First Book of Ayres, published in 1597. This collection was the first of its kind, creating a fashion for this type of song, which could be performed either as a solo song with an intabulated lute part, or with up to four voices with lute accompaniment. We offer both of these alternatives in our performance of these songs.

Notes by Pastance
© 1996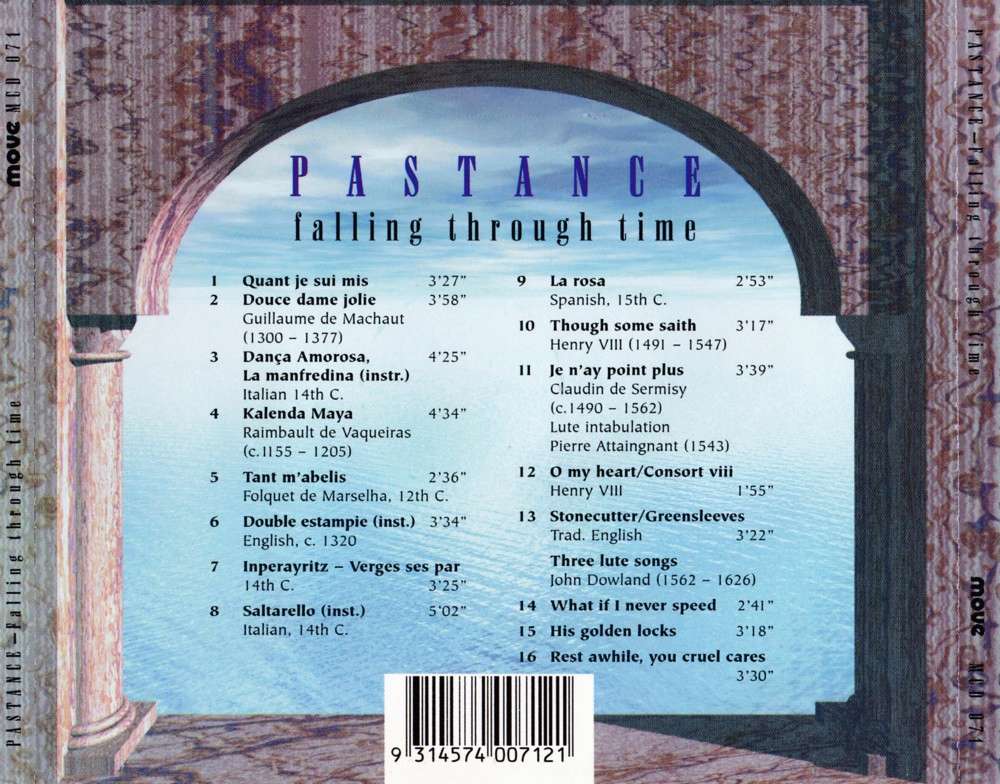 Pastance came together in 1993 to perform Medieval and Renaissance music. We found ourselves performing not only for the early music fraternity but also for a wide range of audiences, from corporate feasts to open air markets, schools, folk festivals and formal concerts. Our repertoire and performance style has therefore been shaped not only by our diverse musical interests, but also by the need to appeal to this broader audience.




Pastance

Megan Aplin — voice 1, recorder, percussion
Jenni Cargill — voice 2, percussion, 'oud drone
Alexander Cronin — lute, fiddle, gittern, bagpipes, harp, voice 3
Matthew Ridley — recorders, gittern, voice 4

David Starr — Bass Drum on Tracks 3 and 4



The Instruments

Six course lute — Renatus Lechner 1982
Fiddle — Peter Biffin 1992
Bagpipes — Ian Mackenzie 1992
'Oud — Peter Biffin
Gittern — Andrey Wyka 1987
Harp — Mark Davies 1995

Soprano recorders, after Praetorius — P. Kobliczek
Alto recorder, after Kynseker — Mollenhauer
Tenor recorder (wide bore) — Paul Whinray, 1994
Tenor recorder after Praetorius — P. Kobliczek
Bass recorder (renaissance) — Moeck
Percussion – Daff, Tambourines, Bass Drum, Bell



This recording was made In the chapel of All Saints Anglican School
on the Gold Coast during July and August of 1995
and later in 1995 in the Old Darlington School, Sydney University.
Recording Engineer: David Starr
Digital Mastering: David Neil at The Refinery, Brisbane
Design, photography, electronic imaging and typesetting: Hilary Rhodes
Photograph Inside cover: Jenny Templin
© 1996 All Rights Reserved