A Gentill Jhesu. Music from the Fayrfax Ms. and Henry VIII Book / Pro Cantione Antiqua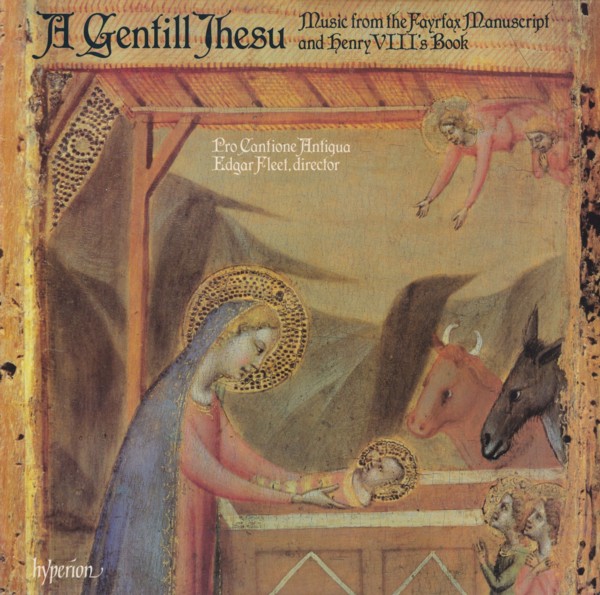 medieval.org

Hyperion A 66152 stereo (LP)
Church of St. John-at-Hackney, London,
1982, pub. 1985







A Gentill Jhesu
Music from the Fayrfax Ms. and Henry VIII Book

A
01 - John BROWNE (fl.c.1500) - Jhesu Mercy [5:29]
Jesu, mercy

02 - Richard PYGOTT (fl.c.1520) - Quid petis, o fili? [7:53]

03 - Richard DAVY (c.1465-c.1507) - A Blessid Jhesu [6:26]
Ah, Blessed Jesu

04 - SHERYNGHAM ? (fl.c.1500) - A Gentill Jhesu [3:29]
Ah, Gentle Jesu

B
05 - A My Dere Sonne (an.) [3:22]
Ah, my dear son

06 - Gilbert BANASTIR ( c.1445-1487) - My Feerfull Dreme [6:03]
My Fearful Dream

07 - Alone, alone, alone (an.) [3:46]

08 - William CORNYSHE (?-1523) - Woffully Araid [8:44]
Woefully arrayed




Pro Cantione Antiqua
Edgar Fleet

Pro Cantione Antiqua
Charles Brett, Timothy Penrose, Kevin Smith — countertenors
Paul Elliott, James Griffett, James Lewington — tenors
Brian Etheridge, Michael George, Stephen Roberts — basses
with
Rachel Bevan — soprano
Catherine Mackintosh, Margaret Westlake, Philip Thorby, William Hunt — Renaissance viols


La fecha de grabación no aparece en el LP. Está tomada de medieval.org,
donde el director aparece listado como Mark Brown.




Reeditado en una compilación en CD de ASV (1995) junto con obras de Robert WHYTE:

http://www.medieval.org/emfaq/cds/asv6151.htm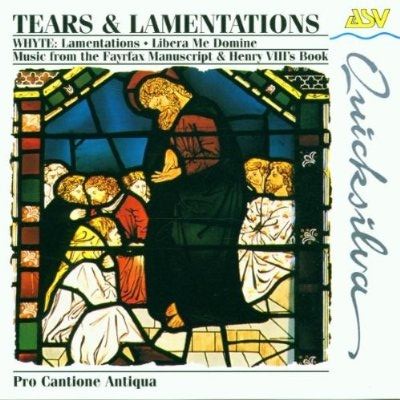 y más tarde en Regis (2006)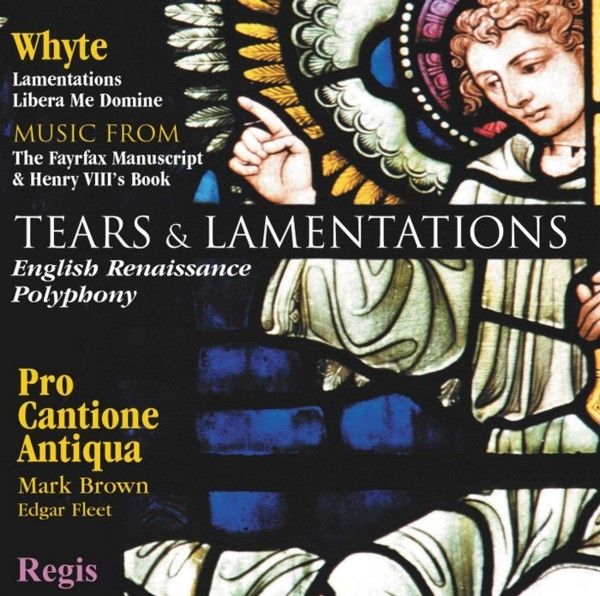 Of the eight religious songs chosen for this record, seven are taken from the Fayrfax Manuscript (c1505), so named because it was owned a century later by the Fayrfax family, related to the famous composer, Robert (1464-1521), whose coat of arms indicates that he was perhaps the original owner if not the compiler. This manuscript immediately predates the Henry VIII Manuscript in which the song Quid petis, o fili?, by Pygott, is to be found. The Fayrfax Manuscript, unlike the later one, is confined to vocal pieces, courtly love songs, songs which react against courtly conventions (occasionally to the point of vulgarity), and — placed in between — religious songs of great stature, from which this selection is taken.

These manuscripts occupy an intriguing niche in the history of European vocal polyphony, representing as they do the late flowering of a peculiarly insular English style of composition which may be seen as a more or less direct descendent of the medieval "Ars Nova". Whereas the great English composer John Dunstable had formed a bridge between the late medieval isorhythmic motet and the now familiar imitative style of renaissance polyphony, by giving Europe a taste for English consonance, ironically his native country was left in a kind of cultural backwater — or rather, if this latter may suggest stagnation, eddy. There remain from the medieval period a great floridity and wealth of ornament together with considerable rhythmic complexity. At the same time, these songs are wonderfully expressive settings of some of the finest Christian vernacular poetry of the age.

For the most part the poetry is inspired by the strong medieval sense of piety and devotion, in particular a devotion to the Passion of Christ, who died for the sake of mankind. Both music and words are ambitiously powerful over a large range, textural and harmonic. The restrained imagination of Ah, gentle Jesu, in which Christ Himself speaks, contrasts with that of My fearful dream, telling of Christ's wearing 'a crown of thorn as needle sharp shift in His brain'. Always of paramount importance is the way in which the music enhances the text. All composers took great care to do this as realistically as possible. There is no verbal conflict, and the pure musical imagery occurs only after the text has been fully expressed. English poetry had never before been so well served by her sister art, and there could be no more effective a way of achieving such unity within the confines of polyphonic vocal music.

Owing to the considerable length of some of these poems, and for the sake of introducing a greater number of composers and styles, it was thought best not to sing every verse of every piece on this record.

The carol Jesu, mercy is by John Browne. The unknown poet asks why Christ should take on human form, 'that was of infinite might, equal to the Father in Deity'. The full poignancy of the sigh 'Ah Jesu' is expressed in three simple chords.

Ah, blessed Jesu (Richard Davy), for three voices, has a brief refrain combining English and Latin phrases as in many medieval carols. Its text, full of sorrow and remorse, refers to great distress even in sleep. In these travails the help of a merciful Lord is sought.

Ah, gentle Jesu, by Sheryngham, is a four-voice dialogue between the penitent sinner and Christ, who is 'merciable'. The carol ends as it begins with a refrain, or burden, which has been grafted on to an older poem by Lydgate.

Ah, my dear Son is a sweet song by an anonymous hand, telling of Mary's love for her divine Son, who will be crowned King and then 'nailed full sore upon a tree'. Its musical beauty is as great as its imagery is powerful.

Gilbert Banastir's carol, My fearful dream, describes the walk to Calvary and those gathered by the Cross, whereas the anonymous Alone, alone depicts a conversation between the maiden Mary and her Son, born to save mankind.

In Woefully arrayed, by William Cornyshe, Christ speaks to man, telling of His Passion and betrayal. He asks us to love Him as He loves us, despite His agonies borne for our sake.

Whether these songs were performed with or without accompaniment may be a matter for conjecture, but there is no reason why the voices should not at times be discreetly doubled by suitable instruments. A prototype viol, without sound-posts, was in fairly common use at the beginning of the 16th century. We have therefore chosen to accompany certain parts of some of the songs, particularly the words of Christ in Ah, gentle Jesu. The listener can judge for himself how appropriate this is, and the performer may be helped by having the opportunity to hear these possibilities.

Despite the many diverse accents in the England of some five hundred years ago, an attempt has been made to sing the sounds of that language, in the belief that these sounds colour the music in the truest way. It is hoped that this recording will commend the Fayrfax Manuscript to the attention of other performers, for only through continual presentation will it reveal its complete beauty and take its rightful place in the forefront of England's musical heritage.


Edgard Fleet