Heinrich von Meissen «Frauenlob»

. Der Taugenhort

Mystische Betrachtungen im Mittelalter

/ per-sonat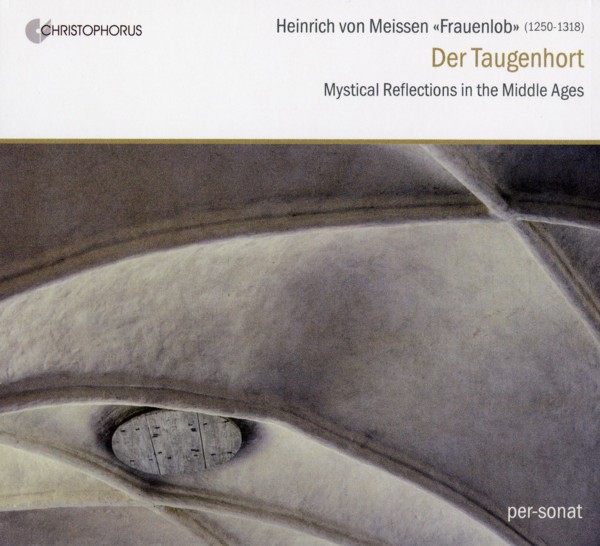 medieval.org
Christophorus CHR 77285
2007







1. — I. In gottes schoß [2:47]

2. — II. Der cron gestirn [2:08]

3. — III. Nu merckent [2:12]

4. — IV. Stunt die sache [2:15]

5. — V. Die dry person [2:22]

6. — VII. Küng Salomon [4:45]

7. — XVIII. Die kuniginne von Saba [4:24]

8. — Ich bin des himels creftig ingesiegel [3:23]

9. — XIX. Ich bin die wurtzel uß yesse [5:55]

10. — XXIII. Ich han gestirne [7:46]

11. — Estampie über Frauenlobs "Zarten Ton" [4:46]

12. — XXV. Die magt [7:22]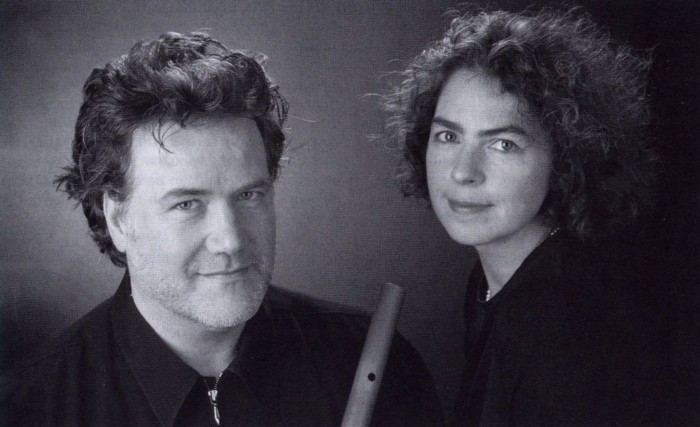 per-sonat
Sabine Lutzenberger — Gesang
Norbert Rodenkirchen — mittelalterliche Traversflöten & Harfe



Unser Dank für Textkorrekturen sowie Ergänzungen bei den ins Hochdeutsche
übertragenen Liedtexten gilt Prof. Dr. Volker Mertens

Executive Producer: Hanno Pfisterer
Project Producer: Joachim Berenbold
Recording: 14.-17. 3. 2007, Pfarrkirche St. Lambertus, Bechtheim
Recording Producer: Sebastian Pank
Editing: Hartmut Homolka
Cover-Photo: "Bögen" (St. Johannis-Kirche, Schaprode - Rügen), Fatih Zengin, Karlsruhe
Booklet Photos: Karl Blossfeldt
Design: Manfred Glaser
Translations: Debbie Hogg (engl.), Silvie Coquillat (fr.)

Ⓟ + © 2008 MusiContact GmbH, Heidelberg, Germany






MYTHOS FRAUENLOB

Heinrich von Meissen — genannt Frauenlob — wurde in den berühmten Illustrationen der so genannten Manessischen Handschrift (um 1310) als legendärer König der Minnesänger dargestellt. Nach einem bewegten Leben als Berufsdichter an vielen Fürstenhöfen starb er 1318 in seinem letzten Refugium Mainz, wo er noch heute im Dom begraben liegt. Eine Chronik aus der Mitte des 14. Jahrhunderts erwähnt, dass Frauen ihn mit einer großen Totenklage wegen seiner Verdienste um den Preis des weiblichen Geschlechts zu Grabe getragen haben. Dieser außergewöhnliche Bericht von der Trauer um einen Sänger zeigt die besondere Stellung Frauenlobs in der Zeit nach seinem Tod, welche eine bemerkenswerte Frauenlob-Rezeption hervorbrachte. Fast könnte man für die nun folgende Epoche von einem Mythos Frauenlob sprechen. In den folgenden zwei Jahrhunderten wurde sein dichterisch-musikalisches Werk niedergeschrieben; die ersten Aufzeichnungen datieren jedoch frühestens dreißig Jahre nach seinem Tod. Die Zuverlässigkeit der Handschriften in Bezug auf authentische Melodien und Texte ist sehr unterschiedlich. Es ist zu beobachten, dass die schöpferische Fantasie der nachfolgenden Generationen die Gestalt der Werke zunehmend veränderte, erst in kleineren Details und schließlich in immer freieren Nachdichtungen, welche es bisweilen unmöglich machen, den Grad der Originalität noch zu bestimmen. Gerade diese reiche, aber uneindeutige Oberlieferungslage ist schon für sich hochinteressant, da sie ein lebendiges Zeugnis vom Mythos Frauenlob ablegt. Seine Kunst wurde weitergeführt und am Leben gehalten, auch in Varianten, Ergänzungen, Paraphrasen und kompletten Nachdichtungen durch spätere anonyme Musiker/Dichter. Darunter sind wahre Kleinodien, die in ihrer hohen künstlerischen Bedeutung wieder gesungen werden können. Ein Werk, das ein Anonymus im Geiste und im Stil Frauenlobs verfasst hat (möglicherweise unter Verwendung originaler Teile, was heute nicht mehr belegbar ist), kann für uns im 21. Jahrhundert als Zeugnis des Mythos Frauenlob genauso wichtig sein wie eines der als original angesehenen Werke.

Um ein solches zu Unrecht vergessenes Meisterwerk handelt es sich beim Leich Taugenhort. Trotz der eindeutigen Zuschreibung in der Kolmarer Liederhandschrift (um 1460) Dys ist frauwenlobs taugen hort oder sin sloss hort vnd soit da vor nach sim leich sten (d.h. nach seinem Vorbild, dem Marienleich) gilt die Autorschaft Heinrichs als unwahrscheinlich, was aber der ergreifenden Wirkung und künstlerischen Aura des Werkes keinen Abbruch tut. Mit 912 Verszeilen in 25 Doppelversikeln ist es der längste überlieferte Leich. Er hält sich formal, sprachlich, inhaltlich und musikalisch an den Stil Frauenlobs und bietet eine verständlichere Paraphrase des sehr "dunklen" Marienleichs. Das theologische Programm ist die Mitwirkung Marias beim Erlösungswerk Gottes: Durch sie wird Jesus Mensch und Erlöser. Die Versikel I-VI handeln von der Würde der Jungfrau und Himmelskönigin, mit VII beginnt eine (als prophetische Rede König Salomons inszenierte) Ich-Aussprache Marias mit langen Reihen von Titeln, Beiwörtern, Namen, Vorbildern Marias in der Bibel und in der Natur, was sich zur kosmischen Perspektive weitet. Grandiose dichterische Allegorien zeigen die himmlische Jungfrau in immer neuen und sich überlagernden Facetten, welche von Naturkunde, theologischen Anschauungen, Astronomie und von der weltlichen Minnelyrik inspiriert sind. Die Melodik der Gesänge weist zudem — ganz im Sinne Frauenlobs — eine Durchdringung von geistlichen und weltlichen Einflüssen auf und wandert auf faszinierende Art und Weise durch alle acht Kirchentonarten. Ergänzt wird der aus Zeitgründen gekürzte Taugenhort in dieser Aufnahme mit improvisatorischen Begleitungen und Zwischenspielen von Flöte und Harfe.

Text und Melodie sind der Colmarer Handschrift cgm 4997 der Bayerischen Staatsbibliothek München entnommen.


Norbert Rodenkirchen

THE MYTH SURROUNDING FRAUENLOB

Heinrich von Meissen — known as Frauenlob (Praise of women) — is depicted in the famous illustrations of the Manesse Manuscript (c 1310) as the legendary king of the minnesingers. After an eventful life as a poet in the service of numerous princes, Frauenlob died in 1318 in Mainz, where he still lies buried in the cathedral. According to a chronicle dating from the middle of the 14th century, he was borne to his grave by lamenting women, in recognition of his contribution to the praise of womanhood. This rare report of a singer being mourned is an indication of Frauenlob's special status after his death, which led to a remarkable reception of his work. It could almost be said that a "Frauenlob myth" developed during the subsequent epoch. Over the next two centuries his poetry and music were written down, although the earliest such manuscripts date from at least thirty years after his death. In terms of the authenticity of the texts and the melodies, their reliability is therefore very variable. It is also worth noting that the works were progressively altered by the creative imagination of subsequent generations, first in matters of detail and eventually through increasingly free adaptations, so that it is sometimes impossible to establish their authenticity to any degree. However, this rich but equivocal tradition is exceptionally interesting in its own right, as living proof of the "Frauenlob myth". Later anonymous poets and musicians kept Frauenlob's art alive and continued it in the form of variants, supplements, paraphrases and complete reworkings. These include some real gems of high artistic significance which can now be sung once more. For us in the 21st century, an anonymous work composed in the spirit and style of Frauenlob (possibly but not demonstrably based on original material) can be equally important as evidence of the "Frauenlob myth" as one of the works regarded as genuine.

One such unjustly forgotten masterpiece is the Taugenhort Leich (lay). In spite of the unambiguous attribution in the Colmar Song Manuscript (c 1460), Dys ist frauwenlobs taugen hort oder sin sloss hort vnd soit da vor nach sim leich sten [This is Frauen lob's Taugenhort or his Slosshort and should therefore come after his Marian Leich], it is unlikely that Frauenlob was the author, although this does not in any way detract from the work's moving effect and artistic aura. With 912 lines arranged in 25 double versicles, this is the longest Leich to have survived. It offers a more approachable paraphrase of the very "dark" Marian Leich and its form, language, content and music are all true to Frauen lob's style. The theological theme is Mary's role in God's work of redemption: through her, Jesus becomes man and redeemer. Versicles I to VI portray the dignity of the Virgin and the Queen of Heaven. In Versicle VII Mary begins to speak about herself (dramatised as a prophetic speech by King Solomon). Here a long succession of titles, epithets, names and prefigurations of Mary in the Bible and in nature broadens out to a cosmic perspective. Grandiose poetic allegories show the heavenly Virgin in ever new, ever more complex facets inspired by natural history, theology, astronomy and secular minne (courtly love) poetry. The song melodies also suggest a fusion of spiritual and secular influences — entirely in the Frauenlob spirit — as they move fascinatingly through all eight ecclesiastical modes. The abridged version of the Taugenhort on this recording is complemented by improvised accompaniments and interludes for flute and harp.

The text and the melody are taken from the Colmar Manuscript cgm 4997 in the Bavarian State Library, Munich.


Norbert Rodenkirchen




per-sonat

Sabine Lutzenberger has been one of the outstanding vocalists in the field of medieval music for over twenty years. A member of the ensemble für frühe musik augsburg (Augsburg Early Music Ensemble) for many years, she now works with Ensemble Millenarium in France, the Huelgas Ensemble in Belgium and Mala Punica in Italy, among others. "Der Taugenhort" is the second collaborative concert project between Sabine Lutzenberger and the renowned musician Norbert Rodenkirchen, who has gained a reputation as flautist with the internationally acclaimed Sequentia ensemble and as a highly respected solo performer, among other activities. His numerous concert tours have taken him around the world. Norbert Rodenkirchen is also a composer and artistic director of the "Schnütgen concerts — music of the Middle Ages" at the Schnütgen Museum in Cologne.