Resonet in laudibus. Legende eines Weihnachtsliedes
Konrad Ruhland · Niederaltaicher Scholaren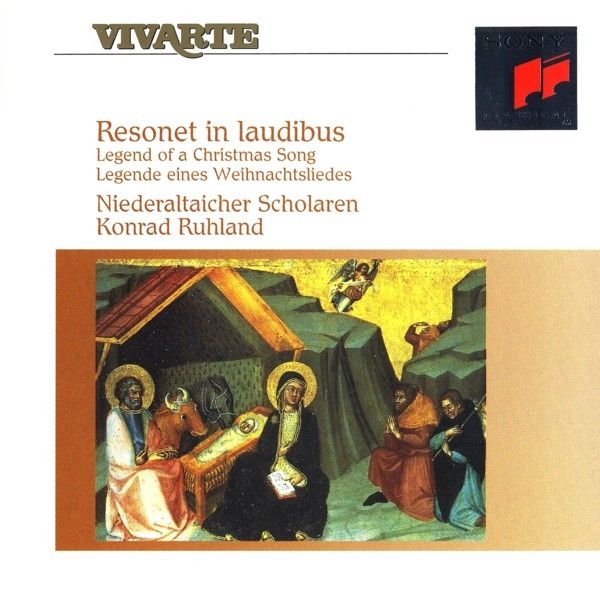 medieval.org
Sony classical "Vivarte" SK 66 242
1994






Resonet in laudibus

Jacobus GALLUS, 1550—1591
01 - Kantionalsatz zu 4 Stimmen [1:34]

Orlando di LASSO, 1532—1594
02 - Motette zu 3-5 Stimmen [3:57]

Fridolin SICHER, 1490—1546
03 - Orgeltabulatur [2:42]

Michael PRAETORIUS, 1571—1621
04 - Motette zu 7 Stimmen [3:07]

Christoph SATZL, ?—1655
05 - Für Sopransolo, Chor und Basso continuo [2:55]



Anton ESTENDORFFER, 1670—1711
06 - Capriccio super »Resonet in laudibus« [4:09]
Variationen für Orgel

Wolgang FIGULUS, c. 1525—1591
07 - Joseph lieber Joseph mein [1:22]
Kantionalsatz zu 4 Stimmen

Johann Andreas HERBST, 1588—1666
08 - Singet frisch und wohlgemut [1:25]
Kantionalsatz zu 5 Stimmen

Batholomäus RIEDL, ?—1688
09 - Aufzug »Das Kindl-Woegen auf Weihnacht« [1:40]
Für 4 Trompeten und Pauken

Adam JARZBĘSKI, before 1590—1649
10 - Concerto II [1:40]
Für Violine, Viola da gamba und Basso continuo

Georgius VICTORINUS, c.1570— c.1630
11 - Georgius VICTORINU. Resonet in laudibus [2:03]
Für 2 Soprane, Baß und Basso continuo

Daniel BOLLIUS, c.1590—c.1642
12 - Pastores loquebantur [2:42]
Für 2 Tenöre, 2 Violinen und Basso continuo

Pavel Josef VEJVANOVSKÝ, 1640—1693
13 - Serenada I [7:01]
Für 2 Trompeten, Streicher und Basso continuo

Kaiser FERDINAND III., 1608—1657
14 - Jesu redemptor omnium [6:32]
Für Soli, Chor, 3 Blockflöten, 3 Trompeten und Basso continuo

Johann STADLMAYR, c.1575—1648
15 - Resonet in laudibus [2:27]
Motette zu 10 Stimmen in 3 Chören

Pavel Josef VEJVANOVSKÝ, 1640—1693
16 - Pavel Josef VEJVANOSKY. Serenada II [4:37]
Für 2 Sologamben, Streicher und Basso continuo

Pál ESTERHÁZY, 1635—1713
17 - Dormi Jesu dulcissime [2:43]
Für 2 Soprane, 2 Blockflöten, 2 Violinen und Basso continuo

Thomas STRUTIUS, c.1621—c.1678
18 - Resonet in laudibus [6:12]
Kantate far 2 Soprane, Baß, 2 Violinen und Basso continuo

Pavel Josef VEJVANOVSKÝ, 1640—1693
19 - Sonata XVI - Resonet in laudibus [4:11]
Für 2 Clarini, 3 Posaunen, 2 Violinen, 3 Gamben und Basso continuo

Gottfried FINGER, c.1660—1730
20 - Pastorella [6:30]
Für 3 Baßgamben und Cembalo

Pater IGNATIUS, Salzburg, 17th cent.
21 - Aufzug »Khindl Wiegen auf Weihnachten« [2:10]
Für 4 Trompeten und Pauken / For 4 trumpets and timpani

Augustin PLATTNER, ?—?; printed in 1624
22 - Kyrie der Missa super »Joseph lieber Joseph mein« [2:42]
Für Doppelchor, Cembalo, Orgel und Basso continuo









Niederaltaicher Scholaren, Chor

Anne Pape, Sopran
Elisabeth Sedlmaier, Sopran
Klaus Wenk, Tenor
Hermann Krems, Bass

Marianne Rônez, Violine, Andreas Jais, Bad Tölz, 1728
Michaela Cutka, Violine, Andreas Jais, Bad Tölz, 1742
Veronika Obermayer, Viola, Andreas Jais, Bad Tölz, 1743
Verena Obermayer, Violoncello, Paulus Alletsee, München, 1721
Walter Waidosch, Viola da gamba, Andreas Jais, Bad Tölz, 1745 / Diskantgambe, Gregor Ferdinand Wenger, Augsburg, 1712
Sabine Kreutzberger, Viola da gamba, Andreas Jais, Bad Tölz, 1735 / Diskantgambe, Paulus Alletsee, München, 17??
Thomas Landes, Viola da gamba, Andreas Jais, Bad Tölz, 17?? / Violone, Walter Waidosch, Heiligenberg, 1990
Stefan Urlbauer, Kontrabaß, Süddeutschland, 18. Jahrhundert
Maria Dives, Blockflöte in G, Ture Bergstrom / Blockflöte in F, Martin Skowroneck
Ulrike Beck, Blockflöte in G, Ture Bergstrom
Hansjochen Kuhr, Blockflöte in F, Martin Skowroneck
Paul Plunkett, Naturtrompete, Meinl und Lauber, Geretsried
Belinda O'Reilly, Naturtrompete, Rainer Egger, Basel
Christoph Eisert, Naturtrompete, Rainer Egger, Basel
Bernd von Hößlin, Naturtrompete, Rainer Egger, Basel
Martin Ruhland, Barockpauken, Bayern um 1700
Peter Kirsch, Zink, John McCann, Sandy / Utah
Peter Sabel, Altposaune, Meinl und Lauber, Geretsried
Helmut Berger, Tenorposaune, Meinl und Lauber, Geretsried
Hans Waechter, Baßposaune, Meinl und Lauber, Geretsried
Stefan Trenner, Orgelpositiv, Vladimir Slajch, Budweis #3 6 11 12 15 22
Elisabeth Ruhland, Cembalo, Winfried Hackl, Schwertberg / OÖ.
Stefan Baier, Orgelpositiv, Cembalo #10 13 14 16 17 19 20


For this recording 20-bit technology was used for "high definition sound"
Producer / Recording Supervisor: Wolf Erichson.
Engineer / Editing: Markus Heiland, Tritonus.
Recorded at the Praemonstratenserabtei Windberg, Bavaria, Germany, June 2-4, 1994
Booklet Editor: Arthur Intelmann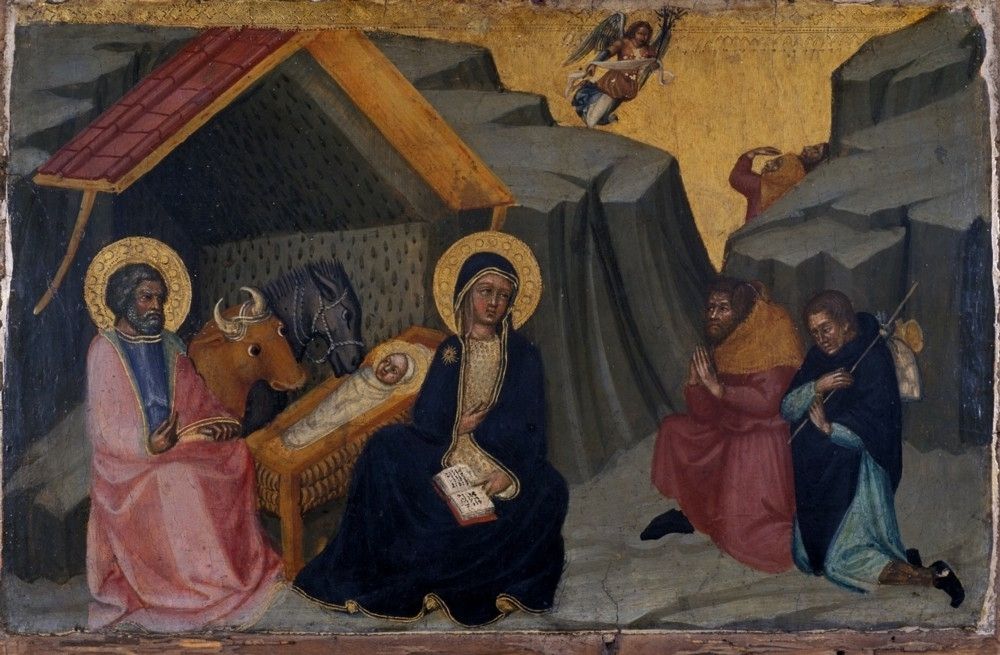 RESONET IN LAUDIBUS
THE ADVENTURES OF A CHRISTMAS CAROL



There can be hardly any Latin or German Christmas carol that has appeared in so many forms, translations and arrangements as the famous "Resonet in laudibus". This unique song, first heard as a "Kindlwiegen", a Christmas lullaby, has undergone many transformations, ranging from medieval cantiones to large choral motets, and this from the fourteenth century to the present day.

It would be impossible to document the adventures of this carol within the scope of a single CD, as so many important old masters have turned their hand so skilfully to its arrangement. On this CD, it is our intention to present a record of its multifaceted evolution through two centuries only — from 1500 to 1700.


Its History

The oldest versions of this carol can be found in fourteenth-century manuscripts, one of which being a collection of cantiones (1345) belonging to the Seckau monastery in the Austrian Steiermark and another the Moosburg Graduate (1360) from Moosburg in Bavaria. Its origins must, however, be even older than that, as this carol was also spreading rapidly through Bohemia at that time.

In Seckau the "Resonet" served as the liturgical framework to Simeon's canticle "Nunc dimittis", whereas in Moosburg it was used as a conductus following the "Benedicamus Domino" at the end of the mass celebrated at Christmas. Later we find this song in other liturgical contexts. Sung as a "Kindlwiegen" shared between both Joseph and Mary to the text
"Joseph liber neve myn" this carol was apparently even more widespread. In the mountains above Salzburg, the Nonnberg convent — the Benedictine abbey which has existed through to our time without a break — appears to have acquired a central significance in our story. The carol was also used in many settings of the nativity play and thus gained additional popularity.

In the same period, especially in the sixteenth century, the song was translated into many different German versions, some of them closely following the Latin text, others more loosely translated and others written as lullabies to the "Resonet" melody, all, however, following the structure and form of "Joseph lieber Joseph mein".

The most well-known setting of "Joseph lieber Joseph mein" was written by Johann Walther in Wittenberg in 1544. This was followed by a rich selection of settings by many different composers. And often the complicated structuring of the original text is reflected in the music — indeed the sections "Magnum nomen Domini" and "Nunc angelorum gloria" became carols in their own right. The final phrases of each setting, however, are different in every arrangement. Thus this Christmas carol — either as "Joseph lieber Joseph mein" or as "Resonet in laudibus" — became well known throughout the German-speaking countries of Europe. And the number of its musical settings grew through the nineteenth century (with settings by Brahms and Reger) and into the twentieth. In this century it had particular appeal in the youth movement and attracted further musical settings, Hugo Distler's motet "Singet frisch und wohlgemut" being but one example of this.


Its Instrumental Arrangements

The number of instrumental arrangements of this carol and the many compositions which incorporate the "Resonet" theme bear witness to how its quality has stimulated musical minds throughout the centuries. These could first be found in the various tablature collections of organ music from the fifteenth century, for example from Fridolin Sicher's St Gall organ book, then in many other works including Father Anton Estendorffer's variations of around 1700 and perhaps culminating in the second-movement Andante of Mozart's Symphony in E-flat major, K. 132. Musical processions at Christmas made use of both trumpets and drums as well as melodic materials provided by sonatas in their various arrangements. Certainly the most and the largest instrumental compositions which feature the "Resonet" theme are the product of the pen of one Pavel Josef Vejvanovský, Heinrich von Biber's successor at Kroměříž in Bohemia. He wrote a series of thickly-scored sonatas and serenades, from among which, on this recording, we hear his Sonata XVI for ten (instrumental) voices and two of his serenades for six voices, the second Serenada with two obbligato viole da
gamba being an earlier version of the first Serenada with two obbligato trumpets and only recently discovered by the author among the anonymous manuscripts at Kroměříž.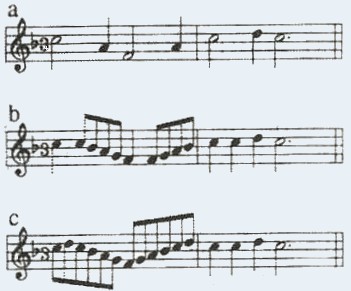 The melodic patterns of the "Resonet" theme



The melodic patterns, shown to their advantage especially in the instrumental works, are most interesting. In the Nonnberg convent the "Resonet" played significantly more than merely a lullaby role. As well as pastorellas — Christmas arias — the trumpet processions also originated there. Is this connection with the source material at Kroměříž merely accidental? I believe not. Not only did the Archbishop Karl of Liechtenstein-Kastelkorn receive his theological training at Salzburg and later become the canon there, but the musical connections between Salzburg and Kroměříž can be traced back to well before the Heinrich von Biber era. So it is quite likely that this melody in the patterns we have quoted here first appeared in Kroměříž through the offices of Archbishop Karl. In any case, a definite preference for these melodic patterns can be recognized in both places.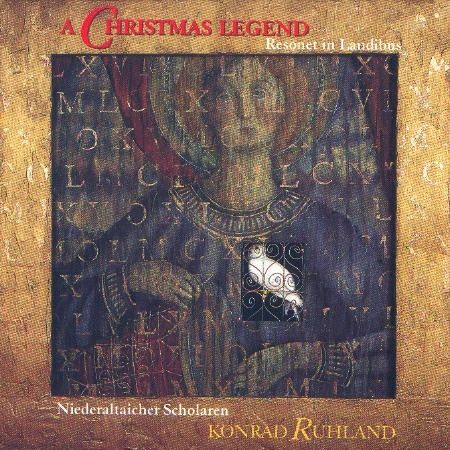 Our Selection

Because there is such a wealth of material based on the "Resonet" theme, a collection such as this one must necessarily even exclude arrangements as popular as those by Johann Walther and Leonhard Schröter and, save for two examples, those, too, by Jacobus Gallus and Michael Praetorius, in spite of their interesting settings for different numbers of voices. Instead it has been decided to present a collection of very different compositions, often with quite surprising instrumentations.


The Choral Settings

Jacobus Gallus's simple four-voice choral setting in simple counterpoint serves here as our point of departure. This is complemented by the skilfully written five-voice setting by Orlando di Lasso which, although it is written in duple time, has the effect, through the adept use of syncopation and imitation, of a mixture of both triple and duple time. The migrating cantus firmus and the polyphonic structure of this setting also contribute significantly to this effect. This motet in three parts is thus a real showpiece among Lasso's Christmas carols.

Michael Praetorius's richly toned "Resonet" for seven voices is also a typical example of his compositional style and was deliberately chosen from his many "Resonet" settings because of its four constantly imitative upper voices. Stadlmayr's "Resonet" for three choirs of ten voices from his almost unknown edition of Christmas carols of 1629 is of a concertante character. The two solo voices from the first choir (soprano and bass) are complemented by a voluminous Capell-Chor (choir and wind instruments), the whole being outbid by a third choir of high voices and instruments. Christoph Sätzl's interesting setting, also taking its rise in Innsbruck, combines the choir with a solo soprano and an instrumental basso continuo — a little concertante motet, almost a sacred concerto.

"Joseph lieber Joseph mein", probably the best-known text to the original "Resonet" setting, is presented on this recording as an example from Wolfgang Figulus's book of Christmas carols. In this setting, with the line "Sause sause liebes Kindelein", its lullaby character comes strongly to the fore. Indeed, Figulus's collection has remained in the shadow of Cornelius Freundt's more famous book of carols for too long.

Finally, the most well-known "Resonet" translation of the sixteenth century cannot be left out: "Singet frisch und wohlgemut" has been growing in popularity since 1566. For this we have chosen Johann Andreas Herbst's skilful setting for five voices. Augustin Plattner, of the Deutsche Ordenskommende Bad Mergentheim (an order of monks located in Bad Mergentheim) in his Missa super "Joseph lieber Joseph mein" demonstrates how this carol has been worked into more formal church music. Indeed, it may well be that this is the first "Pastoral Mass" to have been written by a German composer on German soil.


The Sacred Concerti

Consequent upon the great changes in musical style of around 1600, when basso continuo and monody increasingly determined the course of music, many texts which had until then been used for motets were set as sacred solo motets or as solo concerti for between one and several voices. Nor did our "Resonet" text remain unaffected. Georgius Victorinus of St Peter's Church, Munich has a "Resonet" concerto among his collection written for two sopranos and bass with a through-bass as sole accompaniment. Daniel Bollius of Breslau, however, worked quite differently: he used the "Resonet" music, but set it to the popular text "Pastores loquebantur" for two tenors plus two violins against a largely drone-bass structure. By these means, with plentiful use of the drone bass, Bollius created one of the very first pastorellas. This work has been chosen as being representative of the many "Resonet"-inspired pastorellas of the seventeenth and eighteenth centuries. In his "Harmonia coelestis", even Count Pál Esterházy used this melody, working it into a lullaby set to the text "Dormi Jesu dulcissime" in 1711. The instrumentation of the ritornello and the accompaniment consist of two recorders in g' and two descant viols, a combination that invests the piece with an intimate pastoral character, a perfectly sweet piece of chamber music for the home which the Count had composed as devotional music for his private chapel.

Thomas Strutius, on the other hand, made use of the original "Resonet" text and set it for two sopranos, bass and two violins to create a genuine choral concerto, which could also be classified as a little cantata. It is a delightful example of "Danziger Weihnachtsmusik" — of the Christmas musical culture of Danzig in the seventeenth century. The hymn "Jesu redemptor omnium" is a particularly special piece, written by Emperor Ferdinand III — one of the three Habsburg composer-emperors (the other two being Leopold I and Joseph I). Only the first verse of this Christmas hymn corresponds to the "Resonet" melody and is here performed by solo soprano in the "foreign" key of E major. All the rest of the verses are composed freely and performed by different combinations of solo voices and choir. The instrumentation is also most unusual: three recorders (two in g' and the other in c') are complemented by three natural trumpets, thus creating a genuine, if rare, Christmas ensemble. Normally there are next to no recorders found in the instrumentation for Catholic church music and, if at all, they appear at Christmas to convey the pastoral aura of the shepherds. Usually only trumpets are used, whereas, in the Protestant church, particularly in the cantatas, the opposite is the case, with recorders being by no means rare.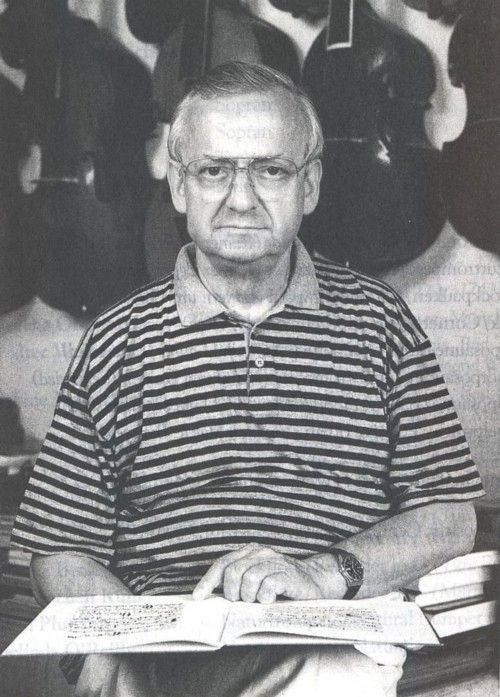 The Instrumental Pieces

The parades with four natural trumpets and drums were considered to produce the traditional Christmas sound for the celebration of Christmas — to help turn one's inner thoughts towards the birth of Lord Jesus. The richly triadic structure of the "Resonet" melody lent itself particularly well to natural instruments, to natural trumpets in this case — as has been evidenced by older sonatas. Vejvanovský used this idea most effectively in many of his sonatas and serenades. In the richly scored Sonata XVI the trumpet and trombone ensemble is set off against an ensemble of violins and viols, and these instruments engage in a dialogue made up of exchanges expressed in lively triple and solemn duple time. Vejvanovský's Serenades I and II are equally unusual pieces, with both of them being set out as suites. The first Serenada with the trumpets was also known before and was written in 1670. The "Resonet" theme appears in both the first and last movements in pattern "c", the one which probably first appeared at Nonnberg above Salzburg. The second Serenada, on the other hand, must be of earlier date. In this work the solo instruments, two bass viols, are embedded in a four-voice string accompaniment. In 1670 (in the first Serenada) the two solo parts were reallocated to two trumpets. Thus we have an interesting example of how Vejvanovský worked on and developed his own compositions.

Adam Jarzebski, a Polish composer and famous in his day, who, after spending some time in Italy with the Polish royal chapel, took up a post as violinist in Berlin, also used the "Resonet" motif in his Concerto II written in 1627: his trio sonata for violin, viola da gamba and basso continuo is not only a charming work of chamber music in itself but is equally well suited as a church sonata even today.

Gottfried Finger, who moved from KromaTi to settle in London; left in manuscript form an outstanding pastorella for three solo bass viols and harpsichord, in which, like VejvanovsK he took pattern "e" as the basis for this arrangement: Although alone the choice of instruments here is, intriguing enough, this work also provides further evidence of Finger's astounding skill as a composer. Nowadays Finger is only known for his recorder music, whilst, unfortunately, all his exemplary string sonatas and church sonatas have been forgotten — another reason to look again and again into the works of those composers from the circle of the Kroměříž masters.

This choice of "Resonet" compositions is intended to provide an insight into the wide variety of work styles over more than two centuries. Although the long life of the "Resonet" cantio itself in its time (see also In natali Domini, VIVARTE SK 45946) as well as the pastorellas of the eighteenth century up to Mozart's E-flat major symphony have had to be omitted here, it is, however, not merely of historical interest to appreciate the multiplicity of colourful settings inspired through the centuries by the vitality of this famous and much-loved Christmas carol. May the range of the music that we present here — from that of grandiose Christmas parades to intimate, private Christmases at home — give pleasure even today, and also spur us on to making music ourselves.


Dr. Konrad Ruhland
Translation: © 1994 David Heitler