A Musicall Banquet / Nigel Rogers, Anthony Bailes, Jordi Savall
Furnished with a varietie of delicious Ayres, collected out of the best authors in English, French, Spanish and Italian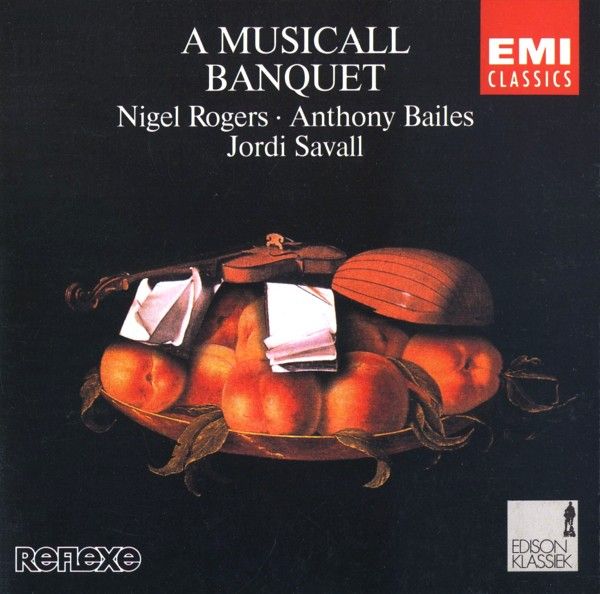 medieval.org

EMI "Reflexe" CDM 7 63429 2
1991
LP original, 1977: EMI "Reflexe" 1C 063 30 934 Q








01 - John DOWLAND, 1563-1626. Sir Robert Sidney His Galliard [2:21]

02 - Anthony HOLBORNE, ?-1602. My heavie sprite, oppress'd with sorrow's might [2:09]
Text: George, Earl of Cumberland

03 - Richard MARTIN, 1570-1618. Change thy mind since she doth change [2:56]
Text: Robert Devereux, Earl of Essex

04 - Robert HALES. O Eyes, leave off your weeping [3:10]
Text: Nicholas Breton?

anon.
05 - Go, my flock, go get you hence [3:23]
06 - O dear life, when shall it be? [2:20]
Text: Sir Philip Sidney

07 - Daniel BACHELER, um 1574?-nach 1610. To plead my faith [2:30]
Text: Robert Devereux, Earl of Essex

08 - Guillaume TESSIER, um 1582. In a grove most rich of shade [2:33]
Text: Sir Philip Sidney

John DOWLAND, 1563-1626
09 - Far from triumphing court [3:42]
Text: sir Henry Lea
10 - Lady, if you so spite me [2:18]
11 - In darkness let me dwell [3:11]
Text: anon.

Pierre GUÉDRON, 1565-1621
12 - Si le parler et le silence [3:12]
13 - Ce penser qui sans fin tirannise ma vie [4:34]
14 - Vous que le Bonheur rappelle [2:29]
Text: anon. (Airs de Cour)


15 - Passava Amor su arco desarmado [1:36]
Text: Jorge de Montemayors "Diana"

anon. Italien / Text: anon.
16 - Sta notte mi sognava [2:02]

anon. Spanien / Text: anon.
17 - Vuestros ojos tienen d'Amor [1:12]

18 - Domenico Maria MEGLI, um 1550. Se di farmi morire [1:29]
Text: anon.

Giulio CACCINI, um 1550-1610
19 - Dovrò dunque morire [1:53]
20 - Amarilli mia bella [4:03]
Text: Giulio Caccini

anon. Italien / Text: anon.
21 - O bella più [1:21]




Nigel Rogers · Tenor
Anthony Bailes · Laute
Jordi Savall · Viola da gamba



Produzent: Gerd Berg
Tonmeister:Johann-Nikolaus Matthes
Aufgenommen: IX.1976, Evangelische Kirche, Seon (CH)
(P) 1977 & Digital remastering (P) 1991 by EMI Electrola GmbH
© 1991 EMI Electrola GmbH, D-5000 Köln



---



Brief notes on the English lute song

"I have also set them tablature-wise to the lute in the Cantus book for one to sing and play alone when your Lordship would retire yourself and be, more private." So wrote Thomas Morley in dedicating his Canzonets or Little Short Aers to Five and Sixe Voices to Sir George Carey in 1597.

In these canzonets Morley had simply intabulated the lower parts for lute. Other composers were quick to refine this method in order to make a more idiomatic lute part. The quick decay of the lute's sound meant that long notes needed to be repeated or ornamented, and chords arpeggiated to compensate for this. Any competent lutenist would have done such things automatically, and it is not surprising to find that, with the exception of Morley, all the lute song composers were themselves players. A further innovation (mentioned in the title page of most of the books from 1600 onwards) was the addition of bass viol to strengthen the bass line. Where singer and lutenist were not one and the same person it became usual to demand more from each part, and in many of the later lute songs a more independent role is given to the lute. When the bass viol is present, it too often has an independent part in the form of a second bass line (the lute playing the other). This can be heard in Dowland's In darkness let me dwell, perhaps the finest example of the 'song to the lute and viol'. Of course not all the lute songs have this complexity; some have a simple chordal accompaniment such as would have been playable by any singer-lutenist of the time, and they are very pleasing in their own way.

Robert Dowland's Musicall Banquet is unique among English publications for lute and voice: the only one to contain English, French, Spanish, and Italian airs, it is truly a banquet! Whereas most of the English songs have either a contrapuntal or a chordal accompaniment, almost all the foreign songs have chordal accompaniments that tend to move note-for-note with the vocal line. The Italian songs reflect the (for many English lutenists) new basso-continuo accompanying style. Dowland, however, realising that most of his public would be amateurs and unfamiliar with the new way, intabulated a continuo part for the lute.

On this recording we have also made use of the bass viol 'after the leero [lyra] way' to accompany two of the songs. Robert Jones and John Coprario offer this method of accompaniment as an alternative to the lute, as does the eccentric Tobias Hume. In O dear life Jordi Savall has followed Captain Hume's advice to "play one straine with your fingers the other with your Bow, and so continue to the end".


FROM NOTES © ANTHONY BAILES, 1977