Memories of English Minstrelsy /&nbsp The Renaissance Players
---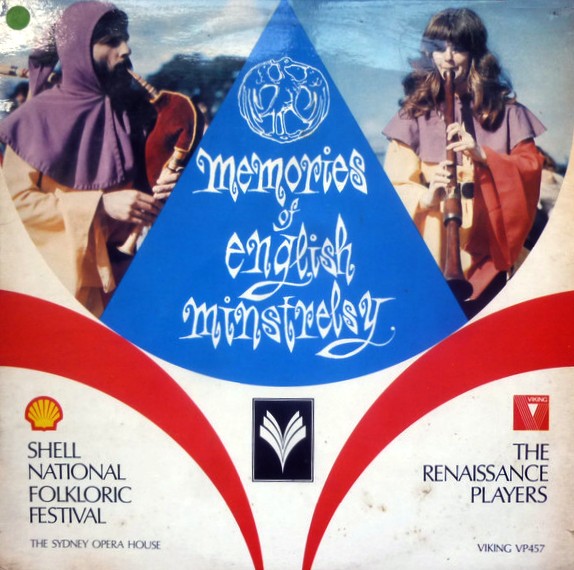 discogs.com
Viking VP457
1976








A

1. Novus miles sequitur [3:05] anonymous
2. When my eyes are fogged [1:13] anonymous
3. Saltarello [2:35] anonymous
4. Bryd one brere [3:47] anonymous
5. The holly and the ivy [0:30] traditional
6. I newly have a garden [0:58] anonymous (Frederick May) *
7. The keys of Canterbury [3:16] traditional


B

1. Not long ago I met a clerk [1:13] anonymous (Frederick May) *
2. The Short Mesure off My Lady Wynkfyld's Rownde [1:16] anonymous
3. Bushes and Briars [4:58] traditional
4. Barbara Allen [4:57] traditional
5. Fantasia for My Lady's Quoniam [1:33] traditional
7. Scarborough Fair [4:13] traditional



*Original recording by Australian Broadcasting Commission
All music arranged by Winsome Evans, and bears the international copyright.



℗ 1976 Viking Record Company Ltd.
A KEITH SOUTHERN PRODUCTION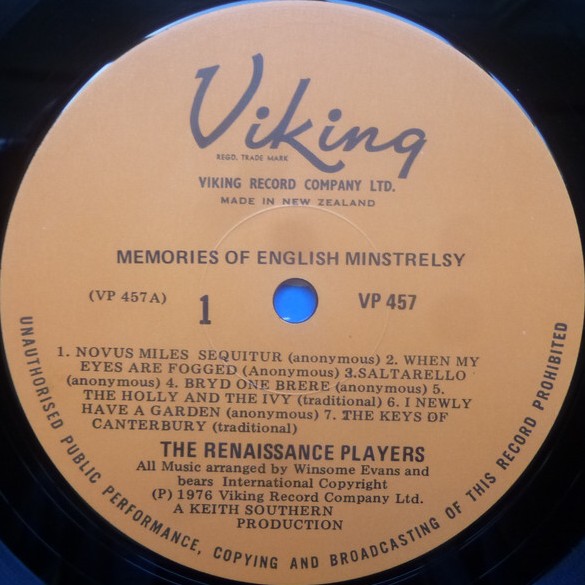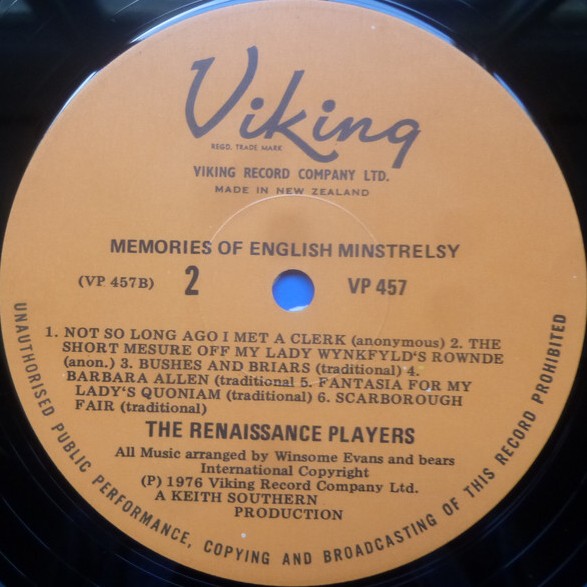 THE RENAISSANCE PLAYERS
Winsome Evans

Winsome Evans — crumhorn, recorders, shawm, cornetto, portative organ, harp, psaltery, rackett
Greg Dikmans — recorders, flute
Rosalind McGrath — shawm, recorder, percussion
Vanessa Butters — cello
Michael Atherton — llute, citole, guitar, nakkers
Wayne Richmond — crumhorn, jingling johnny, bass drum
Barbara Stackpool — castanets, bells, finger cymbals
Graham Pushee — male alto, percussion
David May — poetry
* Frederick May — poetry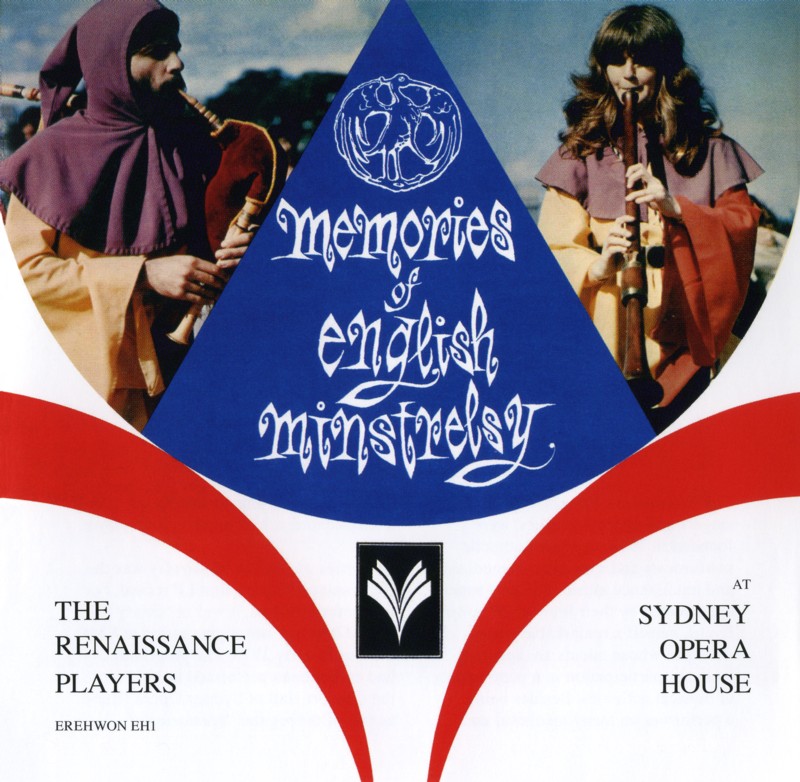 discogs.com
Erehwon EH1
2014
[61:39]








1. Novus miles sequitur [3:05] anonymous
2. When my eyes are fogged [1:13] anonymous
3. Saltarello [2:35] anonymous
4. Bryd one brere [3:47] anonymous
5. The holly and the ivy [3:30] traditional
6. I newly have a garden [0:58] anonymous
7. The keys of Canterbury [3:16] traditional

8. Not long ago I met a clerk [1:13] anonymous
9. The Short Mesure off My Lady Wynkfyld's Rownde [1:16] anonymous
10. Bushes and Briars [4:58] traditional
11. Barbara Allen [4:57] traditional
12. Fantasia for My Lady's Quoniam [1:33] traditional
13. Scarborough Fair [4:13] traditional

14. O no John [4:25] traditional
15. Hymn and Prayer for Civil Servants [1:13] anonymous
16. Adam's Brief Chronicles [3:31] Frederick May
17. Tatters for My Lady's Quoniam [3:03] Frederick May
18. A Proposal [4:28] Daisy Ashford
19. Fantasia for My Lady's Quoniam [2:23] Frederick May
20. Apple tragedy [2:29] Ted Hughes
21. Discretion [2:20] Roger McGough





Photography: Betty Evans
Remastering: Don Bartley at Benchmark Mastering
Typesetting: Bernard Rofe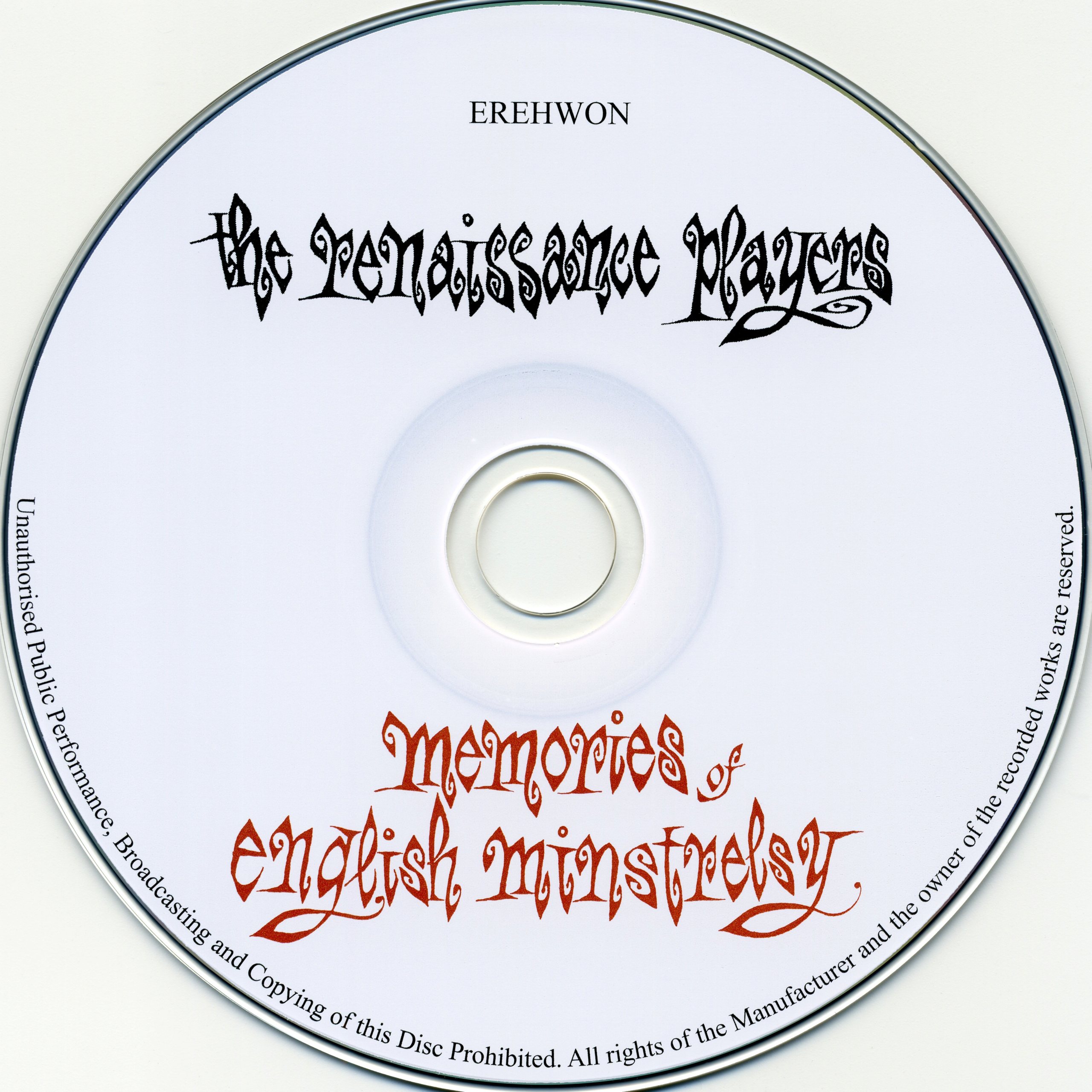 The Renaissance Players, a group of singers and instrumentalists, were founded in 1966; they use authentic instruments and specialise in mediæval and renaissance music. The performers are directed by their founder, Winsome Evans, herself a remarkable young musician whose talents are apparent from her participation in a wide variety of musical activities. Besides being a performer on many medieval and renaissance instruments, Ms Evans is also a harpsichord soloist and continuo player.



Memories of English Minstrelsy was the Renaissance Players' first LP record. For precuniary reasons, it was necessary to record it in one late-night session at EMI Studios in early 1976. The programme had earlier been performed in 1975 in the Concert Hall of Sydney Opera House as one of the regular "Memories of..." dance/music folkloric festivals organised by Victor Carell and Beth Dean. For the 1976 recording, some of the poetry which had been an integral part of the 1975 live concert, had to be read by David May (tracks 2 and 12), due to the unexpected death of his father Frederick May, one month before the studio recording. There are, nevertheless, two readings by Frederick May — I newly had a garden and Not long ago I met a clerk (tracks 6 and 8). These were dubbed onto the LP from reel-to-reel tape recordings of previous Renaissance Players' concerts, in order to, in some way, replicate the 1975 Sydney Opera House concert.

Tracks 14-21 of this new CD pressing consist of the live poetic readings Frederick May delivered at the ABC's Gold Series Concert performed by the Renaissance Players on October 10th, 1975 — again, in the Concert Hall of the Sydney Opera House. When this concert was later broadcast on ABC Radio all the spoken recordings were omitted (possibly censored?) to our intense disappointment, as these were an important interlinking component of all this group's concerts.

The CD thus restores this component of the Renaissance Players' recorded history — and, with the live ambience of this Opera House concert, recaptures the frequent, spontaneous and enthusiastic responses from the full-house audience to Frederick May's uniquely enchanting readings. He was a major contributor, linking poetic with musical concepts and moods, to all the Renaissance Players' concerts across Australia (Sydney, Brisbane, Melbourne, Perth and so on) from the beginning of 1973 to the end of 1975, starting with The First Runnymede Pop Festival (a still on-going series of concerts of mediæeval music and poetry).

While there are many tape recordings of Renaissance Players' concerts enlivened by Frederick May's spoken readings, this is the first CD recording to recapture the way he enthralled and engaged audiences (of all ages) over that three-year span.

Frederick May was the founding Professor of Italian at the University of Sydney from 1964 until early 1976. All the members of the Renaissance Players during the 1973-1975 period were encouraged by his charismatic, unofficial mentorship to develop their own creative, performance and intellectual gifts.

The remastering of the LP and cassette tape, removing time's crackles and hissings, was undertaken by the masterly Don Bartley in February, 2014.