Cantigas de Santa Maria

| notes V
The Renaissance Players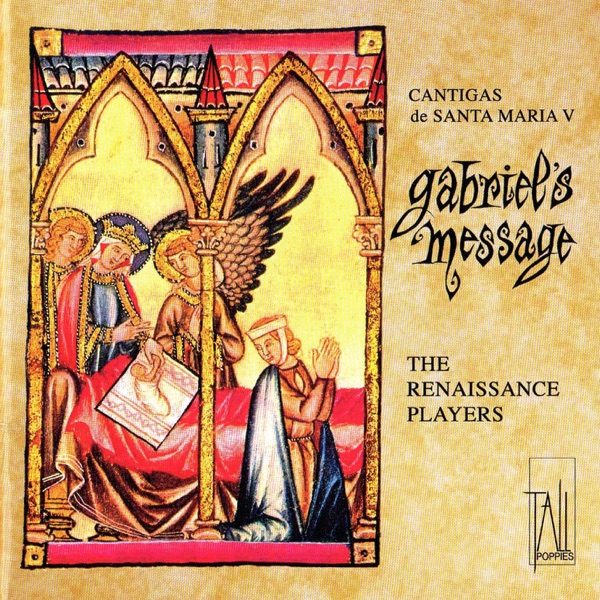 In praise of Holy Mary
with singing and dancing
let us give praises
to the crowned Virgin
who is our hope.

Cantiga de loor, 86 (Florence Ms.)



Detailed historical information about King Alfonso X and his many and varied achievements and, specifically, his vast collection of Cantigas de Santa Maria can be found in the booklets of liner notes to the previous four of our CDs dedicated to his cantiga output: Songs for a Wise King, Maria Morning Star, Mirror of Light and Pillar of Wisdom.

The text below (culled from the texts cited above) is concerned only with the collection itself and its surviving sources, as well as a brief commentary on performance practice.




SUMMARY

The intellectual pursuits of Alfonso X (1221-1284) during his long reign from 1252 to 1284 established him as one of the most remarkable kings of his day. His tentacles of patronage extended into an enormous number of scholarly, artistic, legal and (not always so successfully) governmental areas.

On coming to the throne of Castile and Leon in 1252 he immediately and with great zest began to institute his idealistic reforms. The breadth of written works produced during his reign was truly encyclopædic and, being blessed both by the royal stamp and being written not in Latin but in the Castilian vernacular or, in the case of lyrical works, in Galician-Portuguese, these works had an enormously wide appeal and accessibility. By eagerly partaking of the wisdom of the East and the West, which entailed gathering together in his courts at Toledo and Leon the best artists (poets, musicians, scribes and illuminators) and scholars (translators, mathematicians, philosophers, historians, astronomers and so on) from the three religions of the Iberian Peninsula — Christian, Jewish and Islamic — he demonstrated his belief that Spain's ultimate destiny was to make heterogeneous cultural links.

The Cantigas de Santa Maria, whose compilation, lyrical rendering and organisational layout he supervised (possibly with creative input of his own) were, like his other literary projects, written to impart spiritual and worldly knowledge for the moral edification of all his subjects. Poetic Latin with its hermeneutic niceties he eschewed as it was available to only a select few — especially as one of the effects of the centuries-long, culturally enriching Muslim settlement was that Arabic and the Romance dialect were the two main languages most used and understood in the Iberian Peninsula, followed by Hebrew and Latin (the least accessible).

Alfonso's active role in the compilation and possibly the authorship of this spiritual song genre is clearly suggested in the illuminations of three of the four surviving manuscript collections. In these he is depicted as a supervisor and instructor to the assembled scholars, scribes and musicians, as well as playing various musical instruments or acting as an earthly intermediary between a group of musicians accompanying dancers and the Virgin Mary hugging baby Jesus. The texts of many of the stories describe him taking part in the action.

There are two types of cantiga: the more prolific miracle song or cantiga de miragre and the song of praise or cantiga de loor. Nearly all the cantigas (both types) are narrated in the first person, often involving King Alfonso himself, for example: "This is the petition which the King made to Holy Mary" (C.401) or introductory phrases such as "... how King Alfonso ... as I heard tell".

The Cantigas de Santa Maria were written in the codex format, that is, bound between covers (as opposed to that of the rotulus, or roll). This was possibly for ease and the type of usage. They survive in four different manuscripts (three are incomplete), each one of which is known as a Book. The Book of Cantigas de Santa Maria (particularly the two different manuscripts held in the Real Monasterio de El Escorial, b.1.2 and T.j.1) is not, like the medieval florilegium, a collection of short excerpts and thematically disconnected bibs and bobs used as a prompt-book to aid the memory in meditation, or to compose sermons and so on. Rather, it is a cleverly structured assemblage of lyrics (carefully organised poetic texts with beautiful melodies), mono-thematic both in its dedication to a special person and its morally uplifting purpose, sumptuously decorated with associative pictures and illuminations and brought to fruition under the guiding directorship of one person. The organisation and conception of these factors alone set it apart as a unique lyrical document of the middle ages.

It seems quite clear from the prologue particularly and then from every one of the cantigas that in the compilation of this collection Alfonso was driven by a purpose — namely, to edify spiritually and morally not just the men and women who frequented his courts but, more especially, the populace at large for whose well-being he felt responsible. This was to be effected by citing countless demonstrations (interspersed with praises) of the mercy and goodness of the Virgin Mary towards even the most vile sinners.

Four different versions of the codex of cantigas de Santa Maria have survived of which only one is complete. While each is internally uniform in production, each is written by a different scribe (who may or may not be the illuminator). The layout and planning of contents are also different, as are the approximate datings of each manuscript. Since these are fully documented in other sources, some but not all of the details of each manuscript are given below in chronological order:

(1) Real Monasterio de El Escorial, Madrid, Ms.b.1.2 (or E1), dated c. 1280-1283, 361 leaves, over 400 cantigas, with music above the text for all but four; every tenth song is a cantiga de loor and is headed by an illumination of one or two musicians with instruments; the scribe is identified on the last page as "Johñes gundisalvi".

This manuscript, the largest of all four surviving sources — not in size, but in its contents (over 400 items) and number of pages (361) — is the main source of information regarding performing musicians available to a cosmopolitan Castilian king. Its 361 pages contain a Prologo as introduction, followed by another Prologo and 402 carefully arranged cantigas de miragre and de loor. After the second Prologo these are organised
in groups of ten from Cantiga X onwards — that is, one cantiga de loor is followed by nine cantigas de miragre (an order which is possibly related to the mediæval arrangement of the rosary).

Above the text and melody of this Cantiga X and then every cantiga ending with the number X (that is, above every cantiga de loor), there is a miniature depicting musicians playing instruments. The X may also have acted as a reminder of Christ (being the first letter of his name in Greek) and of the Ten Mosaic Laws; or perhaps even referred obliquely to Alfonso himself as the Xth Alfonso of Castile. The first miniature (before the first Prologo) shows Alfonso in his court flanked on both sides in a pentamerous framework (a visual reminder of the five letters of the Virgin's name?) by scribes, scholars and string players. This large grouping is somewhat atypical of the remaining 40 miniatures in each of which only one or two persons are depicted. Overall, the 41 miniatures reveal a widely comprehensive instrumentarium, played by a variety of performers (male and female) of varying social classes (from the king, his clerics, princes and courtiers, to joglars, clerics and peasants) and religions (Christian, Jewish and Islamic). The various styles and colours of their garb (such as gowns, capes, collars, scapulars, shoes, hats, crowns, hair formations on head and face) distinguish their race, creed and age as well as social status. These pictures are quite realistic in their relatively accurate and detailed depiction of musicians seated, squatting or standing, sometimes singing (or declaiming), possibly moving, with realistic facial expressions (smiling, sulking, smirking, looking worried, intense and so on) — holding a wide array of plucked, bowed, blown, beaten and struck instruments.

The vast instrumentarium displayed here shows the following groupings: 27 pairs of musicians playing the same instrument, 7 pairs playing different instruments, 6 solo instrumentalists, and one quartet playing two pairs of different instruments.

The details of the second manuscript source are:

(2) Same location, Ms. T.j.1 (or E2), slightly later date, 256 leaves, 192 cantigas all with music, 1,262 narrational miniatures, possibly the first of a two-volume set, scribe unidentified.

The miniatures in this manuscript are quite different in function. There are only 192 cantigas in this source (its second volume possibly lost) but its 1,262 miniatures make it a veritable pictorial treasure-trove. Set out in "comic-book" formation (often covering a whole page), they visually describe, with realistic detail (often with additional, synopsis-like text above each picture-square), the series of events in a cantiga de loor or de miragre. Scenes are placed dramatically before the viewer's eye and, on contemplation, the memory can imaginatively work in further details of the story (sensory and emotional feelings, reasons and, ultimately, meanings and connections).

The two other manuscript sources are:

(3) Biblioteca nacional, Madrid, Ms. 10.069 (or To.), 14th century, 161 leaves, 104 cantigas in semi-mensural notation, no miniatures;

(4) Biblioteca nazionale central, Florence, Banco rari 20 (or F), date unknown, 131 leaves, 109 cantiga texts, no music on empty staves, richly illuminated.

As with his other monumental literary projects Alfonso called on the best researchers, historians and poets available to find and collate the miracle tales, and poetic structures (mostly in the Arabic zajal format) to suitable melodies (likewise, mostly structured as virelais). As well as such identifiable theological and narrative collaborators as the Franciscan brother Juan Gil de Zamora and the court cleric Bernardo de Brihuega and possibly the Compostelan cleric Arias Nuñes, it is possible that Alfonso called on the many Jewish, Muslim, Iberian, Provençal and Italian poets who frequented his court to assist and add to his own lyrical endeavours.

Many distinguished poets and musicians came to stay at his court, regardless of race and creed, to display and develop their arts. Thus, for example, merit being the standard, dozens of Castilian, Galician and Catalonian poets mingled freely with Muslim and Jewish poet-musicians along with troubadour visitors from Provence (some fleeing the Albigensian Wars), Northern France, Italy, Germany, England, Sicily and so on. These included artists such as João Airas, Gonzalo Eans de Vinhal, João Soares Coelho, Fernan Gonçalves, Maria Balteira, Raimon Vidal de Bezaudon, Folquet de Lund, Sordel de Goito, Marcabru, Guiraut Riquier, Todros Abulafia, Bonifacio Calvo, and so on.




PERFORMANCE PROBLEMS

In coming to terms with the massive problems involved in trying to recapture lost, ancient performance styles, we are obliged to search for snippets of information from all sorts of contemporaneous as well as recent sources (the unlikely, as well as the obvious) to piece together an hypothetically reasoned historiography. In the case of Alfonso X's Cantigas de Santa Maria, this involves, at the very least, delving into political and cultural relations that evolved between Christians, Jews, Muslims, Arabs and Berbers in Andalusia (the Muslim-held territories of the Iberian Peninsula). For it is important to keep in mind that it took almost eight centuries — from 711 to 1492 — to totally reconquer the areas under Muslim rule. It is just not conceivable that whatever cultural traditions had evolved and prevailed by the mid 13th century would just disappear overnight, as it were, simply because by 1248 Ferdinand III had reclaimed all of the Iberian Peninsula but Granada. In our deliberations we must seriously consider the oft-quoted statement of modern historians such as Americo Castro that there had evolved over the five and a half centuries up to the reign of Alfonso X a single culture — a triple symbiosis of Christian, Jewish and Muslim elements.

Many of our cantiga performances end with an instrumental after-dance. This practice is based on many references in the cantiga texts to singers dancing after singing praises to Holy Mary, and many references in the Psalms of David and the Temple Levites to "singing praises" with instruments (such as timbrels, harps, psalteries and so on).


GENERAL COMMENTS

Unless otherwise stated, all transcriptions of music and text relate to El Escorial manuscript, b.1.2. Due to the length of the dramatic Bẽeyto foi o dia, there are only five cantigas on this CD. While this deflects from the general decadal pattern established within this series, it relates specifically to the pentad of MARIA.

In the cantigas de miragre, the refrains are often omitted after stanzas to allow the text to run in a continuous flow, particularly when enjambement is present.

A variety of musical textures has been devised to suggest different ways in which these songs may have been performed. The full range of such textures in our arrangements is available only across the series rather than within each CD, although with each CD we have tried to provide contrasts in a cohesive whole.

The original melodies of all the cantigas on this CD are structured as virelais, with various modifications on a general A1 A1 b1 b2 a A1 A2 circular format.

The recording has been organised to reproduce the acoustical ambiance of a large, stone church as a fitting venue for dedication of these praises.



© 2013 Winsome Evans


— • —




Once again we acknowledge our huge debt to the inspirational research of many scholars such as Walter Mettman, José Filgueira Valverde, Joseph Snow, John Keller, Peter Dronke, Mary Carruthers and Kathleen Kulp Hill (who so graciously gave permission for use of her ranslations). None of this would have been possible in the initial stages without Dr John Stevenson who supplied us with our first Englished texts.






THE RENAISSANCE PLAYERS

director :
Winsome Evans, B.E.M., O.A.M.

patrons :
Professor Donald Peart
Emeritus Professor Sir Peter Platt


· Winsome Evans : alto shawm, zūrnā, gemshorn, harp, sinfonye, psaltery, pandero, pandereta, bells
· Nick Wales : vielle
· Llew Kiek : baglama, gittern
· Andrew Lambkin: pandero, pandereta, tapan, darabukka
· Barbara Stackpool : castanets, bells

· Mara Kiek : alto, pandero
· Mina Kanaridis : soprano
· Belinda Montgomery : soprano, diwan saz
· Melissa Irwin : soprano


Musical arranger & Producer : Winsome Evans
Recording Engineer : Guy Dickerson, Megaphon Studios
Translation : Dr Kathleen Kulp Hill, © 1994

Digital editing, compiling & Mastering Engineer: William Bowden, Festival Records
Re-mastering Engineer : Don Bartley, Benchmark Mastering

Typesetting : Natalie Shea
Layout : Bernard Rofe
Cover art : Bernard Rofe & Winsome Evans



INSTRUMENTS

· alto shawm : Gunter Koerber, Germany
· zūrnā : Linsey Pollak, Australia
· gemshorn : Brian Garlick, England
· gittern : Arnold Black, Australia
· baglama : Saz evi Ahmet Ata, Turkey
· diwan saz : unknown, Turkey
· harp : Frank O'Gallagher, Australia
· psaltery : Mark Noble, Australia
· vielle : Ian Watchorn, Australia
· castanets : unknown, Spain
· pandero : unknown, India
· pandereta (1) : Jeremy Montagu, England
· pandereta (2) : unknown, Spain
· bells : Whitechapel Bell Foundry, England
· darabukka : unknown, U.S.A.





— • —



This CD is dedicated to Mr Gough Whitlam, a national living treasure of Australia, whose Cultural Exchange Programme Overseas gave a boost to the Renaissance Players in their early career. In gratitude for his wit and resilience in "maintaining the rage".



Recorded at St. Peters, Sydney

© & ℗ 2014 Tall Poppies Records