The Cloister and the Sparrow Hawk

/

Tim Rayborn · Shira Kammen


Songs of the

Monk of Montaudon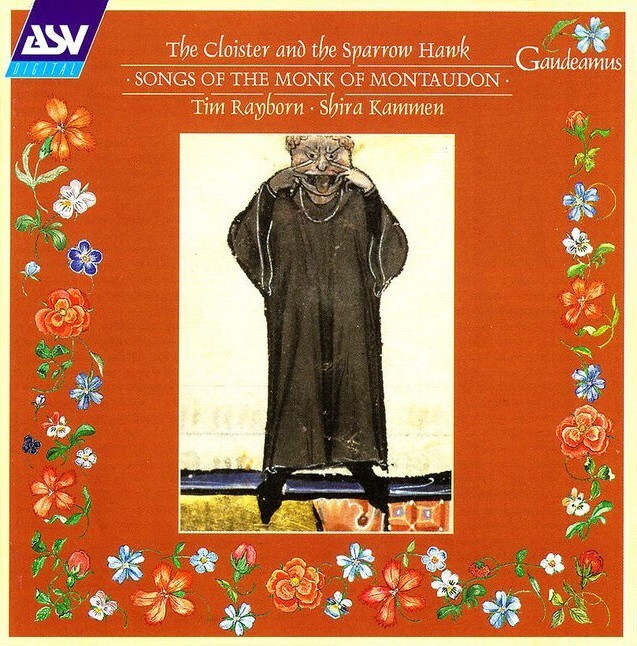 medieval.org
AS&V Gaudeamus 175
1998







1. Estampie 'Cor irat' [3:40]
instrumental on 'Be m'enueia', arr. Kammen | ShK, vielle · TR, percussion
2. Be m'enueia, so auzes dire? [7:40]
"I find annoying, do you hear me?" | TR, voice · ShK, vielle


3. Two motets on 'Era pot' [1:54]
instrumental, arr. Kammen | ShK, rebec · TR, harp
4. Era pot ma domna saber [7:59]
"Now my lady may know" | TR, voice · ShK, harp
5. Dansa 'Era pot' [3:09]
instrumental, arr. Kammen | ShK, vielle · TR, 'ud


6. Lengua d'argen [2:19]
instrumental on 'Quan tuit', arr. Kammen | ShK, vielle
7. Quan tuit aquist clam foron fat [7:59]
"When all these complaints have been made" | cf. Peire VIDAL. Nulhs hom no·s
TR, voice · ShK, vielle · Alison Sabedoria, voice, bell
8. Dansa 'Folhs motz' [1:48]
instrumental on 'Quan tuit', arr. Kammen | ShK, vielle · TR, percussión


9. Amicx Robert, fe que dey vos [3:34]
"Robert, my friend, I promise you" | cf. Daude de PRADAS (attr.). Bele m'es la veis | TR, voice
10. Belha messios [6:13]
instrumental and estampie on 'Amicx Robert', arr. Rayborn | TR, harp


11. Pos Peire d'Alvernh'a cantat [13:44]
"Since Peire d'Alvernha has sung" | cf. Guillem ADEMAR. Lai can vei florir
TR, voice, percussion · ShK, vielle








Tim Rayborn · voice, harp, 'ud, percussion
Shira Kammen · vielle, rebec, harp
with
Alison Sabedoria, voice, bell



TIM RAYBORN
Tim Rayborn, originally from Northern California, is the founder of Ensemble Florata. He has been devoted to the study and performance of medieval music and the traditional music of the Middle East for nearly a decade. He has performed throughout Britain and Europe, including concerts at both the York and Beverley Early Music Festivals, and the Jersey International Festival, as well as with traditional musicians in Marrakesh and Istanbul.


SHIRA KAMMEN
Shira Kammen is based in the San Francisco Bay Area, where she received her music degree from U.C. Berkeley, and was for many years a member of both Ensemble Alcatraz and Ensemble Project Ars Nova. She studied vielle and medieval music with Margriet Tindemans, and also has worked with the Boston Camerata, Sequentia, Hesperion XX and The King's Noyse. She has performed, recorded and taught medieval and traditional music extensively in the USA, Europe and North Africa.





Instruments
Vielle — Fabrizio Reginato, Fonte Alto, Italy, 1984
Vielle — Karl Dennis, Warren, Rhode Island, USA, 1993
Rebec — John Fleagle, Boston, Massachusetts, USA, 1985
Harp — 'Blondel', Tim Hobrough, Strathpeffer, Scotland, 1994
'Ud — Samir Hamida, Cairo, Egypt
Drum — traditional wooden frame drum

Musical arrangements by Shira Kammen and Tim Rayborn

Contrafacts by Tim Rayborn:
· Quan tuit aquist — adapted by Rayborn from Nulhs horn no·s by Peire Vidal
· Amicx Robert — contrafacted from Bele m'es la veis, ascribed to Daude de Pradas
· Pos Peire d'Alvernh'a — contrafected from Lai can vey florir by Guillem Ademar

Produced by Tim Raybom, Shim Kammen and Colin Potter
Recorded by Colin Potter, IC Studios, 19-21 August, 1997

Translations of texts by Dr Michael Routledge, Royal Holloway University, London,
and grateful acknowledgments for his assistance and input

Thanks to Sarah Zandona for her help and initial working translations of the texts
and special thanks to Alison Sabedoria for her invaluable vocal coaching and contributions

Original recording concept by Shira Kammen

℗ & © 1998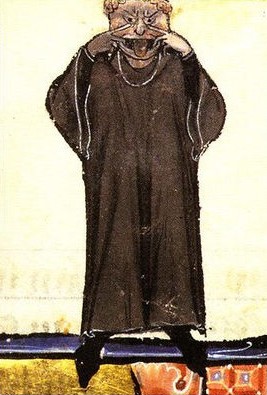 The Monk of Montaudon stands as a singularly curious and often amusing figure in the history of troubadour poetry and song. His true name is unknown, but he flourished in the late twelfth century, and apparently came from a noble family in the Auvergne region. He suffered the fate which often befell the younger male children of such families, being offered to a monastery, in this case the Abbey of Orlac. At some point, he became Prior of Montaudon, thus acquiring the title by which we now know him.

However, this man was no ordinary monk, and despite his enforced devotion to the monastic vocation (or perhaps because of it) he showed a remarkable talent for vernacular poetry and music, writing verses in a number of the standard poetic forms employed by the troubadours of the time. The language was Occitan, a Romance language resembling Catalan. It was widely-spoken in medieval southern France, and used to exquisite literary effect by the troubadours.

The Monk's work attracted the attentions and patronage of the nobility. He was regularly invited to leave behind the cloister and participate in their many feasts and tournaments, performing his works and engaging in the popular poetic and musical contests of the time. The fact that he dutifully donated the rewards won from these events to the monastery treasury was no doubt a major factor in his being allowed to continue this connection with the secular world.

Indeed, at the Court of Puy Sainte Marie, famous for its troubadour contests, he was made master of revels. This honour entitled him to open the annual feast with a ceremony in which he held on his arm a sparrow-hawk, which would then be accepted by the baron who had chosen to sponsor the event, a sometimes ruinous expense. The Monk continued such secular connections throughout his life. He is known to have been active in Spain as well, being affiliated with the monastery of Villafranca. King Alfonso of Aragón was among his patrons.

His work differs in some respects from that of his contemporaries, no doubt due in part to the very different life which he lived. Many of his poems have a keen wit and biting sarcasm, quite humorous, even vulgar, but verging at times on the cruel. It is as if he is holding up the entire genre to ridicule, whilst still making fine use of the poetic forms.

Chief among these is the Enueg, or 'annoyance' song, wherein the poet describes, in a humorous, random and seemingly nonsensical manner, various things which he finds irritating. We include two examples here [tracks 2, 9]. It is very possible that these works provide tantalising glimpses into the Monk's own life, in which case, he was far from pious!

The longest piece on this recording is a Sirventes, Pos Peire. Here the Monk's invective is in fine form, as he takes an impish glee in mercilessly insulting and demeaning his musical contemporaries, before finally turning his venom on himself.

Quan tuit recounts a curious debate in heaven between religious icons and ladies over the right to use facial paint. Era pot is a more typical courtly love lyric, and is the only non-satirical piece on this recording. It was probably composed according to courtly conventions rather than expressing any true feelings. However, given that the Monk's entrance into the monastic life was probably unwilling, ant that he had continual contact with various courts throughout his life, we will probably never be certain of his amorous intentions.

Only two of the Monk's pieces have survived with music, Be m'enueia and Era pot. Be m'eneuia, shares its melody with a piece by Bertan de Born, Rassa, tan derts. The question, therefore, as to which of these two wrote music the music is open to speculation.

In order that these wonderful poems can live again musically for the modern listener, we have created contrafacts, that is, taken existing melodies from the Monk's contemporaries and set his words to their music. Thin was it wide-spread practice throughout the Middle Ages, with new poems often being set by their authors to popular songs of the day.

Instrumental music abounded in the Middle Ages, commonly being created based on vocal models, and we have provided examples here of this practice. Such pieces would have been played to enhance the performance of troubadour songs, and could have involved a number of different instruments. We have provided titles for them taken from the Monk's poetry.

Concerning performance practice, it appears that often troubadour poems were sung unaccompanied or with a single instrument, the favourite of which was the vielle (the medieval fiddle). The harp also seems likely for such music, though the evidence for the use of instruments with the various types of troubadour songs is rather confusing and inconclusive. We believe that medieval musical practices were varied enough in different regions and times to allow for both types of performance, and we reflect this on the recording. The texts are interpreted theatrically, reflecting their amusing and even ridiculous content. These songs were obviously meant for the listeners' amusement and so invite a variety of vocal colours and effects.

It is hoped that the music of this unusual man will entertain the modem listener, with both the cleverness of its literary content and the richness of its melodies. The Monk of Montaudon lived in two very different worlds, with one foot in each. His unique position allowed him to offer his own critique of his life as a troubadour, and at the same time not scandalise his religious vocation. His amusing bits of monastic nose-thumbing make a refreshing change indeed!

Tim Rayborn, 1998