Sacred & Profane / The Salomone Trio
---


titanicrecords.com
medieval.org
Titanic Records Ti-238
1998

[58:42]






1. Alleluya psallat [1:04] Worcester fragments, anon, 14th c.
2. Nas mentes senpre tẽer [2:54] CSM 29
Las Cantigas de Santa Maria, anon, 13th c. | Laura Liben: percussion

3. Alle, psallite cum luya [0:45] Montpellier manuscript, anon, 13th c.
4. Pucelete—Je Languis—Domino [1:20] School of Notre Dame, anon, 13th c.

5. Le grant desir [2:32]
Popular French song, ca 1500/Jean Mouton (ca 1459-1522) | solo: Carol Flamm
6. Il est en vous [1:24] Claudin(?)
7. Mais que ce fust le plaisir [2:25]
Popular French song, ca 1500/Anon | solo: Marie Costanza
8. Ma bouche rit [1:03] Anon
9. Au pres de vous [1:51] Claudin(?)
10. Vray Dieu d'Amours [2:43]
Popular French song, c. 1500/Antoine Brumel (ca 1460—ca 1520) | solo: Elissa Weiss


Salomone ROSSI (1570?-1630?)
11. Ele moadei Adonai [1:16] Leviticus 23:4
12. Shir hamaalot [2:12] Psalm 128
13. Bar'chu [1:12] Liturgy


14. The Nightingale [1:51] Thomas Bateson (1570?-1630)
15. Though Philomela Lost Her Love [1:11] Thomas Morley (1557-1602)
16. Those Sweet Delightful Lilies [1:59] Thomas Weelkes (1575?-1623)
17. While Joyful Springtime Lasteth [1:47] Henry Youll (fl 1608)
18. Where the Bee Sucks [0:56] Robert Johnson (1490?-1565?)/John Wilson (1595-1674)


Traditional Sephardic
19. Cuando el Rey Nimrod [2:15]
Laura Liben: percussion
20. Tu madre cuando te parió [3:16]
solo: Marie Costanza | Adeline Sire: recorder
21. Scalerica de oro [2:45]
Laura Liben: percussion | Adeline Sire: recorder
22. Mizmor l'David [2:41]
solo: Elissa Weiss
23. Allí en el midbar [1:13]
Laura Liben: percussion
24. Noches, noches [3:49]
solo: Carol Flamm
25. Morena me llaman/Morenica a mi me llaman [2:55]
The Trio, Mark Johnson: handclaps | Laura Liben: percussion, handclaps


26. Santa Maria amar [7:58] CSM 7
Las Cantigas de Santa Maria, anon, 13th c., arranged by the Salomone Trio
Laura Liben: percussion | Adeline Sire: recorders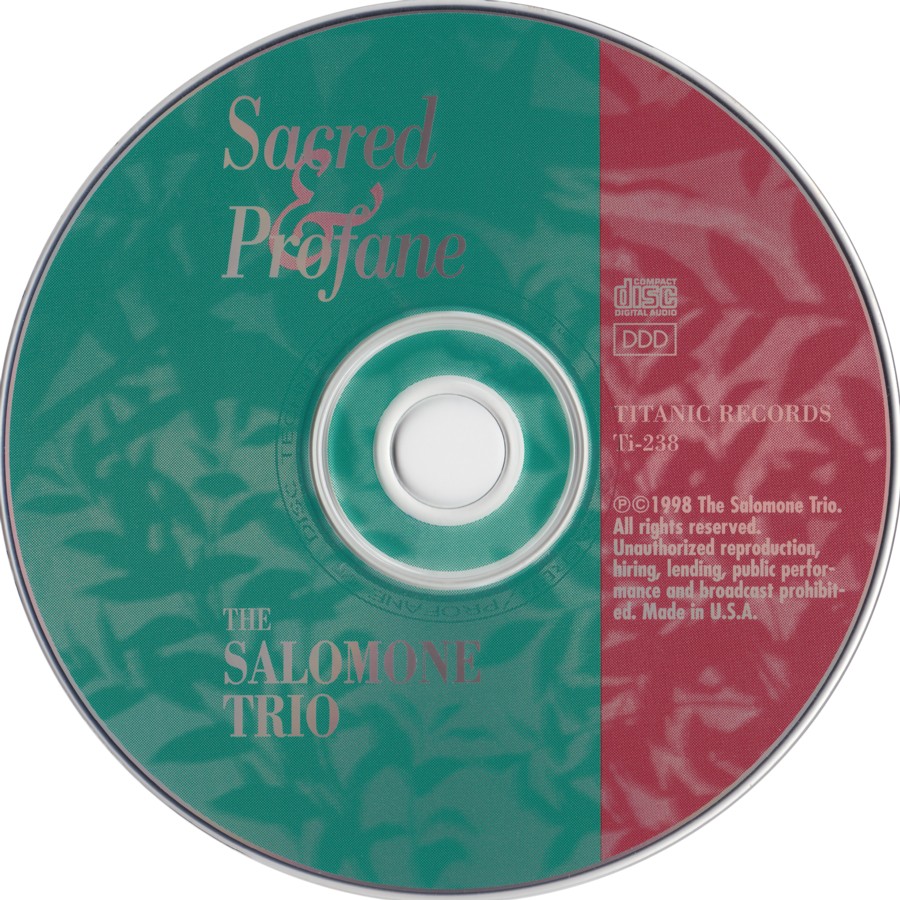 The majority of the selections in "Sacred and Profane" would have been performed in family and court settings, and in small concert halls.
We chose the ambiance with the intent of giving the listener the feel of these intimate settings.


Recorded at The Place Recoding Studio, NYC, Spring, 1997
Produced by Mark Johnson and the Salomone Trio
Engineered by Evan Richey

Art direction and design by Keith Kavanaugh, BauWau Design
Front cover photography by Paul Beattie and Janet Sommer
Cover painting: Scala/Art Resource, NYC
S0018839 K105294 color transp.
Botticelli, Sandro (1444-1510). La Primavera, detail of Mercury and the Three Graces. Uffizi, Florence, Italy.

The Salomone Trio wishes to thank
Anna Bartos, Jim Borman, Cat Conrad, Suzanne Ford, Larry Lipnik, Nico Castel, Alan Seale, Garold Whisler,
and our friends and families.

Translations:
Nico Castel: Sephardic songs
Richard H. Hoppin, in Anthology of Medieval Music, WW Norton & Company, 1978: "Santa Maria amar"
W. Thomas Marrocco and Nicholas Sandon, editors, Medieval Music, Oxford University Press, 1977: "Nas mentes senpre tẽer"
Elisa Weiss: Additional translations




The majority of the selections in "Sacred and Profane" would have been performed in family and court settings, and in small concert halls.
We chose the ambiance with the intent of giving the listener the feel of these intimate settings.


℗ © 1998 The Salomone Trio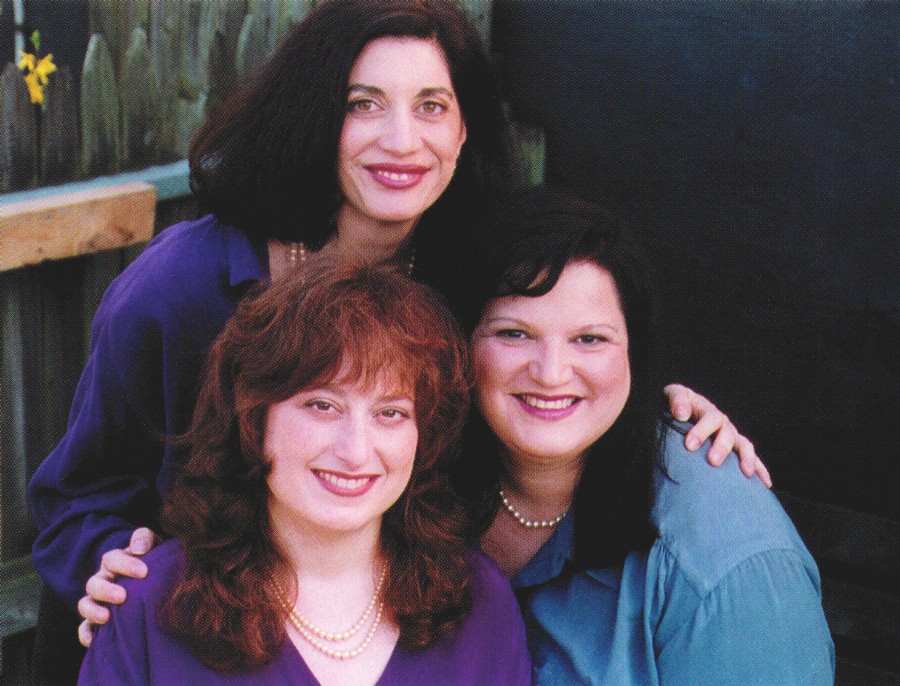 Carol Flamm (back), Elissa Weiss, Marie Costanza



The Salomone Trio
Marie Costanza — soprano
Carol Flamm — soprano
Elissa Weiss — soprano

with

Adeline Sire – recorders
Laura Liben &ndsh; percussion



THE SALOMONE TRIO (sopranos Marie Costanza, Carol Flamm and Elissa Weiss) brings its unique artistry to the world of Medieval and Renaissance vocal music. Taking its name from the sixteenth century Italian Jewish composer Salomone Rossi, whose works they performed when they first began singing together, the Trio's eclectic and enticing programs have earned it accolades and a devoted following. With a wealth of vocal and instrumental experience from the worlds of opera, jazz, musical theater and early music, the three sopranos infuse their performances with spontaneity of improvisation and rhythmic vitality tied together with a joyful musicality. Dedicated to exploring a wide variety of rarely performed music, the Salomone Trio aims to open the hearts and minds of its listeners to the celebration of life within each work. The Trio has performed "Sacred and Profane" in concert throughout the New York area. Among the Trio's other programs are "Ladies of Spain," sacred and secular music from the Iberian Peninsula, and "Miriam's Legacy," an historical overview of Jewish music.

MARIE COSTANZA received her Ph.D. in Performance Studies from NYU's Tisch School of the Arts in 1991. She is Program Director and adjunct faculty historian at NYU's Tisch School of the Arts Graduate Musical Theatre Writing Program. A member of Actor's Equity, Marie has performed in musicals and opera throughout the New York area, including Menotti's "The Old Maid and the Thief" and Mozart's "Le Nozze di Figaro." Marie has also directed both musical theatre works and classic drama.

CAROL FLAMM has sung lead roles in a number of twentieth century operas, including Gustav Holst's "Wandering Scholar" and Ned Rorem's "Three Sisters Who are not Sisters", which she recorded on Newport Classics with the Magic Circle Opera Repertory Ensemble. Carol also performs oratorio and contemporary and classic art songs in a variety of concert settings. She has sung jazz, microtonal and improvisational music with Jay Clayton, Johnny Reinhart, and others.

ELISSA WEISS has sung at the Boston Early Music Festival, the Brooklyn Academy of Music and Town Hall. She spent two seasons with the New Amsterdam Theatre Company, reviving vintage musicals. Opera roles include Purcell's Dido, Susannah (Marriage of Figaro) and Papagena (Magic Flute). Elissa appears on Michael Hughes's gospel CD, "Amazing Grace."

ADELINE SIRE (recorders), a native of Burgundy, France, won a recorder award at the Jean-Philippe Rameau Conservatory in Paris, and studied musicology at the Sorbonne University. She received a BA in music from State University of New York and is currently on the faculty of the New York Recorder Guild. A soloist on recorder and baroque oboe, Ms. Sire has been performing both in France and in the US, with ensembles such as Chacona, Bachworks, the Mannes Camerata and ARTEK.

LAURA LIBEN (percussion) teaches Middle Eastern percussion at the Lucy Moses School in Manhattan. She is a free-lance musician who has worked with The Ninth Street Theatre, Liz Swados, Voiceworks! Theatre, and Gamelon Son of Lion as both composer and musician. She appears as guest percussionist on several of Giora Feidman's albums. She also plays guitar and recorders.