Vox Iberica III.
El Sabio

/ Sequentia


Gesänge für König Alfonso X. von Kastilien und León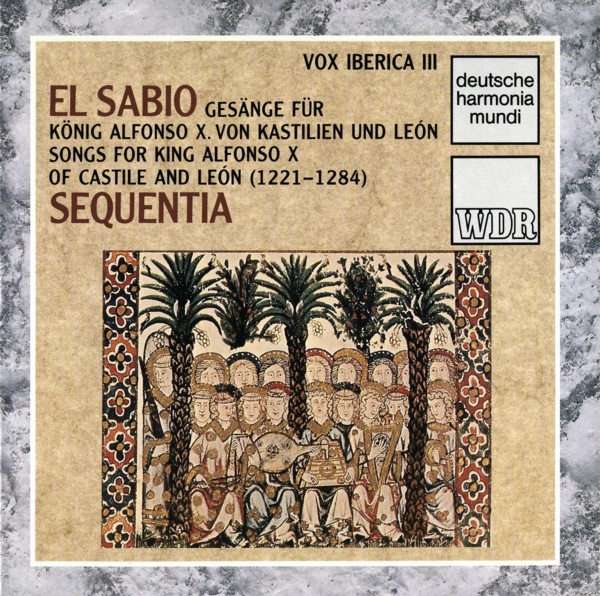 medieval.org
Deutsche Harmonia Mundi BMG 77173
1991








1. Por nos, Virgen Madre [2:12] CSM 250 women

2. Como o nome da Virgen [5:14] CSM 194 B. Bagby, rabab, men

3. Sobelos fondos do mar [8:28] CSM 193 women

4. Nenbre-sse-te, Madre de Deus, Maria [2:39] CSM 421 men

5. Dized', ai trobadores [1:06] CSM 260 B. Bagby, B. Schneider, E. Mentzel, men

6. Maldito seja quen non loará [3:41] CSM 290 men, fiddle, symphonia

7. Quantos me creveren loarán [3:08] CSM 120 E. Mentzel, R. Nolte, men

8. Quen bõa dona querrá [6:07] CSM 160 S. Norin, women, organistrum, tutti

9. Pero que seja a gente [6:52] CSM 181 men, fiddle, lute, tutti


10. Guiraut RIQUIER. Humilis, forfaitz, repres e penedens [8:10] B. Thornton


11. Santa Maria, strelo do dia [3:11] CSM 100 tutti, fiddle

12. Pois que Deus quis da Virgen fillo [9:04] CSM 38 B. Thornton, S. Norin, women, harp

13. Macar poucos cantares acabei e con son [6:13] CSM 401 B. Bagby


KHARJAS

14. Que faray mamma? [1:20] S. Norin, women

15. Meu sidi Ibrahim [2:32] S. Norin, women, rabab, lute

16. Gar si yes devina [1:11] B. Thornton

17. Garid vos ay yermanellas [2:17] S. Norin, B. Thornton, women, rabab, lute ( cf. CSM 353 )


18. En todo logar á poder [4:11] CSM 168 tutti, fiddle, lute





SEQUENTIA, Ensemble für Musik des Mittelalters
Barbara Thornton, Benjamin Bagby


women's ensemble
Barbara Thornton
Elizabeth Glen
Debra Gomez
Cornelia Melián
Susanne Norin
Consuelo Sañudo

instruments
Rainer Ullreich, fiddle, rabab
Benjamin Bagby, harp, lute
Eric Mentzel, symphonia, organistrum

men's ensemble
Benjamin Bagby
Stephen Grant
Eric Metnzel
Raimund Nolte
Bernhard Schneider

· Fiddle by Richard Earle (Basel, 1988)
· Rabab by Rainer Ullreich (Vienna, 1990)
· Lute (after Alfonso el Sabio's Libro de ajedrez, dados y tablas) by Richard Earle (Basel, 1989)
· Harp by Rainer Thurau (Wiesbaden, 1985)
· Symphonia by Bernhard Ellis (Herefordshire, GB, 1978)
· Organistrum (based on sculpture of the Pórtico de la Gloria in Santiago de Compostela) by Alan Crumpler, Leominster, GB, 1982


SOURCES

Cantigas de Santa Maria
The musicians performed from facsimiles of the original manuscripts (El Escorial, Real Monasterio de El Escorial, B.1.2. [E1] and T.I.1. [E2]; and Madrid, Biblioteca Nacional, Ms. 10069 [To]) in conjunction with the text edition of Walter Mettmann: Alfonso X: Cantigas de Santa Maria, Coimbra, 1959-72 (4 vols.). In certain cases, the standard edition of Higini Anglès (La música de las Cantigas de Santa María del Rey Alfonso el Sabio, Barcelona, 1943-59), which includes a full facsimile of the principle musical source (E1), was also consulted. Assistance in the pronunciation of the Gallician-Portuguese texts provided by Consuelo Sañudo.

Humils, forfaiftz, repres e penedens
The unique musical manuscript source (Paris, Bibl. Nat. fr. 22543, fol.105v) was used in conjunction with the text edition of Martin Riquer, Los Trovadores (3 vols.), Barcelona, 1975, p.1618.

"Kharjas"
The text edition of Samuel M. Stern (Les Chansons mozarabes, [reprint: Oxford, 1964]) was used together with melodies reconstructed by Benjamin Bagby, based on melodic material from the Cantigas de Santa Maria and the Andalusian Naubatu r-rasid, mīzānu l-quddami.


℗ © 1992 harmonia mundi, D-7800 Freiburg
Producer: Klaus L Neumann
Recording: Barbara Valentin (WDR)
Editing: Dietrich Wohlfromm
Technical equipment: WDR Köln
Recorded: 11.-14. 2. 1991 Seewen, St Germanus (CH)
Cover art: miniatures from: Las Cantigas de Santa Maria El Escorial, Ms. T.I.1, fol. 145 & 170.
Redaktion: Dr. Jens Markowsky
All rights reserved

HARMONIA MUNDI D-7800 FREIBURG
Eine Coproduktion mit dem Westdeutscher Rundfunk Köln
deutsche harmonia mundi




El Sabio
Songs for King Alfonso X (the Learned) of Castile-León (1221—1284)

By the time the 31-year-old don Alfonso inherited the crowns of Castile and León in 1252, ascending to his title, Alfonso X, he had long since begun to earn the laudatory name which would follow him into posterity: El Sabio, the Learned, the enlightened monarch hungry for wisdom, whose innumerable scholarly projects would help raise his realm (and the Castilian language) into the European mainstream; his illustrious court became a center of knowledge, research and art.

Alfonso used his enormous personal energy and resources to realize a wide-ranging program of legal, scientific, historical, religious, literary and musical endeavors. Although he certainly made significant personal contributions (and is customarily named as author) to the many works produced during his reign, he was in fact more of a motivator, a patron and editor, assembling and directing teams of experts from the three religions of his realm: Christianity, Islam, and Judaism.

As a youth, the studious prince Alfonso found himself at the side of his crusader father, San Fernando III, during the sieges of Moslem Seville and other Islamic states. But later, this polymath visionary was to become anything but a successful ruler and politician. For decades the philosopher-king intrigued in vain to become Holy Roman Emperor (a claim he could make through his German mother, Beatrice of Swabia), draining the kingdom of its resources, pressuring and alienating his nobles and destabilizing the political balance of the Iberian peninsula. In the end even his own son turned against El Sabio in armed rebellion, and Alfonso died in his beloved city of Seville, bitter and abandoned. The substance of Alfonso's regency was summarized by the Jesuit historian Juan de Mariana, writing in 1601: 'While he was pondering the heavens and looking at the stars he lost the earth and his kingdom".

The Cantigas de Santa Maria

The process of gathering, editing, copying and illustrating the Cantigas de Santa Maria [CSM] (= Canticles of Holy Mary) was one of the learned king's most successful projects: it entailed a vast collection of Marian miracle-stories (cantigas de miragre) grouped in sets of ten (with every tenth cantiga a song in praise of the miraculous Virgin, a cantiga de loor), written in courtly Galician-Portuguese verses set to melodies from a multitude of sources, and accompanied by miniatures depicting a great variety of contemporary situations. Our recording features a cross-section from this unique collection (a complete recording would fill at least 25 CDs!), and attempts to recreate several modes of "performance" as they would have been known at Alfonso's court: the intensely personal utterances of the king himself (13), perhaps intended for an audience of only a few chosen courtiers; the singing of cantigas de loor (1, 4, 7, 8, 11) by and for the faithful in the cathedral of Seville on Marian feast-days; the participatory singing and playing of Marian miracle-stories (cantigas de miragre) at courtly gatherings, during which professional minstrels were joined by noble amateurs for an evening of devotional entertainment (2, 3, 5, 6, 9, 12).

Today it is difficult, given the imposing nature of a single repertoire numbering over 400 compositions, to bear in mind that the musical life of Alfonso's court was diverse, sophisticated and cosmopolitan, enjoying the last fruits of the courtly trobador tradition of the langue d'oc as well as the new ideas and sounds of clerical musicians in contact with the French cultural mainstream. The elevated status of such musicians and poets guaranteed them written documentation (although not as lavish as the CSM) allowing us to hear their voices through notation. However, other types of music known to Alfonso had their origins in ancient oral traditions which never or rarely were fixed in ink and parchment: the instrumental virtuosity of professional minstrels (visually catalogued by the king's artists in thrilling miniatures in one of the CSM manuscripts), the amorous or humorous cantigas de profanas ascribed to Alfonso (only the texts survive), courtly and popular songs in Castilian, Galician, and Mozarabic dialect (performed by Mudejar and Jewish entertainers), and story-telling singers (like the Catalonian jograr in our Nr. 2) from all over the Iberian peninsula. It is likely that Alfonso himself, during his childhood in Galicia, first heard a Marian miracle-story sung by such an itinerant bard visiting the court where he was raised.


Humils, forfaitz, repres e penedens (Nr. 10)

Guiraut Riquier (b. Narbonne ca. 1230, d. ca. 1300), is widely known as "the last of the trobadors". This master of many genres came to Alfonso's court in ca. 1270, where he remained until 1279. Particularly revealing of artistic life at court is his supplicatio to the king, written in 1274, in which he asks his patron to separate the elevated inventores from mere ioculatores, thereby guaranteeing the status of the practitioners of high art (one can imagine what intrigues might have caused Guiraut, surrounded by ambitious young courtiers and popular love-poets, to turn to El Sabio for recognition and protection). In reply, the king wrote a poetic declaratio (perhaps actually written for him by Guiraut) in the language of the trobadors, in which Guiraut was declared to be don doctor de trobar, receiving special status at court.

Of Guiraut's 89 surviving poems (48 with melodies) we hear Humils, forfaitz, repres e penedens, written in 1273 at Alfonso's court. This heartfelt, personal prayer addressed to the Virgin Mary shows that Guiraut was one of the first poets to develop a Maria-character designed to intervene directly into personal spiritual life (a favorite mode of devotion for late medieval poets). This poem contains virtuosic elements, among them the sustaining of a uniform rhyme scheme over all five strophes and two tornadas, a noble, weighty line structure of 10-syllables per line, and the highly personal appeal despite the superimposition of a strict formality. The poet-singer gives us an intricate melody written in a direct and open D-mode, yet his attention is nonetheless constantly fixed upon one overriding emotion: feeling low, humbled. Beyond these great merits, the beauty of the poem comes from the truth of its imagery: what more touching and authentic depiction exists of the trepidations of the one who walks the spiritual path than the fifth strophe of this canso?


Kharjas (Nr. 14)

Finally, our homage to El Sabio includes a group of kharjas: tantalizing little erotic texts, sung by young women (very much in the tradition of the cantigas de amigo), which Moslem and Hebrew poets of Andalusia incorporated as final verses into their more formal and courtly strophic muwashshahs. One of the last exponents of this art, a Jew named Todros Halewi Abulafia (d. 1295), was an important courtier to King Alfonso. These miniature texts in the colloquial Romance dialect of the Mozarabs (the oldest extant texts in Spanish, written using Arabic characters and not deciphered until 1948) bear witness to one of the earliest European vernacular vocal traditions: women's songs of sensuality and desire. In our reconstruction we glimpse the last remains of a courtly oral tradition dating back to 10th-century Moslem Andalusia and still enjoyed by the learned king and his courtiers during their hours of relaxation. Female minstrels are joined by instruments from Al-Andalus (rabab and lute) for this conscious "performance" of the amusingly erotic kharjas, the beguiling songs of lovesick girls.

© 1992, Benjamin Bagby & Barbara Thornton





SEQUENTIA

Since its founding in 1977, Sequentia has become the internationally-acclaimed leader in its field — an ensemble which combines vocal virtuosity with innovative research and programming to reconstruct and re-vitalize the musical traditions of the Middle Ages. Under the direction of its founders Benjamin Bagby and Barbara Thornton, Sequentia has expanded into a multifaceted ensemble whose size and composition vary with the demands of the repertoire being performed.

This CD is the third in a three-part series (Vox lberica) devoted to the music of medieval Spain.