Red Iris

/ Sinfonye


instrumental music from 14th century italy







medieval.org
Glossa "nouvelle vision" GCD 920701

1997






ISTAMPITE
British Library, MS Additional 29987

1. Trotto [1:49]
folio 62v - medieval fiddle, J, P

2. Tre fontane [7:41]
folio 57r-58r - medieval fiddle, J

3. Principio di virtu [10:39]
folio 61r-62r - medieval fiddle

4. Lo manfredina & la rotta [2:50]
folio 63r-v - symphony, J, P

5. Chominciamento di gioa [7:48]
folio 56r-v - symphony, J

6. Palamento [8:19]
folio 60r-v - medieval fiddle

7. Salterello (#2) [1:19]
folio 62v-63r - medieval fiddle, P

8. Belicha [8:05]
folio 58r & 59v - medieval fiddle

9. Salterello (#1) [4:40]
folio 62r - medieval fiddle, J, P




SINFONYE
Stevie Wishart

Stevie Wishart
medieval fiddle - based on Jacopo da Casentino's St. Bartholomew
symphony - after 13th c. Castilian carvings and extant Galician instruments

Jim Denley - percussion (pandeiro, bendir) J
Pedro Estevan - percussion (stick frums, clappers, misc.) P


Recorded at Iglesia de San Miguel, Cuenca, Spain, in July 1996
Engineered by CARLOS CÉSTER and JOSÉ LUIS CRESPO
Produced by STEVIE WISHART
Executive producer: CARLOS CÉSTER

Original sound recording (P) 1997 Glossa Music SL

All compositions traditional, arranged and transcribed by Stevie Wishart
© Stevie Wishart

Sinfonye administration and co-ordination: JUDY GREENWELL

Design: CARLOS CÉSTER and ÓSCAR ESPINAR LÁZARO
Booklet co-ordination: MARÍA DÍAZ
All texts and translations © 1997 Glossa Music SL

On the cover: Lorenzetti Ambrogio (1285-cl 348), Effetti del Buon Governo
Palazzo Pubblico, Siena
Ekta © SCALA

Glossa Nouvelle Vision is a trademark of Glossa Music SL

Agradecemos al Excelentísimo Ayuntamiento de Cuenca su amable colaboración





Red Iris - the music

The Red Iris was the emblem of musicians working for the urban signoria - an aristocratic "democracy" who ruled Florence as a city state from the mid 13th century to the Medici take over in 1389 and so contemporary with the istampite. Today the flower is still the city's logo and it was here some 600 years ago that we find madrigals, ballate, caccio and istampite being sung and played within one of the most active music scenes around.

The music in Red Iris is fresh and innovative - befitting the era's sense of being the dawn of a new realm - the Renaissance.

There are fifteen untexted monophonic pieces called istampite which today survive as rare musical gems in a manuscript otherwise given to vocal music of the 1300s mainly by Francesco Landini. Now in the British Library (MS Additional 29987, folios 55v to 63v), the manuscript's carefree layout and notation suggest it was put together by a working musician who already knew the music more-or-less by ear. Our scribe seems to hail from Central Italy, perhaps Southern Tuscany and it is probably because this is the hand of a player rather than of a professional scribe that instrumental music makes a rare appearance in written form.

The form of the istampite unfolds with sequences of up to five newly invented melodies which the scribe calls prima, secunda, terça pars and so on. The notation indicates how each melody can be played twice, the first time dove-tailing into an open-ended riff labelled aperto in the manuscript. The repeat leads to the same riff now modified with a chiuso - or closed - ending. The internal repeats means that the eye doesn't make a linear path through each piece but constantly jumps around following little pointing fingers and icons - a very economical use of parchment and hell to read!

This same musical form features in Johannes de Grocheio's important music treatise of around 1300. Using the latin name stantipe and calling its sections puncta, he describes «a textless melody having a difficult structure of agreements and distinguished by its sections... on account of its difficulty, it causes the mind of anyone who performs it - and of anyone who listens - to dwell upon it and it often diverts the minds of the powerful from perverse thoughts».

Grocheio also tells us that the fiddle, or viella to use his latin name, «prevails over all musical instruments known to us, for just as the scope of the intellective soul includes other natural forms within itself, and as the square includes the triangle, and the greater number includes the lesser, so the scope of the viella includes all other instruments within itself... on the viella all musical forms can be discerned more exactly». It is the stantipe that Grocheio identifies as one of the main repertories for the fiddlers to perform «before magnates in festivities and sportive gatherings».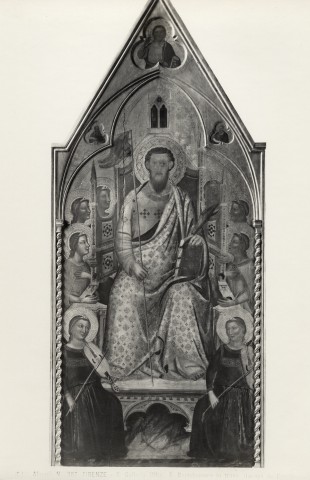 Although often loosely referred to as dance-music the istampite stand as extended instrumental pieces, in much the same way as Bach's solo violin suites took their formal cue from dance genres but were developed as innovative instrumental works.

By presenting istampite as music for a solo melody instrument and in particular for the medieval fiddle. Red Iris avoids the multi-instrumental gloss - the music speaks in its own terms. Often individual istampite are heard within artful compilations, but by focusing on a single genre, each piece informs the other. The Trotto, Salterelli, and La manfredina with its rotta have short, dance-like and obviously tuneful puncta - their form is transparent. Chominciamento and Tre Fontane are more improvisational elaborations - more "difficult" for the listener and player alike. The most extended istampite are Principio di virtu, Palamento and Belicha - with chromatic and rhythmic modulations often challenging the metrical and tonal stability within each piece. Additional percussion suits the simpler pieces whereas the most complex are played on the fiddle alone.


Red Iris - performing istampite

There are no surviving Trecento instruments but there are some forty paintings featuring fiddles (catalogued in Richard Fremantle, Florentine Gothic Painters, London 1975) and some are so musically detailed that they can be used as the basis for modern reconstructions.The two angels playing five-string fiddles at the foot of St. Bartholomew in a painting by Jacopo do Casentino (1345) seem strikingly realistic and as the father of Francesco Landini, Jacopo must have been familiar with the Florentine music scene. Jacopo's fiddles provide the constructional starting point for the fiddle used in Red Iris which was commissioned from the Oxford maker Bruno Guastalla with this specific music in mind.

The instrument has gut strings and uses Jerome of Moravia's second tuning from his treatise of c1300 - «necessary for secular and all other kinds of songs, especially irregular ones, which frequently wish to run through the whole hand». It is in those istampite where the melodic modality is brilliantly irregular that Jerome's second tuning really works. The music is written as a single-note melody, but Jerome's concordant tuning together with the technology of the medieval fiddle obliges the player to bow various strings simultaneously in various combinations of melody and "drone" strings.

In keeping with Grocheio's account of the complexity of this genre, there is an extra layer of complexity for the fiddler using Jerome's tunings. In the simpler pieces, the strings alongside the melody string can be bowed as open strings but the modal irregularities of the pieces like Belicha or Palamento, require the drone strings to be occasionally fingered in order to support shifting tonalities. Often the left-hand thumb is easiest to stop the fifth string as observed by Trecento painters and of course still used as a chordal technique by guitar and bass players today. Certainly, none of this "vamping" or "intermittent droning" is written down - it is the result of informed guess-work which would seem to go along with the association of musical complexity, instrumentation and tunings associated with the istampite.

Frame drums, clappers, and more rarely, larger stick drums, are also shown by Trecento painters - often with dancers - and are still used in some traditional music. Although the istampite are mainly associated with the fiddle, the ghironda (English sinfonye or hurdy-gurdy) is cited by writers of the time and I've chosen it for pieces such as Chominciamento which fit so well on this quirky instrument.

STEVIE WISHART
Oxford, May 1997

Red Iris - la música

El Lirio Rojo (Red Iris) era el emblema de los músicos que trabajaban para la signoria urbana - una "democracia" aristocrática que gobernaba Florencia como una ciudad-estado desde mediados del siglo XIII hasta que los Medici tomaron el relevo en 1389 y que, a su vez, era contemporánea de las istampite. Hoy día esta misma flor sigue siendo el logo de la ciudad y fue aquí, hace unos seiscientos años, que encontramos madrigales, ballate, caccio e istampite que se cantaban y tocaban dentro de una de las escenas musicales más animadas de la época.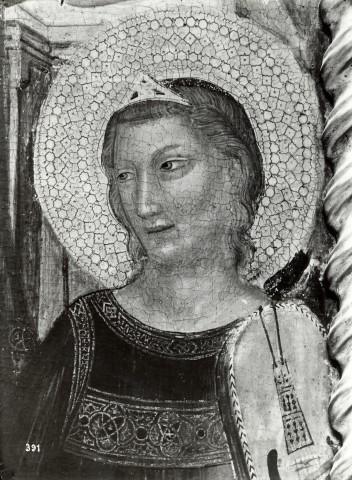 La música de Red Iris es fresca e innovadora, ajustada a la conciencia de la época de ser el amanecer de un nuevo reinado: el Renacimiento.

Existen quince piezas monofónicas sin texto denominadas istampite que han sobrevivido como joyas musicales rarísimas dentro de un manuscrito por lo demás dedicado enteramente a la música vocal de los años 1300, principalmente por Francesco Landini. Actualmente se encuentra en la British Library (MS Additional 29987, folios 55v a 63v), y su disposición y notación despreocupadas sugieren que fue ensamblado por un músico ejecutante profesional, que ya conocía la música más o menos de oídas. Aparentemente nuestro escribano era oriundo de la Italia Central, quizá de la parte del sur de Toscana. Además, la música instrumental hace aquí una rara aparición en forma escrita, probablemente debido a que nos viene de mano de un instrumentista y no de un copista profesional.

La forma de las istampite se desarrolla en secuencias de hasta cinco melodías que el copista llama prima, secunda, terça pars, etc. La notación indica cómo se puede tocar cada melodía dos veces: la primera vez conduce a un final abierto (aperto en el manuscrito), mientras la repetición lleva a una resolución cerrada (chiuso). Las repeticiones internas significan que el ojo no traza un sendero lineal por cada pieza sino que salta constantemente de un sitio a otro siguiendo pequeños dedos señalizadores e iconos, lo cual es un uso muy económico del pergamino pero resulta endemoniado en cuanto a su lectura.

Esta misma forma musical figura en el importante tratado musical de Johannes de Grocheio escrito alrededor de 1300. Utiliza el nombre latino, stantipe, y llama puncta a las secciones para describir «una melodía sin texto que tiene una difícil estructura de concordancias y es distinguida por sus secciones... y debido a su dificultad, exige a la mente de cualquiera que la ejecute - o que la escuche - a detenerse a pensar en ella, y muchas veces aleja la mente de los poderosos de los pensamientos perversos.»

Asimismo, nos dice Grocheio que la fídula, o viella, para utilizar su nombre en latín, «prevalece sobre cualquier otro instrumento que conocemos porque, de la misma manera que el ámbito del alma intelectiva incluye a otras formas naturales, e igual que dentro del cuadrado se incluye el triángulo y el número más grande incluye el más pequeño, así el ámbito de la viella incluye a todos los demás instrumentos dentro de sí... todas las formas musicales pueden percibirse con más precisión en la viella.» Grocheio señala que las stantipe son uno de los principales repertorios que los fidulistas deben ejecutar «ante magnates en las festividades y en reuniones deportivas.»

Aunque muchas veces se alude con ligereza a las istampite como música de danza, pueden considerarse como piezas instrumentales extensas, del mismo modo que las suites para violín solo de Bach se derivaron formalmente de géneros de danza, pero en su desarrollo se convirtieron en innovadoras piezas instrumentales.

Al presentar las istampite como música para un instrumento melódico solista y, en particular, para el violín o fídula medieval, Red Iris evita la pátina multiinstrumental - la música habla por sí sola. A menudo se pueden escuchar las istampite individuales en el marco de ingeniosas compilaciones, pero al centrarnos en un sólo género, cada pieza informa a la otra. Las Trotto, Salterelli y La manfredina con su rotta tienen puncta que son breves, melodiosas y con reminiscencias de danzas - su forma es transparente. Las Chominciamento y Tre Fontane son elaboraciones más de tipo improvisacional - son más "difíciles" tanto para el que las escucha como para el que las toca. Las istampite más extensas son Principio de virtu, Palamento y Belicha, que contienen modulaciones cromáticas y rítmicas que a veces presentan un desafío para la estabilidad métrica y tonal dentro de cada pieza. La percusión añadida va bien a las piezas más sencillas, mientras las más complejas están tocadas por la fídula sin más acompañamiento.


Red Iris - la ejecución de las istampite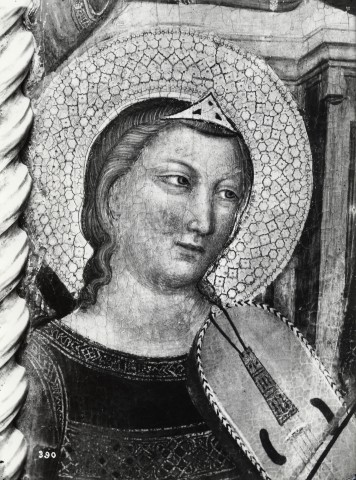 Aunque no ha sobrevivido ningún instrumento del Trecento, sin embargo existen unos cuarenta cuadros en los que figura la fídula (catalogados por Richard Fremantle en su Florentine Gothic Painters, Londres 1975). Algunos de ellos son muy detallados organológicamente, hasta el punto de que pueden utilizarse como la base para las reconstrucciones modernas. Los dos ángeles que tocan fídulas de cinco cuerdas al pie de San Bartolomé en un cuadro de Jacopo da Casentino (1345) parecen asombrosamente realistas y, siendo el padre de Francesco Landini, Jacopo tenía que haber conocido muy bien el panorama musical florentino. Las fídulas de Jacopo nos han dado el punto de partida para la construcción del instrumento empleado en Red Iris, que fue encargado a Bruno Guastalla, luthier de Oxford, con esta música en mente.

El instrumento tiene cuerdas de tripa y emplea la afinación segunda del tratado de Jerome de Moravia (hacia 1300), que es «necesaria para canciones seculares y de otros tipos, sobre todo para las irregulares, que frecuentemente quieren correr por toda la mano.» La segunda afinación de Jerome funciona de maravilla en aquellas istampite donde la modalidad melódica es genialmente irregular. Aunque la música está escrita como una melodía de notas simples, la afinación concordante de Jerome, junto a la tecnología de la fídula medieval, exige al intérprete tocar con el arco varias cuerdas al mismo tiempo, con varias combinaciones de cuerdas melódicas y pedales.

En concordancia con la complejidad de este género, ya relatada por Grocheio, hay una capa adicional de dificultad para el fidulista que emplea la afinación de Jerome. En las piezas más sencillas, las cuerdas contiguas a la cuerda melódica pueden ejecutarse como cuerdas al aire, pero las irregularidades modales de piezas como Belicha o Palamento exigen que las cuerdas del bajo continuo se deban pisar ocasionalmente para apoyar las tonalidades cambiantes. A menudo el dedo pulgar de la mano izquierda es el más fácil de usar para pisar la quinta cuerda, como se observa en la pintura del Trecento; es una técnica cordal aún utilizada por guitarristas y bajistas hoy en día. Ni este vamping o improvisación de acompañamiento ni ese uso intermitente de notas pedales están anotados en ningún sitio. Es más bien el resultado de una serie de conjeturas informadas que concuerdan con la asociación de complejidad musical, instrumentación y afinaciones relacionadas con las istampite.

En los cuadros del Trecento - a menudo en escenas de danza - también se ven panderos, castañuelas y, más raramente, tambores de baqueta más grandes, todo ello instrumentos que aún son utilizados en algunas músicas tradicionales. Aunque las istampite se asocian principalmente con la fídula, los escritores de la época también citan la ghironda (zanfoña o, en inglés, sinfonye o hurdy-gurdy), y la he escogido para piezas como Chominciamento, que encajan muy bien con este instrumento tan idiosincrático.

STEVIE WISHART
Oxford, mayo de 1997
Traducción: Selma L. Margaretten