Medieval Songs and Dances
St. Georges's Canzona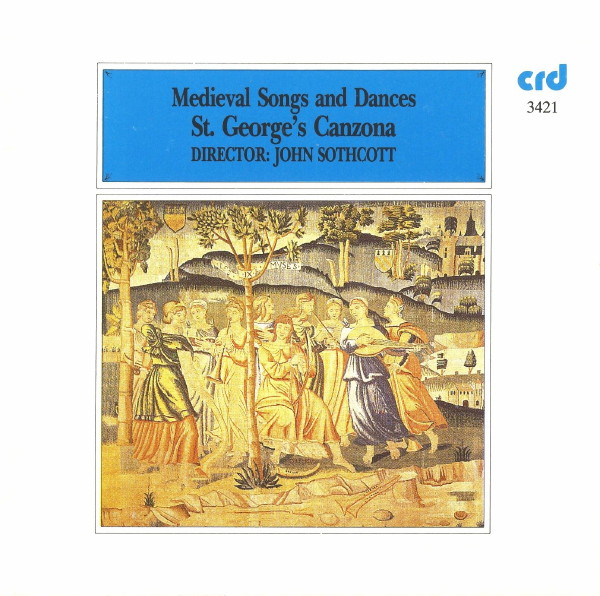 medieval.org
crd 3421
1985









1. Lamento di Tristano [3:46]
anon. Italian 14th c. — viele

2. Quant voi en la fin d'este [4:19]
Perrin d'AGINCOURT (trouvère) active mid 13th c. — counter-tenor, viele, citole, recorder MO

3. L'autrier m'iere levaz [2:59]
anon. (troubadour) French pastourelle 12th c. — baritone, viele, citole, recorder MO

4. Estampie real [1:58]
anon. French 13th c. — harp

5. Edi beo thu hevene quene [2:14]
anon. English late 13th c. — soprano, counter-tenor, viele, citole, 2 recorders

6. Eyns ne soy ke pleynte fu [6:04]
anon. English early 13th c. — counter-tenor, viele, harp

7. Estampie real [2:37]
anon. French 13th c. — viele, citole, 2 recorders, nakers

8. Estampie real [2:16]
anon. French 13th c. — viele, citole, recorder MO, nakers

9. Se ome fezer [2:38]
Cantigas de Santa Maria, Spanish 13th c. CSM 207
soprano, counter-tenor, tenor, baritone, viele, citole, pipe & tabor, bagpipe

10. Nas mentes senpre tẽer [3:57]
Cantigas de Santa Maria, Spanish 13th c. CSM 29
soprano, mandola, citole, flute

11. Estampie real [2:10]
anon. French 13th c. — mandola, citole, recorder MO, rotte

12. Como poden per sas culpas [2:51]
Cantigas de Santa Maria, Spanish 13th c. CSM 166
tenor, baritone, viele, citole, recorder MO, bagpipe

13. Maravillosos et piadosos [4:10]
Cantigas de Santa Maria, Spanish 13th c. CSM 139
soprano, counter-tenor, tenor, baritone, mandola, citole, 2 recorders

14. Tre fontane [7:58]
anon. Italian 14th c. — viele, citola, tabor



all arrangements ©John Sothcott / St. George's Canzona




Produced by Simon Lawman
Balance Engineer: Bob Auger
Production liaison: John Grubb
Recorded at the Church of St. James, Clerkenwell, London, EC1

Front cover reproduction: 'Orpheus and the Muses', tapestry
woven in wool and silk. French; 16th Century.
Reproduced by courtesy of the Board of Trustees of the Victoria and Albert Museum, London.

℗ 1985 CRD RECORDS LTD.
© 1985 CRD RECORDS LTD.




St. Georges's Canzona
John Sothcott

Ray Attfield – baritone, nakers, tabor
Cecil Elliston Ball – tenor
John Grubb – citoles, harp
Derek Harrison – counter-tenor
Rosemary Harrison – soprano
Michael Oxenham – recorders, pipe and tabor
Michael Sargeant – bagpipe, flute, rotte, recorders
John Sothcott – vieles, mandola




St. George's Canzona was formed as a recorder trio in 1966 but it quickly expanded during the following year to become a small ensemble of voices and instruments, able to perform a wide variety of music from the middle ages and the Renaissance, although their repertoire contains far more popular secular, than liturgical music.

Although he comes from a classical background, the musical director, John Sothcott also has an interest in folk music and this influenced the group's gradual evolution into a balanced consort which bases its performance both on the practices of the minstrels and jongleurs as far as they are known, and on such traditional styles as have apparently survived from early times in remote parts of Europe.

As well as playing all over England, St. George's Canzona has made or participated in, some dozen and a half records. A regular Winter/ Spring series of concerts at the Playhouse, in Harlow, Essex, has given the group an opportunity to develop a large number of new programmes. These have included historical dancing (in collaboration with the Renaissance Dance Company of London) and experiments with spoken narrative taken from historical sources.

The problem of obtaining authentic period instruments has been solved partly by commissioning from specialist makers, but many of the instruments which are based on pictures and sculptures have been made by John Sothcott.

The group normally consists of eight performers but this number can be augmented for specific programmes. Its repertoire covers music from about 1100 AD to 1650 AD and includes some folk and traditional music from all over Europe.


The Musical Director, John Sothcott, trained as a violinist and originally came into the field of Early Music as a recorder player who specialised in highly embellished versions of eighteenth century chamber music. Later he became interested in earlier music and was one of the founder members of Musica Reservata. He has broadcast many times as a recorder soloist and as a member of such groups as Bruno Turner's Pro Musica Sacra, The Deller Consort, Cantores in Ecclesia and the English Chamber Orchestra. John Sothcott now devotes most of his time to the making and playing of medieval bowed and plucked instruments.

Ray Attfield originally joined the group as a percussionist but now he also performs as a singer and Hurdy Gurdy player. He began as a folk singer and is now very interested in the vocal and instrumental styles of traditional musicians throughout the world.

Cecil Elliston Ball is an experienced choral singer who has become increasingly interested in the challenge of singing medieval and renaissance music.

John Grubb, originally a guitarist, now fully occupies himself with medieval and renaissance plucked instruments including, citole, gittern, lute and harp. He also performs with other groups including Noise of Minstrels and Silva Lirica.

Derek Harrison is an outstanding counter tenor and a versatile musician who plays both stringed and keyboard instruments. He is choir master to St. George's Canzona and the conductor of the Hertford Choral Society. He was a member of the Clerkes of Oxenford and a chorister at Salisbury Cathedral.

Rosemary Harrison studied music at Oxford and has wide experience of singing in such choirs as the Clerkes of Oxenford, also as a soloist in music of all periods.

Michael Oxenham is a experienced orchestral clarinettist, who now specialises in playing medieval and renaissance wind instruments, including cornett, recorder, crumhorn, rackett, shawm, kortholt and curtal. He plays pipe and tabor for the Mayflower Morrismen in Billericay and drums with a Ceilaidh band. He also appeared with Musica Reservata and Cantores in Ecclesia in BBC broadcasts and recordings.

Michael Sargeant plays bagpipes, woodwind and percussion. He performs regularly with St. George's Canzona, Noise of Minstrels and Silva Lirica. In addition to recitals and recording, Michael is a licenced Covent Garden busker.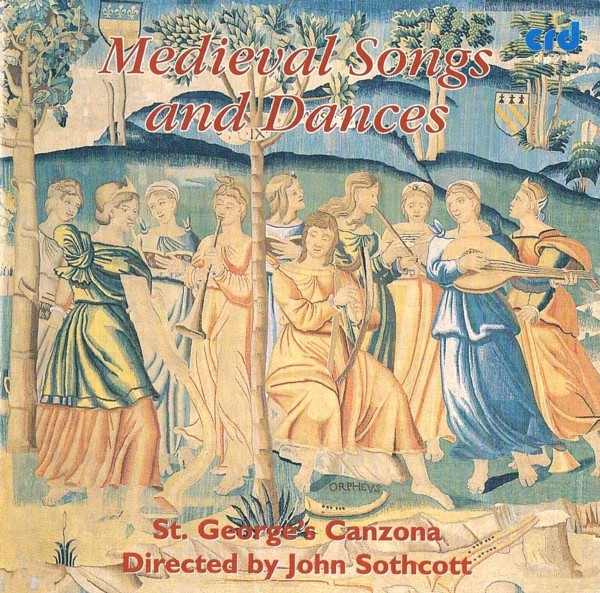 Performing music from the popular repertory of the Middle Ages poses a number of problems. Scholars can now decipher much of the notation, but, in many cases the satisfactory realisation of the music has to rely on knowledgeable conjecture, especially in respect of the rythmic values of the notes. Decorations, embellishments and additional parts have to be inserted and, above all, a convincing vocal and instrumental stylistic framework has to be evolved.

Instruments often impose their own character on the phrasing and articulation by virtue of the playing techniques involved, but the very flexibility of the human voice and its ready adaption to the standards of every culture and age makes the production of an "authentic" vocal style for medieval music particularly difficult. Even today with worldwide communications, different places and cultures have very different ideas of what constitutes "beautiful" singing.

In order to tackle this problem, St. George's Canzona have taken a number of factors into account. These include the written descriptions and treatises of the Middle Ages, the character and compass of the music itself, ethnic survivals - especially where music still plays a similar part in peoples lives as it did in ancient times, the characteristic phrasing and timbre of the instruments with which the voices have to combine and, most important the performing qualities and temperament of the singers themselves.

The music on this record is taken from sources dating from the 12th to the 14th centuries and the origin of most of the items appears to lie in the popular or traditional music of the time. The Troubadours, Trouveres and their English and Spanish equivalents often used popular tunes as settings of their verses and the Minstrel fraternity that were frequently employed by them; used and may at times have invented much of the popular repertory.

The Troubadours and Trouveres were often, but not always, members of the nobility and their verses reflect various aspects of courtly life, from the stylised expressions of chivalric love to the frankly erotic. Musical instruments are often mentioned in their songs, particularly the viele (fiddle) and the citole. These instruments had strings tuned concordantly in a mixture of fourths and fifths to facilitate the use of the open, unstopped, strings as drones.

Many of these types of instrument are pictured in the M.S.S. of the collection known as the Cantigas de Santa Maria which was put together by King Alfonso The Wise in order, so it is said, to preserve the ancient Galician language. The cantigas are all in praise of the Blessed Virgin Mary and relate various episodes in her life.

The cantiga "Se ome fezer" is set to a melody of popular type, with a definite Iberian flavour; "Maravillosos" on the other hand seems to be derived from liturgical plainchant origins.

Eyns ne soy ke pleynte fu appears in two versions in English and in French; this recording uses the English version. The prisoner laments his imprisonment "for the sins of others".

A Parisian M.S.S. of the 13th Century contains a number of Estampies Real or Royal Estampies. This basic instrumental form consists of á sequence of melodic phrases each with first and second time sections known as puncti. The "royal" of the title may refer to connections with royal or champion Minstrels chosen at their gatherings, usually held during Lent.

The Italian Istampitta, Tre fontane and Lamento di Tristano are from a collection in the British Museum dating from the 14th Century, which appears to be the attempts of a scribe to write down what the Minstrels played. These pieces have a flavour of the Orient and this, together with the virtuoso nature of the passage-work, may reflect the influence of the Moors and other arrivals from the Near East.

Neither of these manuscripts give any indications of instrumentation although the compass required and general tessitura, particularly of the Italian pieces, suggests strongly that the Viele must have played a prominent part. We have combined this with its sister instrument the Citole and where appropriate other self-accompanying instruments such as the Bagpipe, Pipe and Tabor and Harp.

© John Sothcott, 1985